Right now I have more apples to use up than I know what to do with! I've already made applesauce (post coming soon), baked apples, dehydrated apples, apple butter, and toasted apple-cheese sandwiches. Later this week I'm planning to make a savory soup with apples and cheddar, and if I get a chance I want to try my hand at Spiced Apple French Macarons. (So many apples so little time!)
Anyway, back to my Individual Apple Cheesecake Pastries. I wanted a way to use up some of my abundance of apples…I had puff pastry in my freezer that wasn't earmarked for anything…I've been craving a good apple-cheese pastry…and I always have cottage and Neufchatel cheeses in my fridge. There was really no way around it, I had to make these pastries! ;) Like many of my sweets, these aren't overly sweet (so feel free to add more sweetener if you like things a little sweeter), which means they work well as a breakfast or dessert.
What To Do With the Extra Apple-Cheese Filling: Butter an oven-safe ramekin and cook the extra filling in it. Don't forget, depending the size of your ramekin, it could take less or more time to cook than the pastries.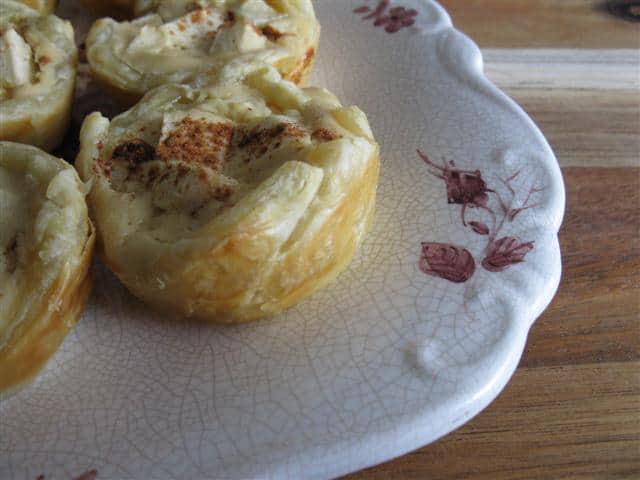 Individual Apple Cheesecake Pastries
(Yield: 12 pastries, plus a little extra filling)
1 sheet puff pastry, cut into 12 equal pieces
Butter, to grease the pan
2 c diced apples (about 2 medium apples)
½ c cottage cheese
6 oz Neufchatel cheese
1 large egg
1 tsp pure vanilla extract
¼ tsp lemon juice
¼ c brown sugar
Pinch salt
1/8 tsp nutmeg
Cinnamon
Muffin tray that holds 12 muffins
Lightly butter your muffin tray. Place one piece of puff pastry inside each well of the muffin tray and mold the pastry up the sides of the well (see picture below). (Don't worry if this looks messy, the filling will completely cover it up.) Use a fork prick the bottom of each pastry. Chill the dough like this in the fridge for at least 20 minutes.
Preheat the oven to 400F. In a blender or food, process the cottage cheese until smooth (a few lumps are ok), then add the Neufchatel cheese, egg, vanilla, and lemon juice and purée until smooth. Add the brown sugar, a pinch of salt, 1/8 tsp nutmeg, and ¼ tsp cinnamon and process again until smooth. Transfer the cheese mixture to a bowl.
Wash, peel, core, and dice the apples, then mix them into the cheese mixture. Once the dough has chilled spoon the apple/cheese mixture into each muffin well, so that each well is about 2/3 to ¾ of the way full. Sprinkle just a pinch of cinnamon on top of the filling. Bake for 15 to 17 minutes, until the pastry is lightly golden and the apple-cheese mixture is mostly set (it will set more as it cools).
Cool completely on a wire rack, then run a knife along the edge of each pastry and gently remove them from the muffin tray.