This Low Carb Jamaican Jerk Chicken Recipe is a great way to celebrate the last grilling days of the season, but it's equally delicious cooked in the oven year-round.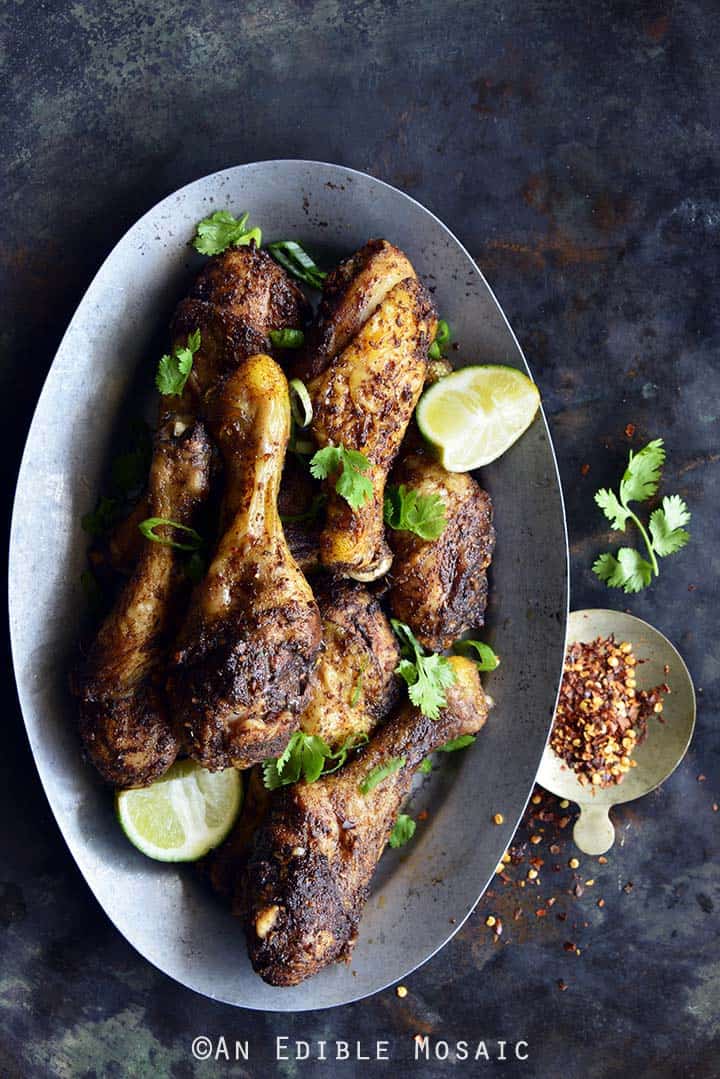 In the seemingly endless variety of ways to cook chicken, it's fun to take a little global inspiration. With a complex blend of savory spices, a touch of heat, depth from soy sauce, and the freshness of lime, this is a hard dish to pass up. Note that in terms of the heat level, I kept it more on the mild side as written, but feel free to adjust the heat level up or down based on your personal preferences.
Here are a few low carb side dish recipe ideas to serve with this Jamaican jerk chicken to make it a full meal:
What is Jerk Chicken and Why Do They Call it Jerk Chicken?
Jerk refers to a Jamaican cooking method, in which jerk spice mix is used as a dry rub or wet paste to season meat, like chicken or pork.
According to The Kitchen Project, food historians think that jerk is a Spanish word that originated from the Peruvian word charqui, which refers to dried meat strips (basically, jerky). The word started as a noun and became a verb, as in "jerking", which means to poke holes in meat so spices can permeate.
What is Dry Rub?
A dry rub is a mixture of dried herbs and spices that is rubbed directly onto meat, such as chicken or steak. Usually, dry rub is used with a dry heat cooking method, such as grilling, smoking, or roasting. Many dry rubs contain sugar and salt for a balanced flavor profile, as well as several other spices, such as paprika, cumin, etc.
How to Make Jamaican Jerk Chicken
The main thing that makes Jamaican jerk chicken special is its unique spice blend. Once you get that right, you can use any dry heat cooking method you like to cook the chicken. Additionally, I noticed that soy sauce and scallion are other common additions along with the Jamaican jerk seasoning blend. Finally, it's traditional to include spicy peppers, such as Scotch Bonnet, which by all means add if you're into really hot foods. I keep this dish a little more kiddo-friendly and just use a touch of heat from cayenne pepper and crushed red pepper flakes.
Spices in Jerk Seasoning
I've noticed slight variations in different Jamaican jerk seasoning recipes. Some will have more of a heat level, or others will have more warm spices (such as cinnamon). However, in general I've found that the following ingredients are usually included in varying amounts:
Dried onion flakes
Garlic powder
Dried thyme leaves
Allspice
Sweet paprika
Salt
Black pepper
Crushed red pepper flakes
Cinnamon
Nutmeg
Cumin
Cayenne pepper
And often sugar, especially brown sugar
How to Cook Jerk Chicken
Jamaican jerk chicken is typically cooked using a dry heat method, such as smoking, roasting, or grilling.
Roasting in the Oven
To roast chicken drumsticks, take the chicken out of the fridge about 10 to 15 minutes before you want to cook it so it can come to room temperature
Preheat an oven to 350F
Arrange the chicken on a large baking sheet, and roast until fully cooked, about 1 hour (no need to flip the chicken)
On the Grill
To grill chicken drumsticks, take the chicken out of the fridge about 10 to 15 minutes before you want to cook it so it can come to room temperature
Preheat a grill to medium-high heat
Grill the chicken until fully cooked, about 35 to 40 minutes, turning occasionally to ensure even cooking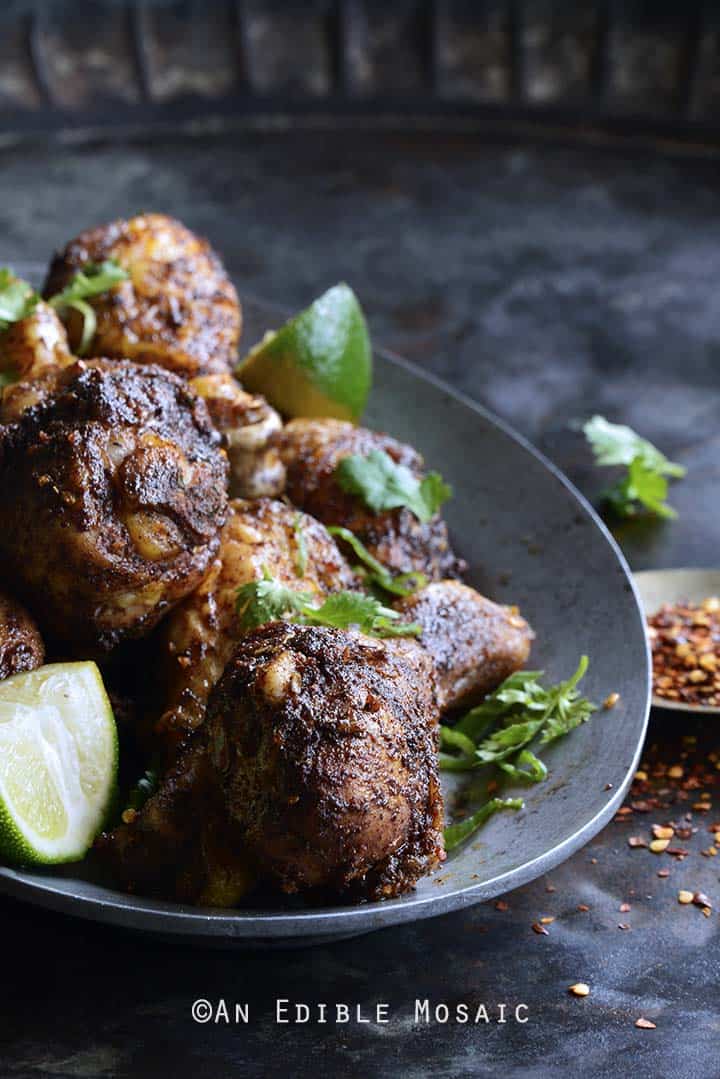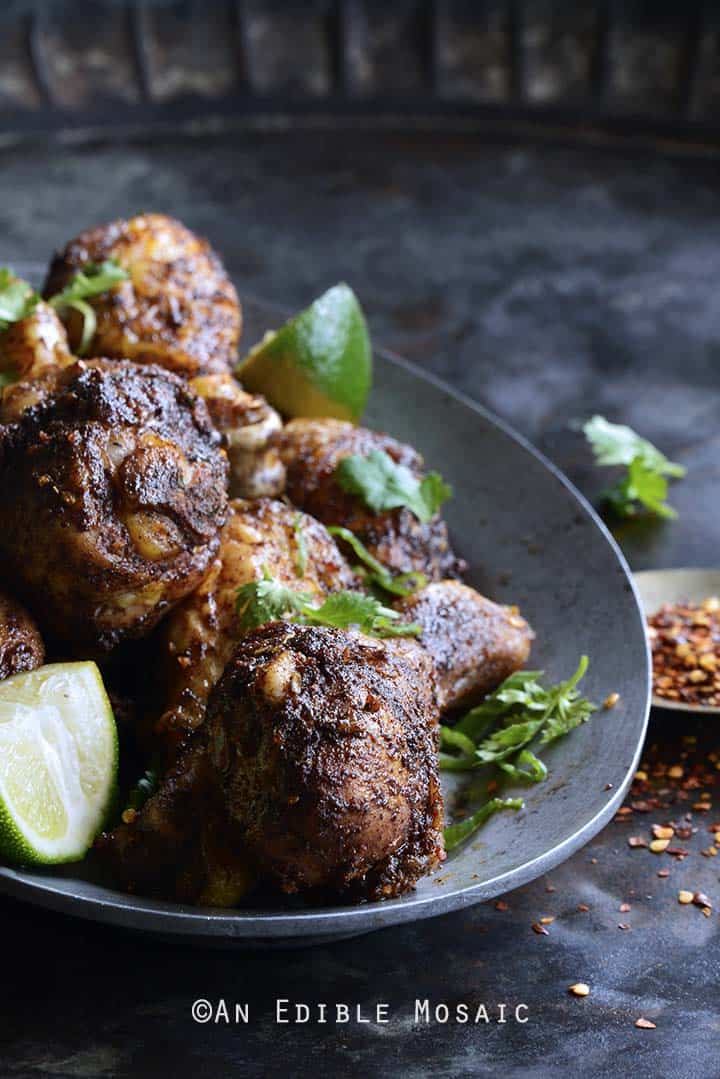 How to Tell When Chicken is Fully Cooked
Insert an instant-read thermometer into the thickest part without touching the bone; it should read 165F. Additionally, the meat should be white and not pink, and the juices should run clear.
How to Make Low Carb Jerk Chicken
Jamaican jerk chicken is an easy recipe to keep low carb. In order to keep the carbs as low as possible, the main alteration I make from a traditional jerk chicken recipe is to omit the sugar and use a couple drops of liquid stevia instead! It truly couldn't be any easier.
What Part of the Chicken is Dark Meat?
On a chicken, the drumsticks and thighs are dark meat and the breasts and wings are white meat. The more myoglobin (the oxygen-binding and transporting protein found in muscle tissue), the darker the meat. Dark meat is higher in calories and fat, as well as vitamins and minerals. Additionally, dark meat is usually prized for being juicier and richer in flavor than white meat. (Read more about dark and white meat chicken on Women's Health and Chicken.ca.)
More Dark Meat Chicken Recipes: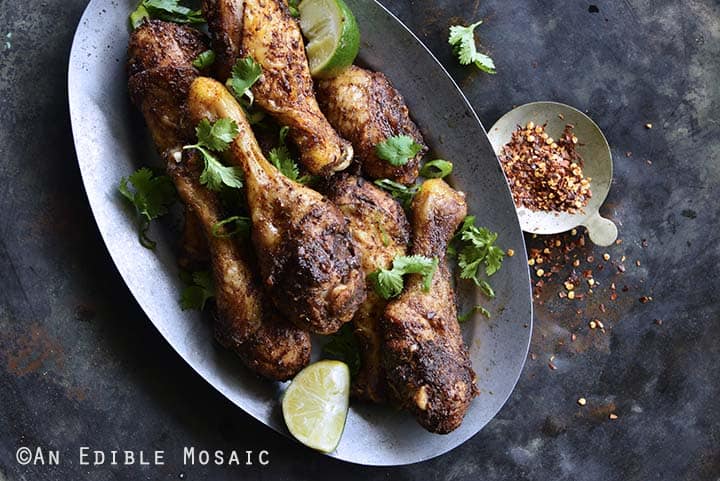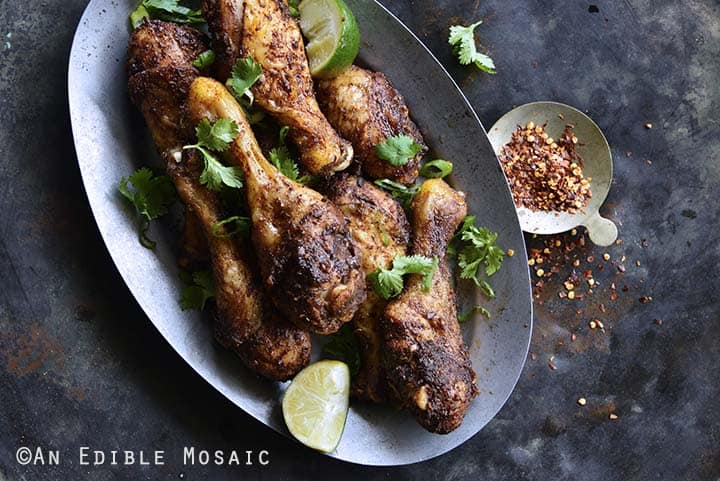 Jamaican Jerk Chicken Recipe (Paleo, Low Carb)
This low carb paleo Jamaican Jerk Chicken Recipe features a complex blend of savory spices, a touch of heat, depth from soy sauce, and freshness of lime.
Print
Pin
Rate
Total Time:
1
hour
10
minutes
Ingredients
Jamaican Jerk Seasoning (you'll need this entire batch for this recipe):
Chicken:
3

tablespoons

avocado oil

3

tablespoons

fresh lime juice

2

tablespoons

coconut aminos

tamari sauce, or soy sauce

7

drops liquid stevia

optional; or you can substitute 1/2 teaspoon sugar

Jamaican Jerk Seasoning

entire batch above

4

lbs

chicken drumsticks

about 16 medium-large
Other:
1

scallion

green and white parts, thinly sliced, for garnish

Fresh lime wedges

for serving
Instructions
Combine all ingredients for the Jamaican Jerk Seasoning.

Whisk together the Jamaican Jerk Seasoning, avocado oil, lime juice, coconut aminos, and stevia in a large bowl. Add the chicken and toss to coat well.

Cover the chicken and refrigerate 4 hours, or overnight.

Let the chicken sit at room temperature for 10 minutes before cooking.

Preheat the oven to 350F. Arrange the chicken on a large baking sheet and bake until fully cooked, about 1 hour (no need to flip).

Transfer to a serving platter and top with the scallion. Serve with fresh lime wedges to squeeze on top.
Helpful Tips
Net Carbs: 4g per serving (2 drumsticks)
Nutrition
Serving:
2
drumsticks
|
Calories:
306
kcal
|
Carbohydrates:
4
g
|
Protein:
27
g
|
Fat:
19
g
|
Saturated Fat:
4
g
|
Cholesterol:
139
mg
|
Sodium:
465
mg
|
Potassium:
383
mg
|
Vitamin A:
290
IU
|
Vitamin C:
3.3
mg
|
Calcium:
30
mg
|
Iron:
1.8
mg
Disclosure: This post contains Amazon affiliate links to products I believe in, which means that even though it doesn't cost you anything extra, I will receive a small amount of money from the sale of these items. Thank you for helping to support An Edible Mosaic!