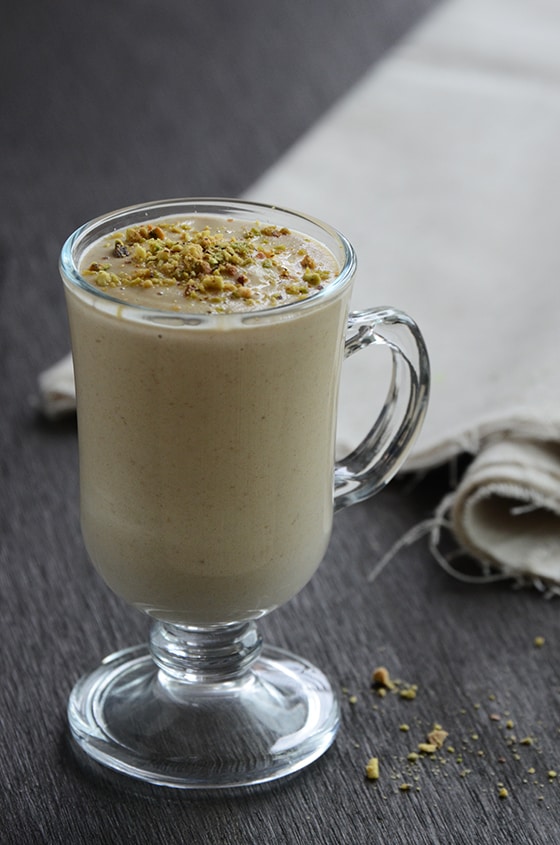 This drink is incredibly rich; if you've ever had a European hot chocolate, the thickness of this drink will probably remind you of that. But hot chocolate wasn't my inspiration…I had sahlab in mind!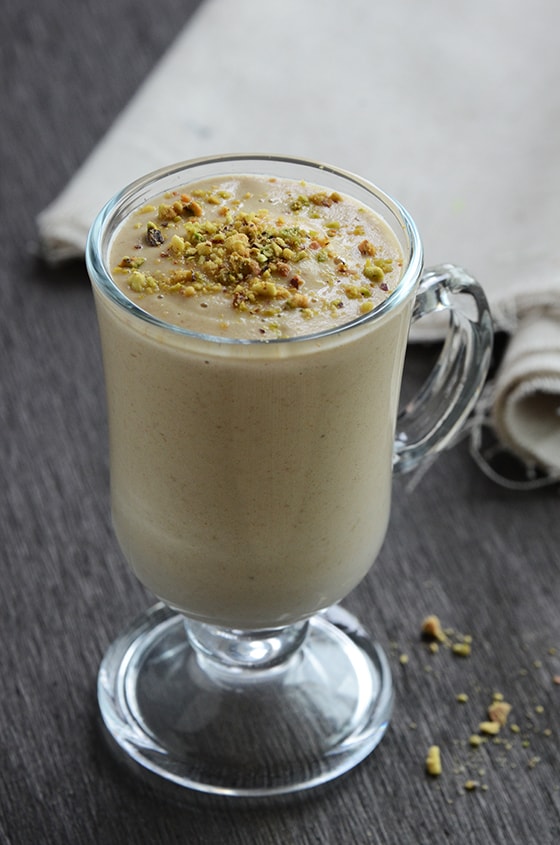 Sahlab is a starchy powder that's made from dried orchids; it's commonly used the Middle East as well as Turkey and Greece to make puddings or thick drinks, which are also called sahlab. These treats are sweetened, flavored with orange blossom water and/or rose water, and commonly garnished with pistachio, coconut, and/or a pinch of cinnamon. (For those who are interested, I have a full recipe for sahlab in my cookbook.)
Thick drinks made from sahlab are enjoyed hot, so they're especially comforting and perfect for warming up during cold winter months. One chilly afternoon I wanted something warm, and sahlab came to mind…but I was also hungry and wanted something that would hold me over until dinner. This drink was perfect.
It's very rich, so the small serving size is just right. It's packed with nutrition; full of vitamins and minerals (from dates!), fiber, protein, and healthy fat, this drink is not only delicious, but healthy and completely satisfying as well.
Thick & Creamy Vanilla-Pistachio Drink
Ingredients
¼ cup (40 g) raw, unsalted cashews (see note below)
2 Medjool dates, pitted and coarsely chopped
½ teaspoon pure vanilla extract
½ teaspoon pistachio oil (such as Vom Fass Pistachio Oil)
1 pinch sea salt
½ cup (120 ml) boiling water
½ teaspoon finely chopped pistachio, for garnish
Instructions
Add all ingredients (except the chopped pistachio) to a blender; put the lid on and let it sit for 2 minutes. (If your blender can't take high temperature, put everything in a heat-safe bowl, cover the bowl, let it sit for 2 minutes, and then carefully pour it into a blender.)
Process until smooth and creamy (be careful, it's hot!).
Pour into a small mug and sprinkle the pistachio on top; serve hot.
Notes
Cashews: Be sure to use raw, unsalted cashews here so their flavor doesn't overwhelm the flavor of pistachio.