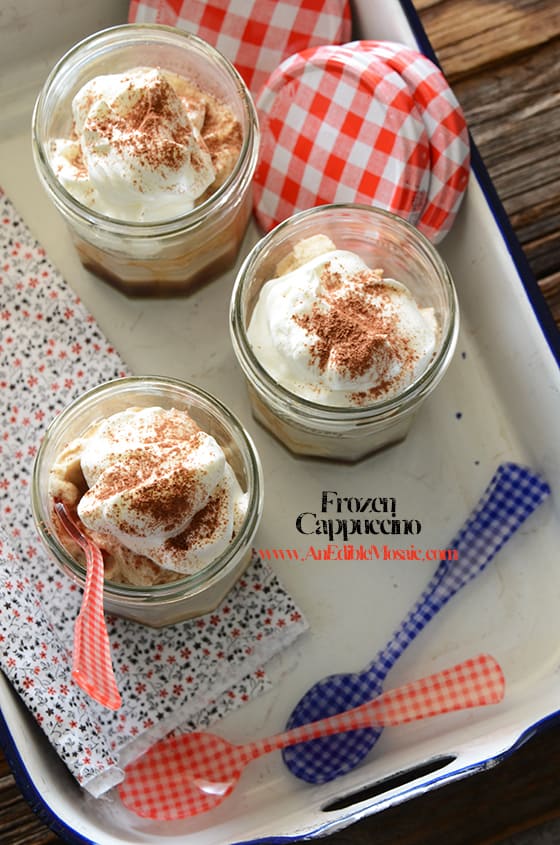 What's your favorite way to cool down on a hot summer day?
For years when I was younger, swimming was my cool-off method of choice. While we were growing up, my sister and I were such junkies we took swimming in any form we could get it. We loved heading to the town pool (ick, it's so gross to think about that now!), wading in the creek behind our backyard (double ick!), and heading to our grandparents' house because they had a pool.
I actually have a funny story about swimming…
One summer when I was really young – like kindergarten young – I remember my mom signed me up for swimming lessons. I did ok, but I was by no means the star of the class. (Come on, how good can a five-year-old really swim?) I'm sad to say, my mom found my swimming capabilities a little lacking; on the last day of class (the day that all the kids get tested), when it was my turn I was too scared to jump into the deep end.
My mom tried coaxing me in, but I was stubborn as a mule even at that age, and I was legitimately scared. After about 10 minutes of this, my mom had had it; she threw up her hands in exasperation and told the swim instructor, "Enough of this; just push her in and let her learn that way! She'll be fine."
The instructor looked at me and then at my mom and said very slowly, "Ma'am, we don't do that here." Huge sigh of relief for me, sigh of disbelieve for the swim instructor, and another sigh of annoyance for poor mom. (Don't judge her too harshly…after all, it was only the late '80's. I'm actually somewhat surprised the instructor didn't go for it, lol!)
I ended up taking a few more years of swimming lessons, and swimming became one of my favorite summer activities, not to mention the best way ever to cool off.  But now I like to cool down in a different way.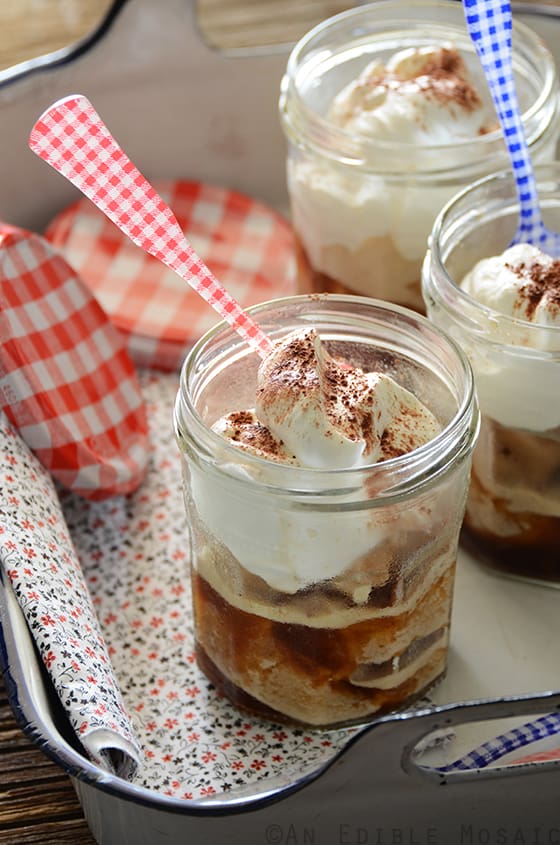 Hello, iced coffee.
So, the first time I had iced coffee was in Florida during law school. My friend and I were having a study session at Starbucks (because as every student knows, Starbucks makes studying so much more bearable), and I was contemplating what to get. My friend suggested an iced coffee, claiming that it's basically the most refreshing drink ever. First sip and I was hooked. (To this day I blame/thank her for my iced coffee obsession.)
This particular Frozen Cappuccino recipe came to be completely by accident. I like playing with my Vitamix as much as the next girl, and one day I found an ice cube tray of sweetened coffee cubes in the freezer. Into the blender they went with naught else but a whisper of ooh, this is gonna be good!
I wasn't really sure what to expect; at first I tried to sort-of pulse the frozen coffee cubes, in hopes that it would turn out somewhat granita-like (like a coffee slushie). It didn't turn out like that at all, but in my opinion, it's even better. I think a high-speed blender is crucial here; because of how fast it is, it turned my frozen coffee cubes into a super creamy, almost soft serve-like consistency! Just look at that pale coffee color – and that's without adding anything! It's literally just sweetened frozen coffee cubes blended up.
Note that it does melt somewhat fast though (the photos you see had been out for about 15 to 20 minutes on a hot day…so I guess it isn't really that fast). Once it melts, the liquid looks like normal coffee again and combined with the unmelted creamy blended coffee, it tastes like a coffee milkshake. For a little luxe, we like to top these with a generous dollop of whipped cream and a dusting of unsweetened cocoa powder. It is absolutely amazing
I can't think of a better or more delicious way to cool down on a hot day.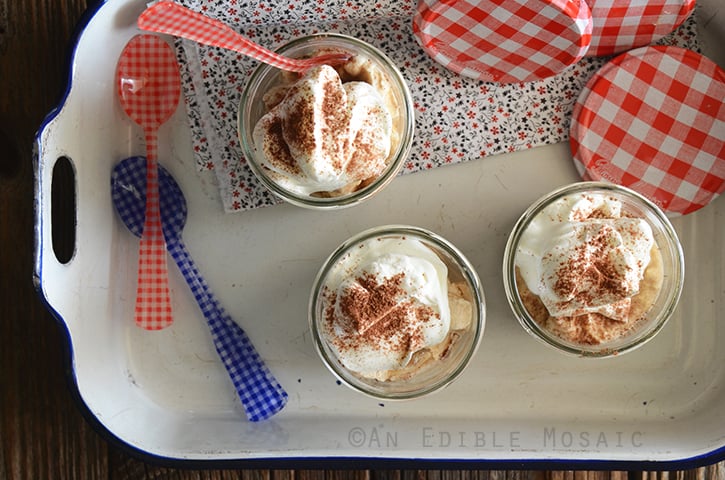 Frozen Cappuccino
Ingredients
2 cups (475 ml) strong good-quality coffee
6 tablespoons (75 g) sugar (see Note below)
½ cup (120 ml) whipping cream, whipped to soft peaks
Unsweetened cocoa powder, for dusting (optional)
Instructions
While the coffee is still hot, mix it with the sugar and stir until completely dissolved; cool to room temperature.
Pour the coffee into an ice cube tray (this amount of coffee should fit perfectly into a standard-size ice cube tray).
Freeze overnight, or up to a week.
Transfer the frozen coffee cubes to a high-speed blender (it may also work in a high-speed food processor), and process until smooth and creamy (it will have the consistency of soft ice cream), tamping it down and/or scraping down the sides as necessary.
Transfer to 4 individual glasses or bowls, top each with whipped cream and a sprinkling of cocoa powder if desired, and serve immediately.
Notes
Sugar: I like to use coconut palm sugar for this, but you could substitute either white sugar or lightly packed light brown sugar. Also, you can reduce the sugar by up to 2 tablespoons if you want.