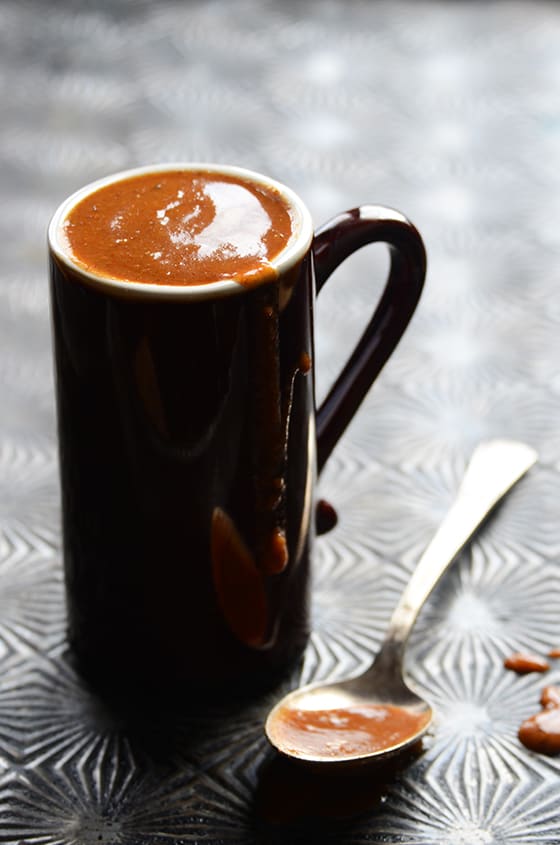 I'm nothing approaching a homesteader (heck, I'm really not even a camper!), but I like a DIY cooking project as much as the next girl. This is why it seriously surprised me that it never even dawned on me to make homemade enchilada sauce until recently.
Not long ago, enchiladas were requested for dinner and as my pantry was bereft of canned sauce, I knew I either had to head to the grocery store for just a single item (which I was not about to do…this is one of my pet peeves!) or get creative.
I did a little research and as it turns out, there are a ton of enchilada sauce recipes on the internet. I came up with a recipe that is customized to suit my tastes and comes together in 10 minutes. And not surprisingly, it tastes about a thousand times better than the canned stuff, which my pantry will be permanently devoid of from now on.
If you want to come up with a recipe that's completely customized for your tastes, here are a few red enchilada sauce recipes from around the internet that caught my eye:
Or switch it up a little and go with Cooking Light's Green Enchilada Sauce!
As you probably guessed, I will be sharing an enchilada recipe soon. (Update: Here is my recipe for Chicken, Corn, and Bell Pepper Enchiladas!)
10-Minute Homemade Red Enchilada Sauce
Prep time:
Cook time:
Total time:
Yield:
Just under 2 cups/475 ml
Ingredients
3 tablespoons canola oil
3 tablespoons all-purpose flour
3 tablespoons chili powder
1 teaspoon paprika
1 teaspoon dried oregano
1 teaspoon onion powder
1 teaspoon garlic powder
½ teaspoon cumin
½ teaspoon salt (or more to taste)
¼ teaspoon black pepper
2 cups (475 ml) low-sodium chicken stock or water
Instructions
Add the oil to a medium saucepan over medium-high heat; whisk in the flour and cook 1 minute, whisking constantly.
Whisk in all the spices (from chili powder through black pepper).
Slowly whisk in the chicken stock or water.
Bring to a boil, then turn heat down slightly and simmer 1 minute. (The sauce will thicken more as it cools.)
Use or store refrigerated for up to 1 week.