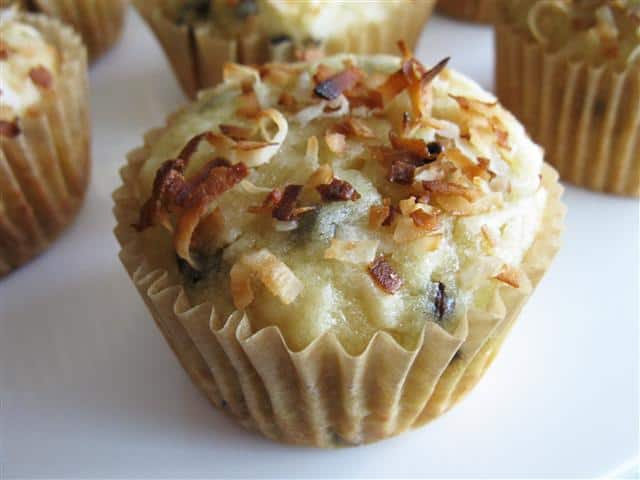 Muffins are convenient to make for holidays because they're portable, keep well, and can be eaten as breakfast, snacks, or dessert. These muffins have great coconut flavor – there's toasted coconut on top, flaked coconut inside, and half of the flour I used in these muffins is coconut flour, which is high in fiber and protein. Surprisingly, the coconut flavor isn't overwhelming at all; the coconut flour has a very subtle coconut flavor and the flaked coconut inside is mainly to keep the muffins moist, so the little bit of toasted coconut on top really ends up being the most pronounced coconut flavor. And what goes better with coconut than chocolate and macadamia nuts? Nothing, other than maybe a tall glass of milk. :)
I hope everyone has a safe, happy Labor Day!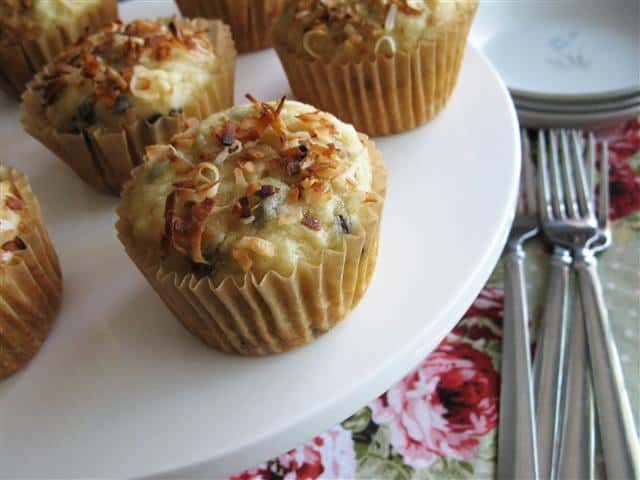 Toasted Coconut Muffins
(Yield: 18 muffins)
2 c all-purpose flour
2 c coconut flour
2 tsp baking powder
1/2 tsp salt
2 large eggs
1 1/4 c low-fat or fat-free milk
2/3 c canola oil
1 large banana, mashed (about 1/2 c)
3/4 c sugar
1 tsp vanilla, coconut, or almond extract
1 c plus 6 TB sweetened flaked coconut, divided
1/3 c mini chocolate chips
1/3 c roughly chopped macadamia nuts
Muffin tray
Paper muffin liners
To toast the coconut and macadamia nuts: We're only toasting the coconut that will be used as a topping (6 TB); the remaining coconut (1 c) will be kept untoasted and mixed inside the batter to help keep the muffins moist. Add 6 TB coconut to a small, dry pan over medium-low heat; stir frequently and remove from heat once the coconut is a light golden brown color. Repeat this process with the macadamia nuts. Let the coconut and nuts cool before adding to the batter.
Preheat the oven to 350F. In a medium bowl, whisk or sift together the flours, baking powder, and salt. In a separate large bowl, whisk together the eggs, milk, oil, banana, sugar, and extract. Slowly stir the dry ingredients into the wet until incorporated. Stir in the remaining 1 c coconut, chocolate chips, and nuts. (The batter will be somewhat thick and lumpy, which is fine.)
Line the muffin tray with paper liners and fill each muffin well about 3/4 full with batter and sprinkle 1 tsp toasted coconut on the top of each muffin. Bake for about 20-24 minutes, or until a toothpick inserted inside comes out with just a few crumbs.