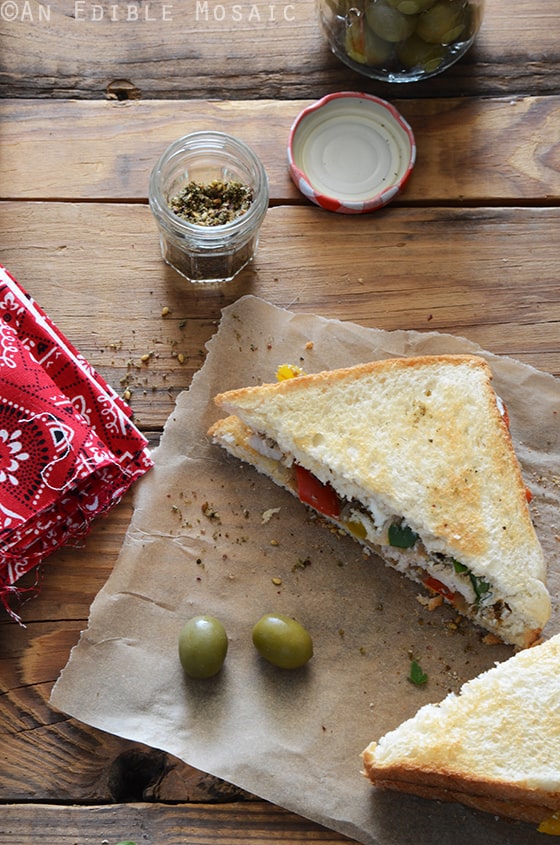 When I think of a picnic, I always think of fried chicken, macaroni and cheese, potato salad, some kind of cooked greens, iced tea, and a big chocolate cake.
I realize that this sounds very Southern, which is odd to me because I'm from New York…and I can't ever remember having a picnic like this in my life! (Who knows, maybe I did when I was a kid and I just don't remember.)
Anyway, I'm breaking out of my preconceived picnic ideas and making something new. I'm making chicken of course, but adding za'atar (a thyme-based spice mix), smoked paprika, and labneh to the mix for a nice change.
These sandwiches are soooo good. If you like chicken souvlaki, I think you're guaranteed to love them. If you're not familiar with labneh, it's a yogurt cheese made by straining the whey out of regular yogurt; it's thick and rich, and basically the Middle East's version of Greek yogurt. It's frequently eaten topped with a generous drizzle of good-quality olive oil and a sprinkling of za'atar, and then scooped up with flatbread.
Because of the labneh (or Greek yogurt) in these sandwiches, be careful not to leave them out too long; in hot weather, I try to have them eaten within an hour, and then I keep the rest refrigerated or stored in a cooler. (Mind you, I am not a food safety expert! This is just what my common sense tells me; be sure to be careful about leaving food out in the heat.)
To complete the picnic, I like to pack a little jar of olives because they go so nicely with these sandwiches. A lemon and olive oil-dressed potato salad with tons of fresh herbs and maybe a bit of za'atar would be a nice accompaniment, and don't forget a big platter of fruit…or just bring a watermelon and cut it up when it's time for dessert.
Happy picnicking!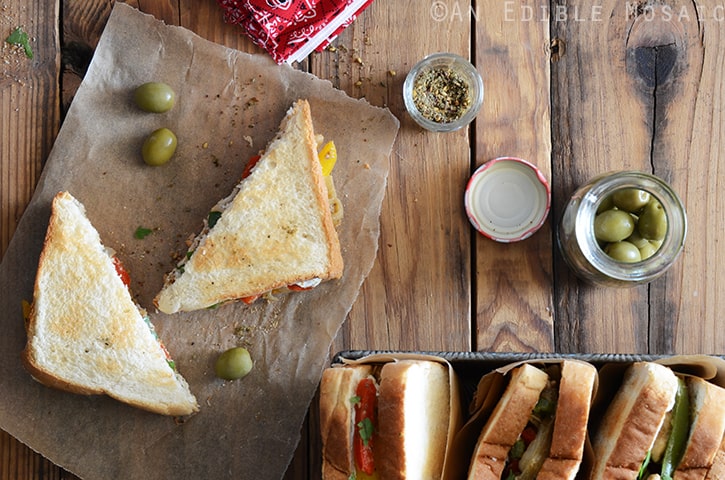 Za'atar-Spiced Chicken and Bell Pepper Sandwiches with Labneh
Prep time:
Cook time:
Total time:
Yield:
6 to 8 sandwiches or wraps
Ingredients
2 tablespoons olive oil
1 lb (450 g) chicken breasts, thinly sliced
4 small-medium bell peppers in a variety of colors, de-seeded and sliced
1 medium-large onion, halved and thinly sliced
1 tablespoon za'atar, plus more for sprinkling
½ teaspoon smoked paprika, plus more for sprinkling
½ teaspoon salt
¼ teaspoon black pepper
3 cloves garlic, minced
¾ to 1 cup labneh or Greek yogurt
12 to 16 slices of toasted bread or 6 to 8 wraps (see Note below)
A handful of chopped fresh flat-leaf parsley
Instructions
Heat the oil over high heat in a large, deep skillet. Once hot, add the chicken, bell pepper, onion, za'atar, smoked paprika, salt, and black pepper. Cover the skillet (leaving the lid ajar), and cook until the chicken is fully cooked and the veggies are fork-tender but not mushy, about 10 minutes, stirring occasionally. Stir in the garlic during the last 2 minutes of cooking.
Spread a generous layer of labneh or Greek yogurt (about 1½ to 2 tablespoons) on 1 side of a slice of toasted bread. Top with a sprinkle of za'atar, smoked paprika, and parsley. Top another slice of toasted bread with the chicken and bell pepper mixture. Put the slices together to make a sandwich. Continue making sandwiches this way until finished.
Serve the sandwiches warm or at room temperature.
Notes
Toasted Bread: If you make the sandwiches while the toasted bread is still warm, the sandwiches tend to stay together better.