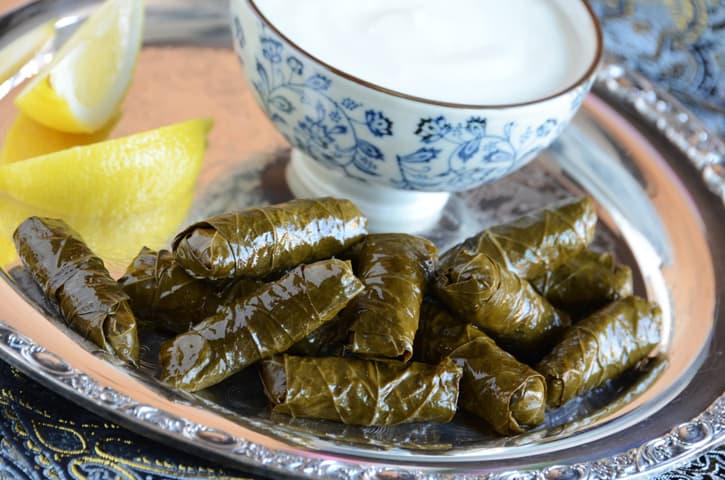 Photo (taken by yours truly) of Vegetarian Stuffed Grape Leaves from my cookbook, An Edible Mosaic: Middle Eastern Fare with Extraordinary Flair.
I am so excited, I have a real treat to share with you today.
I hope you like Stuffed Grape Leaves…
In a very special preview of my cookbook, my dear friend Nancy (of Spicie Foodie) shares the recipe for Vegetarian Stuffed Grape Leaves from An Edible Mosaic: Middle Eastern Fare with Extraordinary Flair. Her post is special to me for so many reasons. The recipe brings me back to the days when I was earnestly watching my mother-in-law, Sahar (which means "Aurora" or "Dawn" in Arabic), cook in her Damascene kitchen. Sahar cooks with all the grace of a ballerina performing, and at the end of the day she is proud to feed her family the fruits of her labor. In a way, seeing my recipe out there reminds me of all the hard work, late nights, early mornings, countless photo shoots, time spent learning the cuisine, joy it brought to me to be able to cook the food of my husband's culture for him and watch him savor it, and heart and soul that went into my cookbook. Nancy, I am honored beyond words. Thank you.
This is the first recipe being shared from my cookbook, and Nancy wrote a beautiful post to go with it (and there's a step-by-step tutorial for making stuffed grape leaves!). Please head over to check it out.
While you're there, feel free to take a look around. Nancy is such a sweet, kind person, and one of the most talented bloggers I know. I gush about her captivating photography all the time (she is an endless source of inspiration!), and I can't wait for her photography eBook (you can read more about it here).
Hope you enjoy it, and thanks again, Nancy!