If ever there was a dish that blurred the lines between breakfast and dessert, this recipe is it. The three main ingredients – apples, oats, and seeds/nuts – are the makings of a healthy start to your day. But in this recipe these ordinary ingredients are transformed into something truly decadent, sure to please dessert lovers. I used a little molasses and organic pure cane sugar for a caramel flavor, but feel free to use any sugar you have on hand. The texture of this is luxuriously smooth, and the egg gives it a custard-like quality, which is why I decided to caramelize a little brown sugar on top (crème brûlée, anyone?...no torch needed! ;) )
This sort of double-duty recipe is perfect for the holidays. It can be served for breakfast or dessert, and tastes great at any temperature. (Served warm it's more reminiscent of oats and served chilled it feels more custard-y.) Reheating is a snap too…just pop it back in the oven until warm.
I'm taking a short break from blogging until next Sunday to spend some time with my family, but then I'll be back to my regular posting and commenting. I wish you all a safe and happy holiday! Merry Christmas Everyone!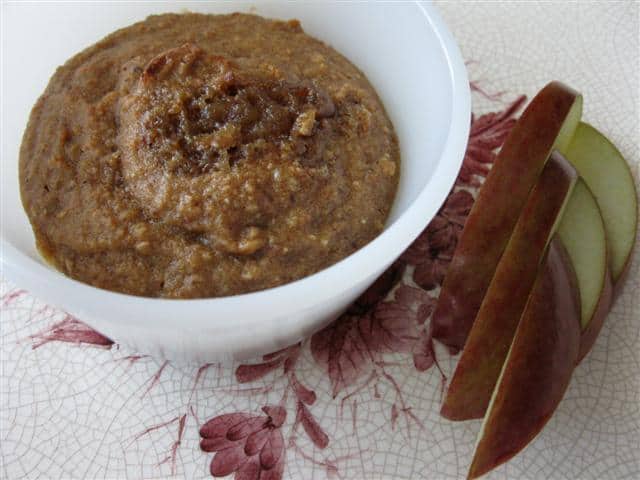 A Note on the Apples: There's no need to peel the apples before cooking them down, since they'll be pureed anyway. In the final product any pieces of peel that may be there aren't noticeable.
Baked Caramel-Apple Custard Oats
(Yield: 10 servings)
8 c apples, washed, cored, and chopped but not peeled (or 3 c unsweetened applesauce)
2 c rolled oats
1 c sunflower seeds, toasted (you can use any nuts you like, such as walnuts, pecans, almonds, etc.)
½ teaspoon kosher salt
½ teaspoon cinnamon
⅓ teaspoon fresh grated nutmeg
2 TB molasses
About ¼ c organic pure cane sugar (or any sugar you have on hand; you can use more or less, depending on how sweet your apples are)
1 egg
2 ½ teaspoon brown sugar (for topping)
Butter, to grease the ramekins
10 (6 oz) oven-safe ramekins
Preheat oven to 350F. Grease the ramekins with butter. Heat the apples on medium heat (covered) for 20-30 minutes, until they turn into a chunky applesauce (you should end up with about 3 c applesauce). Once the applesauce is cooled slightly, transfer it to a blender or food processor and process until smooth (there will still be small bits of apple skin; don't worry, they won't be noticeable in the final product).
Pulverize the oats and sunflower seeds in a blender or food processor until they form a fine powder; pulse in the salt, cinnamon, and nutmeg to combine. Transfer the applesauce and the oat mixture to a bowl; add the molasses, then add sugar to taste (start with about ¼ c sugar). Beat in the egg. Divide the mixture between the ramekins and place ¼ teaspoon brown sugar on top of each. Bake for about 12 minutes until they're set, then broil for about 2 minutes until the brown sugar on top is caramelized (watch them closely while they're in the broiler).
Serve hot, warm, or chilled.