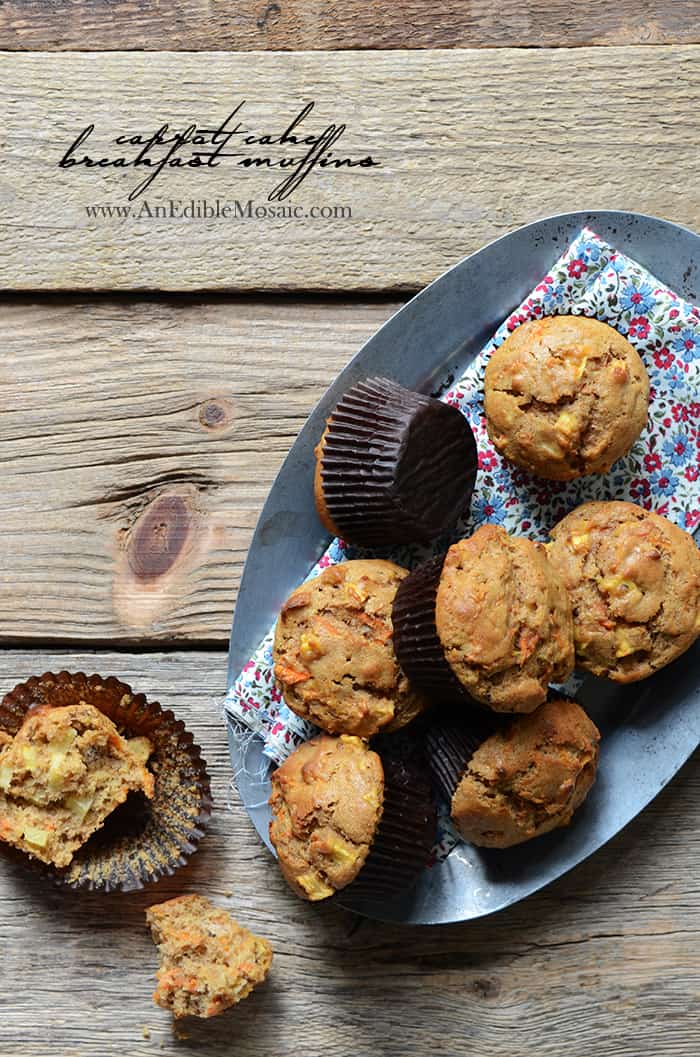 If you're looking for a healthy way to start your day (and the New Year!), these muffins are for you.
What could be better than starting your day with veggies in cake form, right? Or if evening is your temptation time, these muffins are also perfect for satisfying a strong craving for sweets at the end of a long day. They rival most carrot cakes I've had; carrot and apple lend moistness to these muffins, and the toasted walnuts add the perfect crunch.
If you're trying to find creative ways to sneak vegetables into your family, give these a try. All people see is a plate full of Carrot Cake Muffins, but they're actually getting something that's pretty nourishing.
Here's to a healthy New Year!
Carrot Cake Breakfast Muffins
Prep time:
Cook time:
Total time:
Ingredients
2 cups whole wheat flour
1 tablespoon baking powder
1 teaspoon ground cinnamon
¾ teaspoon salt
¼ teaspoon ground nutmeg
1 large egg
¾ cup light brown sugar, lightly packed (or coconut sugar)
⅓ cup melted coconut oil (or canola oil)
⅔ cup reduced-fat milk (or dairy-free "milk" alternative)
2 teaspoons pure vanilla extract
1 cup (lightly packed) shredded carrot (about 2 medium carrots)
1 medium apple, peeled, cored, and chopped small (about 1 heaping cup chopped apple)
½ cup toasted walnuts, chopped
Instructions
Preheat oven to 400F; line a muffin tray with paper liners.
Whisk together the flour, baking powder, cinnamon, salt, and nutmeg in a medium bowl; set aside.
Whisk together the egg, brown sugar, coconut oil, milk, and vanilla extract in a large bowl.
Add the dry ingredients to the wet all at once and use a wooden spoon to stir until combined, being careful not to over-mix. Fold in the carrot, apple, and walnuts.
Spoon the batter into the muffin tray and bake until a toothpick inserted inside comes out clean or with just a couple crumbs, about 20 to 25 minutes.
Update (October 21, 2014): I made this dish again and perfected the recipe so I updated this post. As a point of comparison to show how much my photography has evolved, I kept one of my original photos (below).