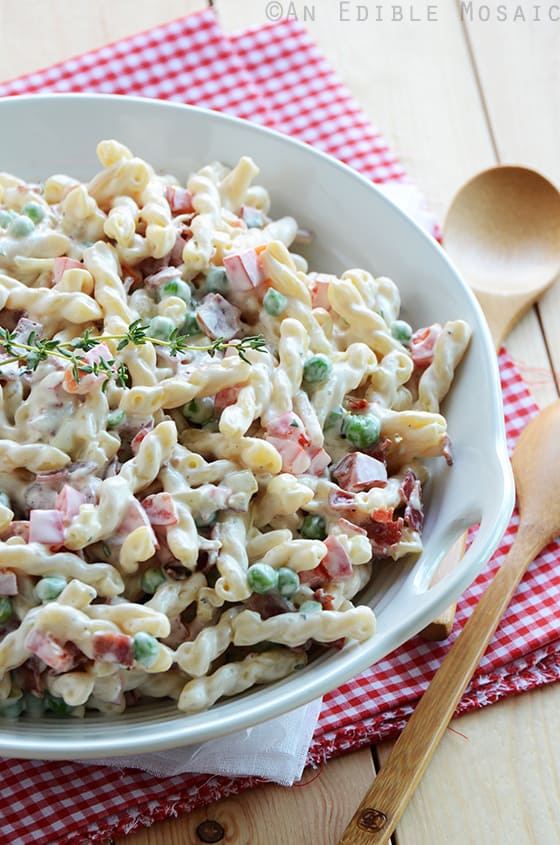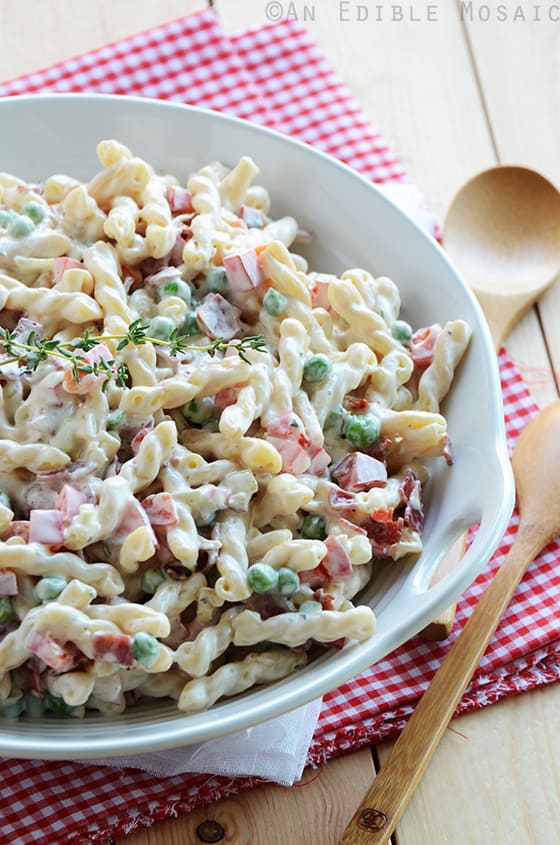 It seems like I blinked and now the end of summer is here.
(Can I let you in on a little secret? I'm looking forward to summer ending. Fall -- ahem, Autumn, which happens to be my niece's name -- is my favorite season for a million reasons, not least of which are chilly temps, cozy sweaters, and warm mulled cider, but I am also head-over-heels in love with winter. And yes, when I tell people that, the most common question I get is Really? Lol, yes, really.)
With Labor Day next weekend, I know a lot of people are looking for new twists on picnic food, and this salad is a great way to switch up your normal pasta salad routine.
Here are a few more picnic salad ideas:
If you have a favorite picnic food to share, feel free to link to it in the comments below!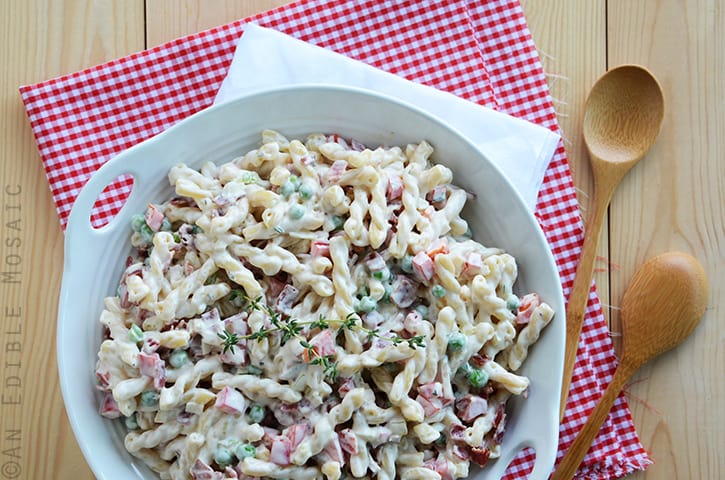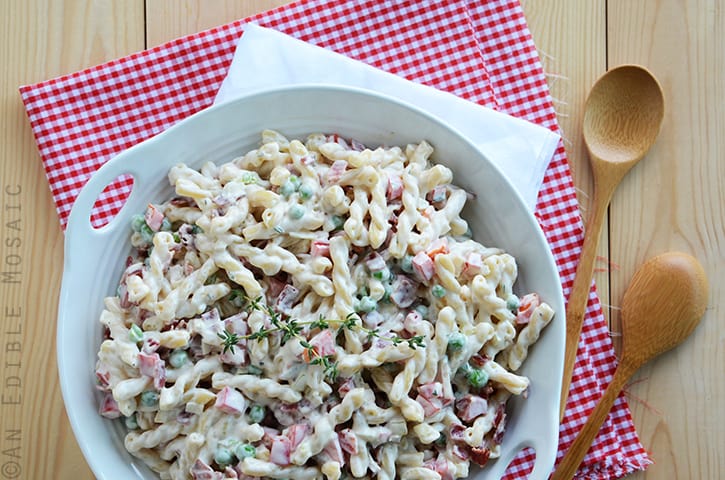 Creamy Pasta Salad with Bacon, Peas, and Bell Peppers
Prep time:
Cook time:
Total time:
Ingredients
8 oz pasta (I used gemelli, but you can use any shape you like)
1 tablespoon canola oil
4 slices turkey bacon, diced
4 oz reduced-fat cream cheese, at room temperature
½ medium onion, very finely diced
¼ cup plus 2 tablespoons low-fat mayo or Greek yogurt
1 tablespoon Dijon mustard
2½ tablespoons lemon juice
1 teaspoon minced fresh thyme
½ teaspoon salt
⅛ teaspoon black pepper
¾ cup frozen peas, thawed
1 red bell pepper, diced
1 shallot, halved and thinly sliced
Instructions
Cook the pasta to al dente according to package directions; drain and set aside to cool.
Heat the oil in a small skillet over medium heat; add the bacon and cook until crispy, about 3 minutes, stirring occasionally. Transfer to a paper towel-lined plate to drain excess oil.
Whisk together the cream cheese, onion, mayo or Greek yogurt, Dijon mustard, lemon juice, thyme, salt, and pepper in a large bowl until smooth. (Alternatively, process everything together in a food processor until smooth and then transfer it to a large bowl.)
Toss in the pasta, peas, red bell pepper, and shallot in the dressing.
Refrigerate until serving; right before serving toss in the bacon or sprinkle it on top.