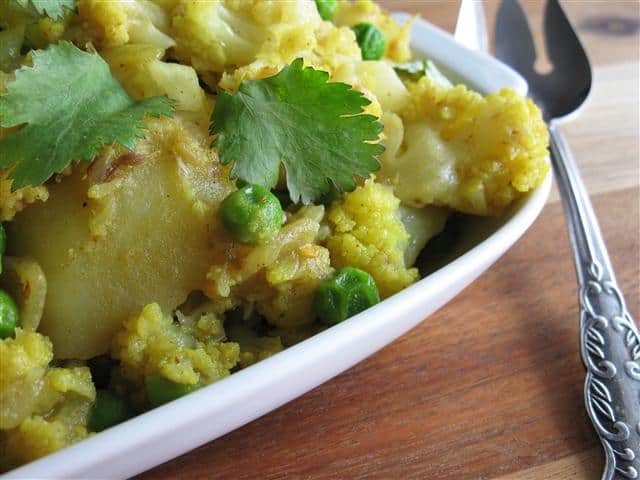 After my traumatic cauliflower fiasco last spring, I couldn't even look at cauliflower. It was truly my nemesis. I'd see it at the market and just keep walking, not able to give it more than a passing glance (it was a crying shame really…at one point last fall, huge heads of cauliflower were only $.99 at the market where I shop...but my aversion was still too strong at that point). Now it's been the better part of a year and I'm happy to say that I've been craving cauliflower. I'm not sure how it happened, but I'm cured, lol!
So, what to make when a cauliflower craving hits? I decided on one of my favorite Indian dishes, a potato cauliflower curry. It comes together fast and is spicy and satisfying for a delicious meatless meal. Mike likes to eat his with basmati rice and I prefer to eat mine with Indian flatbread; we both enjoy it with raita or plain yogurt spooned on top.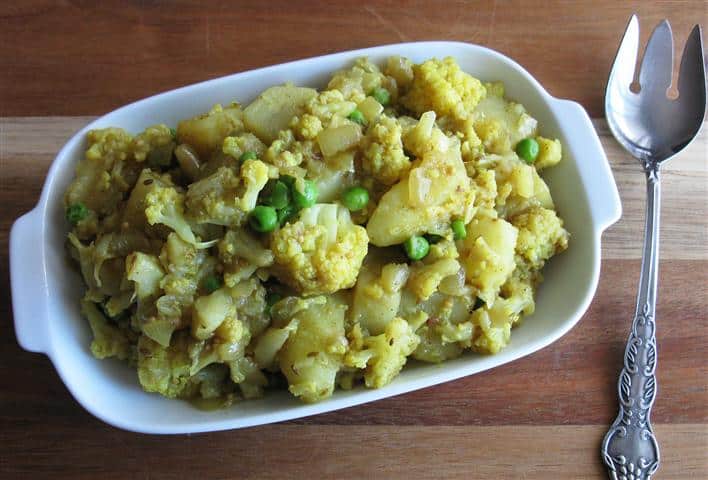 Aloo Gobi Masala (Indian Potato Cauliflower Curry)
(Yield: Serves 4-6 as a main course along with raita or plain yogurt and Indian flatbread or basmati rice, or about 8 as a side dish)
3 TB canola oil
1 large onion, chopped
3 large cloves garlic, grated
1-inch piece fresh ginger, grated
1 bay leaf
1 teaspoon garam masala
1 teaspoon cumin seeds
1 teaspoon mustard seeds
½ teaspoon coriander
½ teaspoon turmeric
½ teaspoon crushed red pepper flakes (more or less to taste)
1 medium head cauliflower, cut into bite-sized florets
2 medium (about 6 oz each) starchy potatoes, peeled and cut into large chunks
1 teaspoon sugar
½ c frozen green peas, thawed
Salt and pepper
Fresh cilantro or parsley (optional; for garnish)
Add oil to a large skillet with a lid over medium heat; once oil is hot, add onion and sauté until starting to soften (about 5 minutes). Add garlic and ginger and sauté another 30 seconds; add bay leaf, garam masala, cumin seeds, mustard seeds, coriander, turmeric, and crushed red pepper flakes and sauté until fragrant (about 30 seconds to 1 minute). Add cauliflower, potato, sugar, ¾ teaspoon salt, ¼ teaspoon pepper, and ½ c water; stir to combine. Cover the skillet and cook over medium heat about 15 minutes (stirring occasionally), until veggies are tender. Stir in thawed peas, cover skillet, turn heat off, and let sit 5 minutes so peas can warm. Taste and season with salt, pepper, and crushed red pepper flakes as desired. Serve garnished with fresh cilantro or parsley if desired.