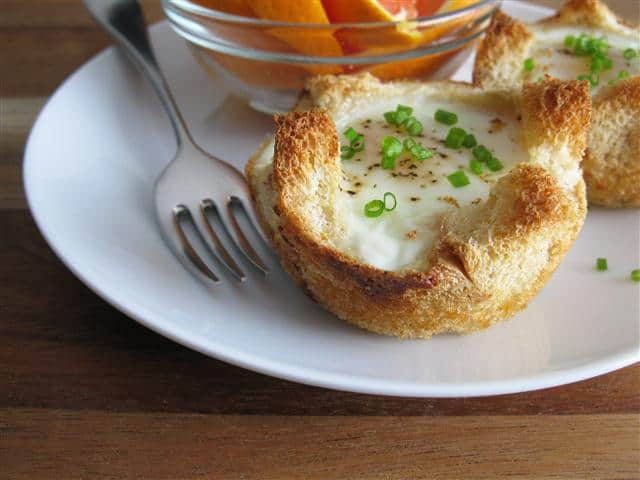 What was it that Julia Child said about chicken – you could eat it every day for a year without ever eating the same dish? Well that's exactly how I feel about eggs. I love how many different variations there are on even just the classic combo of eggs and toast: soft-boiled eggs with toast soldiers; eggs Benedict; the classic American diner meal of eggs any way you like, toast, hash browns, and breakfeast meat; and any number of egg sandwiches, to name a few.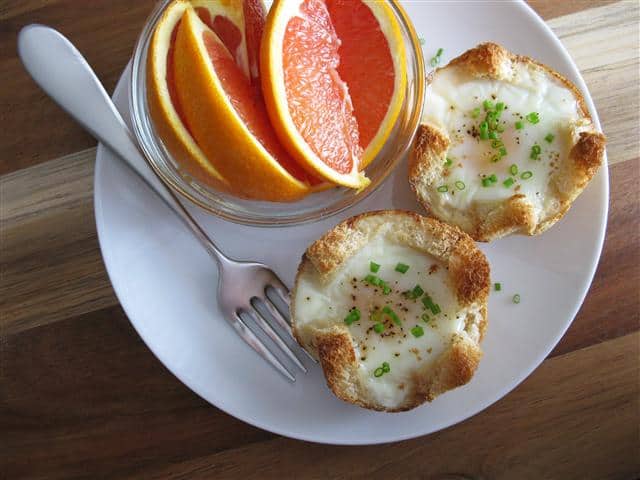 I made eggs in the basket, but with a slightly different twist: baked, not fried. A popular version of this dish consists of an egg cooked inside a hole that's cut out of the middle of a piece of bread; but even this, which is so similar to my version, yields a completely different result: a fried egg, while mine is baked. (How is that for versatility?!)
This recipe is a real winner with kids in particular since the eggs come in cute little packages. But they're just as easy to dress up for a lovely brunch item, by serving them in ramekins with fresh herbs and hollandaise for topping.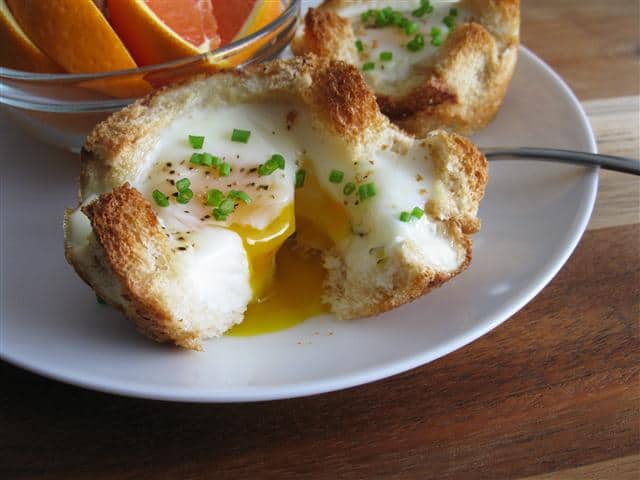 Baked Eggs in the Basket
(Yield: 1 serving)
2 pieces of bread
2 eggs
Butter
Salt and pepper
Minced fresh chives, or any other green herb you like (optional, for garnish)
A muffin tray or 2 individual ramekins
Preheat oven to 375F; generously butter two muffin wells or two individual ramekins. Trim the bread to fit inside the muffin wells or ramekins. Place a piece of bread into each well, then gently crack an egg into each piece of bread. Sprinkle a little salt and pepper on top of each egg and bake until the egg reaches your desired consistency (about 14-18 minutes gives set whites with runny yolks; increase time from there if you like a more well done yolk). To serve, if you used a muffin tray, let the egg baskets rest about 5 minutes in the tray, then run a sharp paring knife around the outside and use a fork to gently remove (if you used ramekins, you can serve them in the ramekins.) If desired, sprinkle minced fresh chives on top before serving. You can also serve with hollandaise if you like.