My mom has always been quite the sneaky cook.
She always wanted us to expand our culinary horizons and give new things a try. We weren't picky kids, but when the new things she wanted us to try were hare, bear, and deer, we protested something fierce. (We had some serious hunters in the family…and the bear was a result of my uncle about to be attacked in the woods by a bear when he was deer hunting. He literally had one shot!)
So when it came to uncommon meats, my mom tried to fool us every time. It got to the point when she made something like spaghetti with meat sauce we asked to see the package that the meat came in to make sure it wasn't one of our favorite woodland creatures. (Not that bear was one of our favorites, but the thought of eating bear was just plain off-putting.)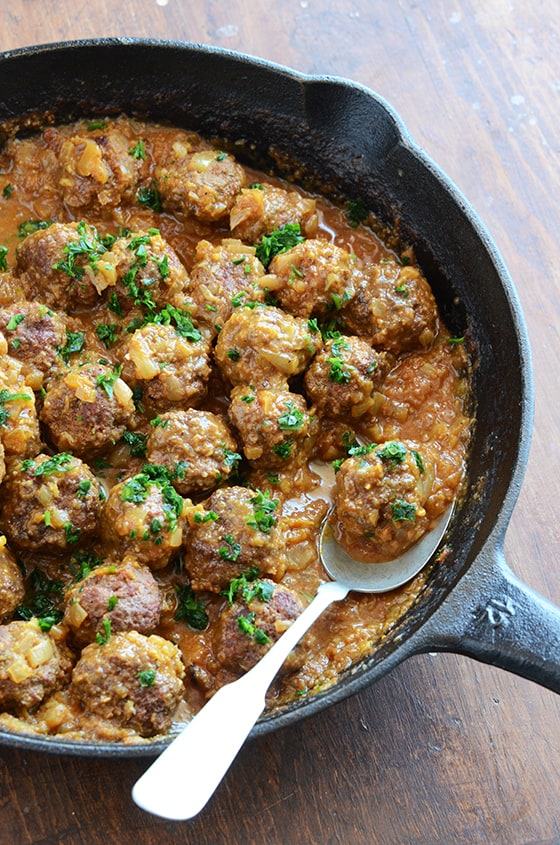 My nine-year-old niece isn't a picky eater at all, but she's like that with lamb. But I don't think it's so much the fact that she doesn't like the flavor as it is she doesn't like the thought of eating a sweet little lamb.
So I had to use my mom's tactics, old-school style. I told my niece this meal was beef. (I am so not proud of this, but when you're trying to feed a protesting kid I can see how parents do what they have to do.)
And yup, she loved it. Then at the end of the meal Mike mentioned (not really thinking about it) that Rosie was such a good eater – most kids don't like lamb! And then, as I am sure you can imagine, it hit the fan, lol. For the next 20 minutes I was bombarded with shock and disdain and What?! That was LAMB, Aunt Faith? But it was so good! And of course You tricked me! Sigh. It happens.
If you have someone who thinks they don't like lamb this curry might just convert them…same thing with a self-professed curry-hater. And if you remember a couple weeks ago when I made the Homemade Madras Curry Paste? Yup, it was for this dish.
Head over to my guest post on the Tasty Kitchen Blog to check out the full recipe for Lamb Meatballs in a Spicy Curry!