These muffins were revolutionary for me. Until I made them, I had never had a savory muffin before (yes, you read that right…never! Well, except cornbread, if that counts ;) ). These muffins were unique to me because they showed that good muffins don't need a boatload of sugar to be delicious (and so incredibly moist!). I'm even thinking of remaking a few of my favorite sweet muffins (like blueberry, apple cinnamon, banana walnut, and lemon poppy) with this basic recipe (obviously omitting the savory additions), because these muffins are so tasty I really don't think the sugar will be missed.
I made these to go along with the Pancake Chicken Salad I recently made, and they were definitely a wonderful accompaniment. They also made fantastic little sandwiches on their own (turkey and spinach was divine, as was tomato and cheese), or they're great toasted under the broiler and spread with a little bit of cream cheese or butter.
When I made these muffins I was just playing around with the ingredients I had on hand; the flavors I used (caramelized onion, feta, and rosemary) can absolutlely be swapped out to suit your tastes. I'm planning to make a batch with sharp cheddar, dried cranberries, and orange zest, and then a batch with provolone, sundried tomato, and basil. And after that I'm sure I'll think of something else. :)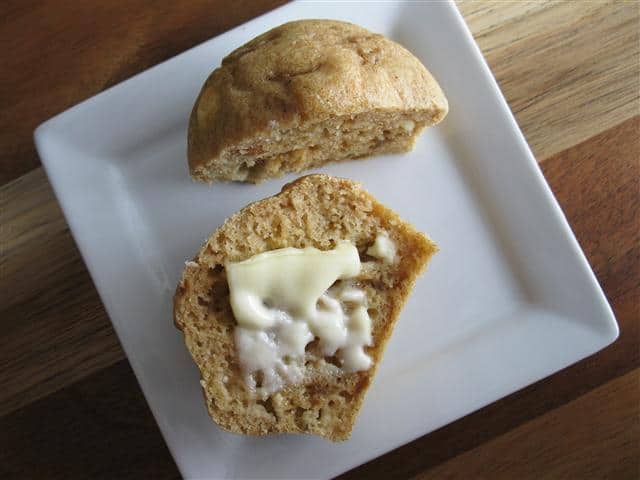 Savory Caramelized Onion, Feta, & Herb Muffins
(Yield: 10-12 muffins)
1 medium cooking onion, thinly sliced
3 TB canola oil, divided
1 c all-purpose flour (plus a little more to flour the muffin tray)
1 c whole wheat flour
1 TB baking powder
¾ teaspoon salt
Slightly scant ¼ teaspoon pepper
2 large eggs
1 ¼ c milk (low-fat or fat-free is fine)
1 TB brown sugar, lightly packed
1 TB minced fresh green herbs, plus a few more leaves intact for decorating the tops if desired (I used rosemary, but I think any of the following would also be good: dill, thyme, parsley, or chives)
½ c crumbled feta (or any cheese you like)
Butter (to grease the muffin tray)
In a medium-sized, thick-bottomed pot, heat 1 TB oil over medium-high heat until it starts to ripple, then add onion and stir to coat onion with the oil. Cook about 5 to 10 minutes, until onion starts to soften and turn color (stirring occasionally). Lower heat to medium-low/low and cook about 15 to 20 minutes more (again, stirring occasionally) until onion is a rich caramel color. (You can add a splash of water at any point in the process if the onions start to stick to the pan too much.) Let onion cool completely.
Preheat oven to 350F. Butter and flour a muffin tray (or line it with paper liners, if you prefer).
In a small bowl, whisk together flours, baking powder, salt, and pepper. In a medium bowl, whisk together remaining 2 TB canola oil, eggs, milk, and brown sugar. Gradually whisk dry ingredients into wet, being careful not to over-mix. Gently stir in herbs, feta, and caramelized onion.
Fill each muffin well ¾ full; if desired, sprinkle a few leaves of whatever herb you used on top of the muffins. Bake 20-22 minutes, until a toothpick inserted into the center of a muffin comes out clean. Let cool 10 minutes in the tray, then remove and finish cooling on a wire rack.