Mike and I spent our honeymoon in the Middle East and we had a truly amazing time. Since it was all new to me (not to Mike since he grew up there), I loved taking in all the sights, culture, and history. Despite all this, my favorite tradition of all was something that seems so small…every day we'd start our morning with a pot of Arabic coffee out on the balcony. I would make the coffee, put it onto a tray, and carry it out to the balcony for us to enjoy there. Sometimes I would cut up fresh fruit for us to eat, and add a little vase with a fragrant sprig of jasmine that I had picked the night before to decorate the tray. Once the coffee was made I would turn on Fairuz and wake up Mike…I loved those mornings.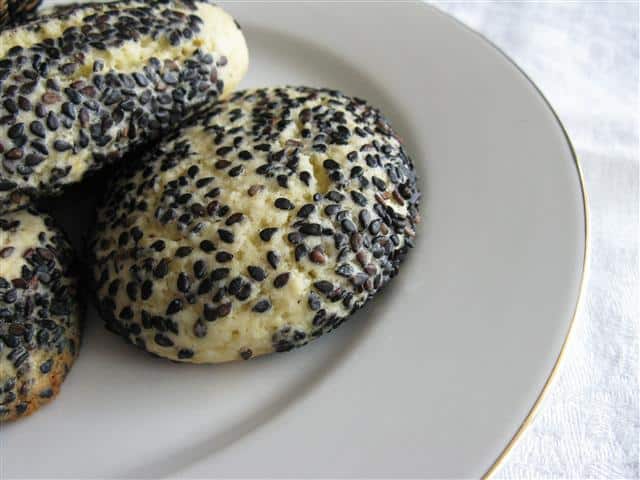 These cookies are just the sort of thing that I would have loved to add to our coffee tray. They're flavorful and crisp, and absolutely perfect for dipping into a cup of coffee. And ever since I was a little girl and first heard the story of Ali Baba and the Forty Thieves from 1001 Arabian Nights, sesame has reminded me of Arabic culture (because of open sesame! :) ).
Black Sesame Seeds
Speaking of Arabic culture, I want to share one of my favorite songs by Fairuz, called Kena Netla'a (meaning "We Used to Meet"). Fairuz is an incredibly talented Lebanese singer with a pure, melodious voice. Jacques Chirac actually compared her voice to that of an angel, and it is because of how sweet her voice is that Fairuz's songs are thought of as songs of the morning.
A Note on Shaping These Cookies: When I shaped these cookies, I used a slightly heaping tablespoon to measure them. While this didn't make huge cookies, I would have preferred a slightly smaller cookie for dipping purposes, since my favorite way to enjoy these cookies was with a cup of Arabic coffee (which is served in small demitasse cups like espresso). Next time I make them, I'll use a half-tablespoon to measure them, which should be about the perfect size (remember, if you decide to make them a little smaller, be sure to reduce the cooking time a bit). If you don't want to make them any smaller but you still want to be able to dip them into Arabic coffee or espresso cups, you could shape them all into oblong cookies instead of circles, which will make sure they're easier to dip.
Black Sesame Seed & Anise Cookies
(Yield: about 1 dozen larger cookies as pictured, or 2 dozen smaller cookies for dunking)
4 TB (¼ c) unsalted butter
¼ c sugar
1 large egg
¼ teaspoon pure anise extract
1 c all-purpose flour
¾ teaspoon baking powder
¼ teaspoon salt
¼ teaspoon fresh grated nutmeg
3-4 TB black sesame seeds
Baking sheet & parchment paper
A small bowl of water (to wet your fingers)
Preheat oven to 350F and line a baking sheet with parchment paper. Fill a small bowl with water and set aside for now. In a medium bowl, cream together butter and sugar; add egg and beat until light and fluffy. In a separate bowl, combine flour, baking powder, salt, and nutmeg. Gradually stir the dry ingredients into the wet, being careful not to overmix (the dough will be sticky). Wet your fingers, then roll the dough into little balls or whatever shape you want (you should get about 10-12 cookies if you make them about the size of a slightly heaping tablespoon); wet your hands in between rolling each ball to make the dough easier to work with. Roll each ball in black seeds, then place them on the baking sheet 2 to 3 inches apart (they will spread out during cooking); slightly flatten each ball. Bake 10-15 minutes or until light golden on the bottom, rotating the pan once halfway through cooking.
Now for my announcement…Mike and I are going on vacation to Syria, Lebanon, and Jordan and we'll be back towards the end of April! I'm not sure if/when I'll have internet access, but I've set up quite a few automatic posts while I'm gone so be sure to check back often. I know I'm going to miss blogging (and all of you!) very much! If you need to contact me, I think email will be the best means of communication since I will try to check my email as often as I have the opportunity, but please bear with me if it takes me a bit longer to respond than usual.