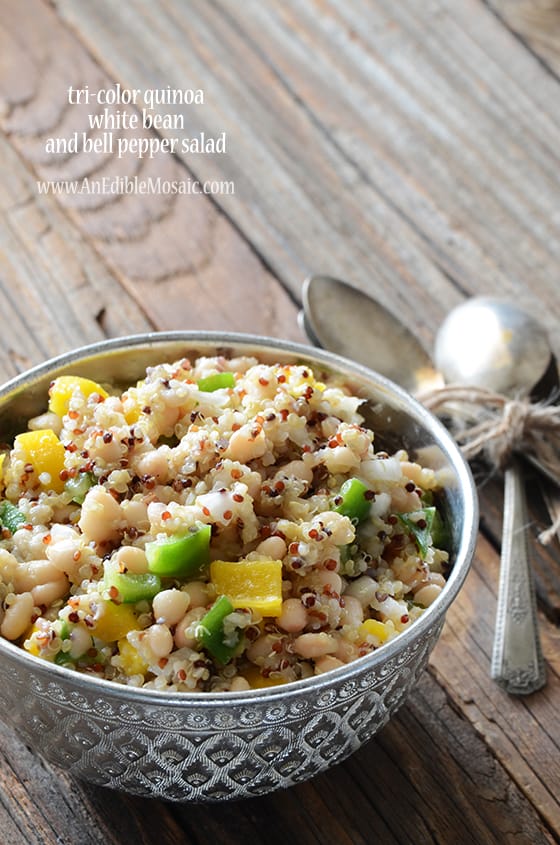 When I don't feel like cooking and I ask Mike to cook for us, we inevitably end up with one of two things for dinner: eggs or foul m'demmas (an Egyptian dish of mashed fava beans with garlic, tomato, parsley, cumin, lemon, and olive oil).
Now, I love eggs in all their incarnations, and Egyptian food is always a favorite. But sometimes I wish the hubby would whip up something different, like, oh I don't know, say a roast chicken with gravy or beef bourguignon. (Wishful thinking, right?)
I have to say though, he will offer to take me out to one of our favorite places if I need a meal away from the kitchen, and I adore him for that. Sometimes even one meal that someone else cooked and cleaned up after is enough of a break to make me feel refreshed.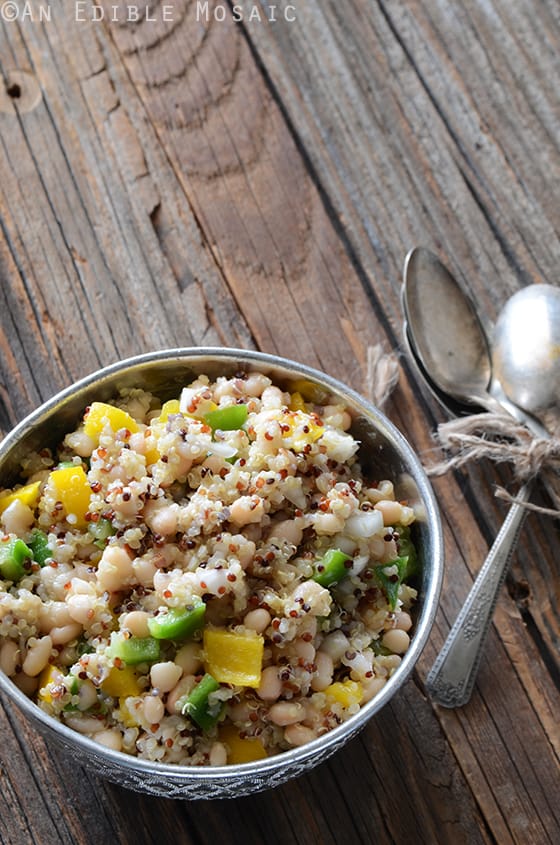 Knowing how the scenario will play out, I try to keep my fridge and pantry stocked with foods that can easily be turned into lunch or dinner with minimal effort for those days. Like beans and quinoa, two of the main ingredients in my Tri-Color Quinoa, White Bean, and Bell Pepper Salad. Just add bell peppers, onion, and a flavorful dressing and dig in.
And here's a hint to help a meal like this come together even quicker: if you do any meal prep for the week on the weekend, cook up a double batch of quinoa and store it in the fridge to eat during the week. It's perfect as a quick side dish, turned into patties and served with a super quick fresh salsa, or made into salad!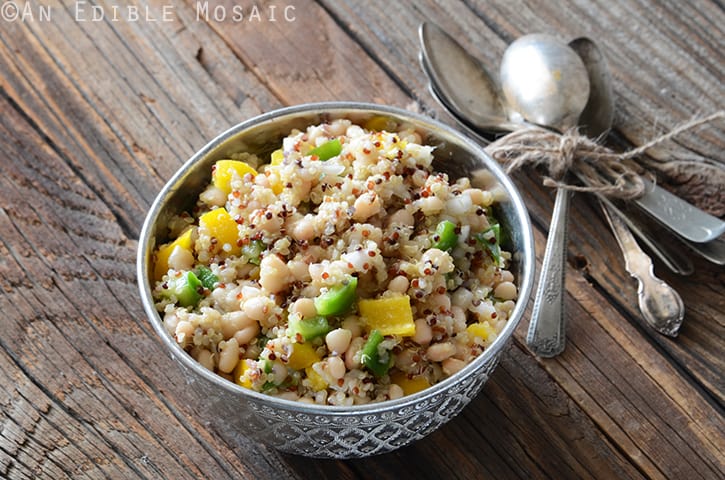 Tri-Color Quinoa, White Bean, and Bell Pepper Salad
Yield:
6 to 8 side dish-sized servings, or 4 lunch-sized servings
Ingredients
Salad:
8 oz (230 g) dried white beans, such as Navy beans (see Note below)
1 cup (192 g) Bob's Red Mill Organic Tri-Color Quinoa
½ teaspoon salt
3 bell peppers (different colors if possible), washed, seeded, and chopped
1 small-medium onion, finely chopped
Dressing:
1 tablespoon honey (raw, local honey if possible)
2 tablespoons apple cider vinegar
2 tablespoons fresh lemon juice
3 tablespoons extra-virgin olive oil
1 large clove garlic, grated on a microplane or crushed using a mortar and pestle
½ teaspoon salt
⅛ teaspoon black pepper
Instructions
Add the beans to a large bowl and fill the bowl about ¾ full of cold water; soak the beans overnight and then drain. Add the beans to a medium-large pot and fill the pot ⅔ full of water. Bring to a boil, then turn heat down slightly, cover the pot, and simmer until the beans are cooked through (taste a few to make sure they're soft). Stir them occasionally, and be sure to add more water if needed (the beans should always be covered by a few inches of water). Once they're cooked, drain and cool.
Meanwhile, place the quinoa in a sieve and run under cold running water for about 1 minute. Bring 2 cups (475 ml) of water and the ½ teaspoon salt to a boil in a medium saucepan with a tight-fitting lid. Add the quinoa and bring back up to a boil; cover, reduce heat to medium, and simmer until the liquid is absorbed, about 12 to 15 minutes. Remove from heat and fluff the quinoa, then cover the pot and let it sit for 15 minutes covered. Uncover the pot and let the quinoa cool.
Whisk all ingredients for the dressing together in a large bowl. Gently toss in the beans, quinoa, bell peppers, and onion.
Serve or store covered in the fridge for up to 3 days.
Notes
Using Canned Beans Instead of Dried: I had dried beans on hand so that's what I used in this recipe, but to save time you can use 2 (16 oz) cans white beans (such as Navy beans or Cannellini beans). Rinse and drain them well, and skip the bean cooking step.
A huge thank-you to Bob's Red Mill for sponsoring this giveaway! They're giving away a $50 gift card, which is perfect so the winner can pick their own favorites.
To participate in this giveaway, you can do any of the following (please leave a separate comment for each, so I can count them as separate entries):
Leave a comment on this post telling me your favorite unique salad ingredient.
Tweet the following message: Check out @AnEdibleMosaic to win a $50 @BobsRedMill gift card! https://www.anediblemosaic.com/?p=16878 #giveaway
Follow An Edible Mosaic on Twitter.
Follow Bob's Red Mill on Twitter.
You do not need to have a blog to enter this giveaway. For shipping purposes, this giveaway is only open to U.S. residents. This giveaway ends on May 6, 2014 at 11:59 PM EST. Once the giveaway ends, the winner will be randomly chosen and notified via email. The winner will have three days to respond with their mailing information, otherwise a new winner will be randomly chosen. Good luck to all!
Disclosure: I received the quinoa that I used in this recipe for free from Bob's Red Mill and they are providing the prize for this giveaway. I did not receive compensation for this post and I was under no obligation to review the product; as always, opinions stated are my own.