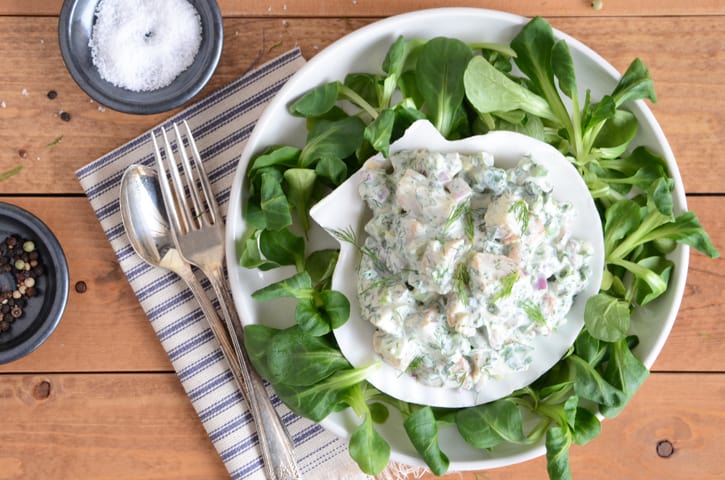 Anyone else a fan of lobster rolls? The other day I saw a picture of the most gorgeous looking lobster roll in the world on Pinterest. (If you're not on Pinterest yet, you might be wondering what all the fuss is about...you're in good company. Mike tells me all the time he just doesn't get it. And I tell him there is nothing to get, it's the most wonderful/fun/addictive way to waste, ahem, I mean spend, time.)
So, back to lobster rolls.
I didn't have lobster on hand, but I did have fresh scallops that weren't earmarked for anything in particular. No top-split hot dog rolls either, but I did have some gorgeous fresh purslane and a few other herbs in my crisper drawer. (Purslane, also called lamb's lettuce, lamb's tongue, or mâché, is a leafy green vegetable that looks like little lamb's tongues and grows in clusters. Since its extensive root system allows it to tolerate poor soils and dry conditions, and it's often thought of as a weed by those who aren't familiar with it. It's delicious though, with a slightly nutty flavor and a hint of bitterness. If you've had the Middle Eastern salad Fattoush you've probably eaten purslane, since it's a common ingredient in this salad.)
Scallop salad with herbs on a bed of purslane it was. :)
Scallop-Herb Salad
Serves 4
½ lb scallops, pan-seared or grilled
½ cup Greek yogurt
¼ cup buttermilk
¼ cup heavy cream
1 teaspoon Dijon mustard
1 teaspoon grainy mustard
1 teaspoon lemon zest
½ teaspoon salt
⅛ teaspoon black pepper
1 small red onion, finely diced
2 large stalks celery, finely diced
4 scallions (white and green parts), thinly sliced
¼ cup minced fresh parsley
2-3 tablespoons minced fresh dill (more or less to taste)
Let the scallops cool and then chop into bite-sized pieces. Whisk together the Greek yogurt, buttermilk, heavy cream, Dijon mustard, grainy mustard, lemon zest, salt, and pepper in a large bowl. Stir in the scallops, red onion, celery, scallion, parsley, and dill; chill until serving. Serve on top of salad greens or as a sandwich.