I'm not sure where this relish originally came from; unlike the name implies, I don't think there's any connection with Piccadilly in London. I had it for the first time this summer at a real dive of a restaurant, on top of a steak sandwich. It was the best condiment I had ever eaten, and I was immediately enthralled. Of course they didn't give me the recipe (and the girl behind the counter seemed to think I was a little nuts for even wanting a recipe for relish), so I was on a quest.
I thought I was in luck because the August 2009 edition of Cooking Light magazine featured a recipe for Tomato Chow-Chow (I forgot to mention, Picadilly can also be called Picadilli, Chow-Chow, or Millionaire's Relish). The only problem was that CL's version of Chow-Chow didn't even remotely resemble (in appearance or ingredients) the Picadilly I had eaten and fallen in love with. So I continued my mission online and after looking at as many Picadilly recipes as I could find (this is a surprisingly uncommon recipe), I came up with what I think is a pretty close match to the original relish I had eaten.
This really is the king of all condiments, since it combines any and every condiment you could ever want. Do you like ketchup and mustard? Not a problem, it's got tomatoes and mustard powder. Maybe you prefer sautéed pepper and onions? Don't worry, they're in there too! Or maybe you like a good sauerkraut? That's where cabbage and vinegar come in. Or maybe you fancy something with a kick? That's what the jalapeno is for! (Oh yes, you will fall in love with this relish!)
If you're thinking, that's great, but just how often will I actually use this super-relish?, wonder no further! Take a look at the pictures below to see a few of my favorite ways to use it.
A Note on the Cooking Time: I've seen many variations in cooking time for this recipe. Some recipes call for not cooking the veggies at all, but just boiling the vinegar with the other ingredients and pouring that on the veggies. Other recipes I've seen call for cooking the veggies for 30 to 45 minutes. I cooked it for 45 until it had a sauerkraut-like consistency, and looked exactly like the relish I had first eaten at that restaurant.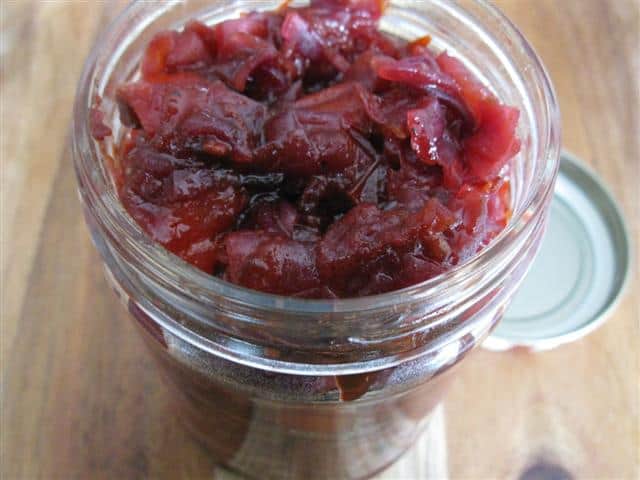 Picadilly Relish
(Yield: 2 cups)
2 tomatoes (red or green), chopped
2 ½ c chopped cabbage (red or green)
2/3 c thinly sliced celery (I use the leafy tops too)
1 medium bell pepper (red or green), chopped
1 onion, chopped
1 jalapeno pepper, seeded and minced
2 TB kosher salt
1 c apple cider vinegar
About 1/3 c brown sugar (more or less depending on how sweet you like your relish)
1 tsp dry mustard powder
¾ tsp celery seed, ground into a powder
¼ tsp turmeric
¼ tsp ground black pepper
¼ tsp allspice
2 cloves (or a pinch of ground cloves)
Combine all veggies with salt and let them sit covered overnight; rinse the veggies with cold water and drain. In a saucepot, combine the veggies with the remaining ingredients; bring the relish to a boil, then turn it down to a simmer and let it cook for 10 to 45 minutes (depending on the consistency you like your relish; I like to let almost all the liquid evaporate out so that it cooks down to sauerkraut-like consistency), stirring occasionally. Remove the cloves. Allow it to cool to room temperature, then store in the refrigerator for up to 3 weeks.