This Cardamom-Spiced Tapioca Pudding with Fresh Mango Sauce makes a light and fresh summer dessert!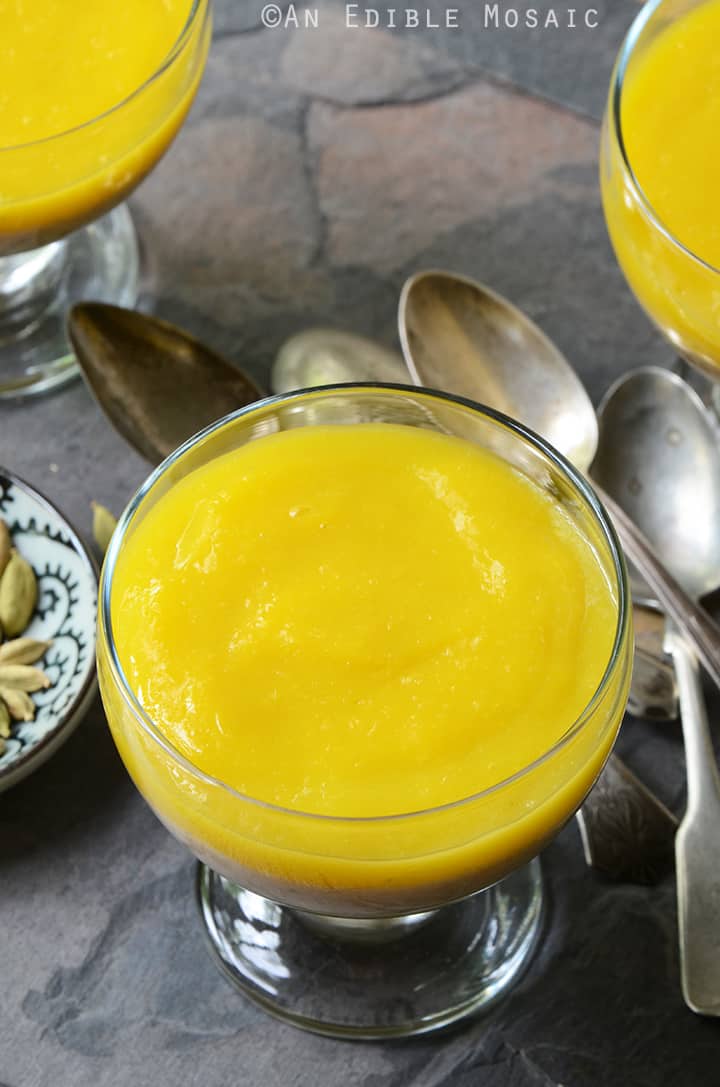 After Mike's Mexican mango fiasco, we've basically been swimming in mango sauce.
There are definitely worse things though, so I can't complain.
But I'm not saying Mike hasn't complained. That's when the thing I learned best from my mom – selective hearing – comes in very handy. As in…
Mike: Mango again?
Me (throwing my arms around his neck and planting a kiss on his cheek): I'm so glad you like mango, sweetie! It's one of my favorite fruits too.
Yeah, that's a little Stepford Wives-scary, but you get the idea. A girl does what she has to do when she has a lot of mangos to use up.
And why not make pudding, especially if tapioca is involved? Tapioca lends a really rich, creamy consistency to pudding even if you make it with low-fat milk. Here I used honey to keep the sweetener natural, but sugar will also work fine if that's your preference. Cardamom adds a little tang of sharp flavor complexity, which is a nice contrast to cut through the smooth richness of this pudding.
But the star of this dessert is definitely the bright-flavored fresh mango sauce, which literally takes just a couple minutes to whip up and is well worth having to clean the blender or food processor for.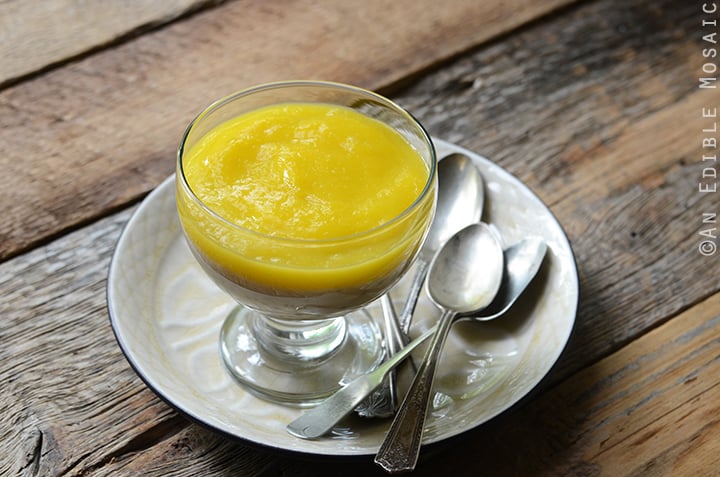 Cardamom-Spiced Tapioca Pudding with Fresh Mango Sauce
Prep time:
Cook time:
Total time:
Creamy tapioca pudding is subtly scented with cardamom and topped with fresh mango sauce.
Ingredients
Cardamom-Spiced Tapioca Pudding:
3 cups (710 ml) low-fat milk (I used 1%)
⅓ cup (65 g) small tapioca pearls (I used Bob's Red Mill)
⅓ cup (80 ml) honey (or ⅓ cup sugar)
½ teaspoon ground cardamom
¼ teaspoon fine salt
¾ teaspoon pure vanilla extract
Fresh Mango Sauce:
2 medium ripe mangos, peeled, pitted, and chopped
1 teaspoon fresh lemon juice
1 teaspoon honey
1 generous pinch sea salt
Instructions
For the pudding, add the milk and tapioca to a medium saucepan; bring to a gentle boil over medium heat, then turn the heat off, cover the saucepan, and let it sit for 5 minutes. Add the honey, cardamom, and salt and bring to a gentle boil over medium heat. Cook (uncovered) until the tapioca balls are translucent and the pudding is thickened, about 20 to 25 minutes, stirring occasionally and more frequently toward the end. Turn off the heat and stir in the vanilla. Transfer the pudding to 4 individual bowls.
For the mango sauce, puree all ingredients together in a blender or food processor until smooth.
Let the pudding cool to room temperature, then spoon the mango sauce on top. Transfer the puddings to the fridge to chill completely before serving, about 2 hours.