Rocket lettuce is the star of this Tangy Arugala Salad with Sumac (Salatet Jarjeer) that I learned how to make in Kuwait!
I'm not a long-time fan of peppery "rocket" lettuce. In fact, it's only within the past couple years that I started to enjoy arugala.
In Kuwait arugala is widespread, which isn't surprising because arugala thrives in sandy soil. When Mike and I lived there, he had a habit of ordering from his favorite Persian restaurant (which was literally a two-minute walk from where we lived) about once a week. They always included a few bags full of arugula with our kebabs, and since arguala isn't a favorite of either of ours, Mike and I always struggled using it up.
Until one day when we had dinner at a friend's house and they served us Jarjeer, which just means arugala in Arabic, but is also used to refer to arugala salad. And it's that salad that convinced both Mike and I that arugala can actually taste good.
The salad itself is so simple and its flavors are so basic. Lemon juice and sumac provide tartness, olive oil richness, and onion, mint, and salt enhance flavor. But it's magic. The taste of the arugala is somehow mellowed, which I know is completely counterintuitive because the other predominant flavors – lemon and sumac – are tangy.
Why should I care about eating arugala?, you wonder. This detoxifying leafy green is high in antioxidants and chlorophyll. It's good for promoting healthy skin and bones, reducing inflammation, and may lower the risk of cancer. And no wonder it's commonly eaten in Kuwait: its peppery flavor has a natural cooling effect on the body! (Health information about arugala was found on Full Circle, Chatelaine, and Organic Facts.)
Try this salad, especially if you think you don't like arugala. ;)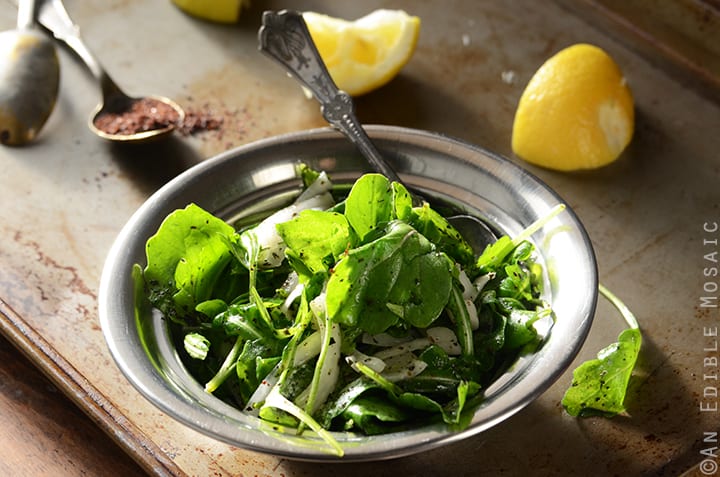 Tangy Arugala Salad with Sumac (Salatat Jarjeer)
This salad is magic; the peppery flavor of arugala is somehow mellowed by the tang of lemon and sumac, and rounded out with olive oil.
Ingredients
8 oz (225 g) fresh baby arugala leaves, rinsed and spun dry
1 medium white onion, peeled, quartered, and thinly sliced
3 tablespoons fresh lemon juice
2 tablespoons olive oil
1 tablespoon dried crushed mint leaves
1½ teaspoons sumac
½ teaspoon salt
Instructions
Gently toss together all ingredients; taste and add additional salt and sumac if desired.
Let the salad sit for 5 minutes so the flavors can blend and the leaves can wilt a bit.
Serve.