Bananas Foster Oats turns a classic dessert into a healthy breakfast!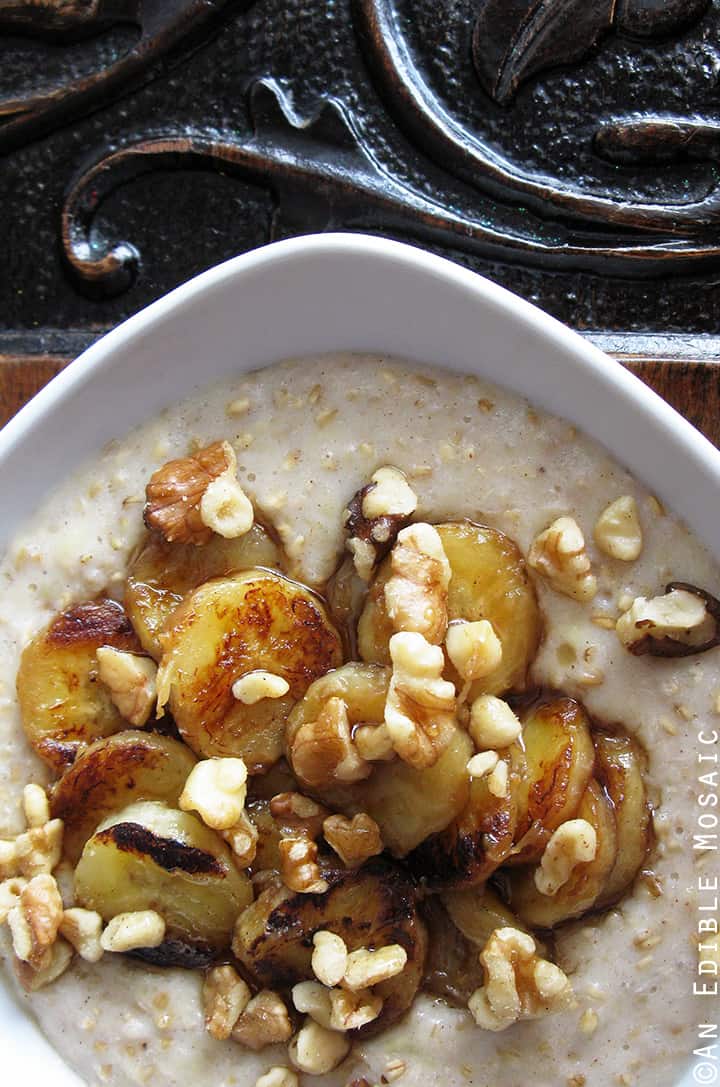 Ok, I confess…I made this recipe a long time ago. (Actually, I made it recently too, but that's because I make it all the time; I took these pictures when I made this a really long time ago.) At the time I felt like I had just posted a whole slew of oatmeal recipes, and lest you all see me for the oatmeal junkie I am, I was planning to withhold this recipe for a few weeks in hopes that you wouldn't catch on to my oatmeal addiction. (And yes, now I've gone and blown my cover.)
Anyway, a few weeks turned into a few months and I completely forgot about posting it…until I craved it again. If you enjoy bananas foster and/or oats, I highly recommend this one.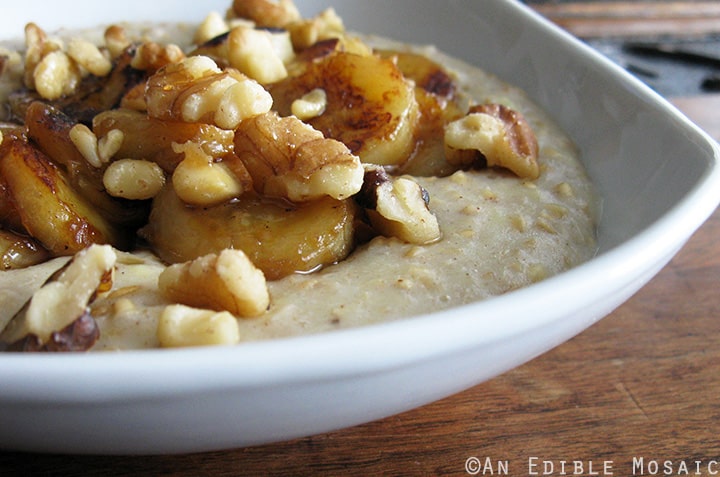 Bananas Foster Oats
Prep time:
Cook time:
Total time:
Bananas Foster Oats turns a classic dessert into a healthy breakfast!
Ingredients
¼ cup steel cut oats
1 medium banana, sliced and divided
½ cup milk (low-fat or fat-free is fine)
¼ cup water
Dash salt
Dash cinnamon
Cooking spray, or 1½ teaspoons of coconut oil or clarified butter
1 teaspoon pure vanilla extract
1 tablespoon chopped walnuts
1 teaspoon pure maple syrup (more or less to taste)
Instructions
Combine the oats, ⅓ of the sliced banana, water, milk, salt, and cinnamon in a small saucepan; cook on medium-low heat for about 12 to 15 minutes (whisking frequently), until it reaches your desired consistency.
Lightly spray a small nonstick skillet with cooking spray (or add the coconut oil or clarified butter), and cook the remaining banana slices over medium heat until they start to brown slightly (do not stir them). Flip the bananas, add the vanilla and 1 tablespoon water, and cook until the vanilla extract is cooked off.
Top the oatmeal with the bananas, walnuts, and maple syrup.
Notes
A Quick Note on the Bananas: After making this so many times I've come to realize that it's much easier to caramelize the bananas if you slice them a little thicker than what is pictured, maybe half an inch or so.