These Cheesy Refried Bean Burritos are a hit with kids and adults alike! And bonus, they come together fast and are freezer-friendly.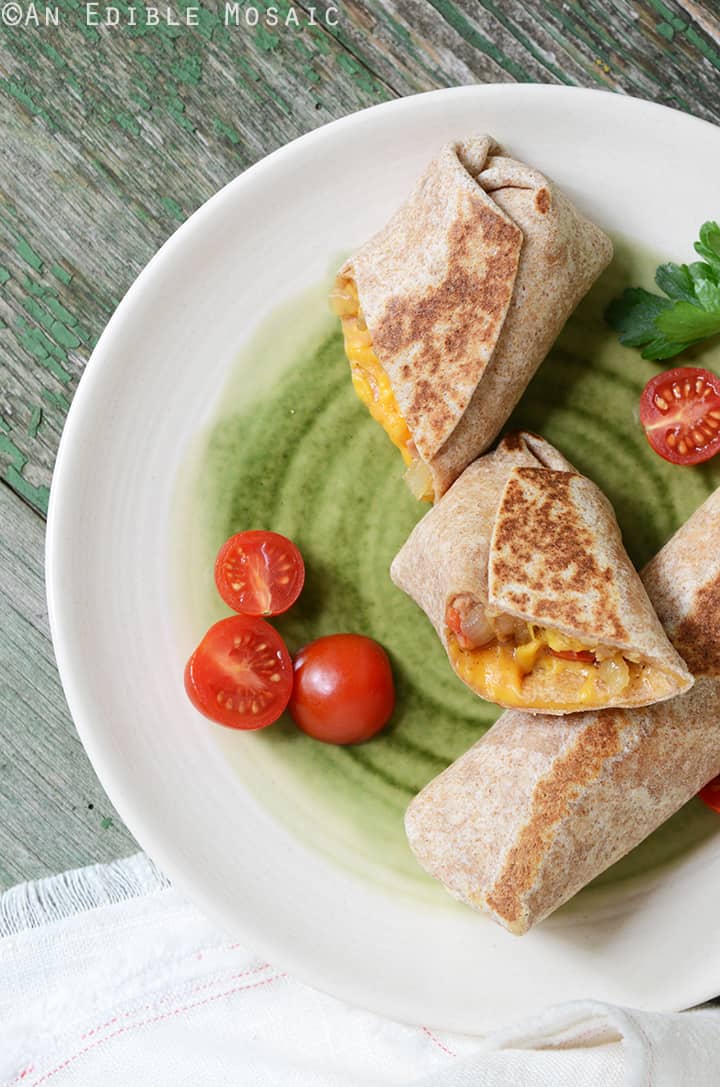 When I dormed in college, my friends took it upon themselves to teach me how to cook their favorite meals.
An Indian boy across the hall cooked me vegetable curry.
My Italian friend would cook me her grandmother's recipe for chicken with basil cream sauce.
And my roommate's specialty was refried bean and bell pepper burritos.
What can I say? People like to cook for me (lucky girl, right?).
Burrito night was always fun because we got the whole floor involved in the festivities. (Burritos all around is just so much more fun that burritos for one or two!) To this day, whenever I make burritos I think of my old college roommate and her love of 80's music, flowy skirts, and vegetarian burritos.
Cheesy Refried Bean Burritos are something I enjoy making when my niece comes over because they're always a hit with kids. Even though there are a couple spices in here (chili powder and cumin), these burritos aren't spicy hot (but if spicy hot is your thing, by all means amp these up with cayenne pepper or hot sauce!). Also, when I make these for kiddos, I like to use 8-inch tortillas because they're easier for little hands to pick up; if you have a more grown-up crowd in mind, you can use four larger (12-inch or so) tortillas instead.
I always look for vegetarian refried beans because non-vegetarian refried beans typically have lard, so that's something to keep in mind if you don't eat pork or meat products in general. Here I used GO Veggie! Lactose Free Cheddar Shreds, which melt fabulously and have as much protein as cheese and 55% more calcium with less calories, fat, and saturated fat. These cheddar shreds are also gluten-free, so if you're making these burritos for someone who is gluten-sensitive, go with corn or another kind of gluten-free tortilla.
How is that for an all-around winner?
Cheesy Refried Bean Burritos
Prep time:
Cook time:
Total time:
Yield:
10 small burritos, about 5 servings
These kid-friendly burritos come together in less than 30 minutes for the perfect weeknight meal!
Ingredients
2 tablespoons olive oil
1 medium-large red bell pepper, thinly sliced
1 medium onion, thinly sliced
2 cloves garlic, minced
¾ teaspoon chili powder
¾ teaspoon cumin
½ teaspoon salt
¼ teaspoon black pepper
10 (8-inch) soft whole wheat tortillas
1 (16 oz/454 g) can vegetarian refried beans
1 (7 oz/198 g) pack GO Veggie! Lactose Free Cheddar Shreds
Instructions
Heat the oil in a medium-large skillet over medium-high heat. Once hot, add the bell pepper and onion, and cook until the vegetables are softened and starting to brown in places, about 7 minutes, stirring occasionally. Stir in the garlic, chili powder, cumin, salt, and black pepper, and cook 30 seconds more, stirring constantly.
Place about 2 tablespoons each of the bell pepper/onion mixture, refried beans, and cheddar shreds in the center of a tortilla. Fold over both sides of the tortilla, then fold up the bottom flap, rolling it up tightly. Continue until all the fillings are gone (you should get about 10 burritos).
Preheat a large nonstick skillet over medium-low heat (do not add any oil). Place half of the burritos in the warm skillet and cook until browned on both sides, about 1 to 2 minutes per side. Repeat with the remaining burritos.
Serve warm.
Notes
Freezer-Friendly: Follow the recipe through Step 2, and then individually wrap each burrito in parchment paper; freeze them in a plastic zip-top bag. When you want to eat them, thaw the burritos at room temperature for 2 hours, and then warm them in a dry skillet.
Disclosure: I received the GO Veggie! products that I used in this recipe for free, and I also received compensation for this post. I am happy for the opportunity to share brands that I believe in with my readers, and I hope you enjoy my recipe. As always, opinions stated are my own.