This quick-cooking 20-Minute Chicken Fajita Quinoa Dinner Skillet is cooked on the stovetop, and is a great recipe to have up your sleeve for those busy summer nights when you don't want to heat up the oven or fire up the grill! It's a great way to use leftover chicken too.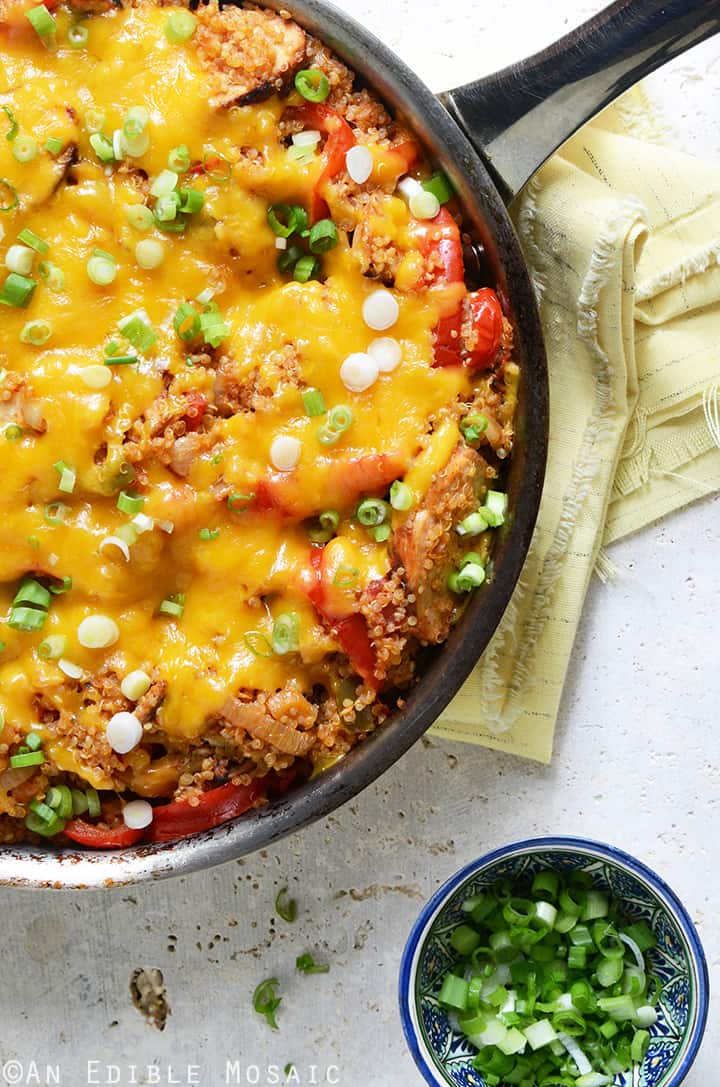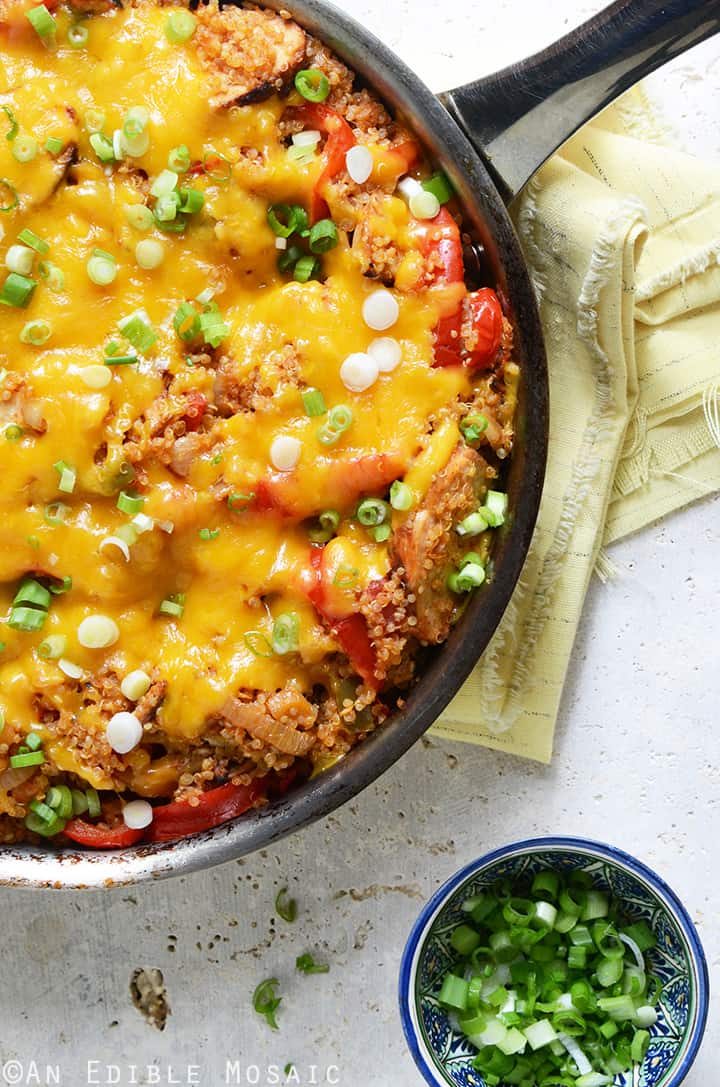 So, Mike still won't eat quinoa.
I wish we could be one of those happy dinner households where they make one meal and all sit down to enjoy the same thing together like The Brady Bunch or something. That has just never been the case with us.
My hubby is picky beyond words. He's so fussy when it comes to food, I'd wager a guess that he makes your worst three-year-old eater look good. (Yup, that bad.) Mike told me that growing up, his mom would make one meal for the rest of the family and a separate meal just for him, based on his favorites. She ruined him for me because this is essentially what I end up doing. (It's either that or have him order out every night, which is not good financially or nutritionally.)
Welcome to my life, lol. (The great thing is he doesn't mind days of leftovers though! So it's not as bad as it sounds. ;) )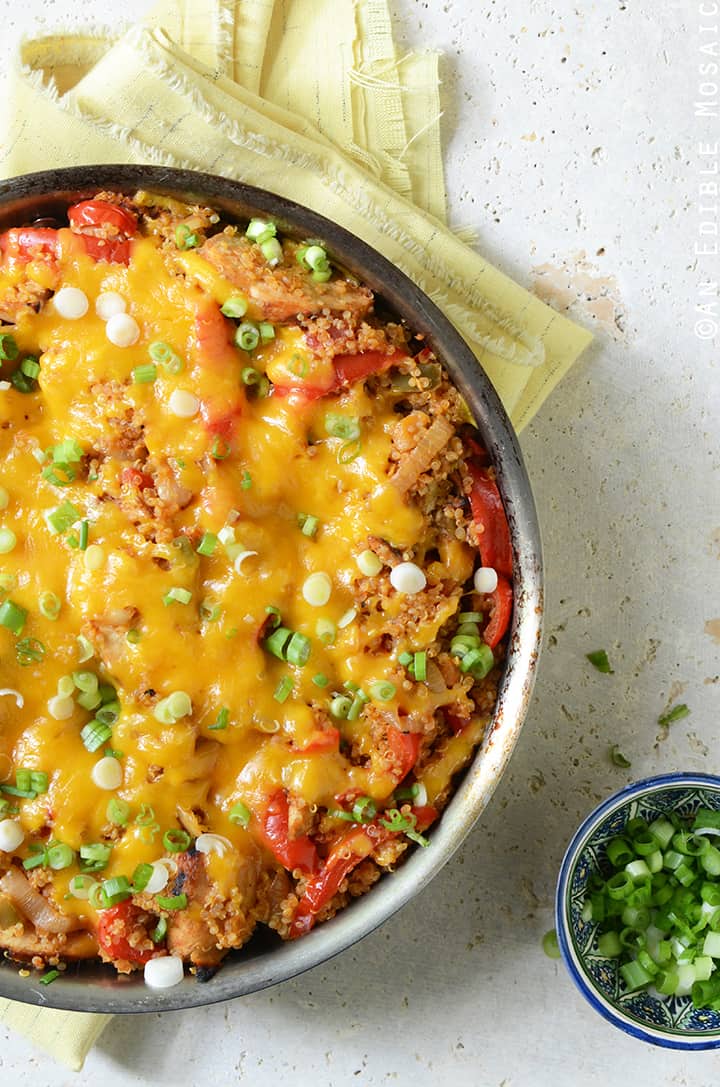 But back to quinoa. Even though my hubby doesn't like it, I enjoy it, especially paired with bold flavors like garlic, chili powder, and smoked paprika in this recipe. This dish is a great way to use up leftover quinoa, or if you're making quinoa for another meal, just make a double batch so it's waiting in the fridge for this dish. I used leftover grilled chicken here, but any kind of leftover chicken or even a rotisserie chicken will work fine (or switch it up for steak or even just a can of black beans, if that's your thing!).
Excessively picky husbands aside, this would be a Brady Bunch-type meal that the whole family will enjoy.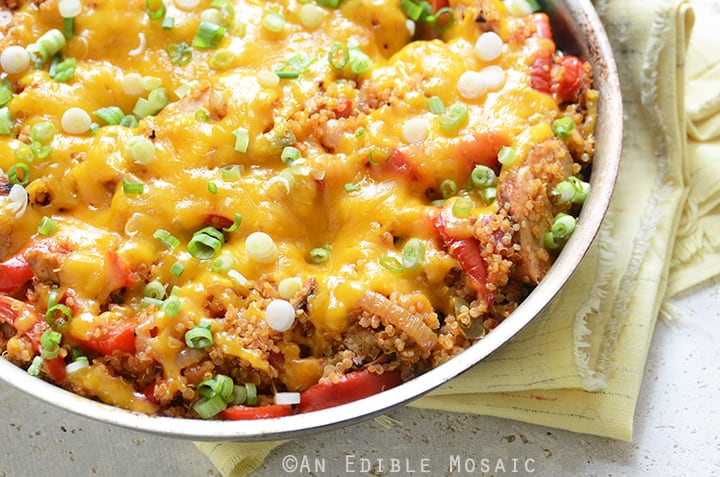 20-Minute Chicken Fajita Quinoa Dinner Skillet
Prep time:
Cook time:
Total time:
This nutrient-dense meal packs a bold bunch of Tex-Mex flavors and is a great way to use up leftovers like quinoa and chicken. It's perfect for a weeknight dinner in 20 minutes!
Ingredients
2 tablespoons olive oil
1 large red bell pepper, de-seeded and thinly sliced
1 large onion, halved and thinly sliced
3 large cloves garlic, crushed
1 teaspoon chili powder
½ teaspoon smoked sweet paprika
½ teaspoon cumin
¼ teaspoon cayenne pepper or spicy paprika (more or less to taste)
1¼ to ½ lbs (570 to 680 g) grilled chicken breast, sliced cross-wise (about 3 chicken breasts)
3 cups cooked quinoa (made from 1 cup dry quinoa)
½ cup tomato salsa (hot, medium, or mild, depending on your preference)
4 oz (115 g) sharp cheddar, shredded
2 scallions, green and white parts, thinly sliced
Instructions
Heat the oil in a large skillet over medium to medium-high heat. Add the bell pepper and onion and cook until softened and starting to brown in spots, about 5 to 7 minutes.
Add the garlic, chili powder, paprika, cumin, and cayenne, and cook 1 minute, stirring constantly.
Turn the heat down to medium, add the chicken and quinoa, and cook until warm throughout, about 2 minutes.
Turn the heat down to low, stir in the salsa, and sprinkle the cheese on top. Cover the skillet and leave it until the cheese is melted, about 2 minutes.
Sprinkle the scallions on top and serve.