These pretty sandwiches were made with the last of the local peaches I had purchased…a true last taste of summer! They're headed off to Natasha of 5 Star Foodie for her Peaches and Cream 5 Star Makeover.
A Note on the Sweetness: I don't mind the tang of Neufchatel cheese, but if you want it a little sweeter you could either combine the cheese with honey to taste, or you could serve this with warm maple syrup or honey.
If you haven't checked out my giveaway yet, check it out here!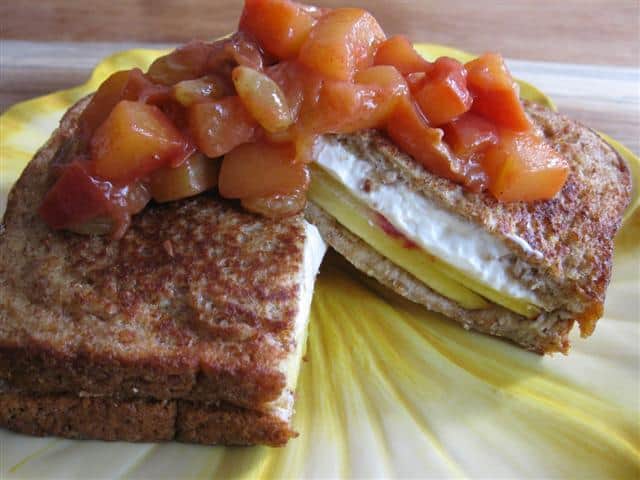 Peaches and Cream French Toast Sandwiches with Warm Peach Compote
(Yield: 2 stuffed French toast sandwiches)
French Toast:
½ peach, thinly sliced
4 oz Neufchatel cheese
2 teaspoon honey
4 slices of hearty bread (I used Wegman's honey wheatberry and it was incredible!)
1 egg
1 TB milk
1 teaspoon sugar
Dash cinnamon
2 teaspoon canola oil
Peach Compote:
½ ripe peach, diced
1 TB golden raisins
¼ c water
1 TB honey (optional, depending on how ripe your peach is)
Dash salt
Dash cinnamon
In a small saucepan, combine all ingredients for the peach compote. Heat over medium-low heat for about 20 minutes (stirring occasionally) until the liquid is evaporated and the peaches are softened.
For each stuffed French toast, spread 2 oz of Neufchatel cheese on a slice of bread, arrange half of the sliced peaches on top of the cheese, drizzle with 1 teaspoon honey, and top with another slice of bread. In a shallow bowl, combine the egg, milk, sugar, and cinnamon. Dip the sandwiches into the egg mixture (dip both sides of the bread, but be careful not to soak the bread), then cook the sandwiches until they're golden on both sides in a non-stick pan over medium-low heat that has been preheated with the canola oil (this will take about 3 minutes per side). Serve the sandwiches with warm peach compote and warm maple syrup or honey if desired.