You know that creepy neighbor who somehow knows a little too much about your personal business?
The one who remarks, You're going out to dinner again?, when he catches you going out dressed in something other than jeans in the early evening.
And who asks with surprise when you bring a bag of apples home on a random Wednesday, You needed more apples already?
And who tells your husband, You talk way too much on the phone, man.
Yeah, that guy.
(It can't be just me who has a creepy neighbor situation going on.)
But when you make Baked Brie with Warm Honeyed Grapes and Walnuts and devour it for Sunday brunch with a friend and the creepster later asks you what you made begs for the recipe because he claims he could smell it outside, you realized he's just redeemed himself a little bit.
How?, you ask. It's not for the compliment he gave you in asking for your recipe. No, you're just grateful when you realize that he didn't knock on the door and invite himself in for brunch. Ugh.
After I made Jessica's (How Sweet It Is) recipe for Roasted Blueberry-Basil Brie (check out my pic of it in this post) from her cookbook Seriously Delish, I got a real taste for warm and gooey brie. I just happened to have a wheel of it in my cheese drawer and a bag of grapes in my crisper and a friend coming over for brunch. There was no fighting fate; I didn't even stand a chance.
Let me give you little a tip on this one: double the warm honeyed grape part of this recipe. Not for use on the cheese in this dish, but for use on everything. Like yogurt, ice cream, pancakes, waffles, crepes, oatmeal, toast, and croissants. (Or, you know, bathing in.) This grape sauce is magic.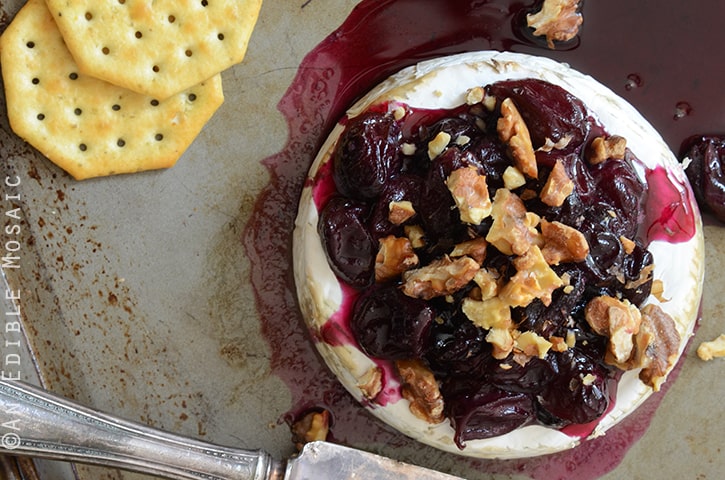 Baked Brie with Warm Honeyed Grapes and Walnuts
Prep time:
Cook time:
Total time:
Ingredients
1 (8 oz/226 g) wheel brie cheese
1 cup (185 g) red seedless grapes
1 tablespoon honey
½ tablespoon apple cider vinegar
1 pinch sea salt
3 tablespoons toasted walnuts, coarsely chopped
Bread or crackers, for serving
Instructions
Preheat the oven to 350F. Once the oven is preheated, unwrap the brie and place it onto an oven-safe baking dish. Bake 12 minutes.
While the brie bakes, make the topping. Add the grapes, honey, vinegar, and salt to a small saucepan over medium heat. Cover the saucepan, bring to a boil, and cook 6 minutes, stirring occasionally. Uncover the saucepan and cook until the syrup is slightly thickened, about 6 minutes more, stirring occasionally.
Top the baked brie with the grape mixture and then sprinkle on the walnuts.
Serve warm with bread or crackers.
Disclosure: This post contains Amazon affiliate links to products I believe in, which means that even though it doesn't cost you anything extra, I will receive a small amount of money from the sale of these items, which helps me keep this site alive – thank you for helping to support An Edible Mosaic!