Tangy Whipped Yogurt with Honey-Muddled Red Raspberries and Sumac is a refreshingly sweet and tangy way to dress up yogurt for breakfast or a light dessert.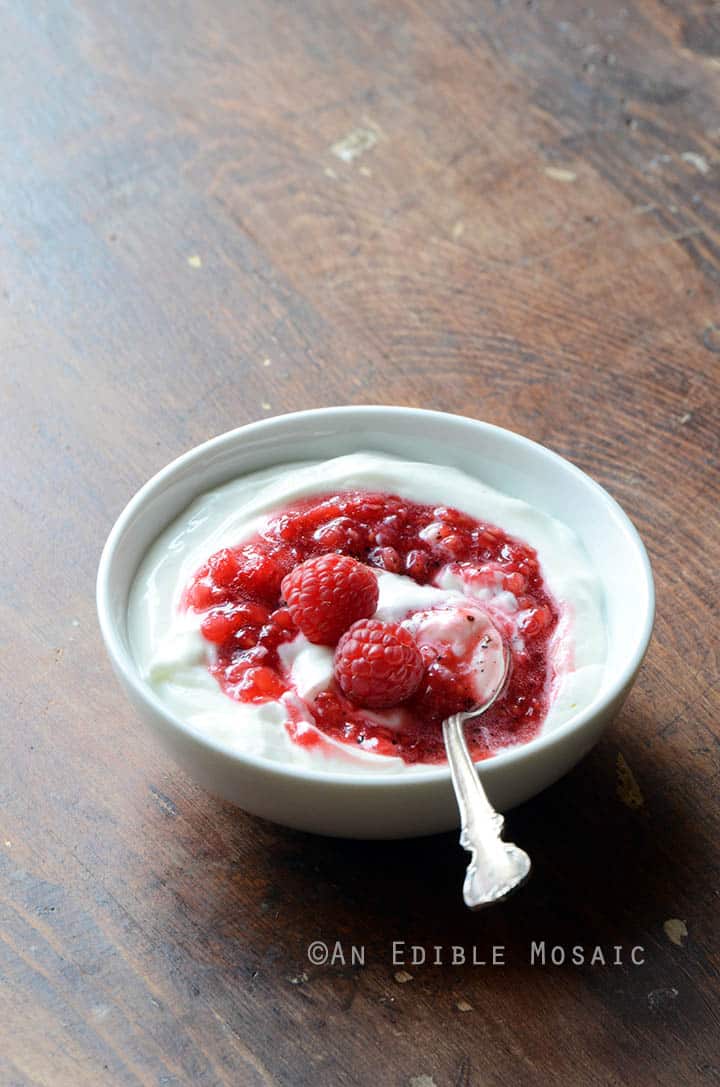 I'm often surprised at how delicious the simplest foods are.
Fresh strawberries drizzled with dark chocolate; just-baked bread spread with butter; juicy ripe pear slices with creamy blue cheese and a touch of honey; onions and garlic sautéed in olive oil and seasoned with salt and pepper; and let's not forget a humble childhood favorite, peanut butter and jelly.
These are the pairings – too simple to even be considered recipes – that are staples in my kitchen but rarely see the light of day on my blog.
This whipped yogurt is one such recipe that's actually just a method, and not really a recipe at all. If you've never made strained yogurt (also known as labneh or yogurt cheese) you'll be surprised at how easy it is to make. The point is just to strain out the whey, and you can do this either by pressing the yogurt or suspending it in cheesecloth.
The resulting strained yogurt is tangy with a smooth and creamy consistency that's even a bit thicker than Greek yogurt. Here the recipe takes strained yogurt just one step further and whips it until it is light and fluffy.
Maybe best of all about strained yogurt is that you can take it sweet or savory depending on what you top it with. My hubby likes it savory with drizzle of extra virgin olive oil and a sprinkle of za'atar, scooped up with warm Arabic flatbread. After trying it with honey-muddled raspberries, inspired by the incredibly talented Ksenia of At the Immigrant's Table, I think I might be convinced that sweet is the way to go.
I've been a fan of Ksenia's work for a while now, and you may remember that last year we worked together on a collaborative post (where I shared my recipe for Foul Mudammas and she shared her recipe for Green Shakshuka). If you're not familiar with Ksenia's blog, let me say that her photography is awe-inspiring. Her recipes are real food-focused, nourishing, and delicious. I visit her blog for more than good eats and beautiful photography though; Ksenia has a way with words that gives deeper meaning to food. I couldn't be more excited for Ksenia about the recent release of her first e-cookbook (you can purchase it here!)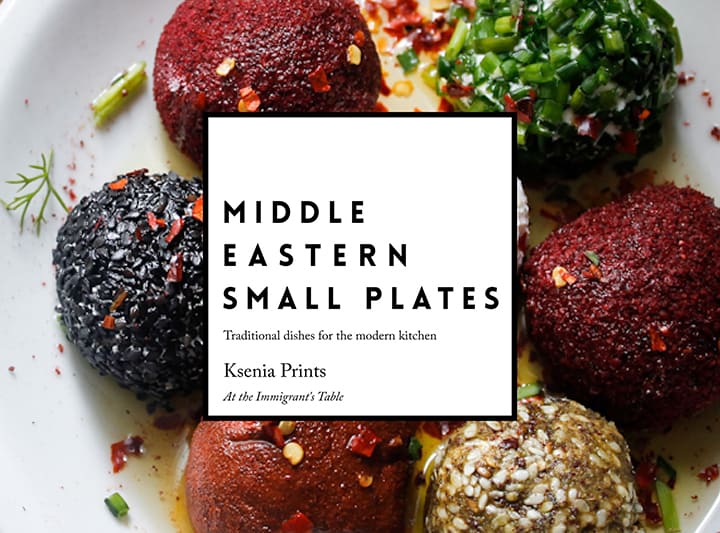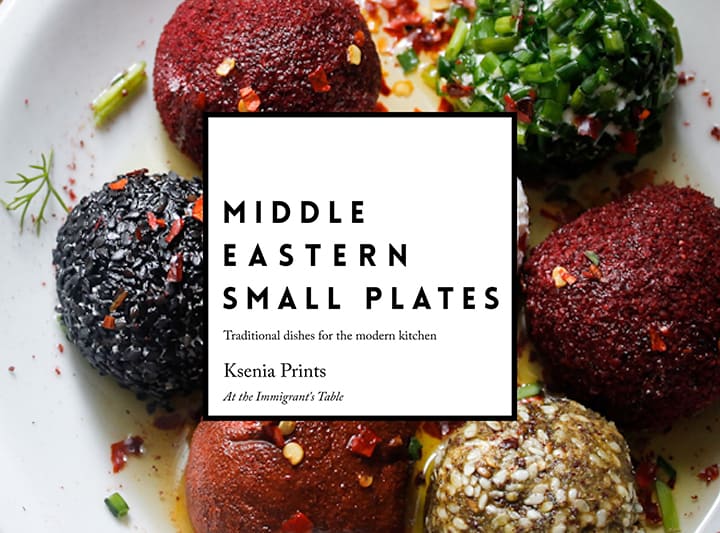 Ksenia's cooking philosophy is beautiful. She embraces good quality ingredients paired with even better company. Mostly simple, but sometimes slightly more involved meals that nourish body and soul, and are redolent with nostalgia. Food that invites big smiles and messy kitchens. Food with heart that tells a story.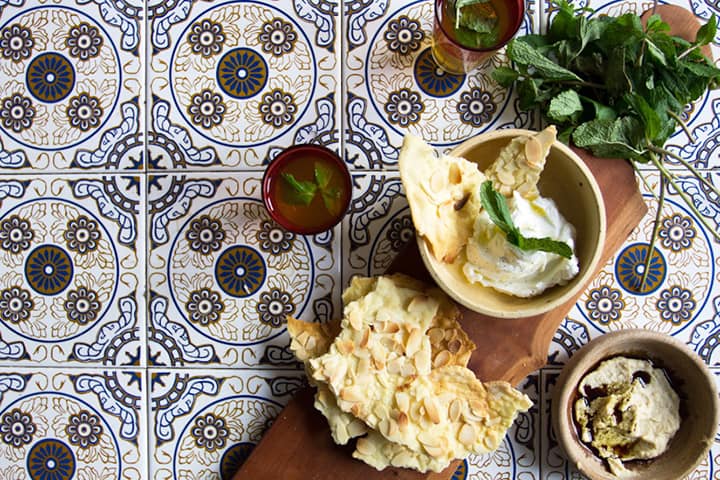 Gluten-Free Almond Lavosh Crackers from Middle Eastern Small Plates; image courtesy of Ksenia Prints.
Looking through her cookbook was mesmerizing, my only challenge (of course) was deciding what to make first. I imagined the crisp lightness and nutty crunch of Gluten-Free Almond Lavosh Crackers and the depth of flavor in what looks like the ultimate condiment, vibrant Tomato and Pepper Matboucha (also known as cooked salad). The allure of earthy mushrooms and onions in Mushroom Bourekas beckoned to me, as I can rarely resist mushrooms especially if flaky crust is involved.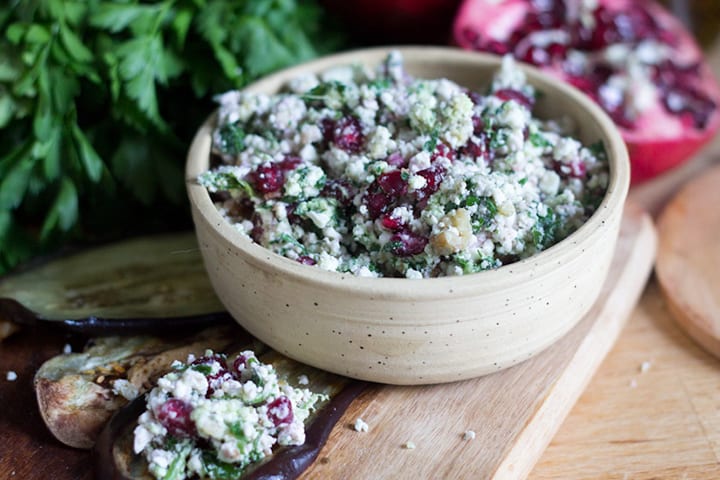 Eggplant Rolls with Feta, Walnuts, and Pomegranate from Middle Eastern Small Plates; image courtesy of Ksenia Prints.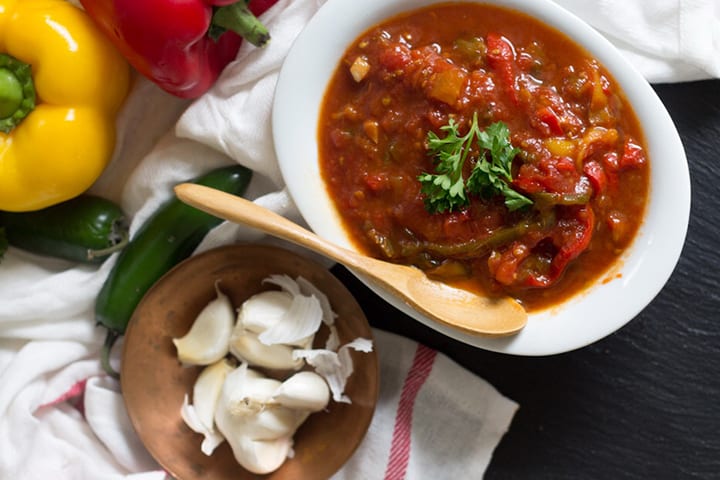 Tomato and Pepper Matboucha from Middle Eastern Small Plates; image courtesy of Ksenia Prints.
In the end, it was the Whipped Goat Labneh with Sumac and Pomegranate that won out, but the recipe I'm sharing here has a couple of my own twists. When I made it, pomegranate was just coming out of season and I couldn't find one for love nor money. I thought about what fruit would be good, and decided on red raspberries, mainly for their stunning color. I wanted to take it a touch sweeter by adding honey so I thought muddling the raspberries with honey would be perfect. I kept sumac in the recipe, and I'm glad I did because its bright lemony flavor perked everything else up. I also went with Ksenia's suggestion of using sheep's milk yogurt, and was pleased at the refreshing tang.
Not counting the time for the yogurt to strain (because let's be honest, it babysits itself overnight in the fridge), this comes together in just 10 minutes. It's beautiful and almost whimsical, making something as ordinary as yogurt feel special. And feel free to take this recipe and make it your own. You can use just about any kind of fruit you like (mango puree is also wonderful and makes a striking contrast in color), and you can adjust the sweetness to suit your tastes.
Serve it for breakfast or as a light dessert on its own or maybe dolloped on pound cake along with a fresh berry sauce or a simple spring or summer dessert.
And be sure to check out Ksenia's blog and e-cookbook because I'm sure you'll find her work as inspiring as I do. (P.S. She's also on Facebook, Twitter, Pinterest, and Instagram!)
Tangy Whipped Yogurt with Honey-Muddled Red Raspberries and Sumac
Yield:
2 servings as breakfast or dessert or 4 servings as part of an appetizer spread
Tangy Whipped Yogurt with Honey-Muddled Red Raspberries and Sumac is a refreshingly sweet and tangy way to dress up yogurt for breakfast or a light dessert.
Ingredients
16 oz (450 g) yogurt (use sheep or goat's milk yogurt instead of cow's milk yogurt for even more tang)
3 oz (85 g) red raspberries
1 tablespoon raw, local honey
1 pinch sea salt
Sumac, for garnish
Instructions
To strain the yogurt, you can either press it or suspending it. Here are both methods.
To Press the Yogurt: Place a strainer inside a bowl, and line the strainer with cheesecloth or coffee filters so that they hang over the outside of the strainer. Scoop the yogurt into the lined strainer and fold the cheesecloth or coffee filters over the top of the yogurt. Cover with plastic wrap and put a plate on top; put something heavy on top of the plate to help press the whey out of the yogurt. Let the yogurt sit like this in the fridge for 12 to 24 hours, or until it reaches your desired thickness.
To Suspend the Yogurt: Line a bowl with 2 pieces of cheesecloth, place the yogurt in the center, and tie the cheesecloth closed. If the weather is cool, hang the cheesecloth over the sink for 8 to 24 hours or if the weather is hot, hang the cheesecloth in the fridge for 8 to 24 hours with a bowl underneath to collect the whey.
Once the yogurt is strained, use a handheld electric mixer to whip it until light and fluffy, about 2 minutes.
To muddle the raspberries, add the raspberries, honey, and a pinch of salt to a bowl and mash everything together with a fork.
Serve the whipped yogurt topped with the raspberry sauce and a pinch of sumac.
Notes
Recipe inspired by and adapted from Ksenia Prints' recipe for Whipped Labneh Dip with Sumac and Pomegranate in
Middle Eastern Small Plates
.
Make-ahead:
Once the yogurt is strained, store it in a covered container in the fridge for up to 1 week.
What to do with the whey leftover from straining yogurt:
You can use it to make smoothies, overnight oatmeal, or add it to baked goods.