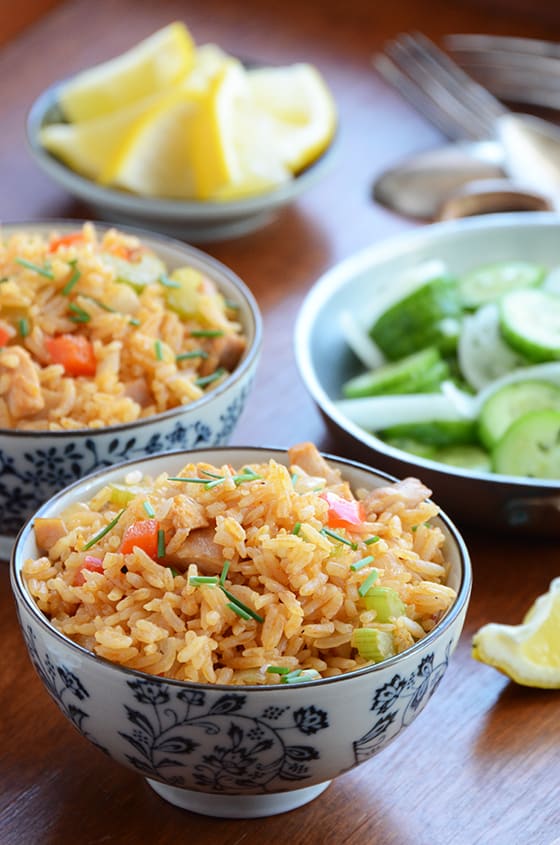 A while ago Mike had an intern at work whose family owned a Thai restaurant; we'll call him "Jay". To this Jay, I would like to say thank you for expanding my husband's culinary horizons in a way that only hunger and an opportune moment can do (aka, if you're hungry enough, you'll try anything).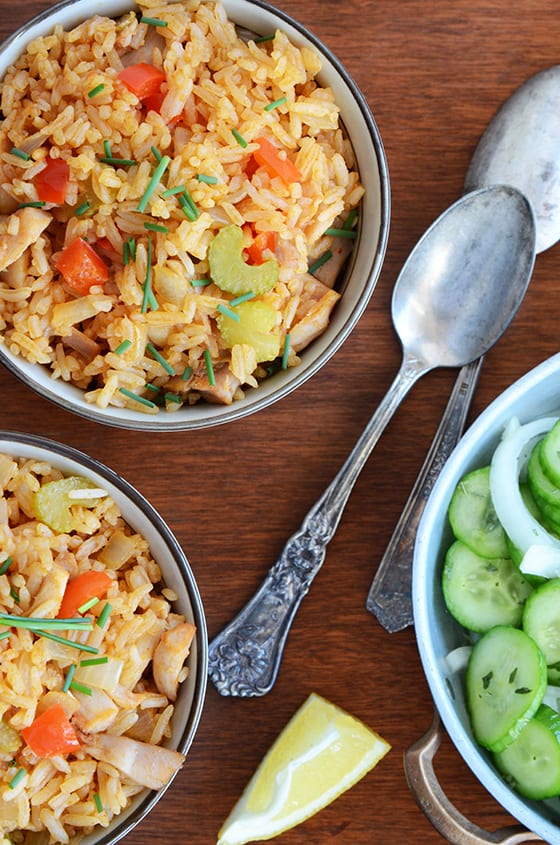 I've been a fan of Thai food for a very long time; Mike, on the other hand, not so much. He suffered through a few meals with me at my favorite Thai places…not suffering because the food was bad, but because he had it in his head that he "didn't like Thai food". Enter Jay, and a day when Mike forgot to grab his lunch out of the fridge in the morning before heading off to work.
Four hours and a hungry belly later, Jay offered to share his lunch (yup, some people still do that), which just happened to be Thai fried rice. Thank you, Jay. Now instead of Mike saying he "doesn't like Thai food," he says "I only like the fried rice". But at least he and I can eat at a Thai place without me worrying he won't enjoy a single bite of his meal.
I'm not claiming that this is fried rice is authentic, but for my Thai-inspired fried rice I like to use well-balanced sauce full of classic Thai flavors. I've been working on the perfect sauce for Thai fried rice for a while now, and I think the sauce I came up with is a fantastic balance of sweet, salty, sour, spicy-hot, and umami flavors. I use a teensy shortcut – a store-bought Thai red curry paste – but of course feel free to use homemade if you prefer. And speaking of preferences, feel free to swap out the veggies I used for any you have on hand.
Thai-Inspired Fried Rice with Chicken
Prep time:
Cook time:
Total time:
Ingredients
Fried Rice Sauce:
4 tablespoons boiling water
4 tablespoons Thai fish sauce
3 tablespoons soy sauce or tamari sauce
3 tablespoons fresh lime juice
3 tablespoons homemade or store-bought Thai red curry paste (I use Thai Kitchen)
2 tablespoons coconut oil
4 tablespoons coconut palm sugar
6 large cloves garlic, peeled
2 tablespoons fresh grated ginger
1-2 small red bird's eye chilies, halved and de-seeded (more or less to taste, or use your favorite hot sauce instead)
½ teaspoon tamarind pulp (or 1½ tablespoons rice vinegar)
Fried Rice:
2 tablespoons canola oil
1 medium-large onion, diced
1 medium red bell pepper, diced
2 large stalks celery, thinly sliced
4 cups (750 g) cooked Jasmine rice (see note below)
3 cups (450 g) cooked chicken, cubed
Other:
Fresh minced scallion or chives, for serving (optional)
Fresh lime or lemon wedges, for serving (optional)
Instructions
Combine all ingredients for the fried rice sauce in a blender or food processor and process until smooth; set aside for now.
For the fried rice, heat the oil in a large skillet over high heat; add the onion, bell pepper, and celery and cook until the onion is softened but not yet starting to brown, about 5 to 7 minutes, stirring occasionally. Add the rice, chicken, and fried rice sauce; cook until warm throughout, about 2 minutes, gently tossing the rice constantly to coat it with sauce.
Serve the rice with fresh minced scallion or chives sprinkled on top, along with fresh lime or lemon wedges to squeeze on top if desired.
Notes
Cooked Rice: It's best if the rice is at least 1 day old; up to 5 days old should be fine.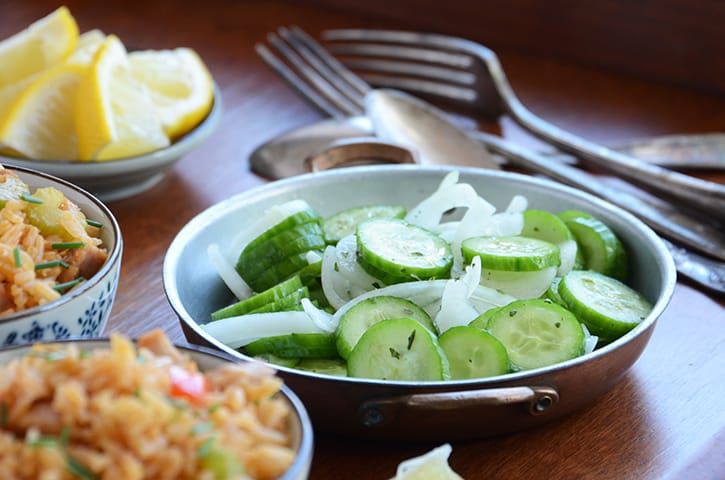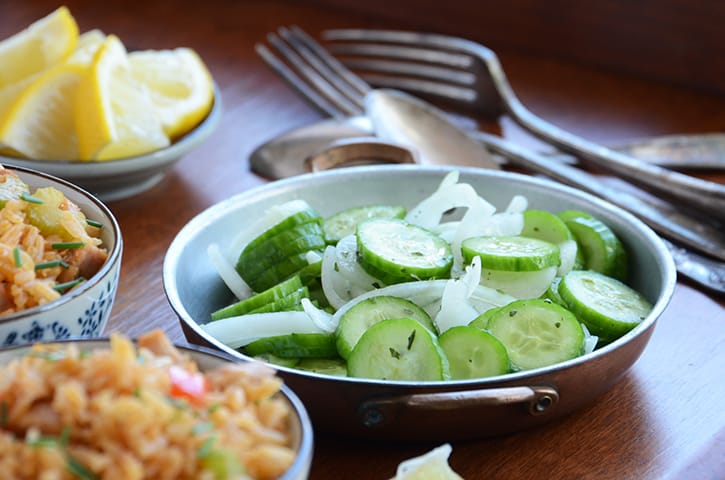 I'm crazy about the sweet and tangy cucumber salad they serve at Thai restaurants, and I always make it at home when I serve my Thai-Inspired Fried Rice…here is my recipe for it!