Chai-Spiced Spaghetti Squash (or Pumpkin) Crumble-Topped Loaf Cake is moist and dense and full of warm spices.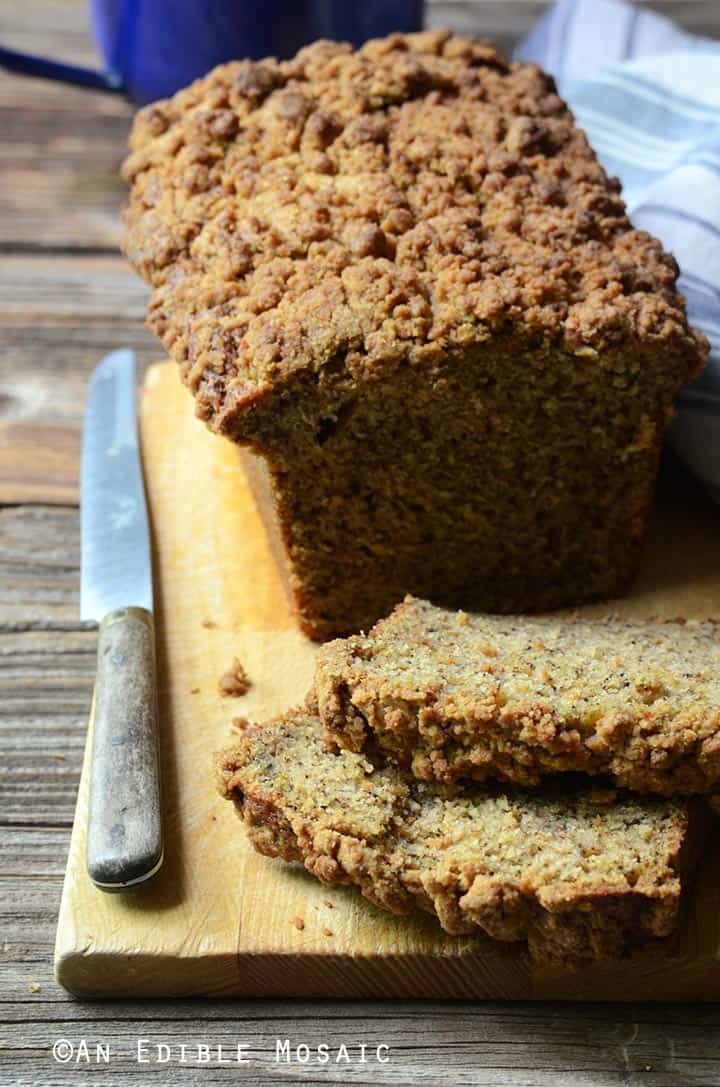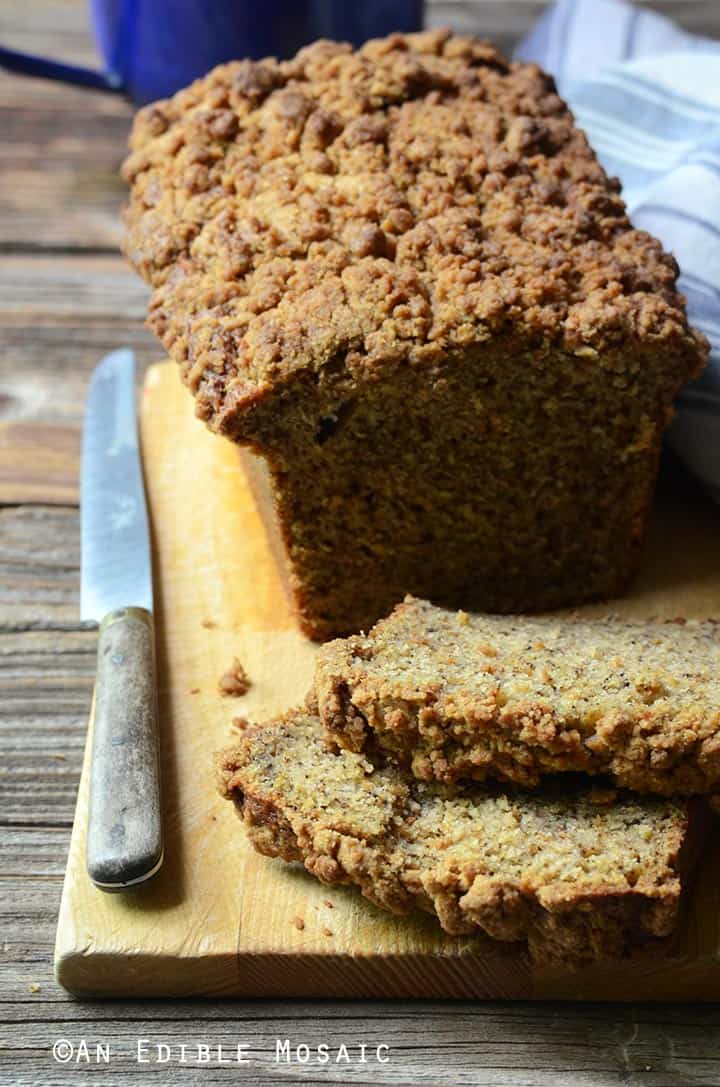 Sometimes the best things in life come about by accident (recipes included!). Or at least out of a desire to use what we have on hand, like this bread.
Let me explain, but first I have a little confession; spaghetti squash was new to me until my late-twenties (whaaaat?! Ridiculous, I know) when a friend made it and served me up a plate topped with marinara sauce, homemade meatballs, and a fresh basil chiffonade delicately sprinkled on top. Love at first bite is a somewhat rare occurrence for me, but this was it.
Since then, I think I've made spaghetti squash a grand total of two times in my own kitchen. The last time, I royally messed it up (yeah, total newb). The squash didn't come out in those gorgeous strands; instead it managed to be simultaneously mushy and stringy in parts, and if I'm being honest, a bit unpleasant. It was still good food though (relatively, anyway), and I wasn't about to waste it. I had the idea to puree it completely and use it the same way I'd use pumpkin puree, which worked pretty fabulously, if I do say so myself. (And yes, you can use pumpkin puree instead; or another kind of squash puree that you like or have on hand, as long as it has about the same thickness as pumpkin puree. If you want to try sweet potato puree, you may need to thin it out with a bit of water first.)
I found spaghetti squash puree to be somewhat more muted in color and mild in flavor than pumpkin, so the warm chai flavor really shined through in this recipe. The texture of this loaf is somewhere between bread and cake, very similar to a coffee cake, and I think it works equally well for a decadent breakfast or brunch as it does for an afternoon coffee or tea break. (Note that because this cake is chai-flavored, I use black tea in the recipe and it does contain caffeine, so be mindful of that if you limit your caffeine intake later in the day.)
Have you had a kitchen mishap that ended up leading to a new favorite recipe?
Chai-Spiced Spaghetti Squash (or Pumpkin) Crumble-Topped Loaf Cake
Prep time:
Cook time:
Total time:
Yield:
1 (9 by 5-inch) loaf
Chai-Spiced Spaghetti Squash (or Pumpkin) Crumble-Topped Loaf Cake is moist and dense and full of warm spices.
Ingredients
Dry Ingredients:
2 cups (255 g) all-purpose flour
1 teaspoon ground cardamom
¾ teaspoon ground cinnamon
¾ teaspoon baking soda
¾ teaspoon salt
½ teaspoon ground ginger
¼ teaspoon each ground nutmeg, cloves, and black pepper
2 organic black tea bags, cut open (grind the leaves more if they're not finely ground)
Wet Ingredients:
1 cup + 2 tablespoons (225 g) sugar
4 tablespoons unsalted butter, softened
2 large eggs
1½ cups pureed spaghetti squash (see Note)
⅓ cup (80 ml) plain, unsweetened yogurt
2 teaspoons pure vanilla extract
Topping:
4 tablespoons sugar
1 teaspoon molasses
½ teaspoon pure vanilla extract
½ cup (65 g) all-purpose flour
¼ teaspoon ground cinnamon
⅛ teaspoon salt
3 tablespoons unsalted butter, at room temperature
Instructions
Preheat the oven to 350F; butter and flour a 9 by 5-inch loaf pan.
Whisk together all the dry ingredients in a medium bowl.
Beat the sugar and butter together in a large bowl until well blended, about 1 minute. Add the eggs one at a time, beating well after each addition. Beat in the pureed squash, yogurt, and vanilla.
Beat the dry ingredients into the wet half at a time, being careful not to over-mix. Pour the batter into the prepared pan.
For the crumble topping, cut together all ingredients with a fork or pulse in a food processor until crumbly. Sprinkle on top of the loaf.
Bake until a wooden pick inserted in the center comes out clean, about 1 hour 15 minutes to 1 hour 30 minutes.
Cool 10 minutes in the pan on a wire rack, and then remove the loaf from the pan and cool completely on a wire rack before slicing.
Notes
Recipe adapted from my recipe for
Best Banana Bread
.
Squash:
I used cooked, pureed spaghetti squash for this loaf and my spaghetti squash was very, very soft (read: mushy) before pureeing. You can use another type of pureed squash; canned pumpkin works fine (not pumpkin pie mix though).