This paleo Healthy Chocolate Mug Cake Recipe has rich chocolaty flavor and great texture! It's saved me when I just want a little something sweet that's fast without eating junk food.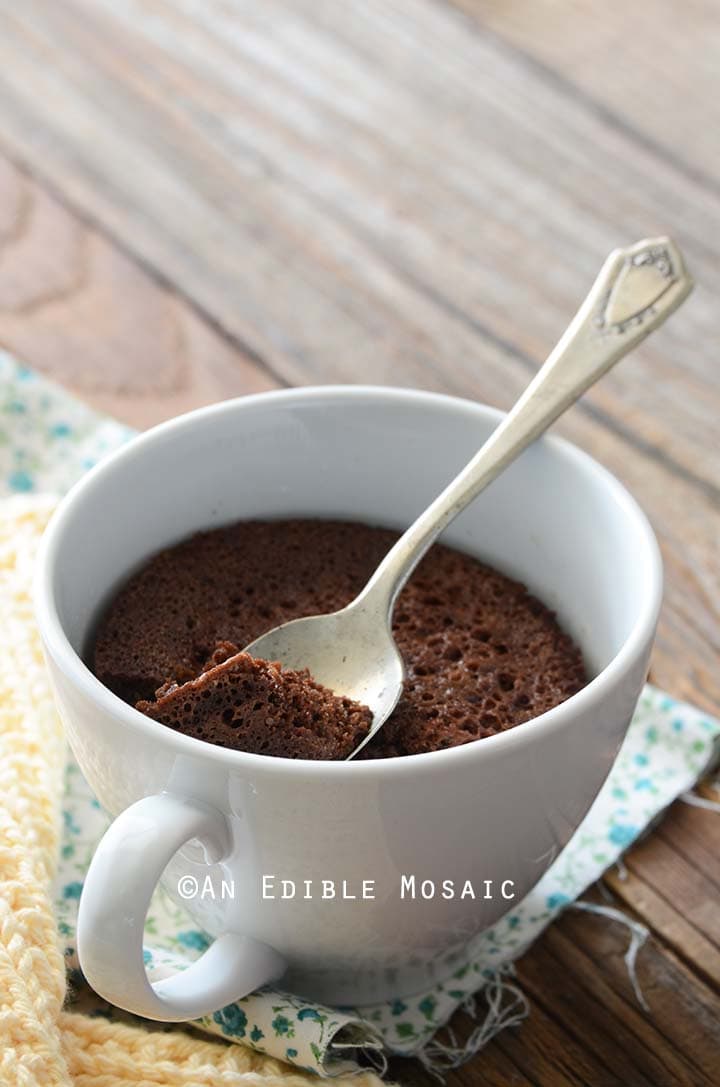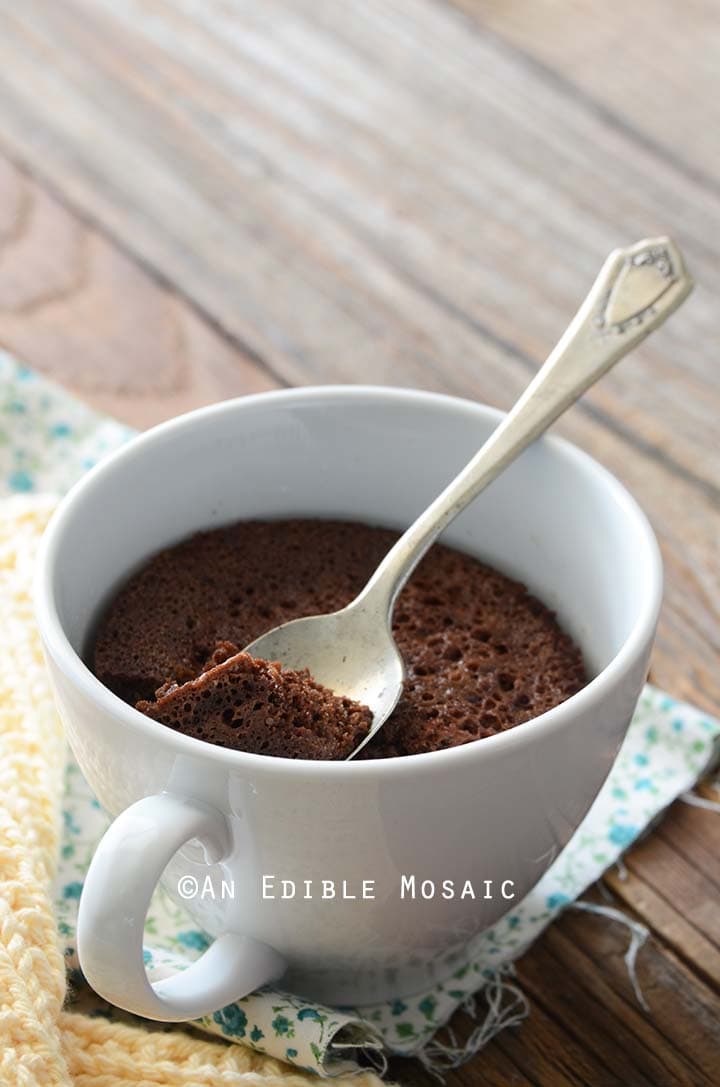 Like I mentioned when I told you about my Chocolate Cupcakes for Two, I'm kind-of particular about my cake. (As Mike likes to tell me, I'm kind-of particular about a lot of food-related stuff, but that remains to be proven and is an entirely different discussion for another day.)
Anyway. I don't think there is anything more disappointing than seeing an absolutely stunning cake and then sinking your teeth into what you think will be pure bliss, and realizing that it tastes like rubbery-textured cardboard.
Such a bummer.
There are legitimate days when you just need a single serving of cake, right, ladies? And I won't discriminate, guys too. And I'm a firm believer that you shouldn't have to make an entire cake just to get a decent slice of it.
But what if you could have a single serving cake that tastes like it's worth the calories (no rubbery, flavorless cakes here!), is made in five minutes, and is full of wholesome, nourishing ingredients? That day has come, friends.
I don't blame you if you're a little skeptical about this cake at first…because who would have thought? But give it a try, especially if you keep a pretty well-stocked healthy pantry and have all the ingredients on hand. You won't believe how amazing this cake is.
When I was developing this recipe, it became a nightly ritual for about a week straight (purely for testing purposes, of course), until I realized that I was sort-of defeating the purpose of a single-serving cake. But it is so good I really didn't care.
So go ahead and make this, but be warned, it might become a new nightly routine.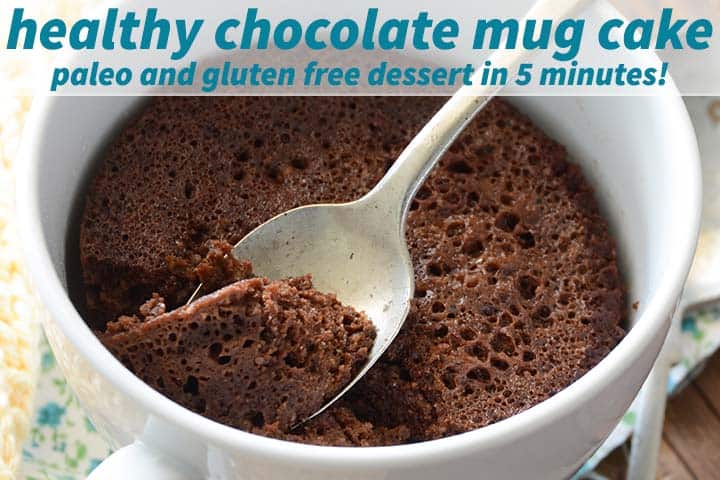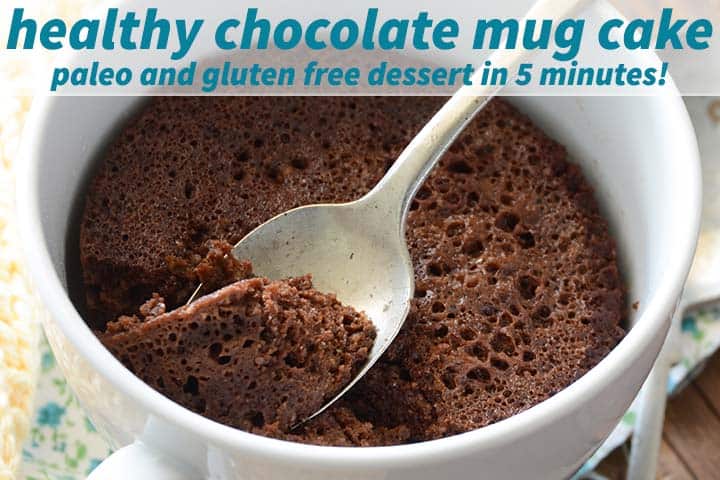 Paleo Chocolate Mug Cake – Healthy Chocolate Mug Cake!
Mug cake is perfect for those times when you want a little something sweet without having to make a whole cake. It alleviates the problem of having to wait for an entire cake to cook. And additionally, it solves the issue of what you'll do with a whole cake once it's made! (Unless it's a birthday, nobody needs an entire cake laying around the house, right?!)
This Healthy Chocolate Mug Cake just happens to be paleo, meaning it's grain free, gluten free, dairy free, and free of refined sugars.
I use honey as the sweetener, almond milk as the liquid, and a blend of almond flour, cocoa powder, and flaxseed meal as the flour.
How to Make Mug Cake
The point of a mug cake is that there are no dishes (or at least minimal dishes) to clean other than the mug you cook the cake in!
I stir together the ingredients for this cake in a small bowl and then pour it into a greased mug. However, you can stir everything together in a mug if you prefer. And then just microwave it.
If you want, you can top this mug cake with healthy goodies, such as fresh berries, coconut flakes, or chopped nuts. And I think it goes particularly well with a dollop of coconut whipped cream!
What Makes a Cake Moist?
Some recipes use fat, usually in the form of oil or butter, to make a moist cake.
My Healthy Chocolate Mug Cake uses egg yolk for fat to help make this cake moist.
Additionally, honey yields moist baked goods. (Even though this isn't technically a baked good since it's made in the microwave, it's the same idea.)
Lastly, be sure not to over-cook this cake because that's the one thing that is sure to dry it out!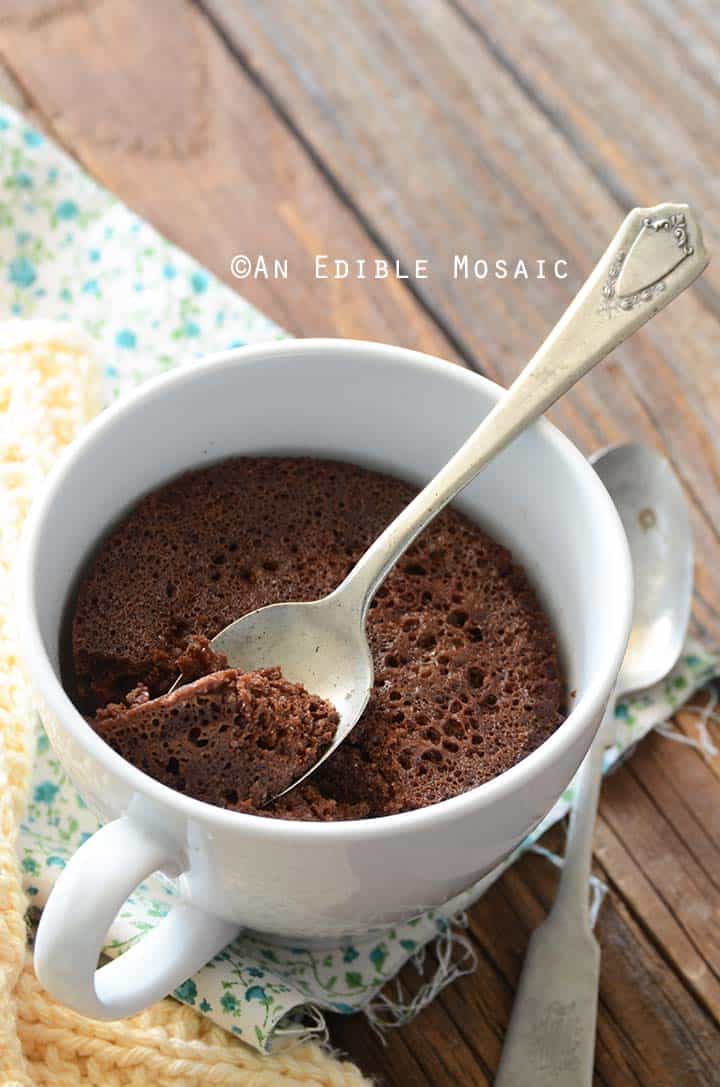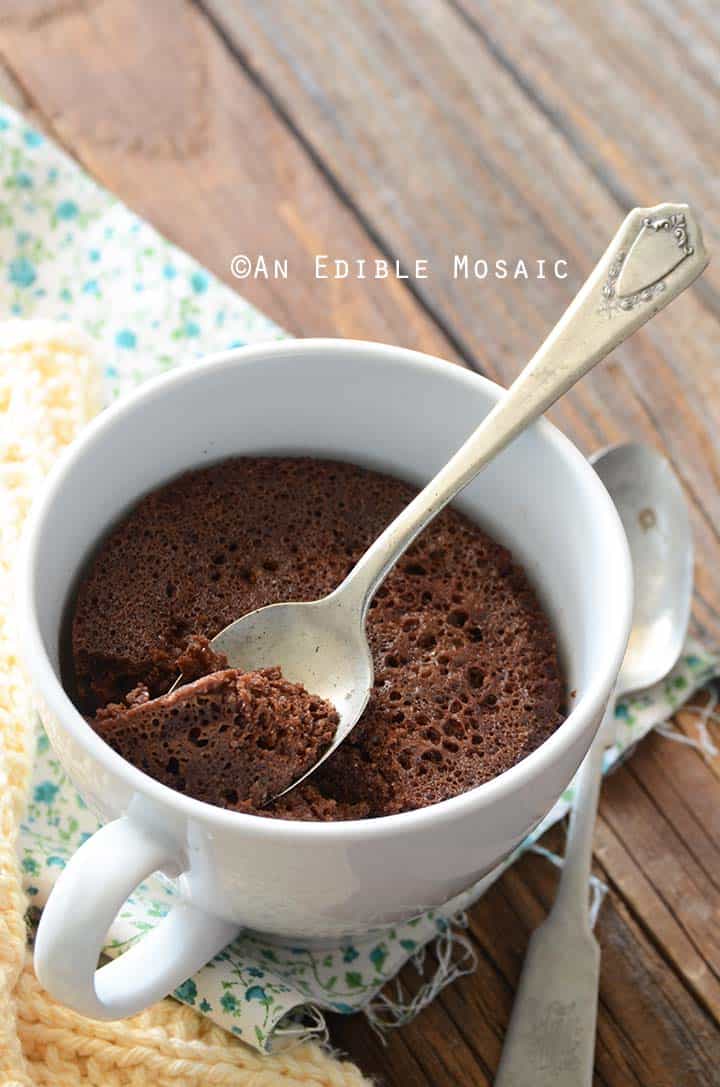 More Delicious Mug Cake Recipes to Try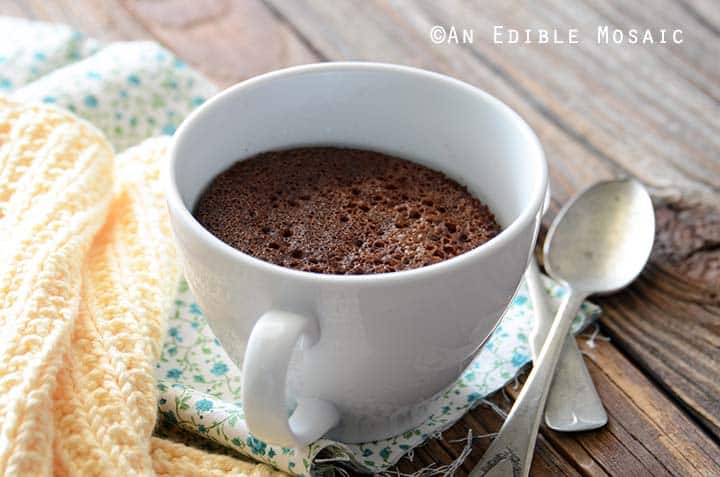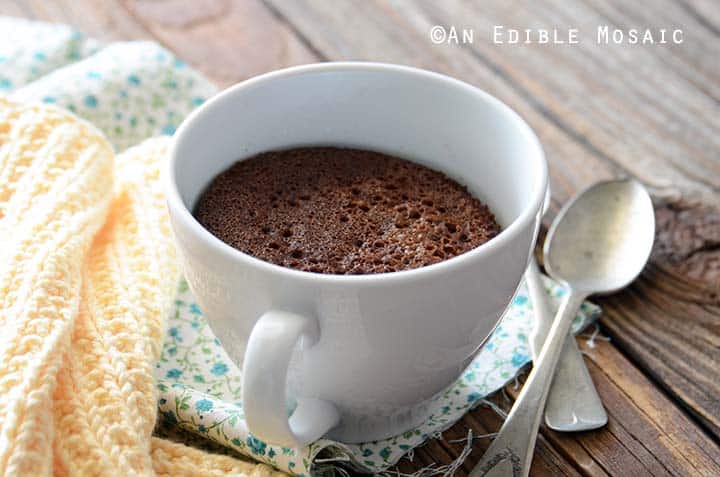 Did you make this recipe? Please rate it and leave a comment below because I love hearing from you! You can also tag @anediblemosaic on social media. To stay up-to-date FOLLOW ME on Instagram, Twitter, and Facebook. Xoxo, Faith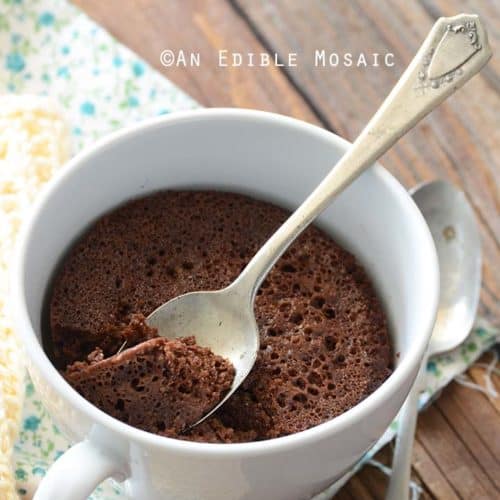 Healthy Chocolate Mug Cake
This paleo Healthy Chocolate Mug Cake is rich and chocolaty; it's the perfect dessert for a weeknight when you don't want to make a whole cake!
Instructions
Add the coconut oil to a 12 oz (355 ml) microwave-safe mug; microwave 10 seconds, or until the oil is melted. Rotate the mug around to coat the entire inside with the oil.

Whisk the egg in a small bowl, then whisk in the honey, almond milk, and vanilla.

Stir in the almond meal, cocoa powder, flaxseed meal, salt, baking soda, and espresso powder until smooth.

Pour off any extra coconut oil from the mug into the batter and stir it in.

Pour the batter into the prepared mug and microwave on high until cooked, about 2 minutes in an 800W microwave. (If your microwave has a higher wattage than that, start with 1 minute and add 10 second intervals until it's done.)

Cool slightly and then serve immediately (it's best eaten when still hot).
Nutrition
Nutrition Facts
Healthy Chocolate Mug Cake
Amount Per Serving
Calories 390
Calories from Fat 180
% Daily Value*
Fat 20g31%
Cholesterol 163mg54%
Sodium 421mg18%
Potassium 333mg10%
Carbohydrates 47g16%
Protein 12g24%
Vitamin A 240IU5%
Calcium 130mg13%
Iron 3.3mg18%
* Percent Daily Values are based on a 2000 calorie diet.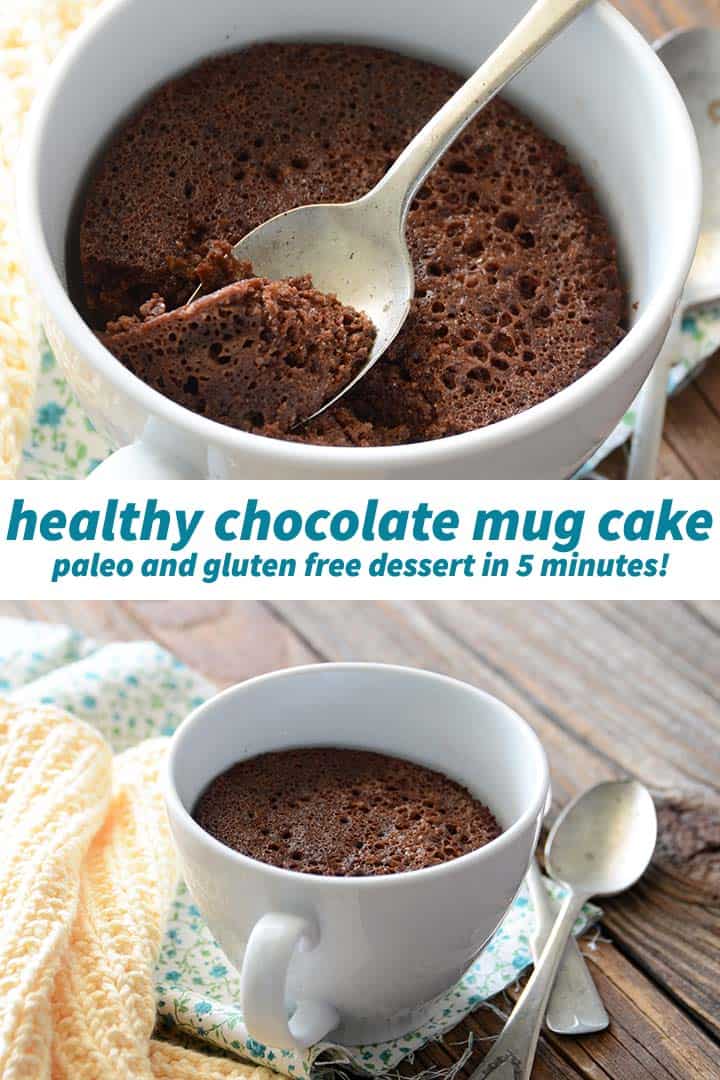 This post was first published on An Edible Mosaic on March 17, 2014. I updated it with more information on May 25, 2020.
Disclosure: This post contains Amazon affiliate links to products I believe in, which means that even though it doesn't cost you anything extra, I will receive a small amount of money from the sale of these items. Thank you for helping to support An Edible Mosaic!