Creamy Reuben Soup is a lower-carb version of this favorite deli sandwich!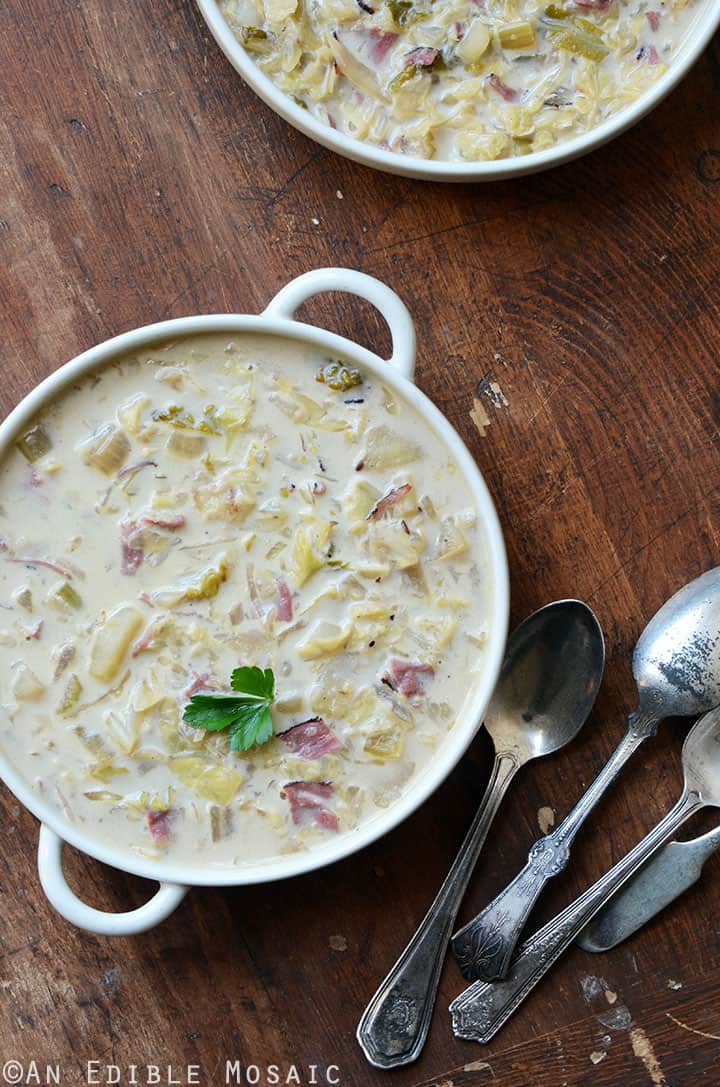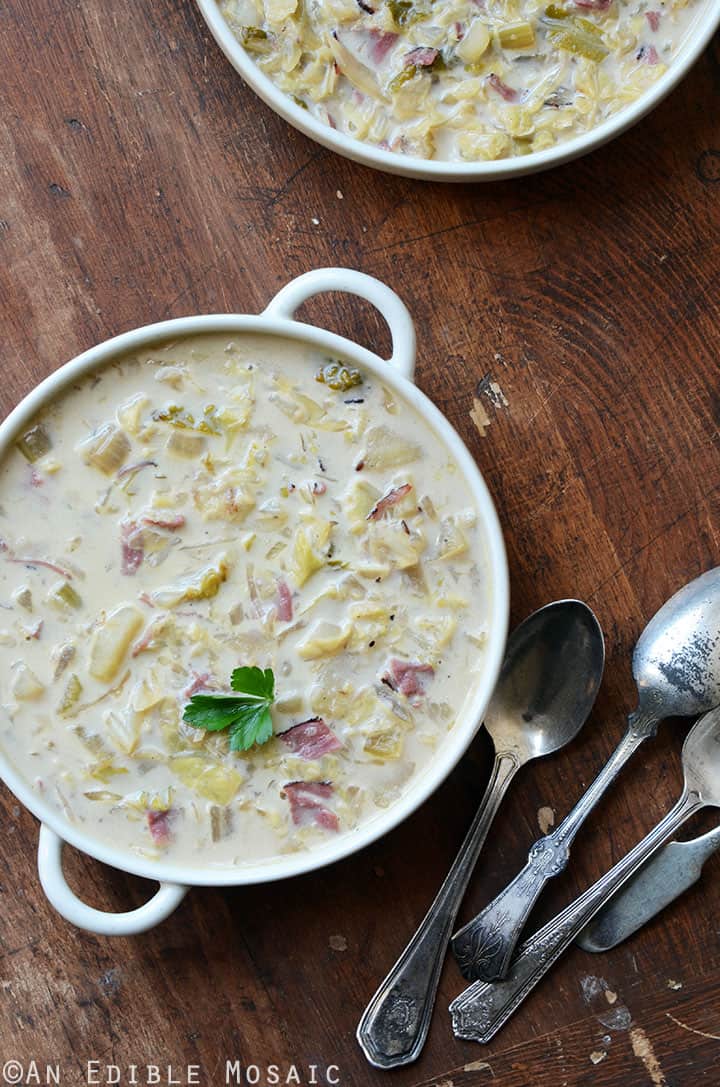 I first heard of Reuben Soup from a co-worker about five years ago. She ordered it when out to lunch one day (the name of the restaurant where she had it escapes me! It was somewhere in downtown Buffalo though), and her description of it sounded amazing. She raved about it every single day for at least a week straight, lol.
Cabbage, sauerkraut, and corned beef in a flavorful broth topped with a giant crouton covered in melted Swiss cheese…I can see why she was obsessed! I'm a fan of Reuben sandwiches, so this was right up my alley and I've been meaning to make my own version since she told me about it.
For this recipe, I went with a lower-carb version: I skipped the giant crouton! (I used a potato to add a bit of body to the soup, but you can skip it to make this even lower in carbs.) I added a bit of cream so I left out the sauerkraut (as I thought it might end up curdling the soup), but I speak from experience when I say that a generous spoonful of sauerkraut on top is a fabulous addition. For au gratin style, you can top each bowl (make sure the bowls you use are broiler-safe!) with Swiss cheese and broil until melted. It's delicious either way.
Here's the au gratin version…mmm, melty cheese.
If you're planning to make a classic corned beef dinner on St. Paddy's Day, be sure to save leftovers for this soup…and if you're not, just go ahead and get corned beef from the deli counter. And heads-up, this is also delicious made with pastrami instead of corned beef!
Creamy Reuben Soup
Prep time:
Cook time:
Total time:
Creamy Reuben Soup is a lower-carb version of this favorite deli sandwich!
Ingredients
2 tablespoons clarified butter (ghee) or neutral-flavored oil (like avocado oil)
1 lb/450 g savoy cabbage (about half of a medium head), chopped
1 medium-large onion, diced
2 large celery stalks, diced
1 large clove garlic, crushed or grated
4 cups (32 oz/950 ml) unsalted beef broth (I used Swanson)
1 teaspoon Worcestershire sauce
½ teaspoon salt
½ teaspoon caraway seeds
¼ teaspoon black pepper
1 pinch ground cloves
1 (1 lb/225 g) starchy potato (such as Russet), peeled, halved, and thinly sliced
¼ lb (115 g) cooked corned beef (leftover or from the deli), chopped (you can also use pastrami)
½ cup (120 ml) heavy cream
Instructions
Add the clarified butter to a 5-quart soup pot over medium-high to high heat. Add the cabbage, onion, and celery and cook until the vegetables are starting to soften and caramelize in places, about 4 to 5 minutes, stirring occasionally. Add the garlic and cook 30 seconds more, stirring constantly.
Add the broth, Worcestershire, salt, caraway seeds, black pepper, cloves, and potato. Bring to a boil, and then cover the pot, turn the heat down to simmer, and cook until the vegetables are tender, about 20 to 30 minutes.
Turn off the heat and stir in the corned beef and cream.
Serve.
Notes
Au Gratin Version: Pour the soup into broiler-safe bowls. Sprinkle shredded Swiss cheese on top and broil until melted, watching closely so it doesn't burn.

Serving Tip: Top each bowl with a generous spoonful of sauerkraut before serving!