Keep school and work lunches exciting with these healthy vegan lunch ideas! Some of these vegan recipes are quick easy to make in a matter of minutes, and some are good to meal prep and make ahead so lunch is ready for busy mornings.
If you're sick of the same old lunches, get ready to be wowed by these delicious vegan lunch ideas! With both cold and hot lunches, as well as vegan desserts, you're sure to find a couple new recipes you want to try.
I love simplifying weekday mornings when you're busy getting ready for school or work by having lunch already taken care of!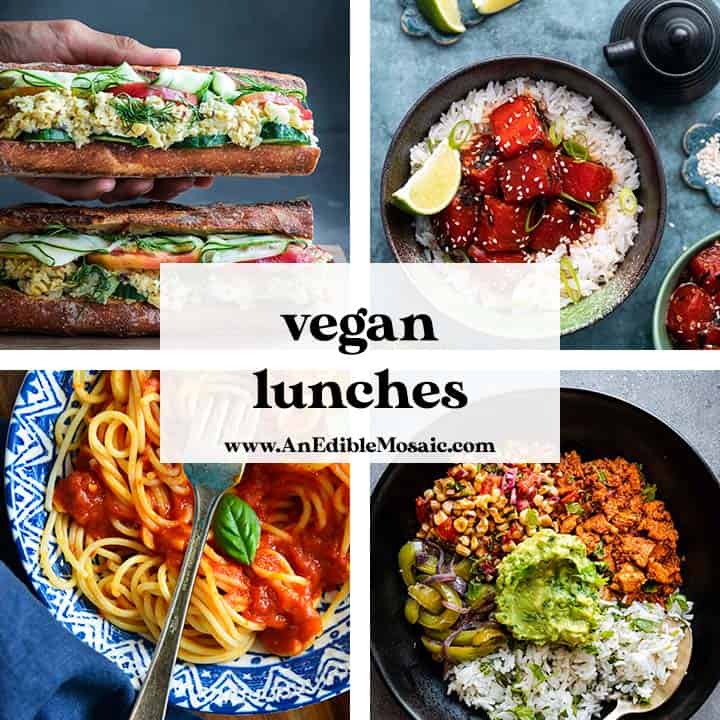 Cold Vegan Lunches
Sandwiches are the quintessential cold lunch, and we have several of them here. But if you're looking for lunch with a little more pizazz, why not try vegan sushi, soba noodle salad, or a falafel pita?
And there are also a couple different vegan tuna salad recipes, one with chickpeas and one without!
Watermelon Tuna Poke Bowls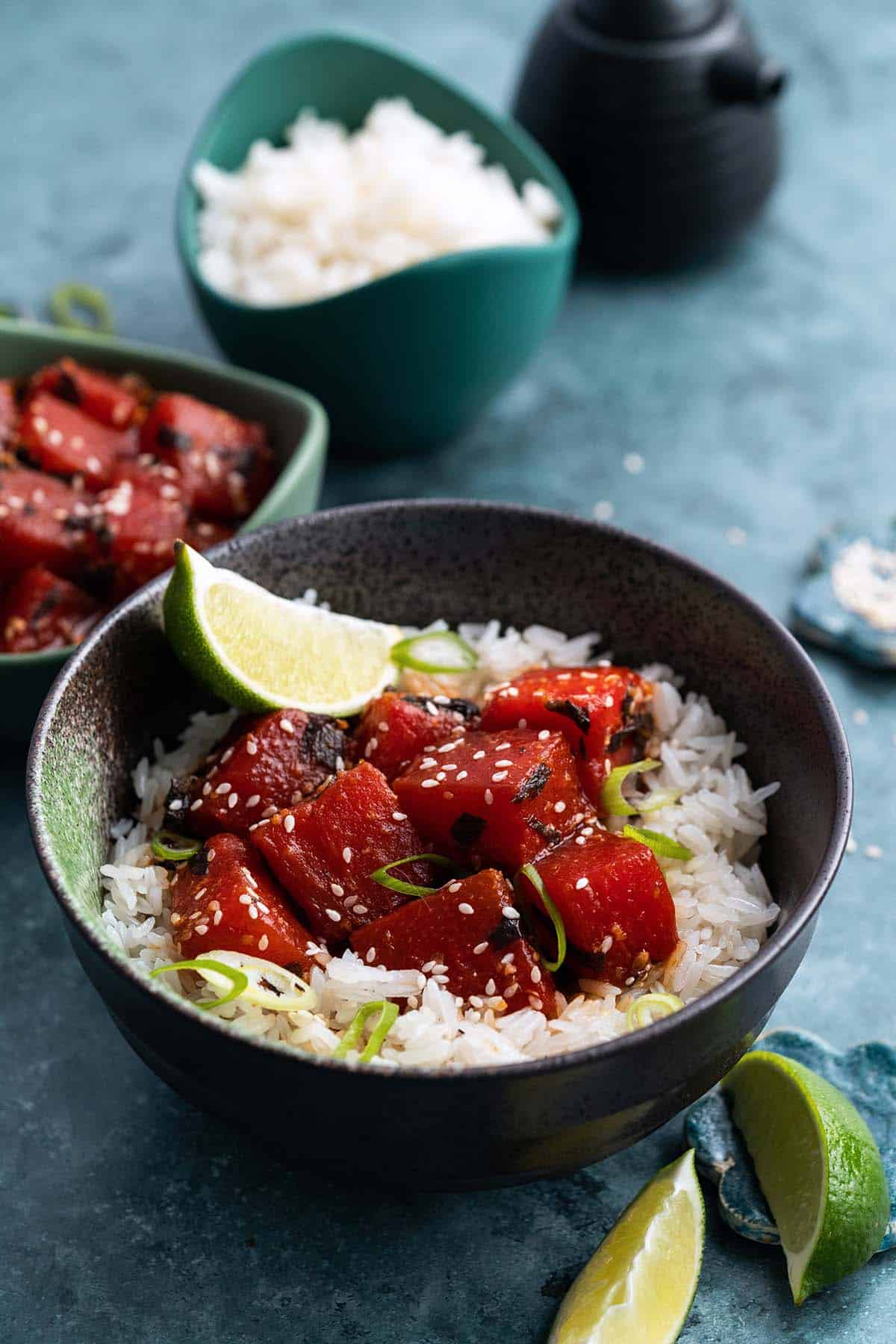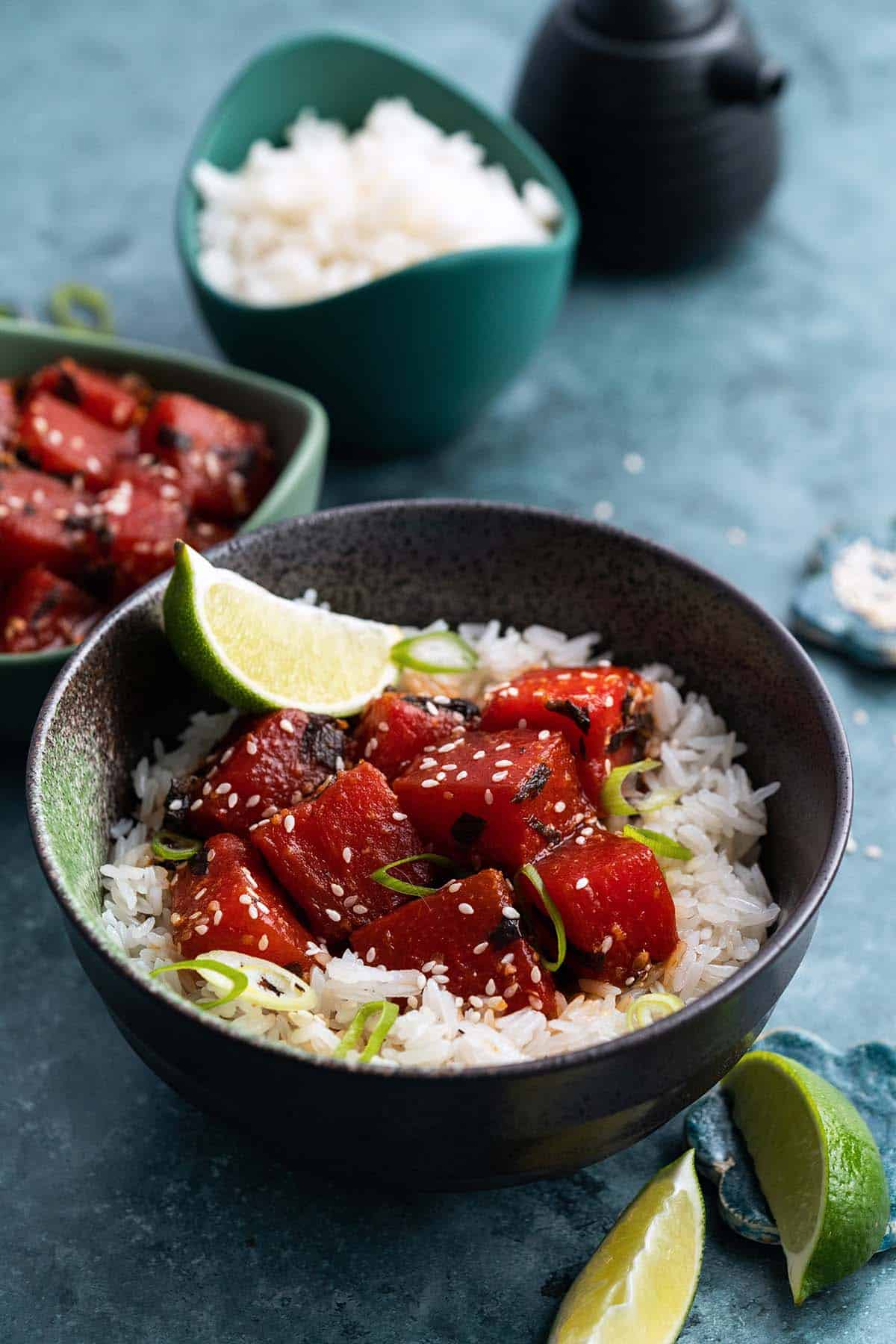 You won't believe how much these vegan sushi bowls look and taste like real sushi! This watermelon tuna recipe transforms sweet, refreshing watermelon into vegan sushi that will blow your mind with how much it actually tastes like fish.
With just 10 minutes of cooking required, the magic happens with the nori (seaweed) marinade.
Get the Watermelon Tuna Poke Bowls recipe here.
Creamy Vegan Tuna Salad
There are no chickpeas in sight in this mock tuna salad!
This 10-minute creamy vegan tuna salad is loaded with flavor and will have you shocked that it's not actually tuna. It's good for hot or cold lunches (cheesy tuna melts, anyone?), and perfect for meal prep. Serve it on a bun, or keep the carbs down and pair it with a big leafy green salad.
Get the Vegan Tuna Salad recipe here.
Za'atar and Mint Butter Bean Salad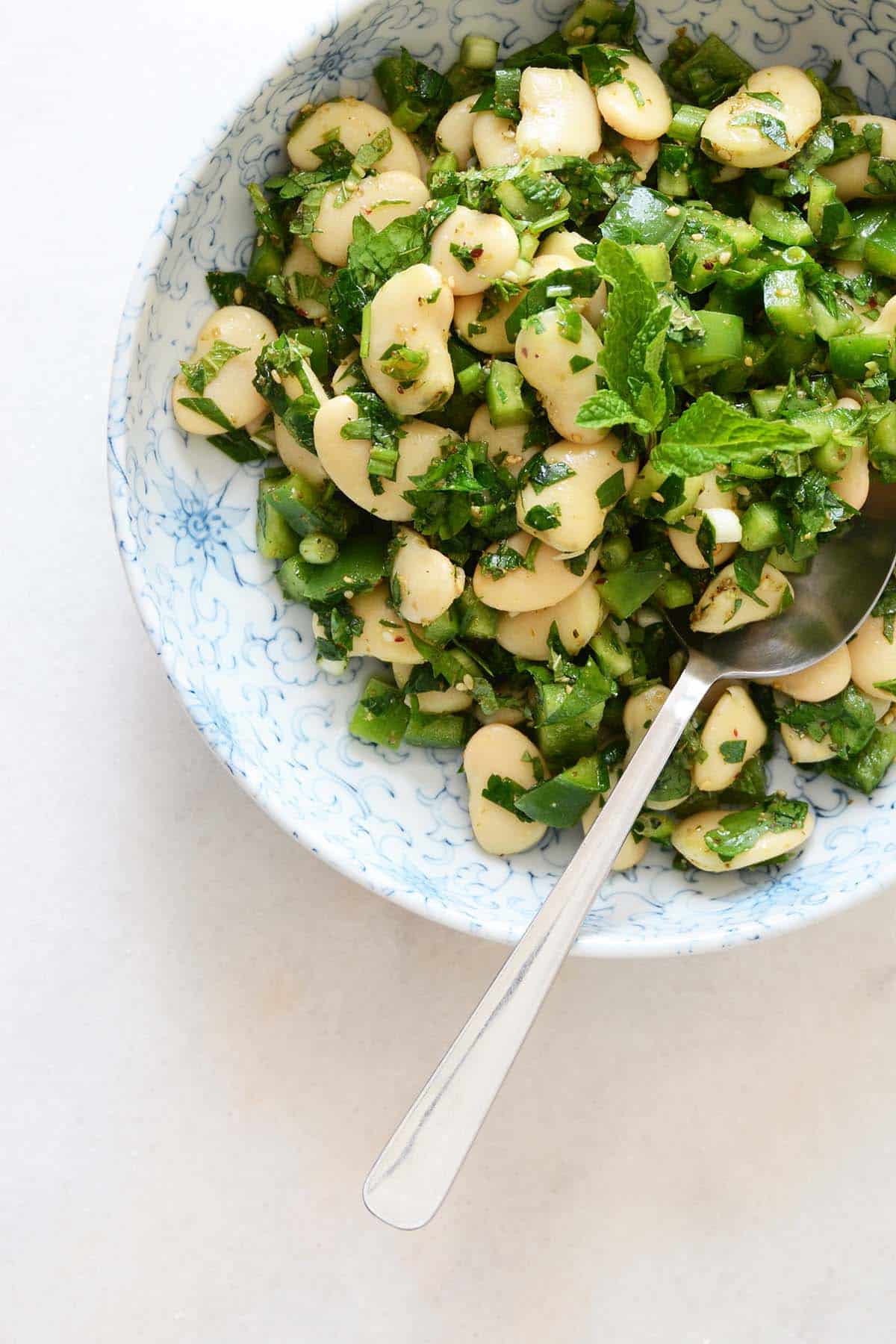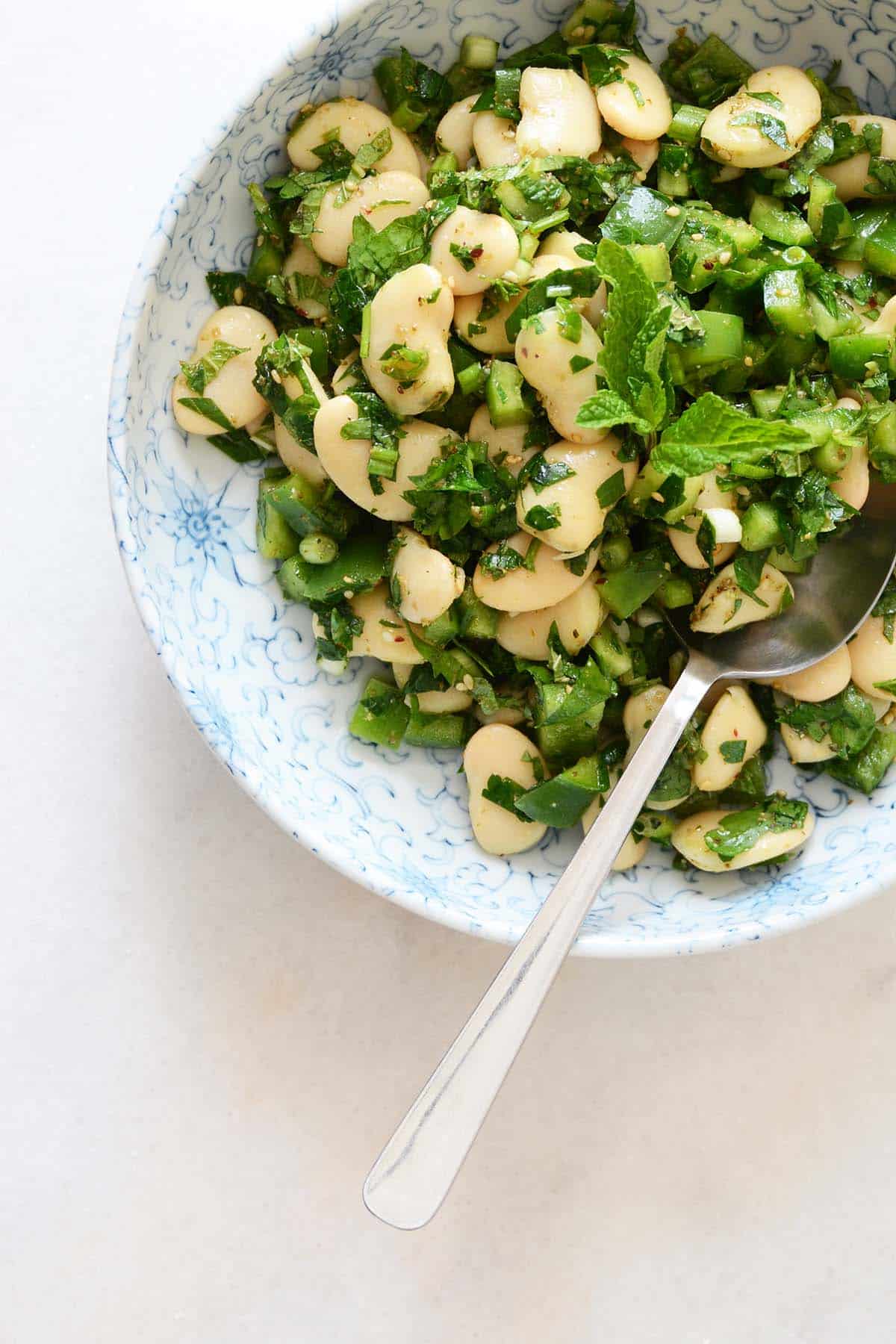 In this nutritious butter bean salad, creamy, mild-flavored butter beans pair perfectly with crunchy bell pepper, savory za'atar, and fresh herbs. It's a great blend of flavors and textures. And it takes just 10 minutes to whip up!
Get the Za'atar and Mint Butter Bean Salad recipe here.
Vegan Soba Noodle Salad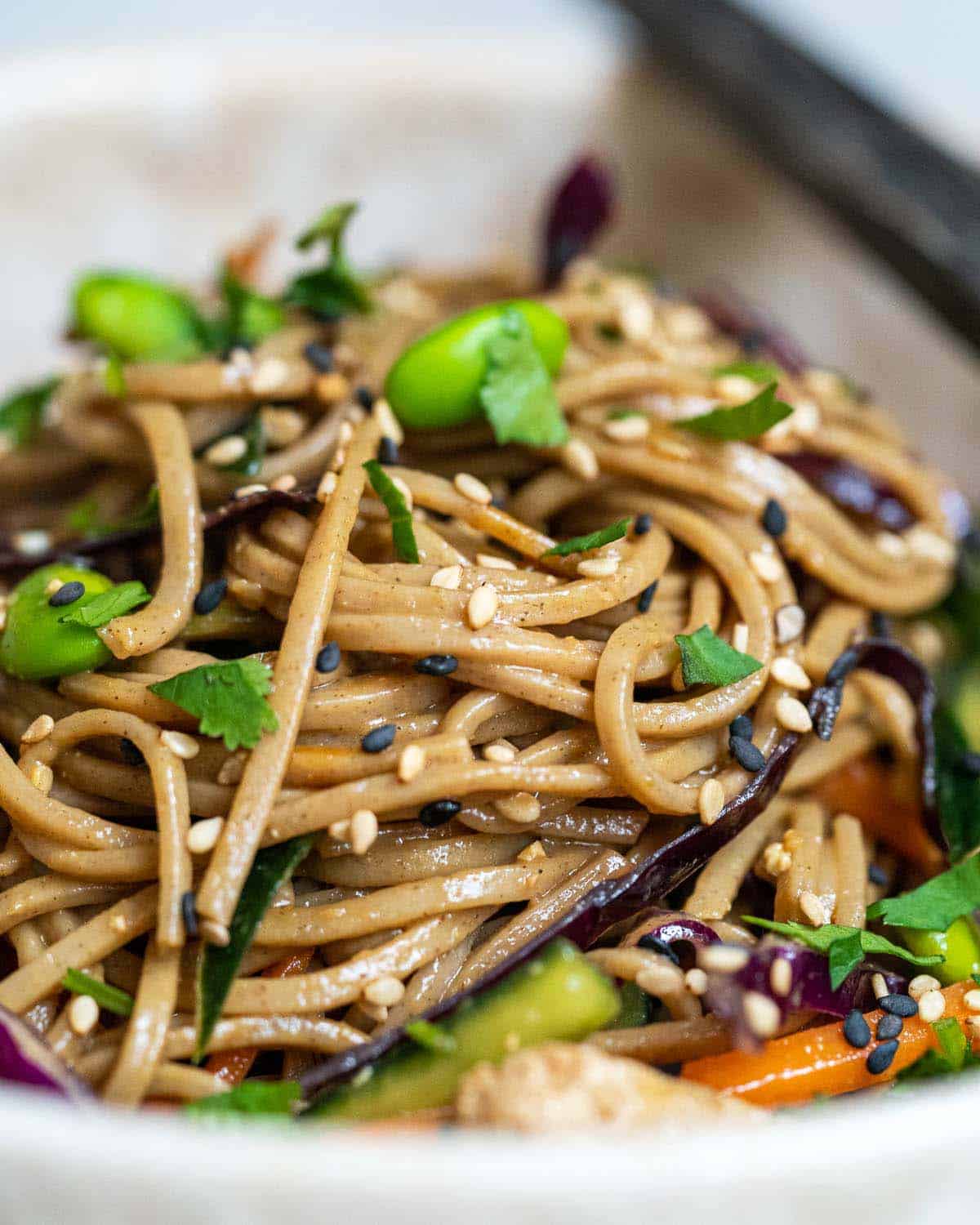 This Vegan Soba Noodle Salad is a refreshing and healthy meal! It features crunchy spring vegetables and plant-based protein paired with a delicious homemade Asian-inspired dressing.
Get the Vegan Soba Noodle Salad recipe on Six Hungry Feet.
Falafel Pita
A falafel pita is a vegan sandwich made with crispy falafel patties and fresh vegetables stuffed inside pita bread. It's a popular Middle Eastern fast food option that's easy to pack for work or school. It's sure to be a hit in your home!
Get the Falafel Pita recipe on Foreign Fork.
Vegan Tuna Salad Sandwich
This is another vegan tuna salad recipe that will have you saying "I can't believe it's not tuna!"
This one is made with chickpeas and hearts of palm for the perfect texture. It's full of classic tuna salad flavors, like celery and pickle relish, and is seasoned with nori for a taste of the sea. The best part is, it's ready in 10 minutes and perfect for lunch meal prep.
Get the Vegan Tuna Salad Sandwich recipe on Rainbow Plant Life.
Hot Vegan Lunches
Cold days call for a hot lunch! Here are a few vegan hot lunch ideas to warm up a chilly day. These dishes also make delicious vegan dinners, which means they can serve double duty: prepare them for dinner and pack the leftovers for lunch.
Spaghetti Marinara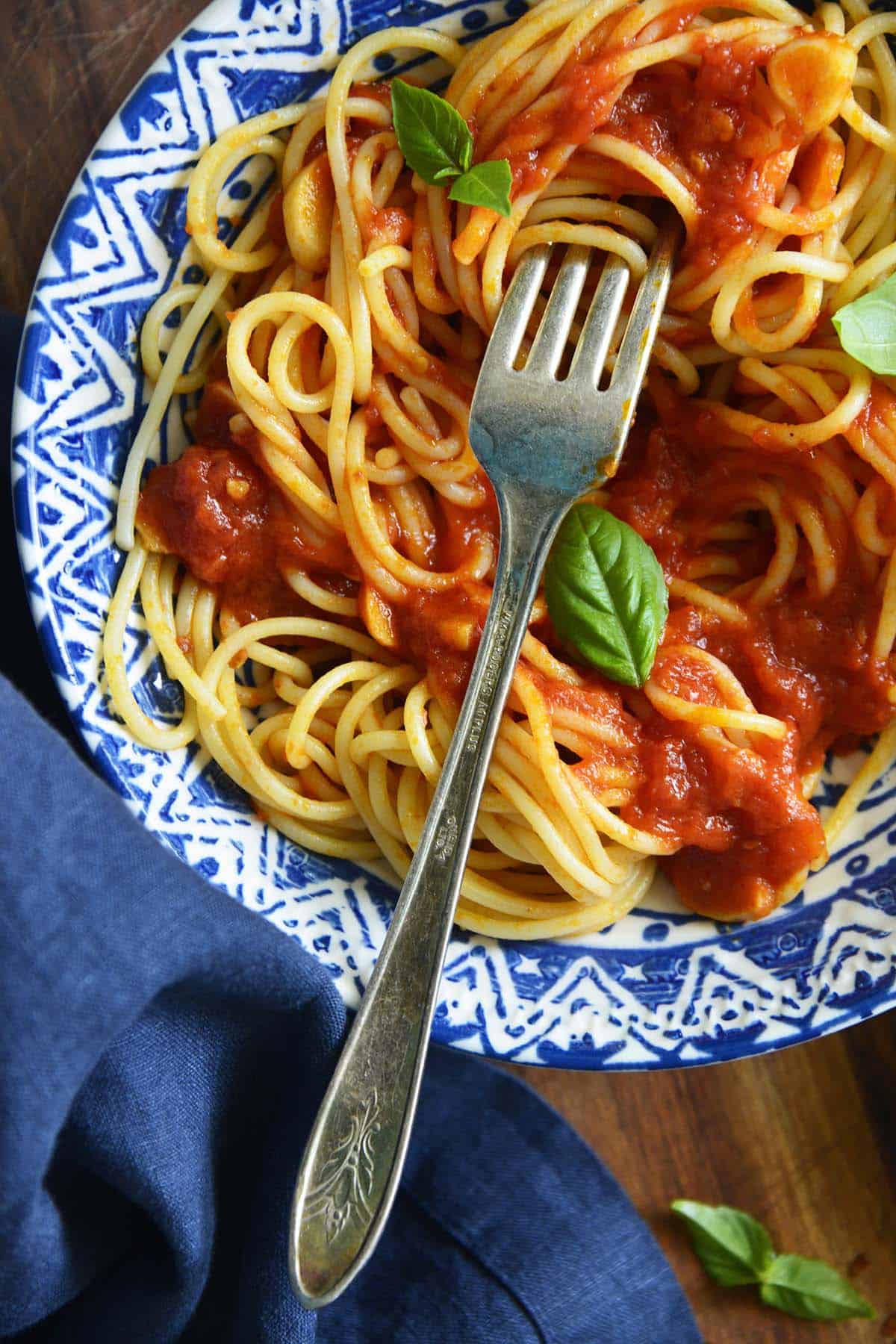 This spaghetti marinara recipe is an easy meal that cooks in under an hour, but tastes like it simmered all day. Naturally sweet San Marzano tomatoes are cooked down with garlic and basil in extra-virgin olive oil for an incredible tomato sauce that's perfect tossed with pasta.
Spaghetti marinara lasts a while in the fridge or freezer and reheats like a dream, so it's great for meal prep lunches and dinners!
Get the Spaghetti Marinara recipe here.
Vegan Chili
There is nothing like a hot bowl of chili to help fuel you through the afternoon! This thick and hearty vegan chili is perfect for meal prep and tastes completely rich and meaty. Even die-hard meat-eaters love this vegan dish!
Get the Vegan Chili recipe on My Quiet Kitchen.
Mushroom Masala
This mushroom masala recipe is a rich and satisfying curry with a creamy cashew sauce, green peas, and exotic spices. It's naturally gluten free and vegan, and is delicious served with basmatic rice or on its own as a stew.
Get the Vegan Mushroom Masala recipe here.
Vegan Burrito Bowl (Better Than Chipotle!)
This recipe is everything you love about Chipotle's burrito bowl, but homemade and vegan! Dig into layers of sofritas, black beans, fajita veggies, cilantro-lime rice, corn salsa, and more. This bowl is loaded with nutrients, flavorful, and perfect for meal prep!
Get the Vegan Burrito Bowl recipe on Rainbow Plant Life.
Vegan Desserts
If you like just a little something sweet in your lunchbox, here are a few treats you're sure to love. They're vegan, but equally loved by all with a sweet tooth, vegan or not!
Vegan Thumbprint Cookies with Raspberry Jam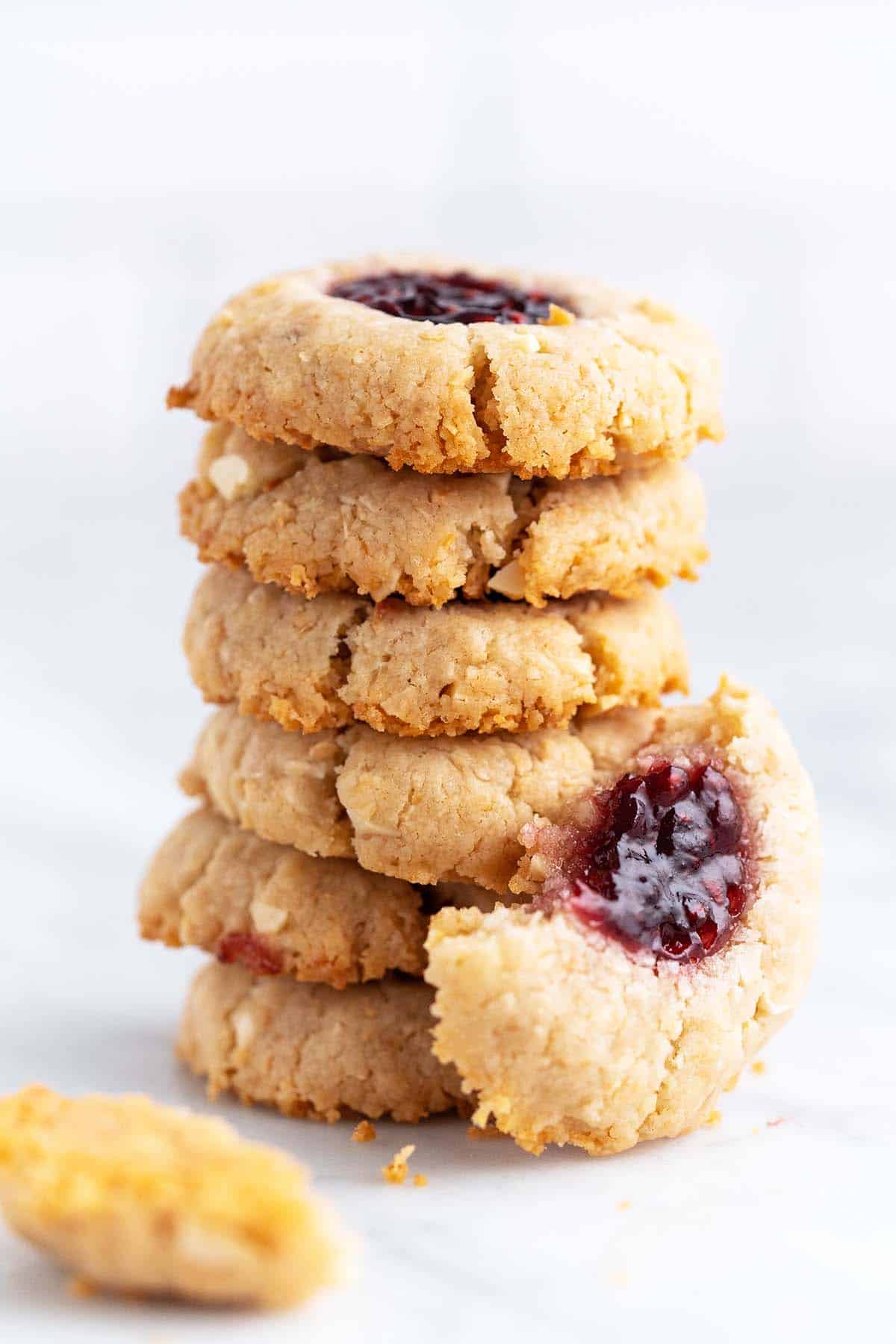 This life changing vegan thumbprint cookies recipe is crunchy with the nutty flavor of almond, the richness of coconut, and the sweet/tart fruitiness of raspberry jam.
Cookies are a classic lunchtime dessert, and for good reason! Tuck a couple of these jam thumbprints into a loved one's lunchbox and you can be sure their faces will light up.
Get the Vegan Thumbprint Cookies with Raspberry Jam recipe here.
Banana Cinnamon Overnight Oats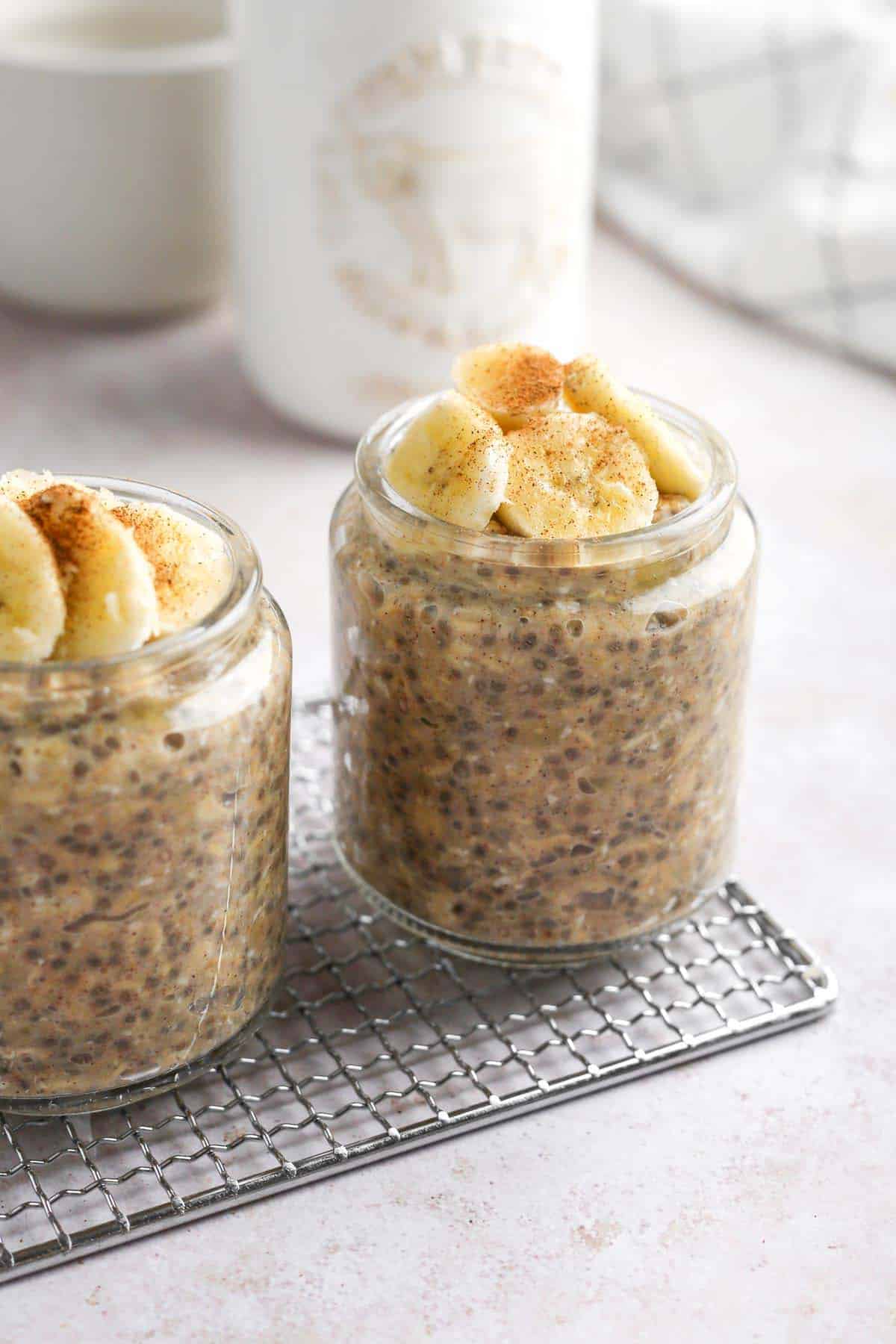 These healthy and delicious overnight oats are full of fresh banana flavor with a dash of cinnamon. Overnight oats with chia seeds are good for a lunchtime dessert or breakfast on-the-go. It's a delicious treat for both kids and adults!
Get the Banana Cinnamon Overnight recipe on Savor the Spoonful.
Feel free to share your favorite vegan lunch ideas in the comments below!
Let's Connect


Did you make this recipe? Please rate it and leave a comment below. You can also tag @anediblemosaic on social media.
To stay up-to-date, follow me on Facebook, Instagram, Pinterest, and Twitter!