Zucchini Pizza Bites come together quickly and easily for a crowd-pleasing finger food that's perfect for any party!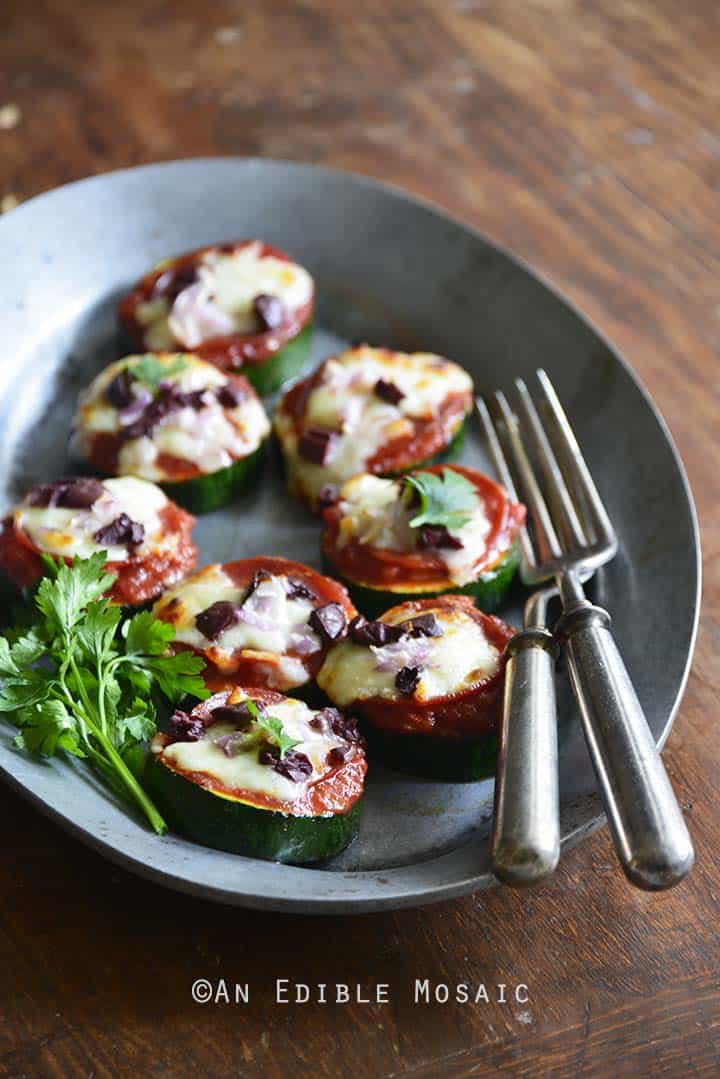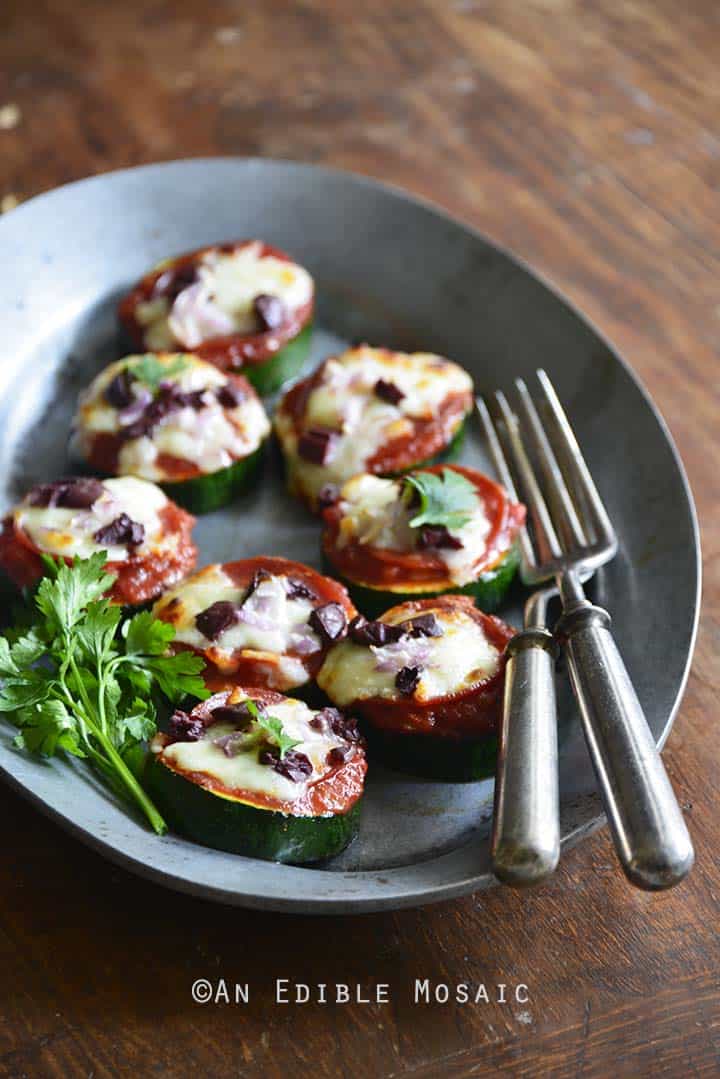 The holidays aren't quite over yet, and for now I'm content to spend time with family and get my fill of Christmas movies. I've been watching festive flicks all week long; The Grinch (the one with Jim Carrey!), A Christmas Story, Elf, It's a Wonderful Life, and even my animated favorite, Mickey's Christmas Carol.
As a child of the 1990's, another long-standing favorite of mine is Home Alone, both the first one (where Kevin's family goes on Christmas vacation to Paris and Kevin gets left behind at home in Chicago and has to defend his house against a couple of burglars), and the second one (where Kevin gets lost in New York City). So many memorable scenes from those movies stick out to me and to this day make me laugh hysterically. Uncle Frank, Buzz's girlfriend (woof!), "look what you did you little jerk", the Wet Bandits, "merry Christmas, ya filthy animal", and Kevin's plain cheese pizza, to name just a few highlights.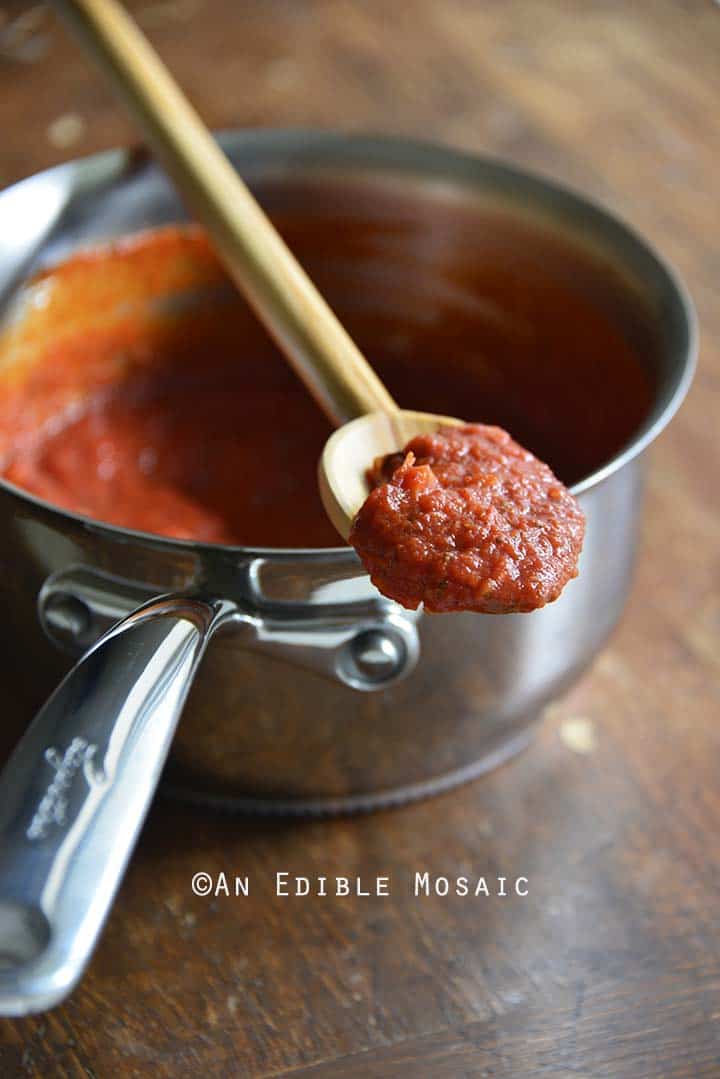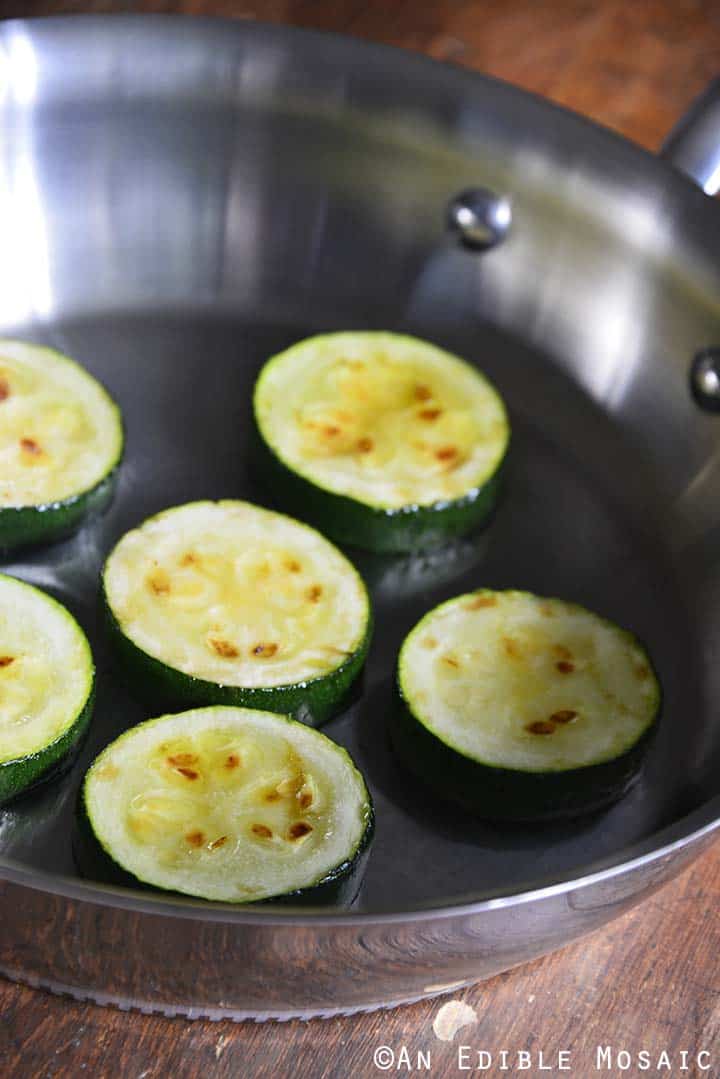 Food in movies (especially holiday movies!) is pure genius; Narnia always gets me with Turkish delight, Elf with maple syrup spaghetti (I can't say I wasn't tempted to try that after seeing the movie), and pumpkin pasties in Harry Potter. I can't help but crave pizza when I watch Home Alone.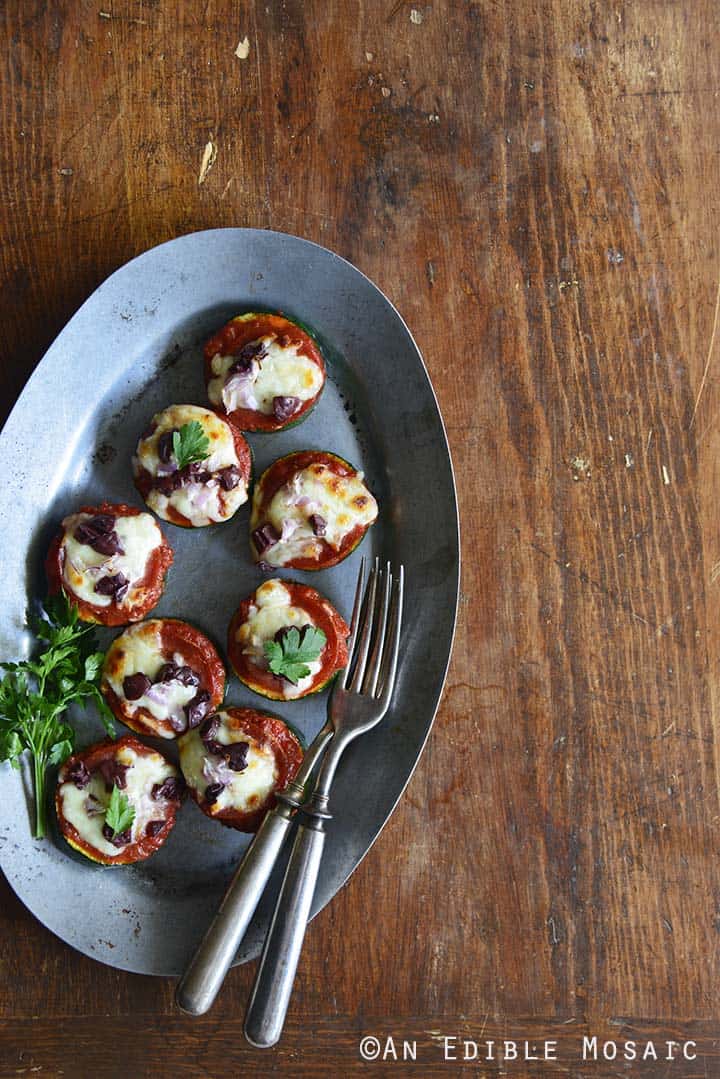 For me, pizza isn't something that typically comes out of my kitchen very often (unless it's something like this low-carb baked version or pizza in salad form). I find that I can get all the pizza flavor I'm craving without feeling too deprived by leaving the crust out of the equation. With zucchini as the "crust", these cute little bites deliver big pizza flavor without the empty carbs. They make perfect finger food for a party.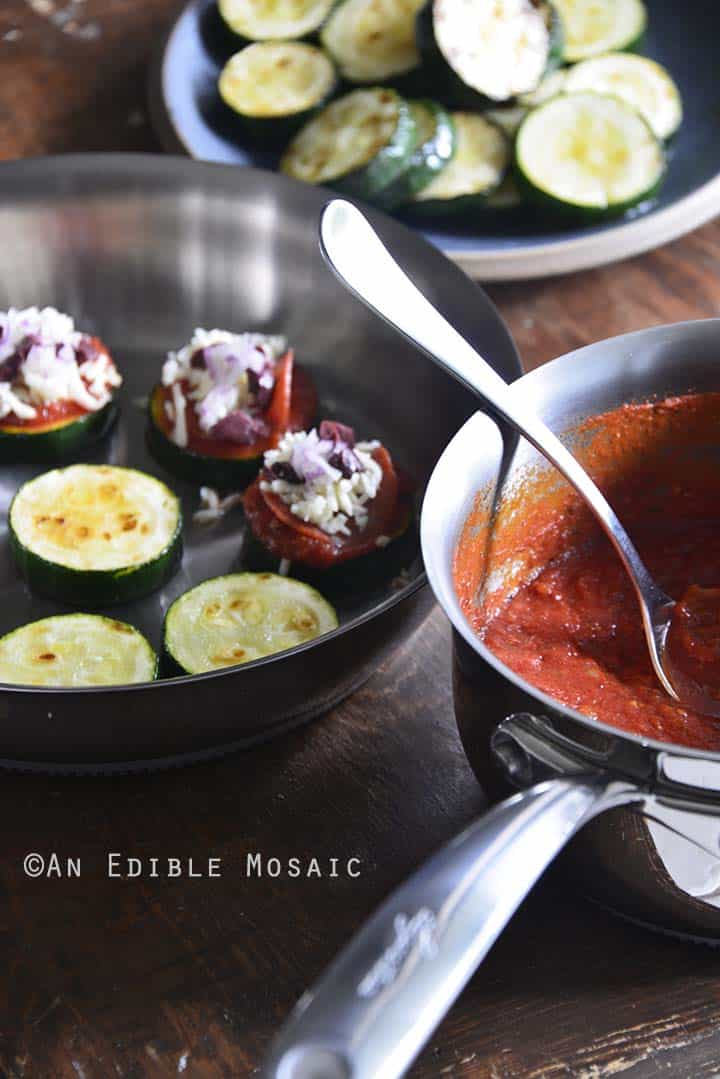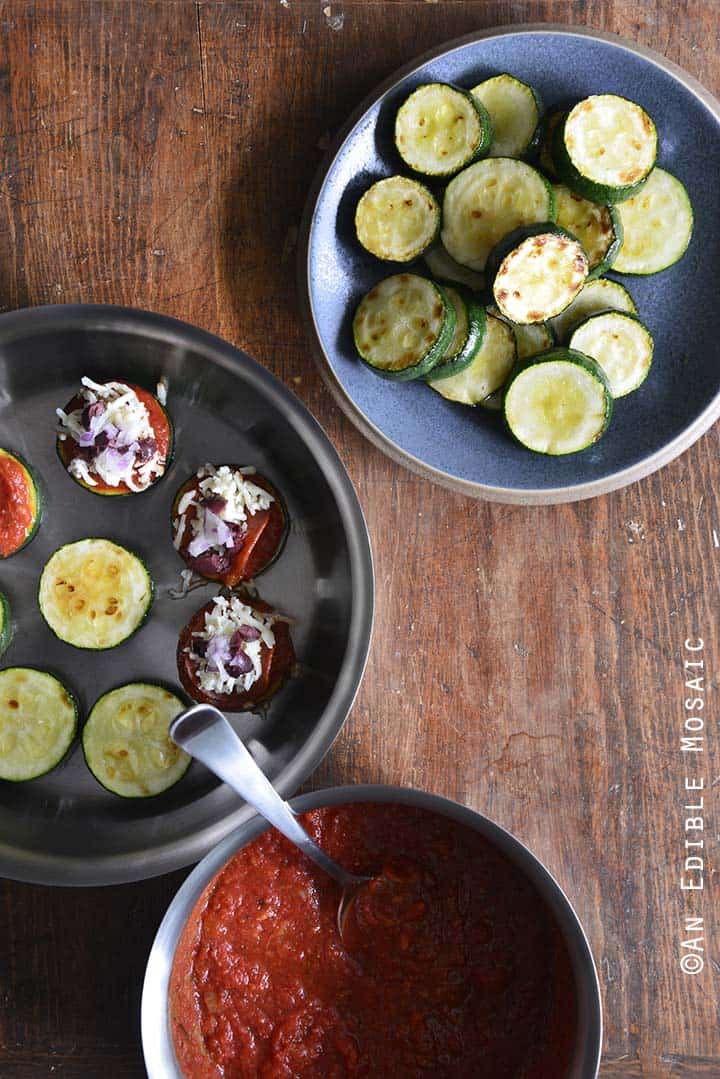 This recipe has two components: a quick tomato sauce (heads-up, store-bought sauce will work in a pinch!) and the bites themselves. I used absolutely gorgeous Lagostina cookware from the beautiful Lagostina Opera Stainless Steel 10-Piece Set to make everything for this dish. The saucepan was a bit smaller than most, which was perfect for the small amount of sauce I wanted to make for this recipe. The fry pan went from stovetop to broiler without skipping a beat. The innovative Lagofusion® base combines two layers of stainless steel with an aluminum core, ensuring excellent heat diffusion with no hot spots or scorching, and the pretty ridges around the outside of the base direct heat up the sides, so the temperature of the sides almost matches the temperature of the base. All in all, it's a cook's dream.
What's your most memorable food scene from a holiday movie?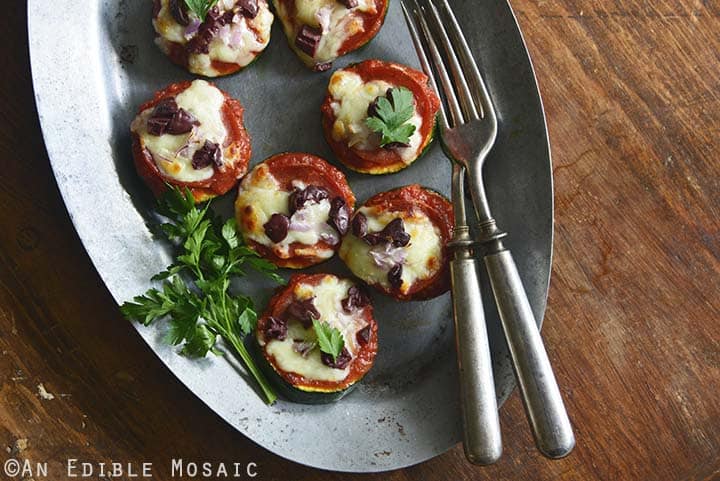 Zucchini Pizza Bites
Prep time:
Cook time:
Total time:
Zucchini Pizza Bites come together quickly and easily for a crowd-pleasing finger food that's perfect for any party!
Ingredients
Quick Tomato Sauce:
2 tablespoons extra-virgin olive oil
½ medium onion, diced
3 large cloves garlic, crushed
1 (15 oz/425 g) can crushed tomatoes
1 teaspoon dried Italian herb seasoning
¼ teaspoon crushed red pepper flakes
¼ teaspoon salt
⅛ teaspoon black pepper
Zucchini Bites:
2 tablespoons avocado oil
1½ lbs (680 g/2 medium-ish zucchini) zucchini, sliced into ½-inch thick rounds (about 24 to 28 rounds)
28 slices turkey pepperoni
1 cup (4 oz/115 g) shredded mozzarella
4 tablespoons black olives, chopped
4 tablespoons minced red onion and/or green bell pepper
1 batch Quick Tomato Sauce (you will have extra)
Instructions
For the quick tomato sauce, heat the oil in a 1¾-quart saucepan over medium heat. Add the onion and cook until softened, about 3 to 5 minutes, stirring occasionally. Add the garlic and cook 1 minute more, stirring constantly. Stir in the crushed tomatoes, Italian herb seasoning, crushed red pepper flakes, salt, and black pepper. Bring to a simmer and cook (uncovered) until the sauce is thickened, about 3 to 5 minutes, stirring frequently.
For the zucchini bites, add the avocado oil to a 10-inch frying pan over medium heat. Add the zucchini slices in an even layer on the bottom (being careful not to crowd the pan) and cook until golden, about 2 minutes per side. Transfer the cooked zucchini to a plate and set aside for now. Cook the remaining zucchini the same way.
Preheat the broiler.
Top each zucchini round with the following: 1 slice of turkey pepperoni, about 1 teaspoon sauce, 2 teaspoons shredded cheese, and a bit of olives, onion, and/or green bell pepper.
Arrange the zucchini in a single layer in the frying pan they were cooked in, or arrange them on a baking sheet and broil until the cheese is melted and light golden brown in spots.
Serve.
Disclosure: Lagostina provided me with a Lagostina Opera Stainless Steel 10-Piece Set as well as compensation for my time; as always, opinions stated are my own.