Thank you Cacique® for sponsoring this post. Visit your local grocery store to pick up your fave Cacique® product for a delicious dinner tonight!
Short Rib Tostadas with Pineapple Salsa and Cotija feature melt-in-your-mouth-tender meat paired with sweet and spicy fresh pineapple salsa and bursts of salty creaminess from Cotija cheese.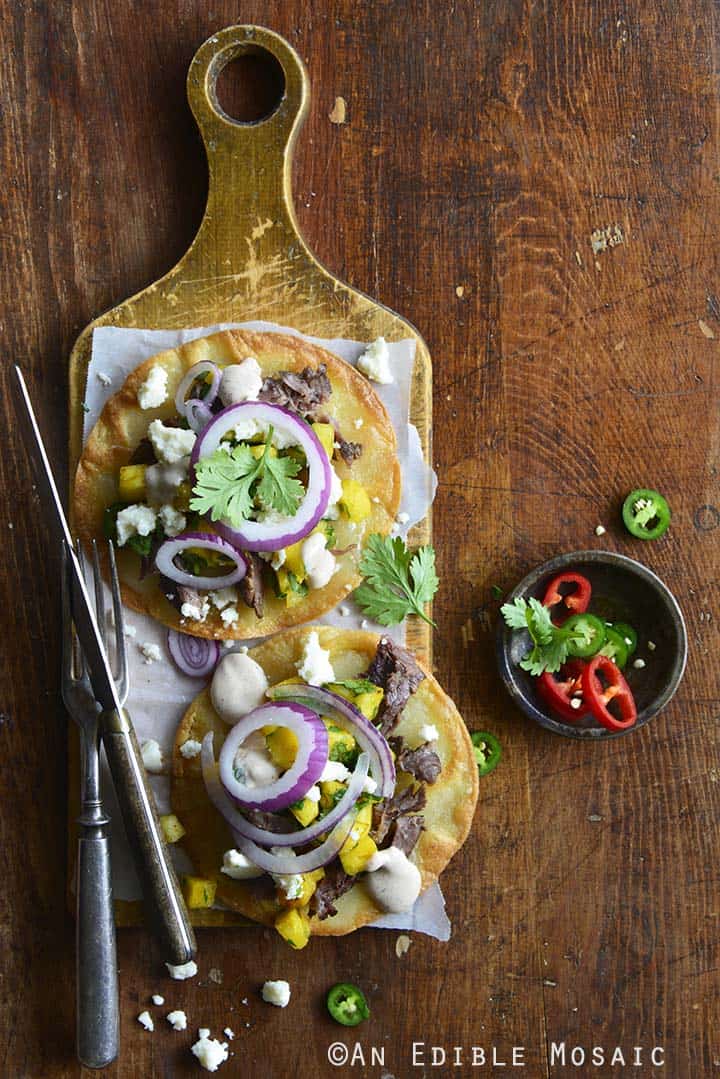 Mexican food is a beautiful dance and I find it has a lot of harmony. Slow-cooked complex sauces brightened with fresh flavors from things like cilantro and perfectly ripe tomato. Spice and heat are balanced by cheese and cream. Meats are cooked until fall-apart tender and wrapped up in soft tortillas or served on crunchy tostadas. Without a doubt, I could eat Mexican food every day and be a happy girl!

How to Cook Beef Short Ribs
Tougher cuts of meat, such as beef short ribs, turn out really well when braised; the result is melt-in-your-mouth tender meat! There are a few different methods that can be used to achieve this. No matter which method you're using, brown the ribs first before cooking in liquid until they're fall-apart tender.
What is Braising?
Braising is basically a two-step cooking method involving dry and wet heat.
Step 1: Dry Heat
Sear the meat in a little oil (or other fat with a high smoke point) in a hot pan (such as a Dutch oven, which is also oven-proof and convenient if you're using the oven method so you don't have to switch pots) to get a little caramelization on the outside. If you're using another cooking method, such as a slow cooker or pressure cooker, you can use a large heavy-bottomed skillet instead of a Dutch oven to sear the meat. If you're using an electric pressure cooker (such as an Instant Pot), you can use it to brown the meat (on the "Sauté" setting).
Step 2: Wet Heat
Cook the meat low and slow in a flavorful bath of liquid in a covered Dutch oven until its fall-apart tender.
Braising Methods for Short Ribs
There are a few different ways you can cook a meat low and slow when you're braising:
Oven Method
After searing the ribs in a hot Dutch oven on the stovetop, deglaze the pan. To do so, remove the meat (transfer it to a bowl and set aside for now). To the same pan, add any chopped vegetables you like, such as onion, garlic, carrots, celery, etc. and cook a couple minutes until they start to sweat. Add a couple splashes of liquid (such as broth, stock, beer, wine, water, etc.) and use a wooden spoon to scrape up any brown bits that have formed on the bottom of the pan. Add the meat back along with enough liquid to nearly cover it, cover the Dutch oven, and transfer it to a 350F preheated oven and cook until the meat is falling apart (about 2 to 2 1/2 hours).
Slow Cooker Method
Sear the ribs in a hot skillet on the stovetop, and then deglaze the pan using the same method I describe in the Oven Method. Once the meat is seared, the vegetables are sautéed a little, and the pan is deglazed, everything gets put into a slow cooker and cooked on LOW for 8 to 10 hours. This method is a great choice if you want to come home from work to a hot home-cooked meal.
Instant Pot (Electric Pressure Cooker) Method
This method is definitely the fastest way to get ribs on the table without sacrificing flavor or texture; the cook time is just under an hour! Plus there's the added bonus of being able to sear the meat right in the Instant Pot. See the recipe below for detailed instructions on this cooking method.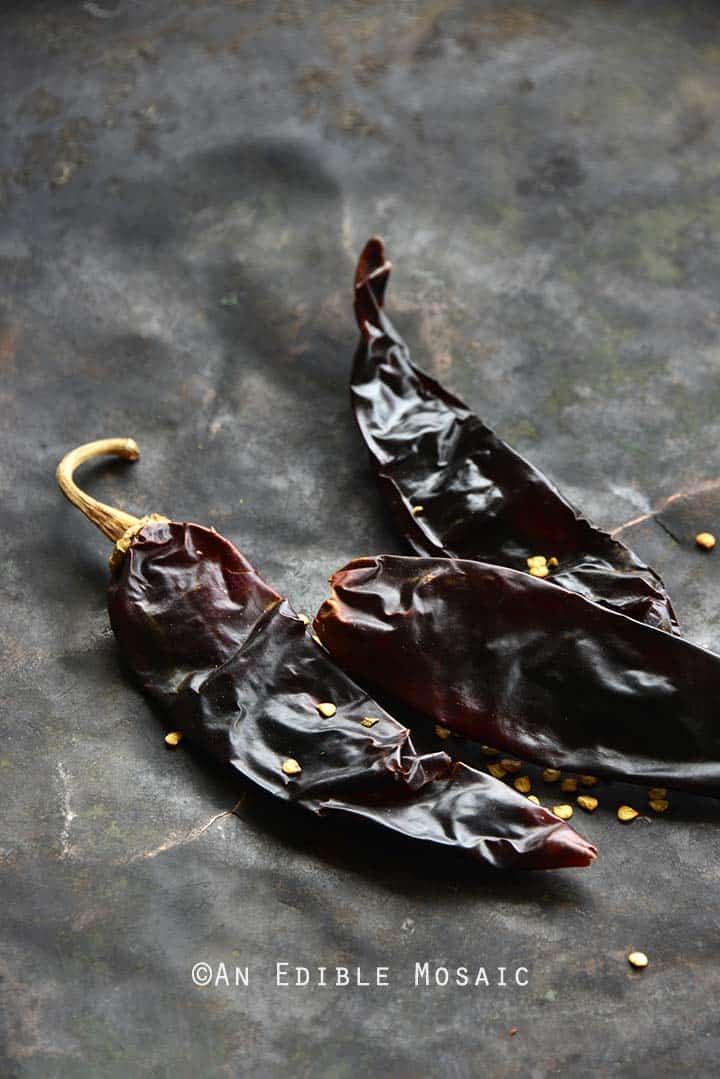 Mexican Cuisine
I love the balance that's present in Mexican cuisine. Bold flavors from chili peppers, mellowed by creamy cheeses. Complex moles that simmer all day, brightened by the freshness of cilantro or a quick homemade salsa, paired with a simply-cooked tender meat. There's usually a rainbow of vegetables present, such as zucchini, squash, and peppers. Rice if it's a sit-down occasion, or tortillas if you want something portable. There is truly something for everyone.
Cacique® Products
I utilized several Cacique® products to take this recipe from average to amazing. To balance out all the spices and the slight heat level in the short ribs, I used Cacique® Mozzarella, Cacique® Cotija, and Cacique® Chipotle Mexican Style Sour Cream. Mozzarella gets melted right onto the tostadas (the corn tortillas that are baked until crispy in the oven). Cotija gets crumbled on top. Chipotle-flavored Mexican style sour cream gets dolloped on to pack a double whammy of spicy flavor with cooling, creamy texture. Cacique® products are perfect for when you want to delicious savory Mexican flavors without having to spend all day in the kitchen.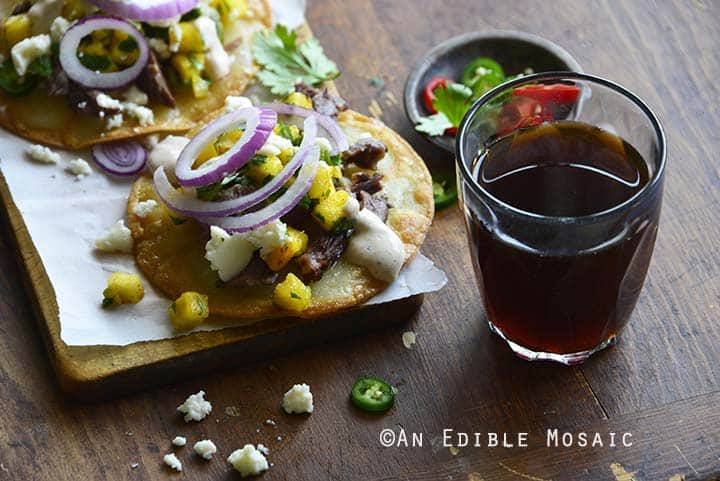 Short Rib Tostadas with Pineapple Salsa and Cotija
Prep time:
Cook time:
Total time:
Short Rib Tostadas with Pineapple Salsa and Cotija feature melt-in-your-mouth-tender meat paired with sweet and spicy fresh pineapple salsa and bursts of salty creaminess from Cotija cheese.
Ingredients
Short Ribs:
2 tablespoons avocado oil
2½ lbs (1.13 kg) bone-in beef short ribs
1 medium red onion, chopped
4 large cloves garlic, crushed or minced
1 cup (240 ml) beef stock
1 tablespoon apple cider vinegar
1 tablespoon coconut sugar (or brown sugar)
1½ teaspoons each cumin and Mexican oregano
1 teaspoon chipotle chili powder
¾ teaspoon salt
½ teaspoon each coriander and allspice
¼ teaspoon each cinnamon and black pepper
1 whole dried guajillo chili pepper
Pineapple Salsa:
2½ cups diced fresh pineapple (about ¼ of a medium/large-sized pineapple)
1 jalapeno or ½ serrano, minced (more or less to taste)
2 teaspoons honey
1 teaspoon apple cider vinegar
½ teaspoon chipotle chili powder
⅛ teaspoon salt
½ cup chopped fresh cilantro
Tostadas:
8 small (5 to 6-inch) corn tortillas
2 tablespoons avocado oil
6 oz (170 g) Cacique® Mozzarella cheese, shredded
Other:
4 oz (115 g) Cacique® Cotija cheese, crumbled
4 tablespoons Cacique® Chipotle Mexican Style Sour Cream
Thinly sliced red onion, for garnish (optional)
Instructions
For the short ribs, turn the pressure cooker on, press "Sauté", and wait 2 minutes for the pot to heat up. Add the avocado oil and short ribs and cook until browned, about 3 to 5 minutes per side, flipping once. Transfer the ribs to a bowl and set aside for now.
Add the onion and garlic and cook a couple minutes until they start to soften, stirring occasionally. Press "Cancel" to stop sautéing.
Stir in the beef stock, vinegar, sugar, cumin, oregano, chili powder, salt, coriander, allspice, cinnamon, and black pepper. Add the browned short ribs and guajillo chili.
Turn the pot on Manual, High Pressure for 42 minutes and let it do a natural pressure release.
Use thongs to remove the meat, let it cool slightly, and then pull it off the bone and shred it. Drizzle a bit of the cooking liquid on the meat for flavor and to help keep it moist.
For the pineapple salsa, stir together all ingredients, and then cover and refrigerate until ready to serve.
For the tostadas, preheat the oven to 400F and line 2 large baking trays with foil. Lightly brush both sides of each tortilla with oil. Arrange the tortillas on the baking trays and bake for 8 minutes on the first side. Flip each tortilla over, bake 3 minutes more, and then sprinkle on the shredded mozzarella and bake until melted, about 2 minutes.
To assemble, top each tostada with shredded meat, pineapple salsa, a sprinkle of Cotija, a dollop of chipotle sour cream, and a few slices of red onion. Serve.
Notes
Make-Ahead: The short ribs can be made up to 3 days ahead and stored covered in the fridge until serving.
I was selected for this opportunity as a member of CLEVER and the content and opinions expressed here are all my own.