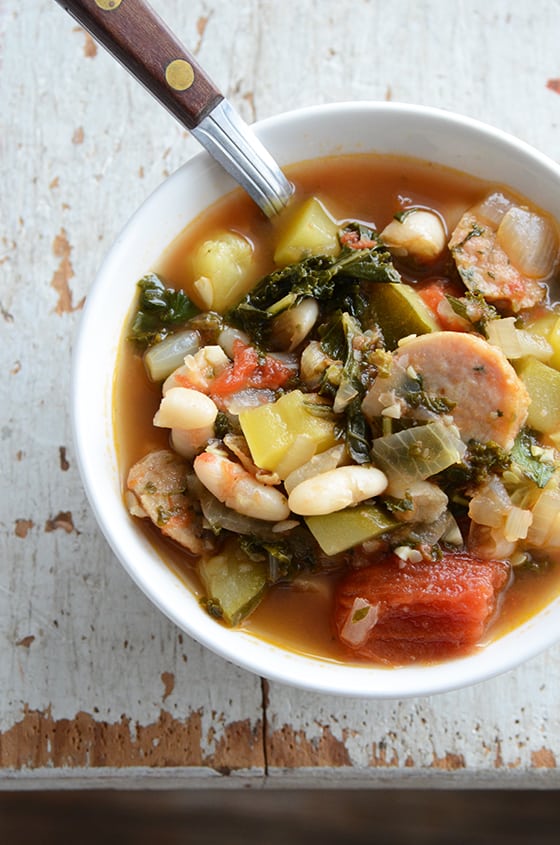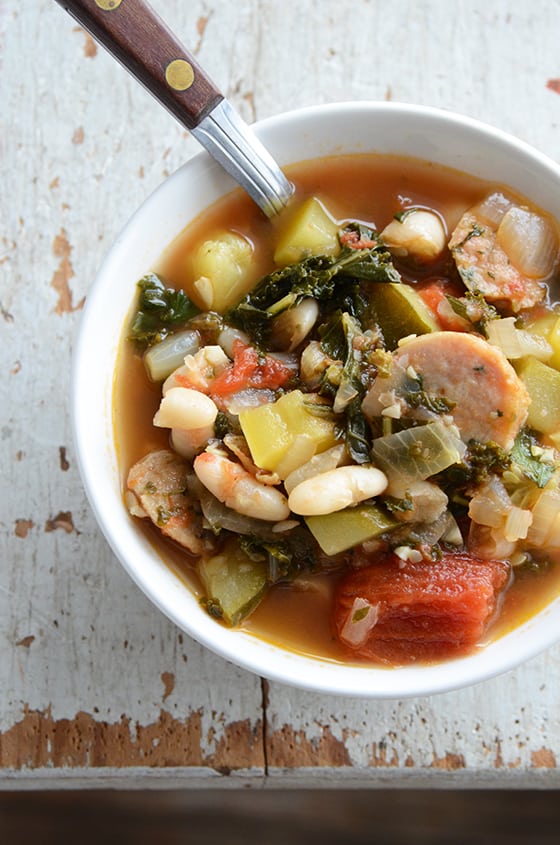 As a food blogger, most of the food I make is memorialized in a photograph or a written recipe. Even if it's less formal than a recipe for a book or my blog – for example, a recipe I share in one of my (very rare) What I Ate Wednesday posts or on Instagram – the vast majority of my food is recorded in some way.
Which is, admittedly, a teensy cumbersome sometimes.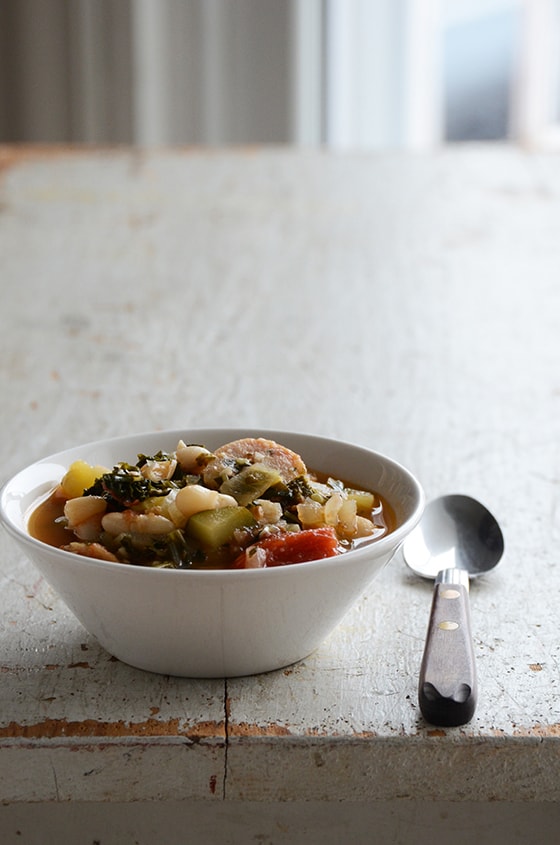 The frustration of cold meals (due to taking the time to photograph) aside, there are other issues as well. It means that I am always thinking about how to make my food look appetizing. And it means that I rarely get to enjoy the same meal twice (because I need new content for the blog), even if the meal was quite enjoyable. It means I'm always trying to brainstorm for new/exciting dish ideas, and I have to plan ahead and be cognizant of what I recently posted because I like to vary the kinds of posts I do (for example, I try not to post two of the same kind of meal – such as two appetizers – back to back). And since I much prefer shooting with natural light, it means I have to plan accordingly and cook (so I can shoot) while the sun is out, which usually means making dinner early in the day and reheating it later. (Despite all this and every other inconvenience that goes along with being a food blogger, I consider myself truly blessed to able to do what I am head-over-heels in love with for a living!)
To compound matters for me, my husband is as picky an eater as they come. He has a rotation of about six Middle Eastern dishes that he regularly requests (mujaddara, shawarma, molokhia, shakreeyeh, freekeh, and kousa mahshi, all of which can be found in my cookbook). Other than that, he might randomly request a different Middle Eastern dish (like falafel or kebabs) or an Indian dish like biryani (sometimes pilaf-style and sometimes stuffed) or butter chicken. Oh, and seafood at least once a week, which might seem weird since I don't share all that many seafood recipes on my blog, but that's because seafood is one thing that is infinitely better consumed right after it's made (reheated fish is just not good!), and blogging isn't always conducive to timely eating of food. Then on very rare occasions, my hubby will ask for something else entirely, like spaghetti or roast chicken. For me, this means that unless I want to eat the same handful of things for dinner over and over again like he does, I have to make dinner for him and put together whatever for myself. And "whatever" usually ends up being something I want to post on the blog.
You might be surprised to know that I only sit down at the dining room table to eat when I'm eating a meal with someone else; when I'm eating alone, it's either in front of my computer, curled up in a corner of the couch, or – worst of all, if I'm super pressed for time – huddled over the kitchen sink. (Luckily, meals eaten over the kitchen sink are very few and far between…but I wanted to mention it because that is the reality sometimes, and I want to be honest about it. I try to keep it real with my readers!) And not everything I eat is plated prettily, garnished perfectly, illuminated by perfect lighting, and eaten with vintage flatware. Sometimes there is barely even a method to my madness. I wish I could be more routine, but some days there just isn't time, and also, since I don't like to waste food and I never know what I'll have on hand, it can sometimes be difficult to be methodical about what I eat.
Be that as it may, my days (Mondays through Fridays, anyway) always start off with cottage cheese pre-workout. But then after that anything is fair game. My post-workout meal could be a healthy milkshake/smoothie, porridge, eggs, or even something leftover from dinner the night before (especially soup, which reheats like a dream with no effort at all). Of course if I'm making a new smoothie/porridge/egg dish/etc. for the blog I'll make it, shoot it, and then eat it immediately. (But similar to fish, eggs are one of those things that just don't reheat well. Alas, such is the life of a food blogger.) Saturday mornings I have brunch with my niece, which could be anything from green smoothies to homemade waffles, granola-yogurt parfaits, or eggs with toast and turkey bacon; basically, anything she's in the mood for. Sunday mornings Mike and I pick up our favorites from a local bakery (an "everything" bagel with vegetable cream cheese for me, and either a chocolate or an almond croissant for him, depending on what he fancies that day), and then we enjoy them at home with homemade lattes (vanilla-hazelnut for him and salted caramel for me).
Lunch could be a salad made with any veggies I have on hand, a sandwich (on the rare occasion that I have regular bread in the house – it isn't something we normally keep on hand, other than Middle Eastern flatbread for Mike), eggs (but not if I had them already that day), soup (if I have leftovers in the fridge or freezer), or any other kind of leftovers I need to use up. Or if I'm making something for the blog, a bit of whatever I'm making. A small dish of Cincinnati Chili maybe, a little bowl of Thai-Fried Rice, or a hummus-like spread with caramelized onion served with flatbread or raw veggies and pita chips so it can be easily eaten while working. Or on days when time has eluded me completely, maybe an apple with a spoonful of peanut butter, or some deli turkey rolled up in lettuce leaves. Canned tuna spread on crackers. Or even just a wedge of cheese (Kerrygold Vintage Cheddar, please!). There is nothing glamorous about it, but that is the reality of my lunches. (But the really wonderful thing is that I can usually squeeze in lunch dates out at least a couple times a week if I want…and lunch hours away are like a little slice of heaven.)
If I'm hungry, afternoon snacks are quick; maybe a small handful of raw nuts, a piece of fresh fruit, a bite or two of some recipe I'm testing, a cup of tea or coffee with a muffin if I've made muffins lately (mmm, like pistachio-chai), a piece of homemade candy (like my healthy peanut butter cups), or a couple cookies (skinny chocolate chip is my current favorite).
And back to dinner. I already mentioned Mike's dinners, which I eat with him on occasion. The issue is that if he loves something, he could eat the same meal for a month straight and not get sick of it…for me, by the third night I'm ready for something else. When I'm not making something for the blog, I usually just throw something together for my own dinner. Soup is frequently on the menu because 1) it's quick and easy, 2) it's healthy, 3) you can use anything you have on hand, 4) the varieties are endless, and 5) I love soup – for me, it is the ultimate comfort food. Some of these soups make it to the blog, but others don't, mainly because I don't feel like photographing them or because I didn't write down everything that went into them. Or sometimes it's because they didn't photograph well, despite tasting wonderful. That would have been the case with this stew.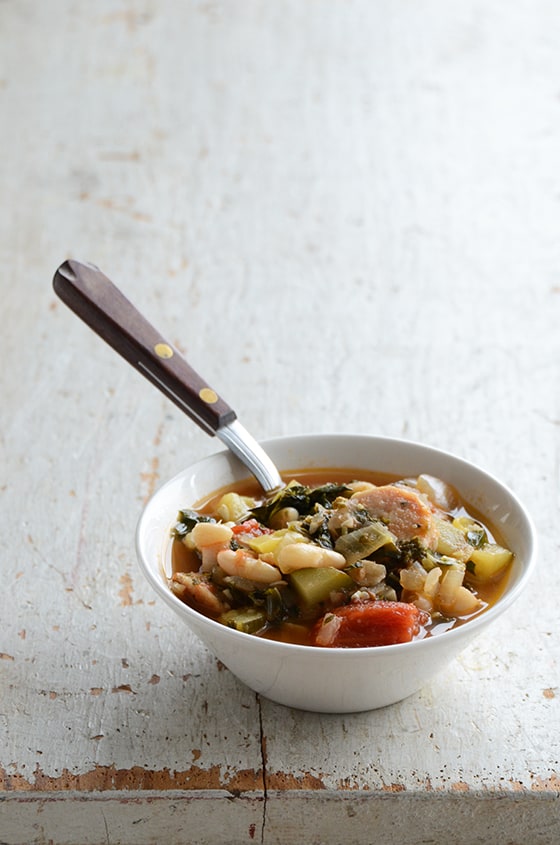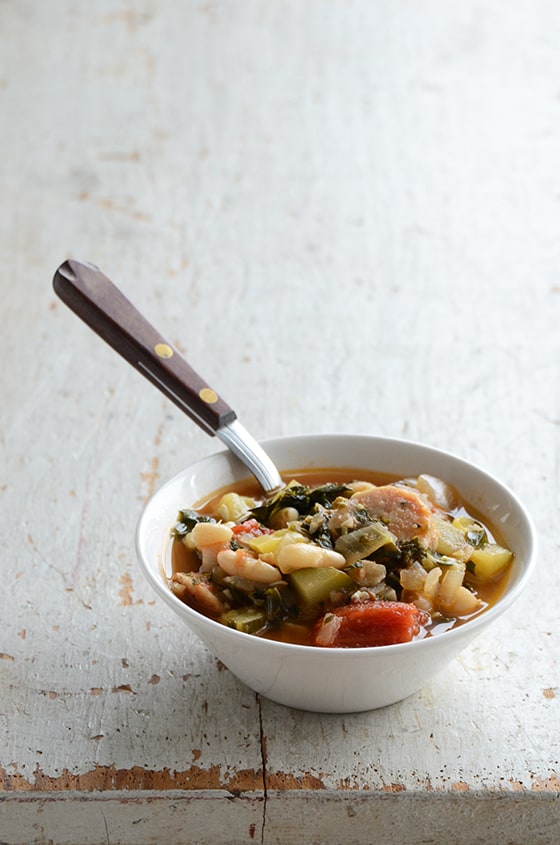 This Vegetable Medley Stew with White Beans + Chicken Sausage isn't something I was going to post until I got the idea to show you the sort of thing I eat when you're not looking. I just threw a bunch of stuff into a pot late one chilly afternoon, stone soup-style, when Mike had asked for the same meal for the fourth night in a row. Mike came home that evening, and smelling something other than what he had asked for, headed straight to the kitchen and walked over to the stove. He opened the lid and said with disdain (and I quote) "What the hell is that?" I couldn't even stifle my laughter. He simmered down a bit, happy as a kid in a candy store actually, when he saw the pan next to it where I was reheating shawarma for him. Again.
I'll admit, this wasn't a particularly pretty stew. I know there will be a kind soul out there who says that it really is lovely, and while I truly appreciate that, let's be honest, this stew won't be winning any beauty awards. Even though it doesn't even really look like anything special, flavor-wise, it's spot-on; the touch of soy or tamari sauce is the trick. Besides, it was healthy, comforting, and for me, it beat having the same meal four nights in a row. And bonus, reheated it made the best breakfast the next morning.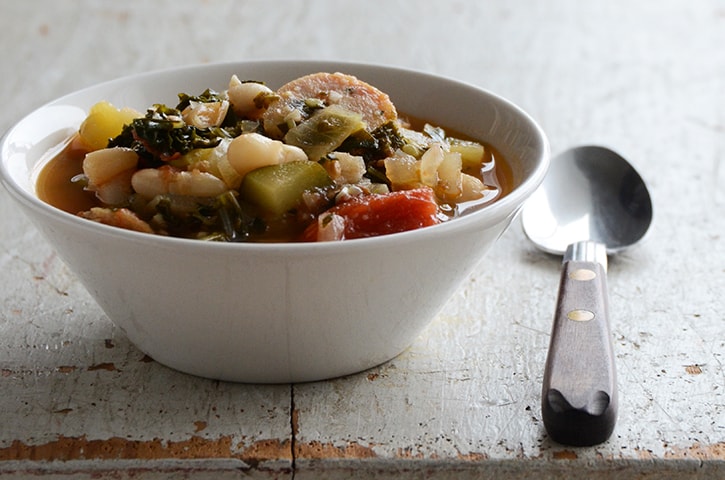 Vegetable Medley Stew with White Beans + Chicken Sausage
Prep time:
Cook time:
Total time:
Ingredients
2 tablespoons olive oil
¾ lb (340 g) fully cooked chicken sausage, thinly sliced
1 large onion, chopped
1 lb (455 g) kale, rinsed, tough center ribs removed, and chopped
2 cups (475 ml) low-sodium chicken stock (or water), plus more as needed
6 large cloves garlic, minced
2 medium zucchini (400 g), chopped
1 medium yellow summer squash (200 g), chopped
1 (14.5 oz/411 g) can no-salt-added crushed tomatoes, with juices
1 tablespoon soy or tamari sauce
¾ teaspoon turmeric
½ teaspoon salt
¼ teaspoon black pepper
1 (15.5 oz/439 g) can no-salt-added white beans, rinsed and drained
3 tablespoons minced fresh parsley
Instructions
Heat the oil in 5.5 quart pot over medium-high to high heat; add the sausage and cook until browned, about 5 to 7 minutes. Use a slotted spoon to transfer the sausage to a bowl and set aside.
Add the onion, kale, and stock; cover the pot and cook until the kale is wilted, about 5 to 7 minutes, stirring occasionally.
Stir in the garlic, zucchini, yellow summer squash, crushed tomatoes, soy sauce, turmeric, salt, and pepper and cook (with the lid cocked open if you want it to be a thick stew like the one pictured) until the veggies are tender, about 5 to 7 minutes, stirring occasionally.
Stir in the browned sausage, white beans, and parsley, and cook until everything is warm, about 2 minutes.