Bolognese sauce, or ragù alla bolognese, is a full-bodied meat sauce originally from Bologna, Italy. Traditionally this sauce contains "beef, pancetta, onions, carrots, celery, tomato paste, meat broth, wine, and (optionally) milk or cream." (You can read more about bolognese sauce here.) I based this recipe on Emeril Lagasse's Spaghetti Bolognese, altering it to make it a little healthier and to accommodate ingredients that I normally keep in my pantry and/or fridge.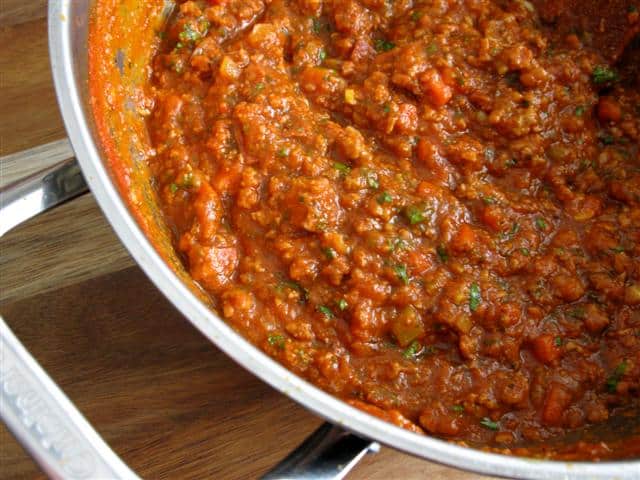 Instead of pancetta I use turkey bacon, which gives it a nice, slightly smoky background flavor without the added fat of pancetta; then I use ground turkey to pair with the turkey bacon. I use balsamic vinegar to deglaze the pan, which gives the sauce a nice subtle tang that I really enjoy. As far as the cinnamon and nutmeg goes, don't worry, you won't be able to differentiate the taste of these spices…they just help to round out and enhance the flavor of the sauce. And because I like my bolognese sauce to be thick and rich and deep red, I omit the milk and/or cream (which also helps to save on calories) and instead use a small amount of butter to finish the sauce.
Turkey Bolognese
(Yield: About 6 cups of sauce)
2 TB olive oil
4 slices turkey bacon, finely diced
2 medium onion, finely diced
2 large stalks celery, finely diced
2 medium carrots, finely diced
3-4 cloves garlic, minced
1 lb ground turkey
2 TB balsamic vinegar
1 tsp salt
1/2 tsp black pepper
2 bay leaves
2 tsp dried Italian herb mix
1/4 tsp cinnamon
Pinch freshly grated nutmeg
1 (28 oz) can crushed tomatoes (with juices)
1 (6 oz) can tomato paste
2 c stock (turkey, chicken, beef, or veggie)
1/4 chopped fresh parsley
1 TB butter (optional, for finishing the sauce)
Freshly grated or shaved Parmesan cheese (optional, for garnish)
Prepared pasta and green salad (for serving)
In a 5-quart pot with a lid, heat the olive oil on medium-high heat. Add the turkey bacon and sauté until browned (about 5 minutes), then add the onion, celery, and carrot and sauté until the veggies are starting to soften (about 5 minutes). Add the garlic and cook for 1 minute, stirring constantly. Add the turkey and cook until browned (about 5 minutes), then add the balsamic vinegar. Let the vinegar deglaze the pot by using a wooden spoon to scrape up any brown bits on the bottom. Stir in the salt, pepper, bay, dried Italian herb mix, cinnamon, nutmeg, crushed tomatoes, tomato paste, and stock. Simmer the sauce (uncovered) on low heat for about 2 hours (stirring occasionally) or until it's thickened up to your desired consistency. Turn off the heat and stir in the parsley and butter.
Serve with your favorite pasta (the shape I used was mini rigatone) and garnished with Parmesan cheese, alongside a green salad.