Even though I don't usually share their sentiments, I can at least understand how some veggies fall into the "eww" category for some people…
Broccoli, Brussels sprouts, and cabbage stink (literally).
Kale can be bitter.
Tomato can be acidic.
But mushrooms always confound me.
I mean, mushrooms don't smell particularly offensive. Their taste in general (of course, depending on the particular species) is earthy, but pretty mild, somewhat meaty, and even a bit umami. I've heard a few people complain that their texture is off-putting (as in, slimy in the worst way possible), but that's never bothered me. Sautéed in butter or olive oil and paired with garlic and fresh herbs, I think mushrooms are pure bliss.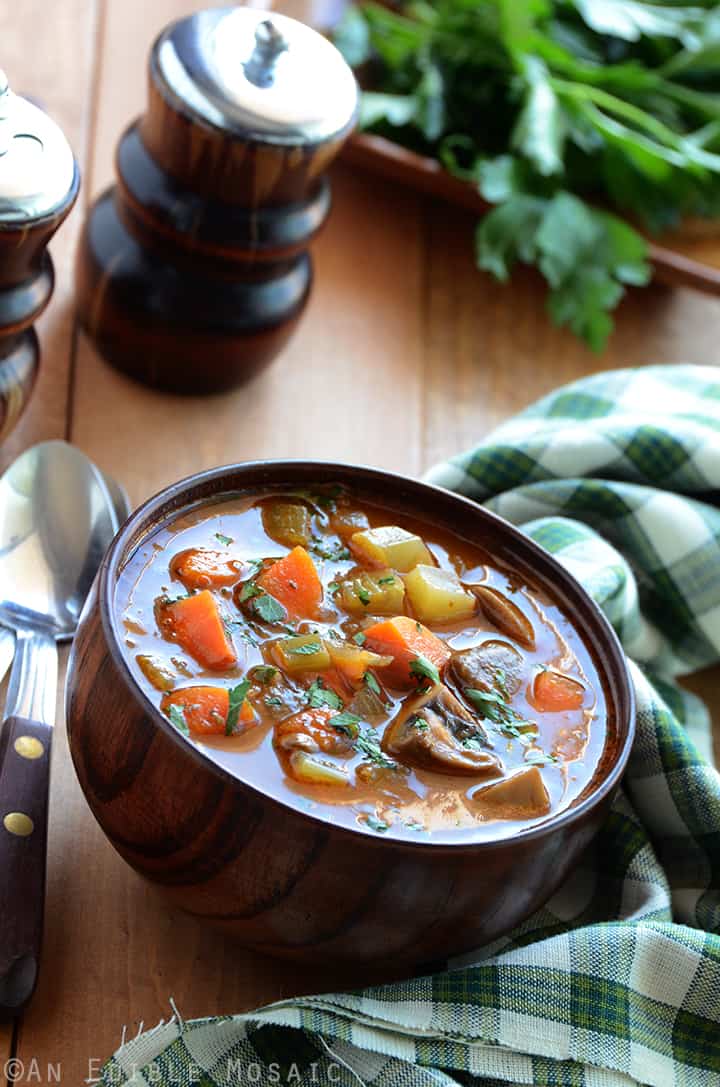 From Cooking Light, here's a little mushroom trivia for you…
Early Greeks and Romans are thought to be among the initial mushroom growers. Romans in particular were very fond of this member of the fungus family, but after the fall of the Roman Empire, mushrooms were avoided, out of a justifiable fear of poisoning. The Italians were the first to reclaim it, and its popularity soon spread throughout Europe. Today, thousands of varieties of cultivated and wild mushrooms grow all over the world.
The star of this soup is definitely mushrooms, so if they're not your thing, you'll want to forgo this dish completely. However, if you're a mushroom fan I think you'll be all about this soup/stew (I'm not really sure what to call it because while it's literally chock full of veggies, it's pretty brothy at the same time).
Mushrooms lend their meatiness to this hearty stew, and their flavor is enhanced further with a bit of coconut aminos (or tamari sauce) and Worcestershire sauce. A touch of tomato paste adds body to the broth and when it comes to the garlic, I tend to go a little heavy-handed here (because I think mushrooms and garlic go together like snow days and hot chocolate). And don't skip out the on the fresh herbs here – they really brighten up everything else.
What's your stance on 'shrooms?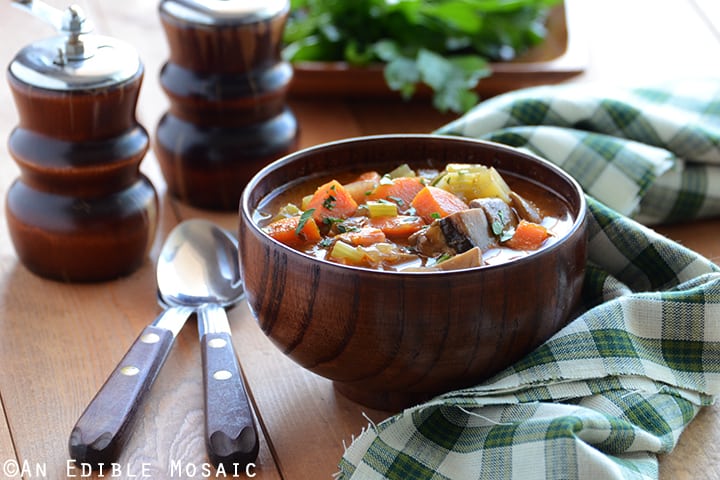 Hearty Garlic and Herb Mushroom Stew
Ingredients
3 tablespoons olive oil
1½ lbs (680 g) cremini mushrooms, quartered
½ teaspoon salt, divided
1 lb (450 g) cooking onions (about 3 medium onions), diced
5 to 6 large cloves garlic, minced
1 tablespoon minced fresh rosemary
1 tablespoon minced fresh thyme
2 bay leaves
4½ cups (1L) low-sodium vegetable stock, warmed
3 large carrots, scrubbed and chopped
4 large stalks celery, washed and chopped
2 tablespoons tomato paste
1 tablespoon coconut aminos or tamari sauce
1 tablespoon Worcestershire sauce (see Note)
¼ teaspoon ground black pepper
2 tablespoons minced fresh parsley, for garnish
Instructions
Heat the oil in a 5-quart soup pot over medium-high heat; add the mushrooms and ¼ teaspoon salt and cook until the mushrooms are browned and have released their water, about 10 minutes, stirring occasionally. Use a slotted spoon to transfer the mushrooms to a bowl; set aside.
Add the onion and the remaining ¼ teaspoon salt to the pot that the mushrooms were cooked in. Cook until the onion is soft and deep caramel in color, about 15 minutes, stirring occasionally and adding a splash of water or turning the heat down a bit if the onion starts to get too dark.
Add the garlic, rosemary, thyme, and bay leaves and cook 30 seconds, stirring constantly.
Add the stock, browned mushrooms, carrot, celery, tomato paste, coconut aminos or tamari, Worcestershire, and black pepper.
Bring to a boil over high heat, then turn heat down to simmer, cover the pot, and cook until the vegetables are tender, about 25 to 30 minutes, stirring occasionally.
Serve with minced fresh parsley sprinkled on top.
Notes
Worcestershire Sauce:
To keep this dish paleo and vegan, make your own Worcestershire sauce; Paleo Leap has a great recipe for it
here
. Or if you just want to keep it vegan, feel free to use store-bought vegan Worcestershire sauce.