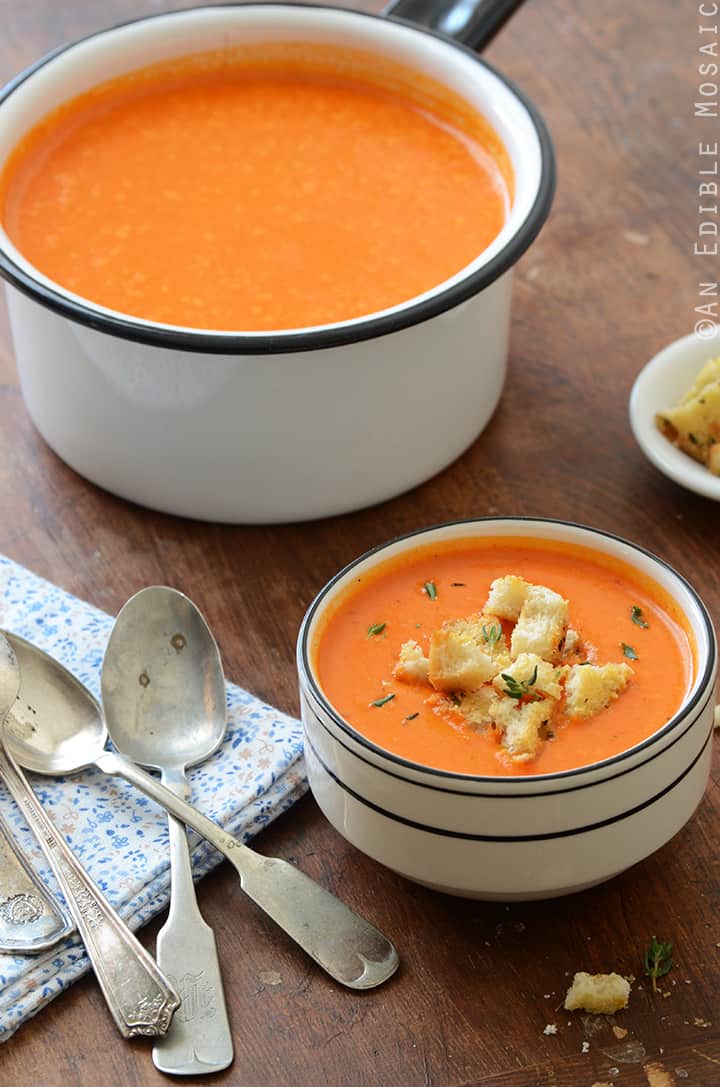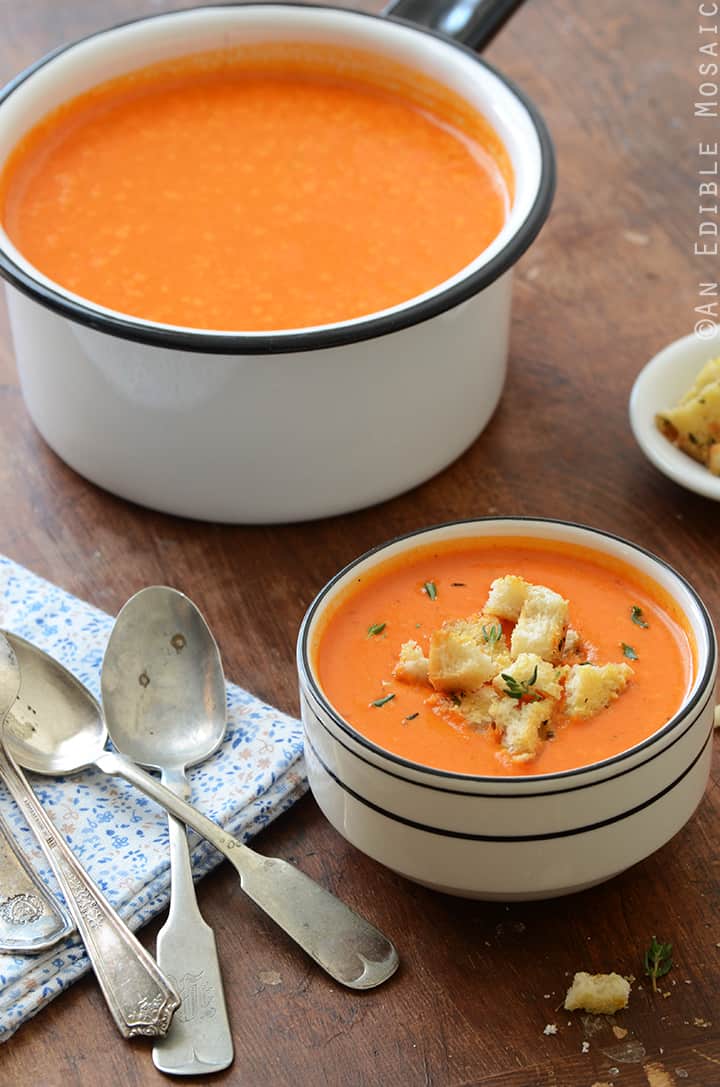 Being a food blogger isn't always all fun and (food) games.
Yes, I get to work from home and avoid a hectic commute, road rage, and brushing snow off my car in the morning. Plus, I guess theoretically, I could stay in my PJs all day (who has time for that though?!). And, time-permitting, I can have a hot lunch most days. Also, I can work from anywhere in the world, and I get to decide when I want to take vacation time without having to get my boss' approval (which, I've noticed with Mike's job, can be a very bureaucratic thing).
I guess when you put it like that, it does sound like mostly fun and games, but I believe that anyone who truly loves what they do sees their job through rosy-colored glasses.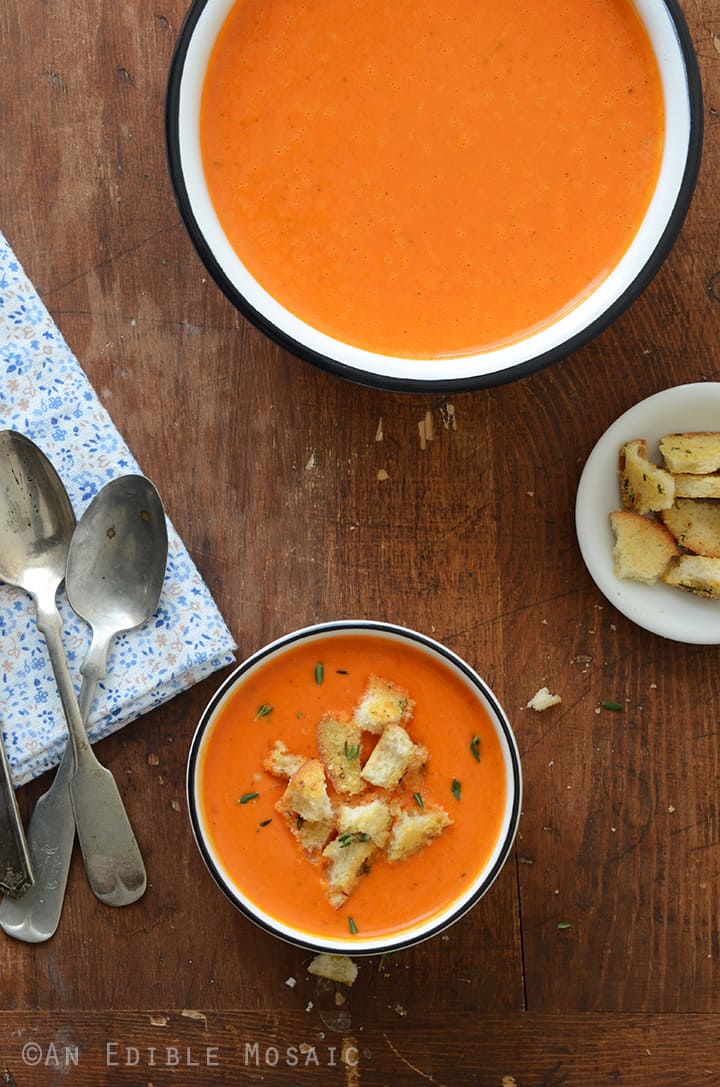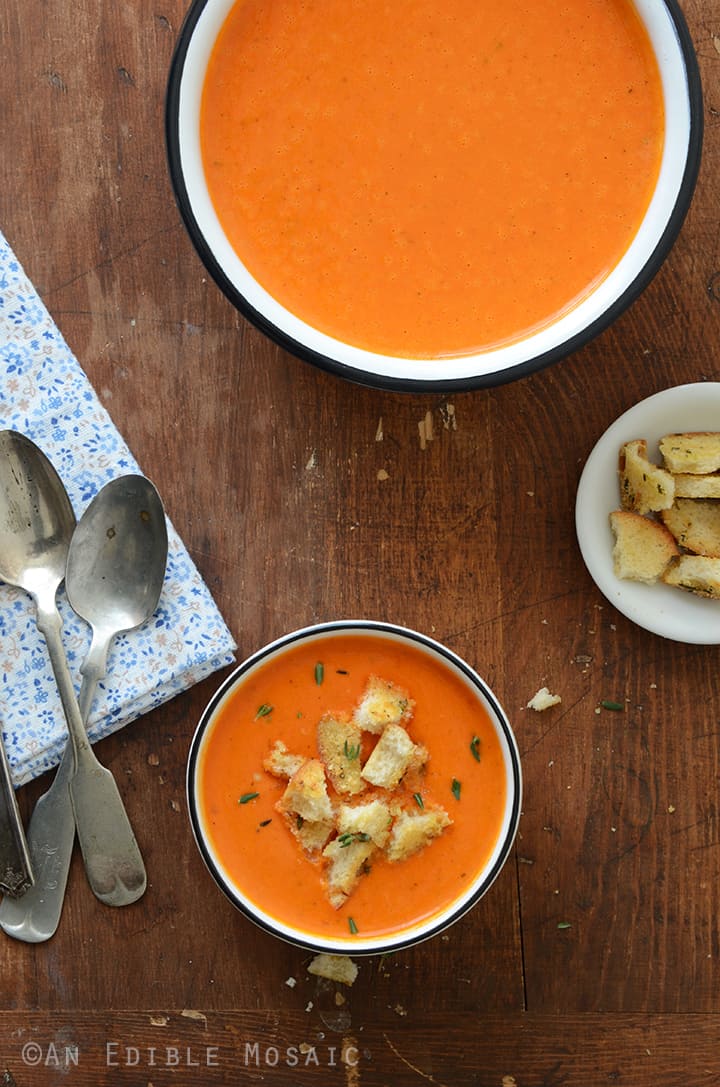 Food blogging has its own set of challenges too though. To name a few, the necessity of a trip to the store for a forgotten ingredient at a very inopportune time, not having the company (or distraction, depending how you view it) of working with other people, and also, how to use up all the food that's made.
I have a few creative ways to make sure that the food is used; neighbors, friends, and co-workers come in very handy. So do individual-sized freezer-safe containers.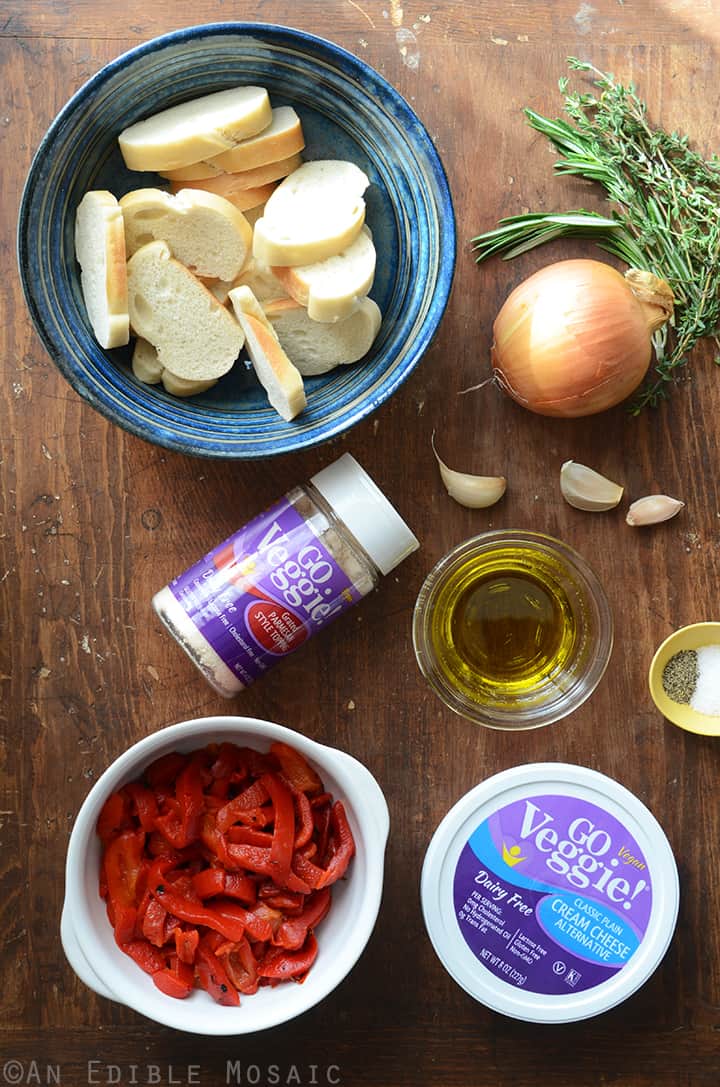 It seems like I've been craving nothing but soup lately. I like to make a big batch for dinner one night and then reheat it for leftover lunches during the week. And when I get toward the bottom of the pot, there are one or two servings that get frozen individually for a quick meal anytime.
When I recently made this Roasted Red Pepper Soup with Cheesy Herb and Garlic Croutons, there were a few servings of different kinds of soup already in my freezer (a little bit of this, this, and this, which I shared a picture of here). But I was craving a creamy soup with croutons something fierce, and when the idea for this soup came to me, it just had to be made. Immediately.
I just figured I'd have a serving and my craving would be satiated, leaving me with a few more individual servings to add to my freezer stash. Instead, I ended up eating this whole batch of soup in two days. It was so good.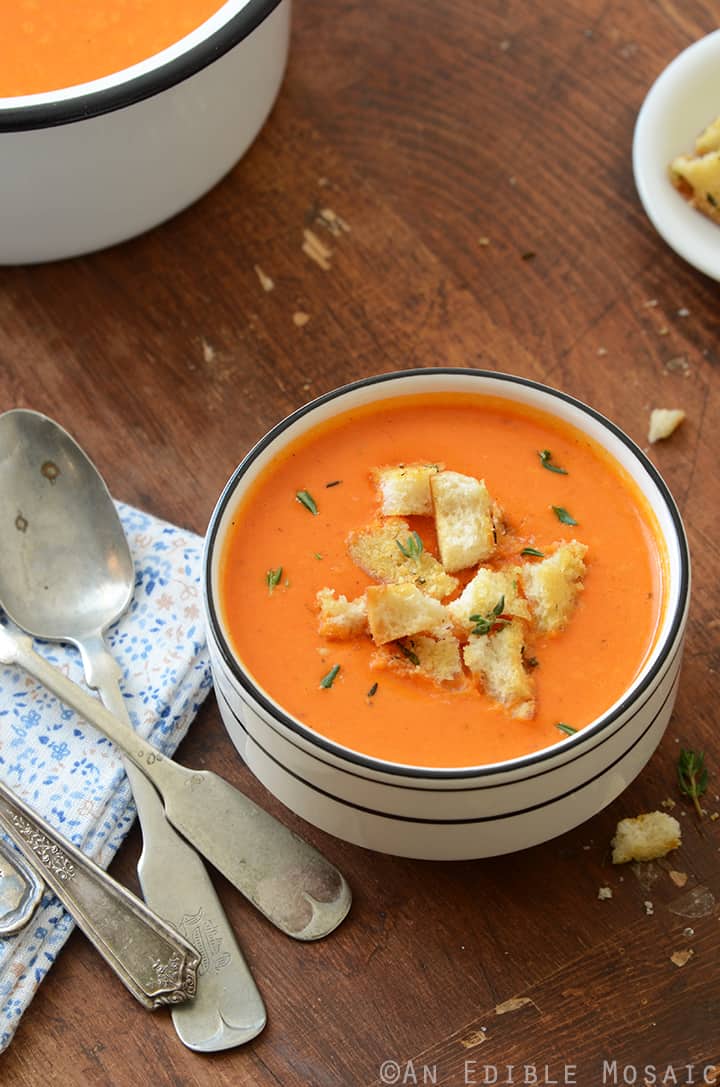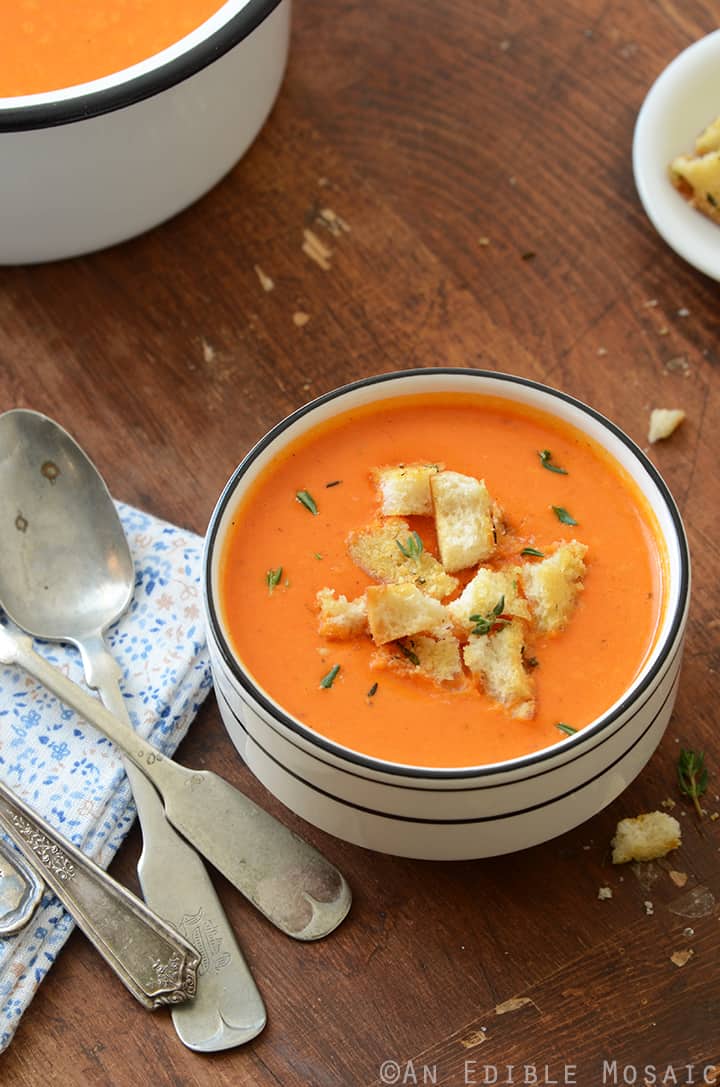 It's still cold and flu season, so red bell peppers, which provide a broad range of antioxidants and contain 117 mg of vitamin C per cup, are the perfect base for this soup. (You can read more about the health benefits of red bell peppers on The World's Healthiest Foods.) I used a couple different GO Veggie! products in this recipe: GO Veggie! Dairy Free Classic Plain Cream Cheese to make the soup rich and creamy, and GO Veggie! Dairy Free Grated Parmesan Topping for a little flavor oomph on the croutons. Both products are plant-based, lactose and dairy-free, and contain no cholesterol. So maybe I don't feel so bad that I polished off the entire batch myself, lol.
Food blogger problem solved. ;)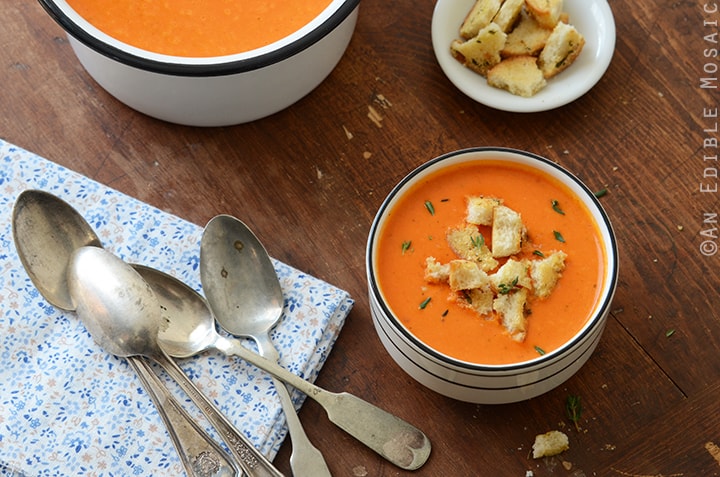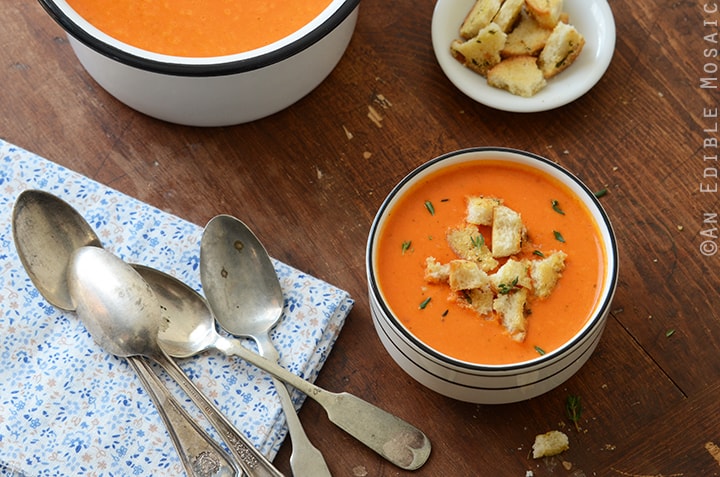 Roasted Red Pepper Soup with Cheesy Herb and Garlic Croutons
Prep time:
Cook time:
Total time:
Ingredients
Croutons:
1 tablespoon olive oil
1 small clove garlic, grated or crushed
½ teaspoon minced fresh thyme
½ teaspoon minced fresh rosemary
⅛ teaspoon coarse salt
⅛ teaspoon black pepper
¼ baguette, thinly sliced cross-wise
1 tablespoon GO Veggie! Dairy Free Grated Parmesan Topping
Soup:
1½ tablespoons olive oil
1 medium onion, chopped
2 cloves garlic, grated or crushed
1 teaspoon minced fresh thyme
1 teaspoon minced fresh rosemary
¼ teaspoon ground black pepper
1 (16 oz/473 ml) jar roasted red bell peppers (in water, not oil), rinsed and drained well (see Note)
2 cups (475 ml) low-sodium vegetable stock
½ cup (120 g) GO Veggie! Dairy Free Classic Plain Cream Cheese
Instructions
For the croutons, preheat the oven to 350F. Whisk together the oil, garlic, thyme, rosemary, salt, and black pepper in a large bowl. Add the baguette slices and toss to coat, and then sprinkle in the parmesan topping, tossing again to coat. Spread the baguette slices out on a baking sheet and bake until light golden brown, about 10 minutes, flipping once halfway through.
For the soup, heat the oil in a medium saucepan over medium heat. Add the onion and cook 5 minutes, stirring occasionally. Add the garlic, thyme, and rosemary and cook 1 minute, stirring constantly. Add the black pepper, red bell pepper, and vegetable stock; bring up to a boil and then turn the heat down, cover the saucepan, and simmer 10 minutes.
Cool the soup slightly and then puree using an immersion blender (or using a regular blender in batches, if necessary). Add the soup back to the saucepan and stir in the cream cheese. Heat over low heat until warm throughout. Taste and add salt if desired.
Serve the soup topped with the croutons.
Notes
Roasted Red Bell Peppers:
Instead of using jarred roasted peppers, you can roast 2 large peppers yourself; I give detailed info on how to do it at the bottom of
this post
.
Disclosure: I received the GO Veggie! products that I used in this recipe for free, and I also received compensation for this post. I am happy for the opportunity to share brands that I believe in with my readers, and I hope you enjoy my recipe. As always, opinions stated are my own.