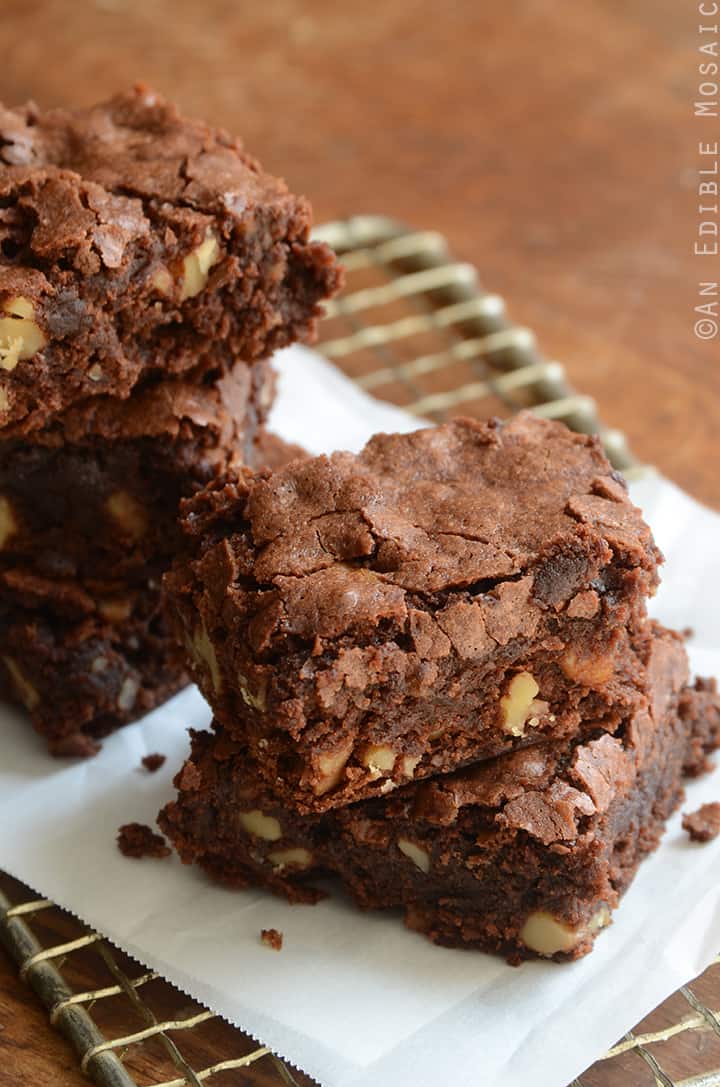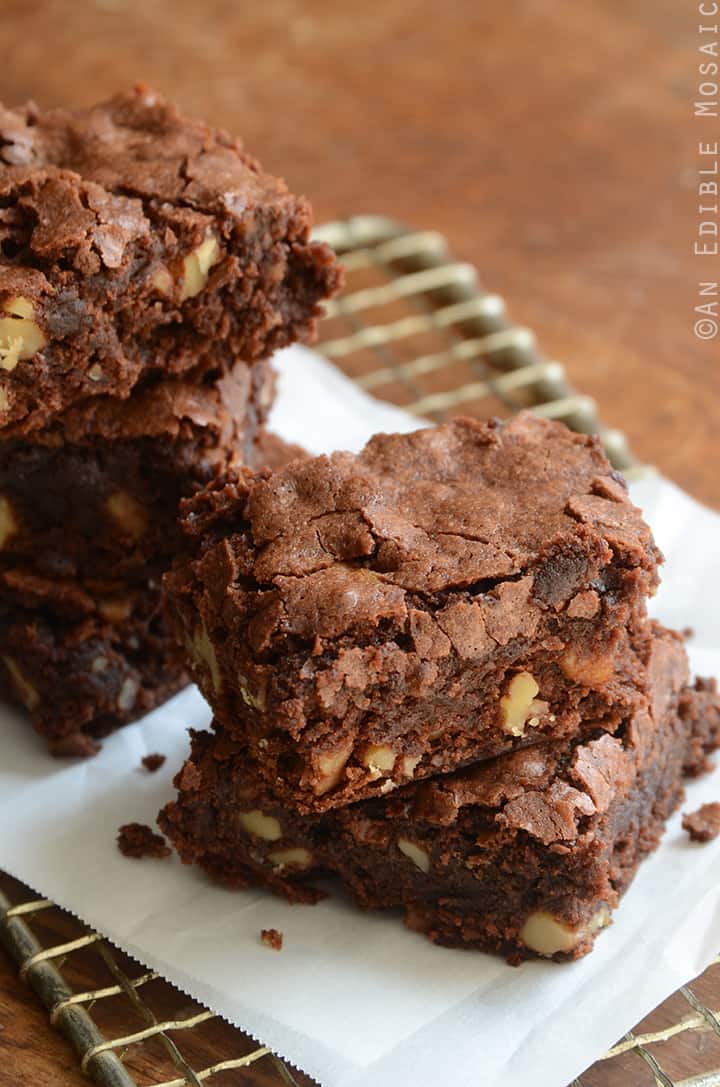 I recently happened on the best-ever homemade chewy brownies recipe completely by chance.
I wasn't in the mood for dessert at the time; surprisingly I didn't have visions of chocolate beckoning to me, and I certainly didn't think I needed a new brownie recipe. (Especially since the last brownie recipe I shared with you is not only a bit healthier than most, but still completely satisfying.)
I had about 20 minutes of extra time to kill and two bookcases full of cookbooks with which to waste time. I had been working on an article all day, so in need of a diversion from work, I turned to The Best of America's Test Kitchen 2011, a cookbook I've only peeked into maybe once or twice before. As I flipped through the recipes, I stopped at the Easy Cheesy Quiche for Two to ogle it for a moment, then lingered a bit in the seafood chapter (boy do their Maryland Crab Cakes sound divine), and finally flipped to the back of the book. Of course, as any cookbook connoisseur knows, the desserts are lurking back there. I really wasn't planning to make anything, just doing a little window shopping.
Let me just say, window shopping of any kind is a dangerous practice.
I started reading the intro to their Chewy Brownies recipe. The author mentions how it was a "dicey admission" (and yes, I love that phrase too) to admit to loving box-mix brownies. Who can't relate to that though? Brownies from a mix are always perfectly textured: chewy inside, slightly crisp on the edges, with that gorgeously crackled top. Oh yes, I could relate, and very well, thank-you-very-much.
And even though I wasn't planning to make brownies, suddenly that's all I could think about.
Of course I made them the first chance I got.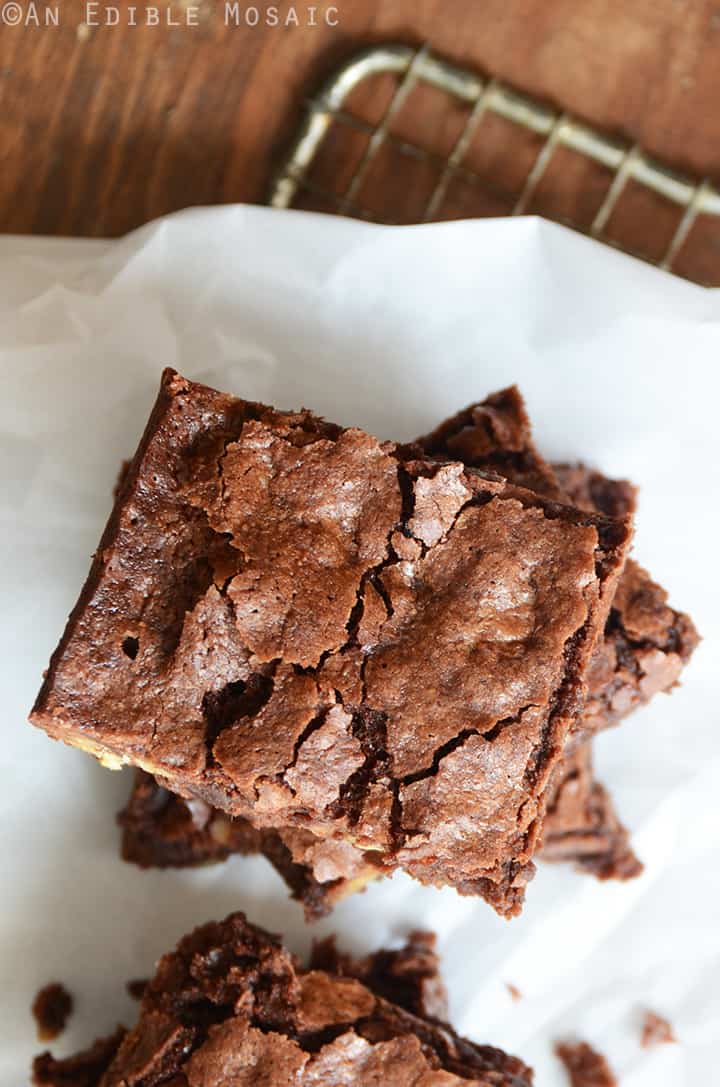 Interestingly enough, the author says that the key to the perfect chewy-textured brownie is all about the fat; or more specifically, the ratio of saturated to unsaturated fat. Here are the ratios they give:
Box Formula (chewy): 28% saturated fat; 72% unsaturated fat
Classic Formula (tender, not chewy): 64% saturated fat; 36% unsaturated fat
This Recipe (chewy): 29% saturated fat; 71% unsaturated fat
I never would have thought that the key to the perfectly-textured brownies lies in its fat ratio, but there you have it. These brownies were everything a chewy brownie should be, this side of a box mix. Plus, they come together quickly and easily in a single bowl. I'm a believer now.
These brownies have to come with a disclaimer though; they are full-fat, full-sugar, and not "light" in any way. But if you cut them small (into 24 pieces, as recommended), I think you'll find that a small brownie is the perfect size…just enough to satisfy, but not too much to send you crashing off a sugar high later.
If you're a fan of the boxed variety, this recipe will be your new best friend. And you may just never buy a pre-made brownie mix again.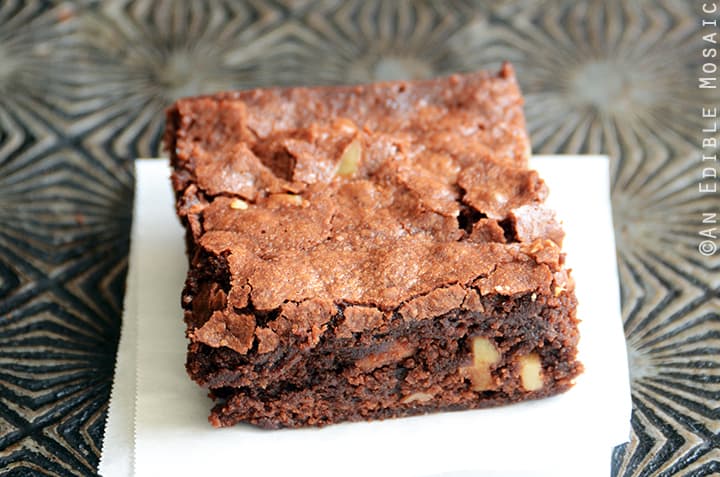 The Best Chewy Brownies
Prep time:
Cook time:
Total time:
Yield:
Yields 1 (9 by 13-inch) pan, or 2 dozen (2-inch) brownies
Ingredients
Butter, to grease the dish
½ cup (45 g) natural (not Dutch-processed) unsweetened cocoa powder (see note below)
1½ teaspoons instant espresso powder
½ cup plus 2 tablespoons (150 ml) boiling water
2 oz (58 g) unsweetened chocolate, finely chopped (see note below)
4 tablespoons (58 g) butter, melted
½ cup plus 2 tablespoons (150 ml) canola oil
2 large eggs
2 large egg yolks
2 teaspoons pure vanilla extract
2½ cups (500 g) sugar
1¾ cups (250 g) unbleached all-purpose flour
¾ teaspoon fine salt
1/16 teaspoon baking soda
1 cup (100 g) shelled walnuts or pecans, chopped (optional)
Instructions
Preheat oven to 350F; grease a 9 by 13-inch baking dish with butter.
Whisk the cocoa powder, espresso, and boiling water together in a large bowl. Add the chopped chocolate and whisk until melted. Whisk in the butter and oil, and then cool until lukewarm.
Whisk in the egg, egg yolk, and vanilla until smooth, then whisk in the sugar.
Add the flour, salt, baking soda, and nuts (if using), and stir with a wooden spoon until just combined.
Pour the batter into the prepared dish and bake until a toothpick inserted inside comes out moist with a couple crumbs, about 30 to 40 minutes (see note below).
Notes
Recipe adapted from the recipe for Chewy Brownies in The Best of America's Test Kitchen 2011, Boston Common Press (2010).

Cocoa Powder: Although I prefer natural unsweetened cocoa powder for brownies, if you only have Dutch-processed cocoa powder on hand, you can use that instead. Just be sure to omit the baking soda.

Unsweetened Chocolate: I only had semisweet chocolate on hand (60% cacao), so I used 4 oz/115 g of it instead of the unsweetened chocolate; because of this, I reduced the sugar to 2 cups (400 g) and added an additional 2 tablespoons of cocoa powder.

Cooking Time: The recommended cooking time in the book is 30 to 35 minutes in the same size baking dish; however, using the toothpick test to help determine doneness, my brownies took about 35 to 40 minutes in the oven. However, in the book they also line their baking dish with foil, whereas I grease mine with butter; I think maybe the difference in the cooking times was due to the foil conducting heat and cooking the brownies faster for them. Also note that the cooking time may be less in a glass dish rather than a metal dish.
Disclosure: This post contains Amazon affiliate links to products I believe in, which means that even though it doesn't cost you anything extra, I will receive a small amount of money from the sale of these items, which helps me keep this site alive – thank you for helping to support An Edible Mosaic!