As you probably can tell, I really enjoy cooking. For me it's a great creative outlet and means of expression, and when I've had a long day at work cooking can also be a great way to relax and unwind. But I'll admit there are some nights when I'm just too exhausted to even cook. On nights like that, it's a meal like this paired with a simple salad that I love.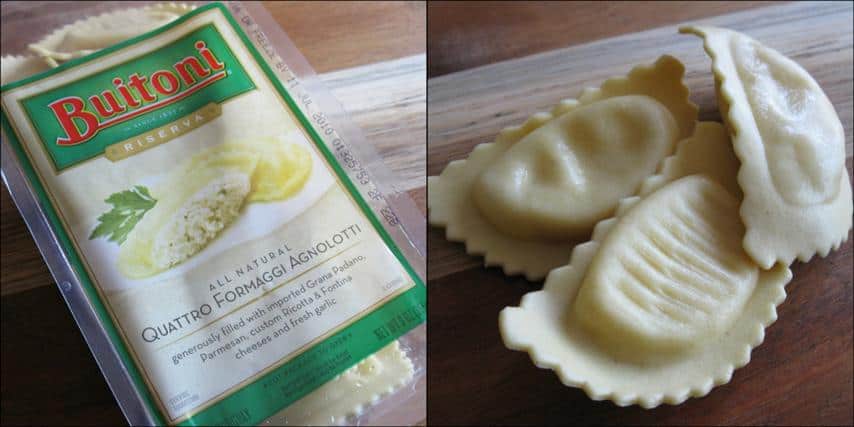 As part of the Tastemakers program, I recently received a coupon for a package of Buitoni ravioli from Buitoni and Foodbuzz. I love ravioli but Mike on the other hand, not so much. This is why I wanted to make this dish in a way that Mike might still enjoy it. I decided to prepare it the same way I would prepare pierogis – by steaming the pasta in a large skillet with a little butter and water, letting the water cook off, and then letting the pasta crisp up in the butter.
The verdict? Mike (who doesn't usually like pasta or cheese) said these were pretty good. And I loved them. They were crispy outside, cheesy inside and the sour cream gave them a nice little tang. The flavor from the onion was a fantastic finishing touch.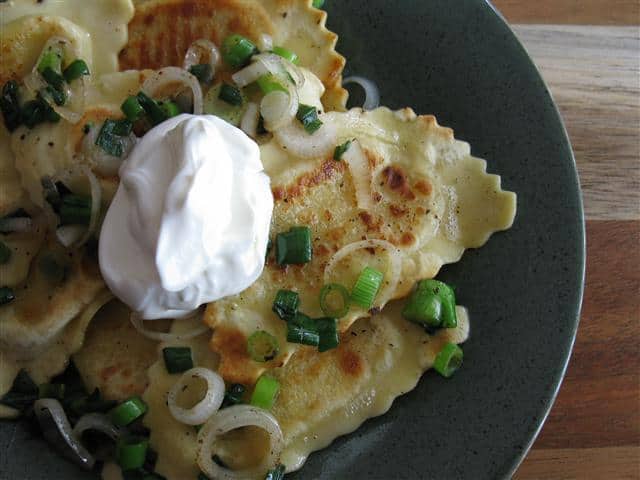 Pierogi-Style Ravioli
(Yield: 2 servings)
1 (9 oz) package Buitoni ravioli (I used the Quattro Formaggi Agnolotti flavor)
1 TB each canola oil and butter
1 large spring onion (white and green parts), thinly sliced
2 dollops sour cream (for garnish)
Salt and pepper
Large skillet with a lid
Add the canola oil and butter to a large skillet over medium-high heat. When the butter is melted, add the pasta, spread it out in a single layer, and season it with a dash of salt and pepper. Add enough water so that the entire bottom of the pan is covered (about ½ c water, depending on how big your skillet is). Put the lid on the skillet but leave it ajar so steam can escape; cook until the water is evaporated and the pasta is tender (about 5-7 minutes), flipping once.
Once all the water has evaporated, take the lid off and cook the pasta until golden brown on each side, flipping the pasta once (about 2-3 minutes per side).
Remove the pasta from the skillet, add the onion, and turn the heat down to low. Cook until the onion is just starting to soften (about 2-3 minutes). Serve the pasta topped with the onion and sour cream.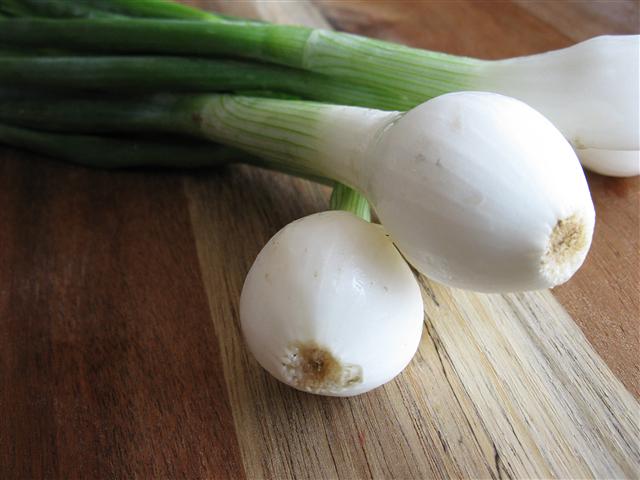 Beautiful Spring Onions From the Farmers' Market