Chili, with a Spanish Flair is a great way to mix up your chili repertoire!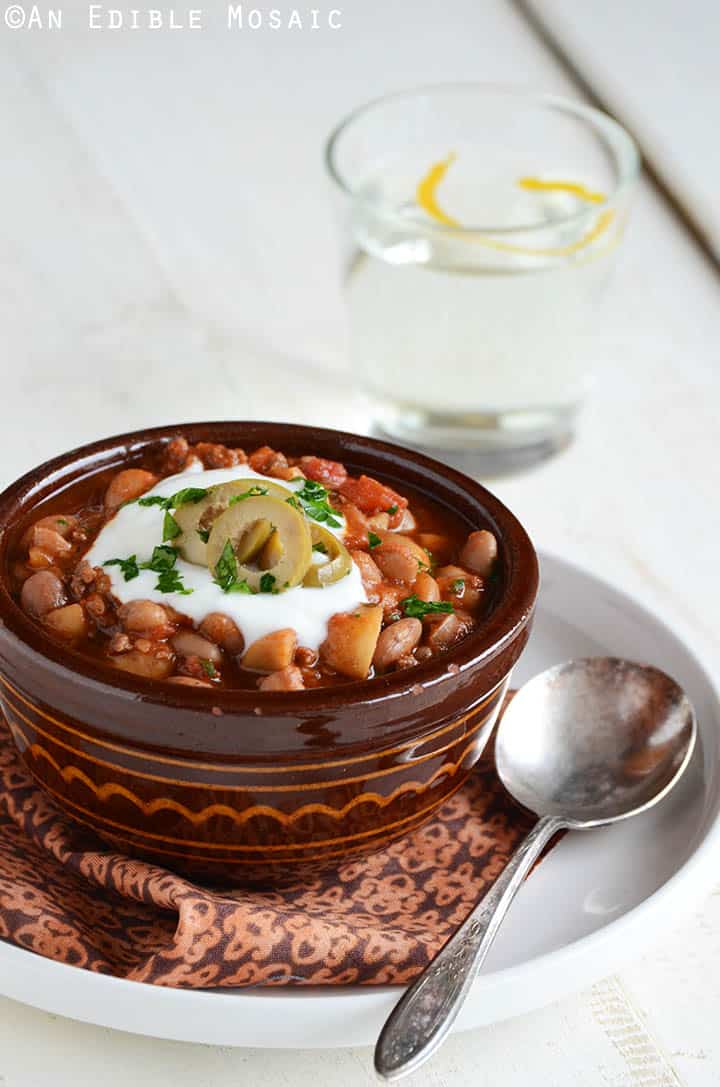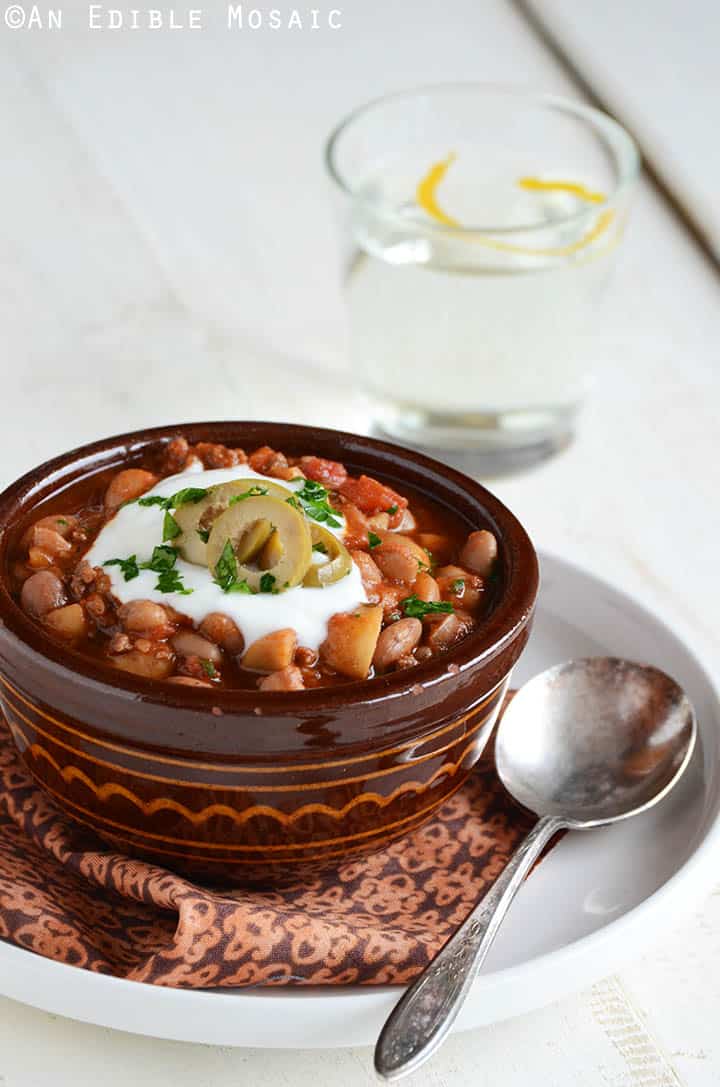 How many times a year do you make chili? I make it a few times, but always with a different recipe. (I have a common food blogger problem; I tend to think of meals that I make and enjoy but don't photograph for the blog as wasted opportunities, which means I rarely get to enjoy a good meal – rather, the same good meal – twice.)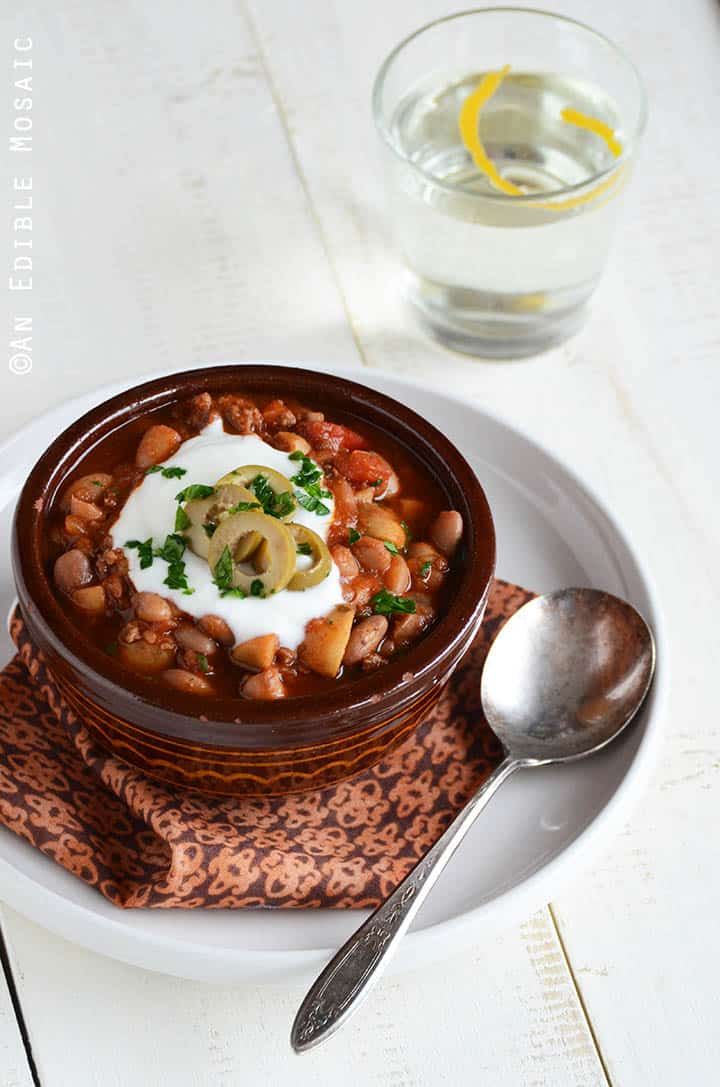 I had some gorgeous saffron in my pantry (thanks to my wonderful mother-in-law!) and I wanted to incorporate it into a hearty stew. A few other Spanish staples like garlic, thyme, smoked paprika, and cinnamon went into the pot with even more spices, veggies, beans, and ground beef, and a new chili was on the table. (Heads up, plain yogurt and good quality olives are the perfect toppings for this chili!)
A Note on the Beans: I had a bag of pintos in my pantry, but if you're short on time canned beans will also work fine (you'll need 3 to 4 (15 oz) cans), just be sure to rinse and drain them.
Chili, with a Spanish Flair
Prep time:
Cook time:
Total time:
Saffron, smoked paprika, and thyme give this chili a unique twist.
Ingredients
Chili:
1 lb dried pinto beans, rinsed
2 tablespoons unsalted butter
2 tablespoons olive oil
1 lb button mushrooms, halved or quartered, depending on their size
1 large onion, finely diced
2 medium red bell peppers, finely diced
1½ lbs lean ground beef (I used 95% lean)
5 large cloves garlic, minced
1 tablespoon minced fresh thyme
2 teaspoons smoked sweet paprika
2 teaspoons chili powder
1½ teaspoons dried oregano
1¼ teaspoons salt
1 teaspoon cumin
½ teaspoon cayenne pepper (more or less to taste)
¼ teaspoon cinnamon
¼ teaspoon black pepper
2 bay leaves
½ cup red wine
1 pinch saffron
2 tablespoons hot water
1 (28 oz) can crushed tomatoes in thick puree
4 tablespoons tomato paste
3 cups low-sodium beef stock
¼ cup minced fresh parsley leaves
Garnish Ideas:
Plain yogurt
Good quality olives, pitted and sliced
Minced fresh parsley
Diced onion or scallion
Instructions
Put the beans in a large bowl and fill with cold water; soak overnight, then drain in the morning. Add the beans to a lidded 5-quart pot and cover with cold water by 2 to 3 inches. Cover the pot, bring to a boil over high heat, and then turn the heat down and boil gently until tender, about 60 to 90 minutes, stirring occasionally. Once tender, drain the beans and then add them back to the 5-quart pot.
Heat the butter and oil in a large skillet over medium-high heat; add the mushrooms and cook until browned, about 10 to 12 minutes, stirring occasionally. Use a slotted spoon to transfer the mushrooms to the pot with the beans. Add the onion and bell pepper to the skillet the mushrooms were cooked in; cook over medium-high heat until softened, about 5 to 7 minutes. Transfer the onion/bell pepper mixture to the pot with the beans and mushrooms.
In the same skillet that the veggies were cooked in, brown the beef over high heat, about 5 to 7 minutes. Stir in the garlic, thyme, paprika, chili powder, oregano, salt, cumin, cayenne, cinnamon, black pepper, and bay leaves, and cook 2 minutes, stirring frequently. Add the wine and cook until the liquid is evaporated off, about 2 minutes, stirring constantly.
Transfer the meat mixture to the pot with the beans and veggies; dissolve the saffron in 2 tablespoons hot water and add it to the pot along with the crushed tomatoes, tomato paste, and beef stock. Cover the pot, bring to a simmer over medium heat, and cook 10 to 15 minutes, stirring occasionally. Stir in the parsley, and then taste and season with additional salt and pepper as desired; add a garnish on top if desired, and serve.