If you're looking for a festive autumnal dessert, this Low Carb Pumpkin Cheesecake Recipe is rich and creamy with a hint of pumpkin and the perfect spice level. It makes a lovely addition to a holiday dessert table or as a treat after any fall meal!
What's on your holiday dessert table?
My family usually has an assortment of pies, like apple, pumpkin, and/or pecan. In years past we've had pumpkin cakes, and sometimes a variety of cookies.
Cheesecake is always a favorite, especially when it has seasonal flair like this Low Carb Pumpkin Cheesecake Recipe. Pumpkin spice anything always seems to be a hit, lol!
Years ago I had a friend who made a killer pumpkin spice cheesecake. She only made it once a year for Thanksgiving, which was probably part of what made it so special. I've wanted to make a low carb version of that cheesecake for quite some time now.
I have to say, this is every bit as delicious as any cheesecake I've ever tried. It has a creamy texture and just the right amount of pumpkin spice flavor. You won't believe this is sugar free pumpkin cheesecake!
Add it to your Thanksgiving dessert menu and it's sure to be a hit with both low carb and non-low carb eaters.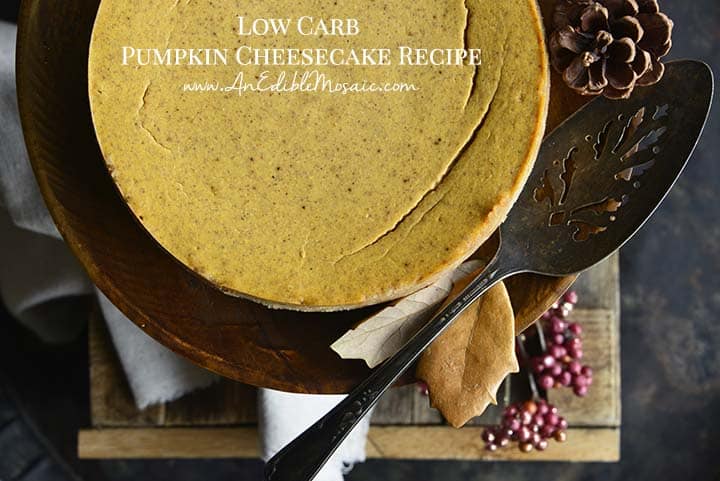 Ingredients in This Low Carb Pumpkin Cheesecake Recipe:
Unsalted butter
Cream cheese
Ricotta cheese
Eggs
(See the recipe card below for measurements.)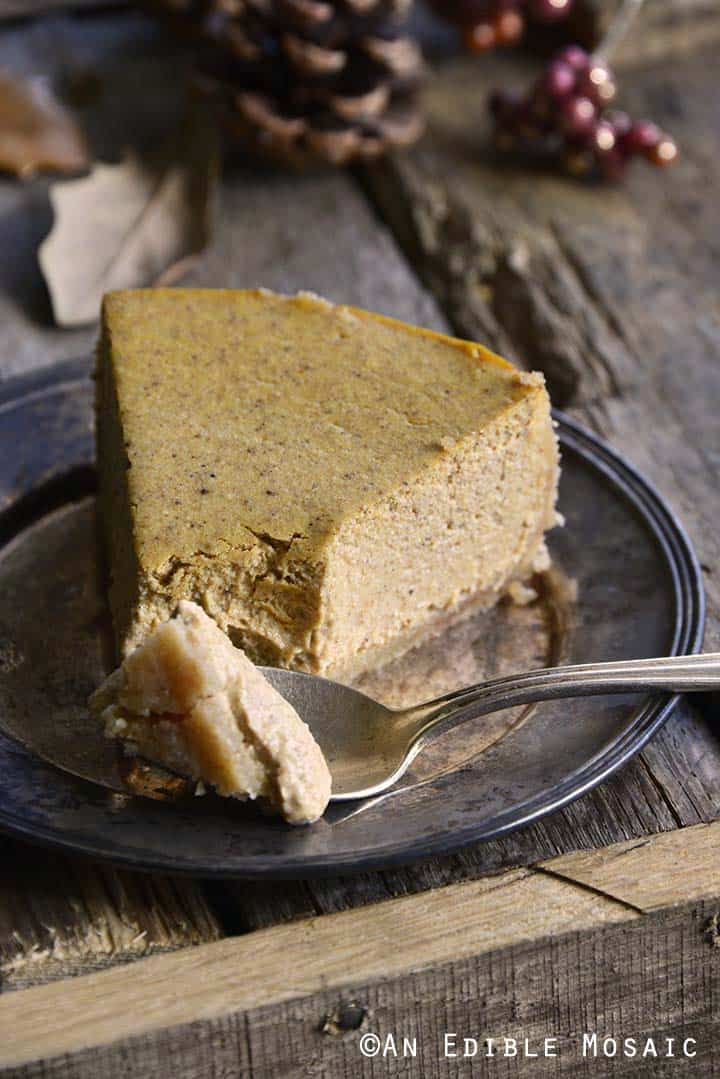 Pumpkin and Low Carb Eating
Pumpkin is a type of winter squash, and it's technically a fruit. In many recipes a little bit of pumpkin goes a long way, which makes it easy to fit pumpkin into a low carb lifestyle.
How Many Carbs are in Canned Pumpkin?
According to the USDA Food Database, 1/2 cup (123 g) of pumpkin has the following nutrition information:
42kcals
1g protein
0g total fat
10g total carbohydrates
4g fiber
6g net carbohydrates
Is Pumpkin Keto Friendly?
The short answer: yes! Canned pumpkin has 6g net carbohydrates per 1/2-cup serving, and can be integrated into a ketogenic meal plan.
Powdered Swerve (aka Swerve Confectioners)
This is a sugar replacement that's similar in texture to powdered sugar (also called confectioners sugar). I like to use Swerve Confectioners in this keto pumpkin cheesecake recipe because it blends very well into the batter.
I get a lot of questions about powdered Swerve, so I wanted to take the opportunity to answer a few!
What is Powdered Swerve? Is Swerve the Same as Erythritol?
The main ingredient in Swerve is erythritol. From the Swerve website:
Swerve is a blend of three ingredients. Erythritol is the first and most prominent ingredient, and is naturally made by fermenting glucose. Prebiotic fibers called oligosaccharides are then added to our blend, along with some natural flavor from citrus to provide just the right amount of sweetness. The main ingredient used in Swerve utilizes glucose from Non-GMO corn, grown in Europe, for the fermentation process that ultimately yields erythritol. The oligosaccharides in Swerve are sourced from starchy root vegetables.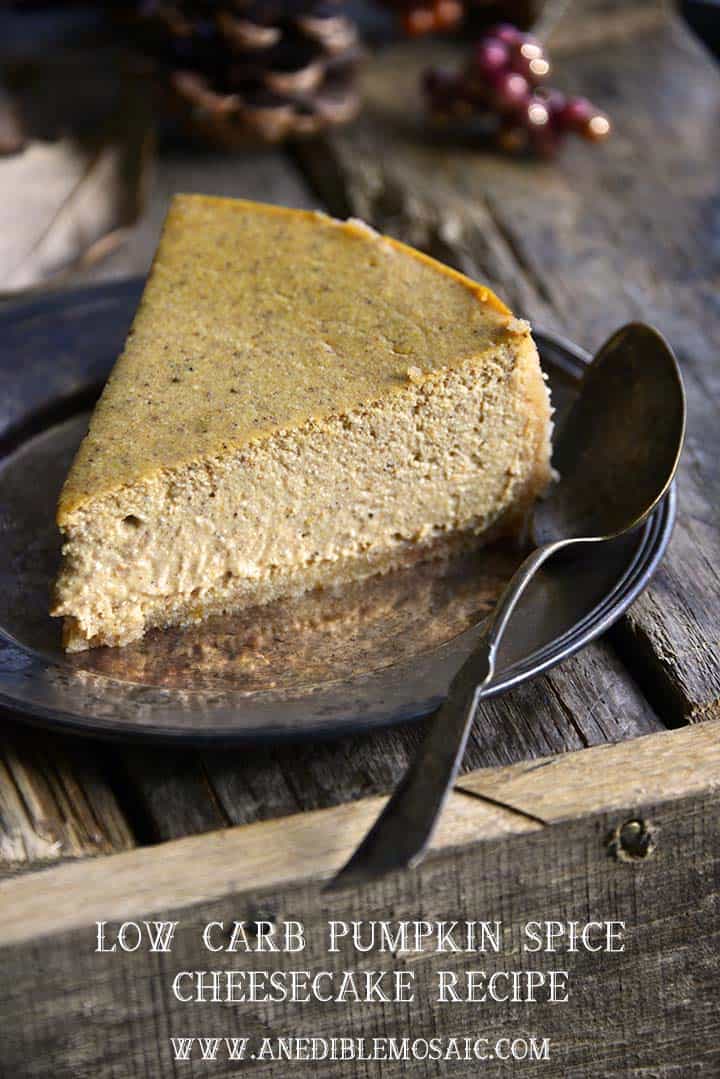 Does Swerve Count as Carbs?
The Swerve website says:
The carbohydrates in Swerve come from the erythritol and oligosaccharides. Erythritol is somewhat of an anomaly in the carbohydrate world, since it only contributes 0.2 calories per gram. Erythritol is absorbed in the small intestine and then 90% is eliminated by the body, so it's never metabolized. Basically, we don't absorb the ingredients in Swerve, so it can't contribute a significant amount of calories.
Why Use a Combination of Erythritol and Stevia?
In a lot of my low carb and keto baked good recipes, I like to use a blend of erythritol and stevia. On its own erythritol can have a cooling effect, and on its own stevia can have somewhat of a bitter aftertaste.
Using a blend of these two sweeteners minimizes both the cooling effect of erythritol and the bitter aftertaste of stevia!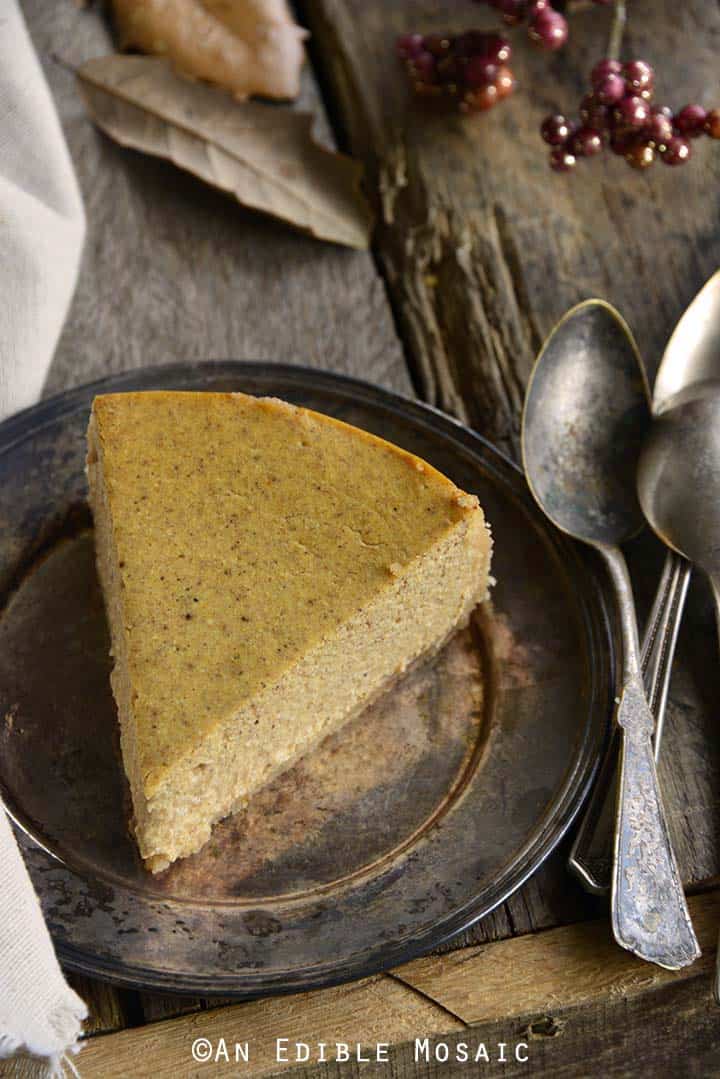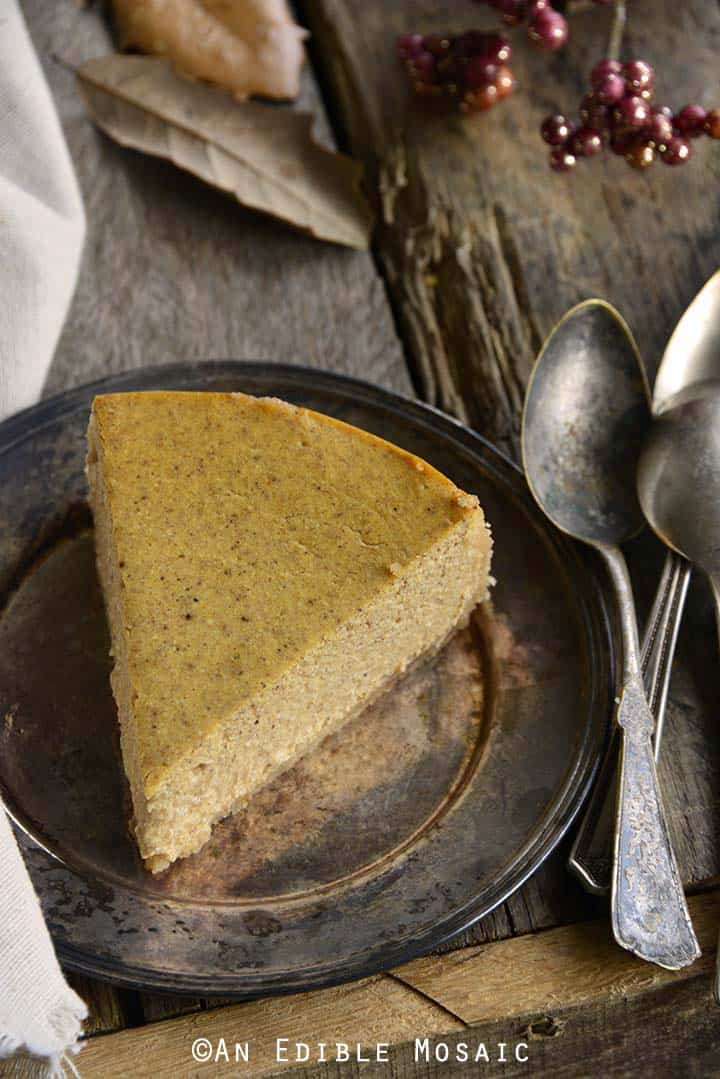 More Gluten Free Sweet Pumpkin Recipes:
Did you make this recipe? Please rate it and leave a comment below because I love hearing from you! You can also tag @anediblemosaic on social media. To stay up-to-date FOLLOW ME on Instagram, Twitter, and Facebook. Xoxo, Faith
Low Carb Pumpkin Spice Cheesecake Recipe
If you're looking for a festive autumnal dessert, this Low Carb Pumpkin Cheesecake Recipe is rich and creamy with a hint of pumpkin and the perfect spice level. It makes a lovely addition to a holiday dessert table or as a treat after any fall meal!
Print
Pin
Rate
Ingredients
Instructions
Preheat the oven to 325F.

Line the bottom of a 7-inch springform pan with parchment paper that has been trimmed to fit; lightly spray the inside of the cake pan with coconut oil.

For the crust, use a fork to combine the almond flour, Swerve Confectioners, cinnamon, and salt in a medium bowl. Add the melted butter and liquid stevia and mix until crumbly. Press this mixture into the bottom and about 1 1/2 inches up the sides of the prepared pan. Bake for 8 minutes.

For the filling, use a stand mixer or a handheld electric mixer to beat together all ingredients in a large bowl. Pour the filling into the pre-baked crust.

Bake until the cheesecake is set along the outside, but still jiggly in the center, about 50 minutes. (I don't use a water bath for this recipe.)

Cool to room temperature, and then refrigerate to chill, about 4 hours, before slicing and serving. (This will keep well covered in the fridge for up to 10 days.)
Helpful Tips
Net Carbs: 5g per serving (1 slice or 1/10 of cheesecake)
This cheesecake is even better the next day!
Nutrition
Calories:
262
kcal
|
Carbohydrates:
6
g
|
Protein:
8
g
|
Fat:
23
g
|
Saturated Fat:
10
g
|
Cholesterol:
82
mg
|
Sodium:
165
mg
|
Potassium:
104
mg
|
Fiber:
1
g
|
Sugar:
2
g
|
Vitamin A:
2510
IU
|
Vitamin C:
0.6
mg
|
Calcium:
116
mg
|
Iron:
1.2
mg
Disclosure: This post contains Amazon affiliate links to products I believe in, which means that even though it doesn't cost you anything extra, I will receive a small amount of money from the sale of these items. Thank you for helping to support An Edible Mosaic!