At the end of the month-long fast of Ramadan comes a three-day holiday, called Eid al-Fitr (which means "The Festival of Fast-Breaking"). During this time charity is given to needy families, gifts are given to children, and people get dressed up and visit their family and friends. People greet each other by saying Eid Mubarak ("Blessed Festival"). When visitors arrive they're usually served Turkish coffee and the traditional holiday date cookies of Ramadan.
Unfortunately, these sweets are not something that I make well (to be completely honest, when I last made these sweets they weren't even fit for human consumption). I need to actually see how my mother-in-law makes these…once I do I promise I'll share the recipe with all of you. Until then, I give you something that my husband and I were pleasantly surprised with…date bar cookies! They might not look like the original sweets of the Eid, but the taste is similar and very delicious.
As I was making these cookies, I realized that puréed dates look almost exactly like apple butter (which I made recently, but that's for another post). This led me to think that if you don't have dates, apple butter (although a completely different taste experience) would be a fantastic substitute. Or if you want to make the date bars but take them to another level, I suggest adding shredded toasted coconut to the crust/topping mixture (maybe 1 cup or so) and replacing the vanilla extract in the filling with coconut extract.
Take a look at the picture below and guess which the date purée is and which the apple butter is. (Scroll down to the bottom of this post for the answer.)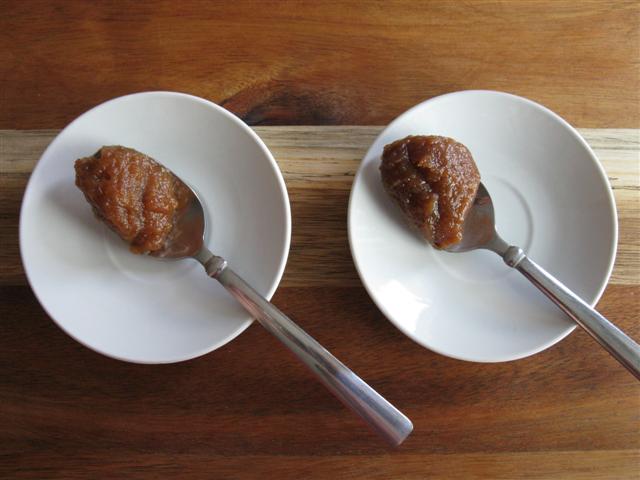 Date Bar Cookies (Adopted from Kathleen Daelemans' recipe on the Food Network Website)
(Yield: 1 (9 by 9-inch) pan)
Filling:
1 ½ c coarsely chopped dates
¾ c water
1 teaspoon pure vanilla extract
Crust and Topping:
½ c firmly packed brown sugar
¾ c plus 2 TB flour (all-purpose or wheat)
¼ teaspoon baking soda
½ teaspoon salt
¾ c rolled oats
6 TB chilled butter, cut into small cubes, plus extra to grease the pan
Preheat oven to 400F. In a medium saucepan over low heat, combine the filling ingredients and cook for 10-15 minutes or until thickened, stirring frequently. Cool completely, then add the vanilla. (If you want the filling to be completely smooth, at this point you can process the date mixture in a blender or food processor.) Stir together the brown sugar, flour, baking soda, salt, and oats; cut in the butter, 1 or 2 pieces at a time. Mix until crumb like, with some lumps of butter no larger than pea size.
Using your hands, press and flatten half of crumb mixture into a greased 9 by 9-inch pan. Spread cooled filling over crust, and cover with remaining crumb mixture, patting lightly. Bake until lightly browned, 25 to 35 minutes. Cool slightly and cut into bars.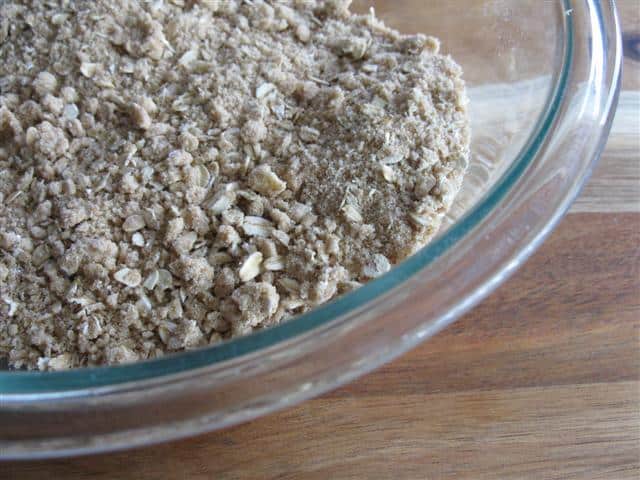 Answer: The date purée is on the left and the apple butter is on the right.