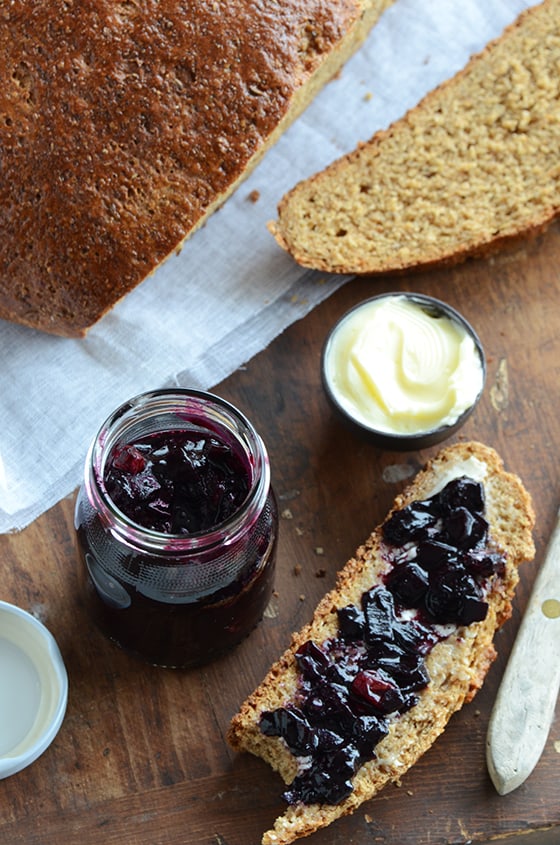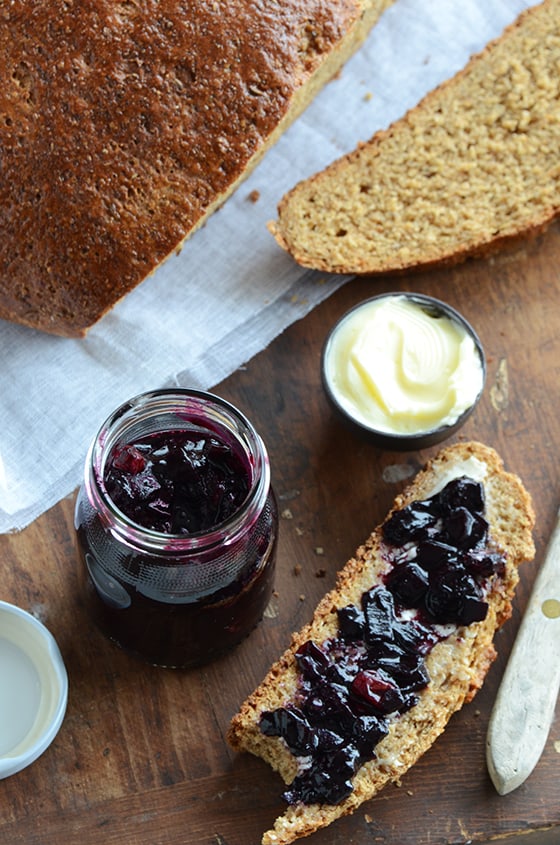 After making Rye Bread I thought making about a nice homemade jam to go with it…something sweet, spiced, and fall-like. My mind went to my Spiced Balsamic Concord Jam not only because it's such a beauty, but also because this time of year Concords are always on my mind.
Not even knowing if I could find Concords here in Kuwait, I decided on something a bit simpler to make, yet still completely flavorful: Spiced Blueberry Chutney. Instead of being just sweet like jam, it has a balanced flavor profile and nice melding of sweet, salty, sour, and spicy. It's just as perfect on a turkey sandwich as it is on toasted bread with butter.
After making this chutney, I thought about Indian cuisine, and then British fare (did you know Indian food is hugely popular in the UK? I've had some of the best Indian dishes I've ever tasted in London), as a nice chutney (like Raspberry Ginger Mustard Chutney that pairs so perfectly with Garlicky Mashed Potato Cakes) tends to make me do. Then the idea of making a Ploughman's Lunch – classic pub food – popped into my head.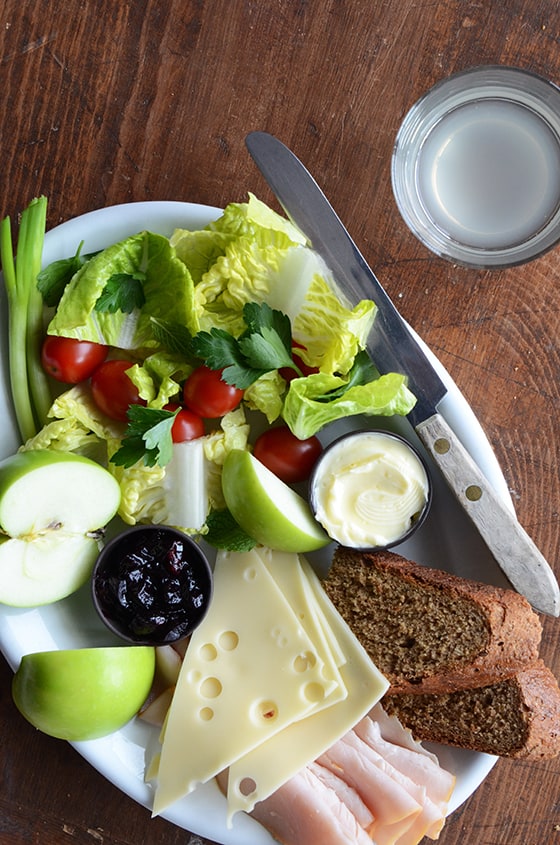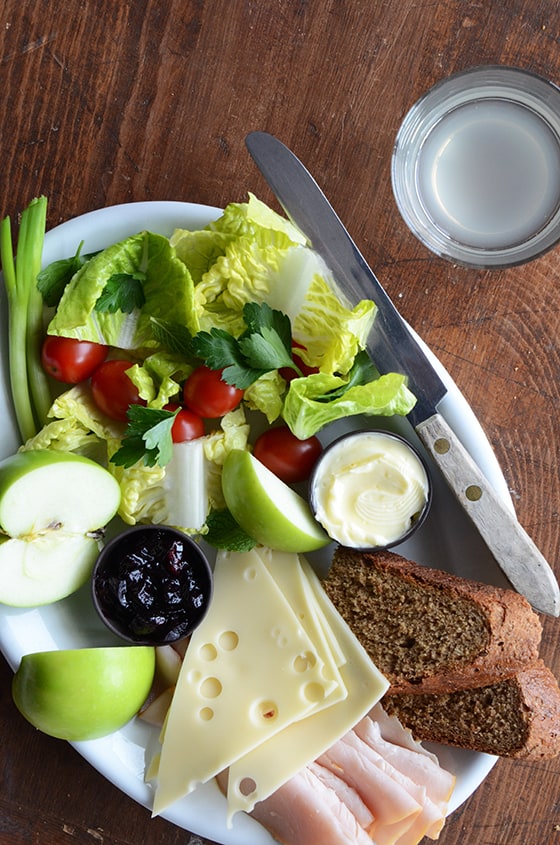 My Take on The Ploughman's Lunch
You might be familiar with The Ploughman's Lunch (Moretum), the poem ascribed to Virgil who was a poet from ancient Rome. The poem describes in detail a peasant named Simylus who wakes early to bake bread and prepare vegetables and herbs like cabbage, sorrel, leek, and garlic by grinding them using a mortar and pestle with salt, cheese, olive oil, and vinegar. His lunch made, he then headed off to work in the fields knowing that his hunger would be satiated later that day. It's a lovely description that makes you feel like you're right there with Simylus experiencing everything. (The poem can be found here.)
Anyway, a Ploughman's Lunch is iconic in the United Kingdom. It's a well-balanced meal that usually consists of some variation of each of the following:
Bread (Here I used Homemade Rye Bread and included butter for it.)
Cheese (English Cheddar is common, but I went with one of my favorites, Emmental.)
Meat and/or Hard-Boiled Egg (I used turkey breast deli meat.)
Fruit and/or Vegetables (I included an apple, which is fairly common for a Ploughman's Lunch, and a super simple salad of lettuce, a few herbs, and grape tomatoes.)
Pickle and/or Chutney (Spiced Blueberry Chutney was perfect!)
(And I should mention that beer is commonly present…but the hubs and I don't drink alcohol, so this was obviously left out of our Ploughman's Lunch.)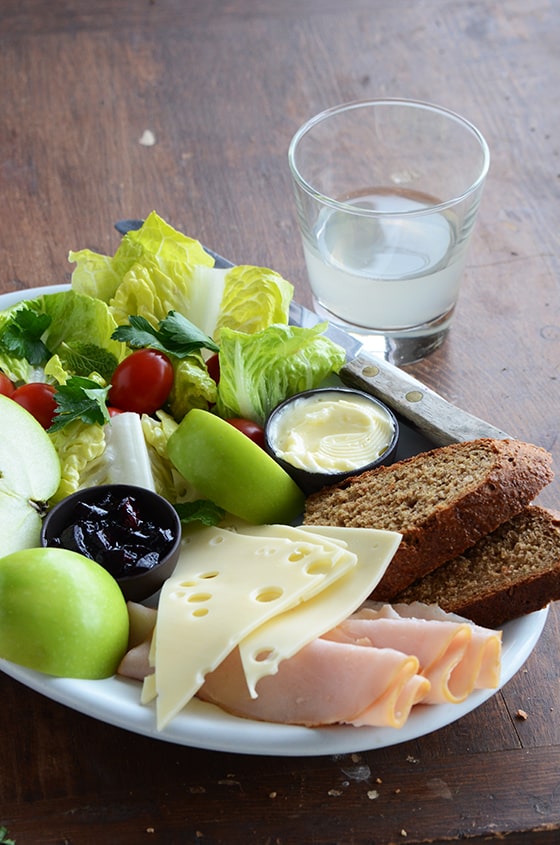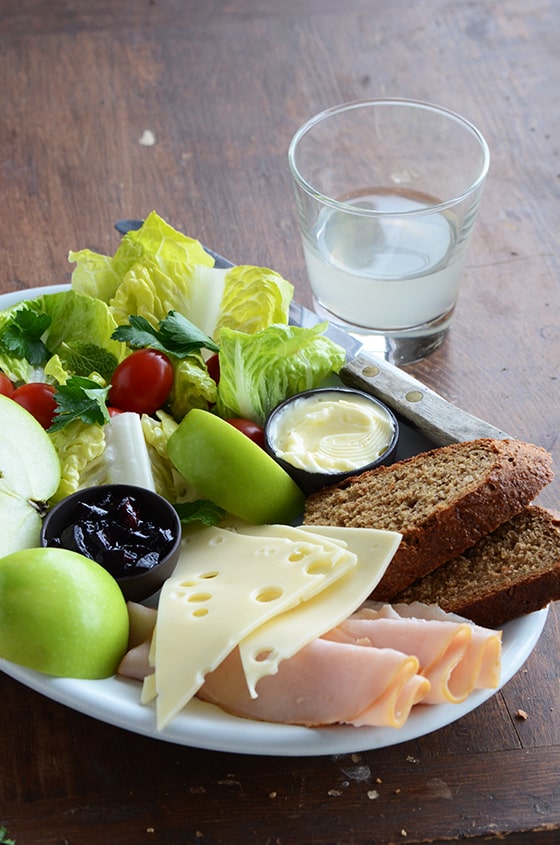 If you want to make your own Ploughman's Lunch, use this as the guideline, but feel free to customize it any way you like. If you're interested, The Kitchn has four lovely variations on this meal.
How would you use this chutney?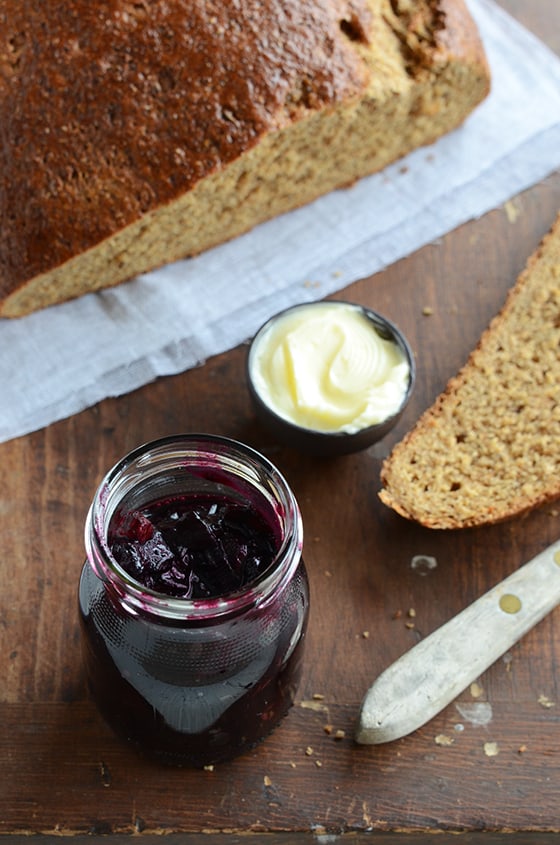 Spiced Blueberry Chutney
Prep time:
Cook time:
Total time:
Yield:
Yields about 1 cup, or about 8 (2-tablespoon) servings
Ingredients
1 cup (140 g) frozen blueberries (no need to thaw)
1 medium onion, diced
¼ cup (60 ml) blueberry vinegar
2 tablespoons water
2 tablespoons golden raisins (sultanas)
¼ teaspoon coarse sea salt
¼ teaspoon ground mustard powder
¼ teaspoon ground ginger
⅛ teaspoon ground cardamom
⅛ teaspoon ground fenugreek
⅛ teaspoon ground black pepper
Instructions
Combine all ingredients in a small saucepan.
Bring to a boil over medium heat, then turn heat down and simmer uncovered (or with the lid ajar to help prevent blueberry juice from spattering everywhere) until the blueberries and onion are softened but not mushy, about 10 minutes, stirring occasionally.
Remove from heat and cool to room temperature before serving (it will thicken as it cools).
Store refrigerated in a lidded glass jar for up to 2 weeks.