The first time I made this salad was last summer for a cookout at my parents' house before Mike and I left for Kuwait. I wanted to bring a hearty salad, and I was trying to clean out my pantry and fridge when I found a bag of bulgur wheat in the pantry and a bottle of pomegranate molasses in the fridge. For some reason I thought combining the two in one dish was the best idea ever.
As strange as this pairing might sound, it is pretty fantastic.
Then when Mike and I moved to Kuwait I thought about this salad again. There's a Persian kebab restaurant that's literally a two minute walk from our apartment. The place looks like a complete dive from the outside and the inside isn't really any better ambiance-wise, not to mention that there are only 10 dining tables so it's always hit or miss as to whether you'll get one. But the food is amazing. They make the bread in a huge oven in the back of the shop that's separated from the dining area by a glass window with an opening so the baker can pass hot bread out to the waiter as needed. When you sit down they bring over a refreshing plate of fresh greens and herbs that always includes arugala, lemon verbena, spring onion, and fresh lemon wedges, along with piping hot soup that's tinted orange in color and tastes like no soup we'd ever had before. Strangely enough, that soup grows on you with each bite. And their kebabs…I won't even get started on their kebabs. Suffice to say, they are the best that both Mike and I have ever had.
As you can imagine, we frequent this place probably more than we should. (But did I mention, the prices are reasonable too? For about $20USD, two adults can eat their fill and have enough leftovers for late-night snacking!) One night when we were having friends over, Mike wanted to order kebabs and bring them home to serve with a few homemade side dishes. As I was thinking about what to make, this bulgur wheat salad crossed my mind. It was the perfect side dish.
Gorgeous Fresh Pomegranate
The only thing I did differently making this salad the second time around was to add fresh pomegranate arils to the top. They took the dish to the next level, so if you can find fresh pomegranate, I highly recommend it.
While I'm on the topic of fresh, high-quality ingredients, I want to thank my dear friend Letty, the blogger behind Aunt Elsie's Pantry. She has access to the most amazing fresh walnuts and she has shared her bounty with me on several occasions; actually, the first time I made this salad was with walnuts from her. There is nothing quite like fresh walnuts…thank you, Letty!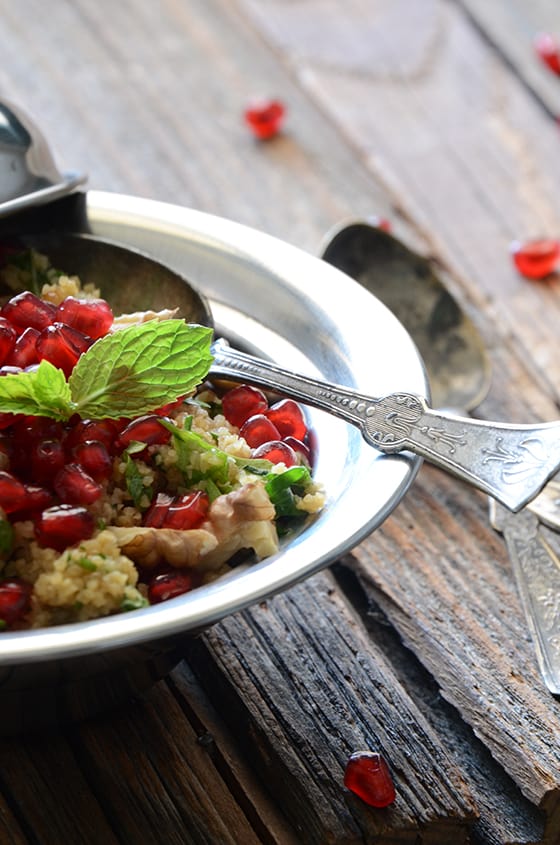 Bulgur Wheat Salad with Pomegranate + Walnut
Ingredients
Salad:
1½ cups (300 g) fine-ground bulgur wheat
1 teaspoon sea salt
2 cups (475 ml) very hot water
1 small white onion, finely chopped
1 bunch parsley, chopped
¼ bunch mint, chopped
½ cup (60 g) toasted walnuts, chopped
¼ cup (40 g) dried fruit (such as raisins, dates, figs, or apricots), chopped small
Vinaigrette:
¼ cup (60 ml) extra virgin olive oil
3 tablespoons water
3 tablespoons pomegranate molasses
3 tablespoons honey
¼ teaspoon sea salt
⅛ teaspoon ground black pepper
Other:
Arils from 1 pomegranate, for garnish
2 tablespoons toasted walnuts, for garnish
Instructions
Put the bulgur and sea salt in a medium bowl and pour the water on top; cover the bowl and let it sit until the bulgur absorbs the water, about 15 minutes. There probably won't be, but if there is excess water, drain the bulgur in a fine mesh sieve, pressing with the back of a spoon. Fluff the bulgur with a fork.
Toss all remaining salad ingredients in with the bulgur.
For the vinaigrette, whisk together all ingredients.
Add the vinaigrette to the salad and give it a gentle toss; taste and add more salt and pepper as desired.
Serve chilled, with the pomegranate arils and 2 tablespoons walnut sprinkled on top.