This Streusel-Topped Apple Cinnamon Custard Cake is buttery and aromatic with apples and warm spices.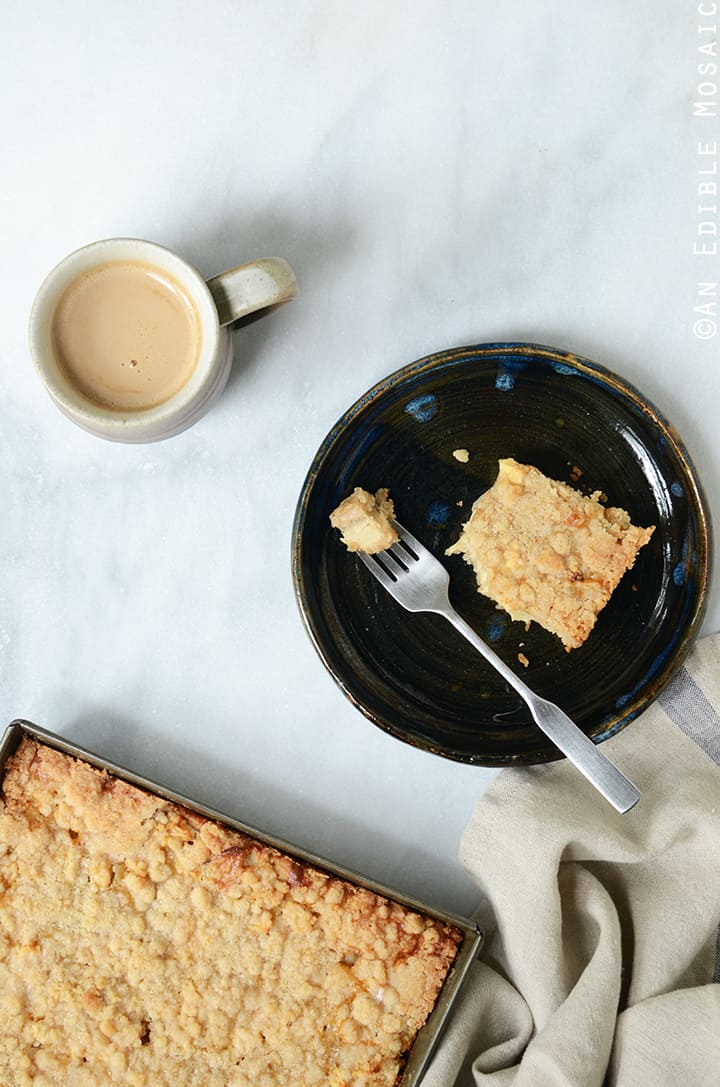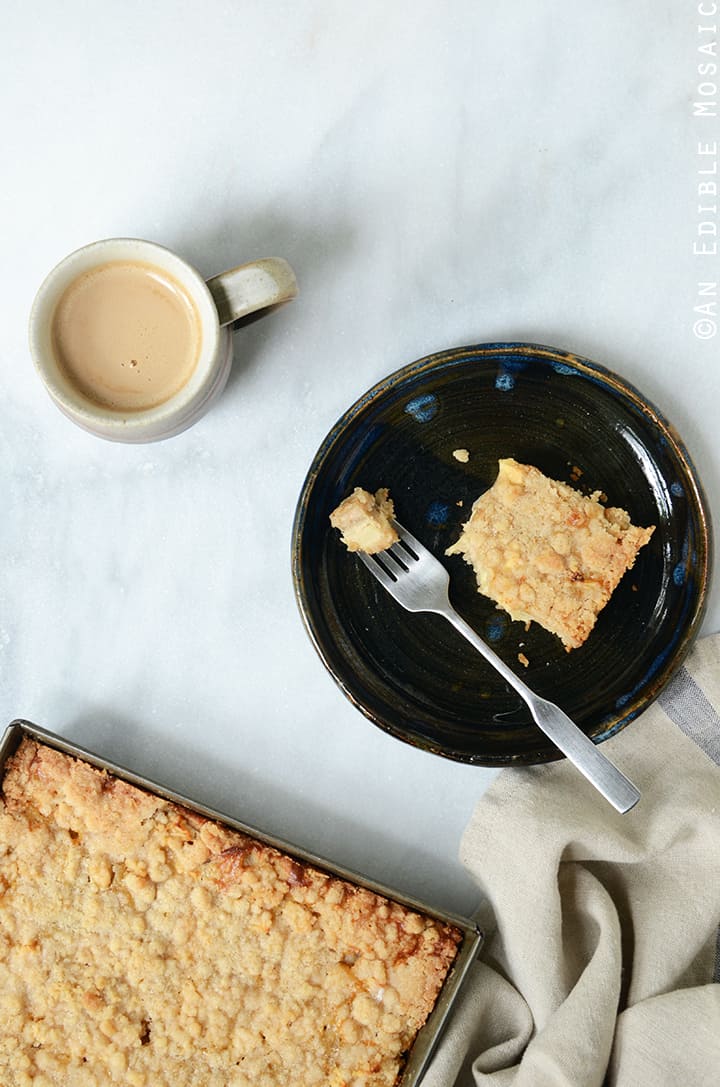 A couple years ago during apple season, I made the most amazing Apple-Almond Streusel Muffins and told you how fabulous my mom's apple pie is. Now I'm sharing a new apple dessert (still not pie!), that apple lovers will go crazy for (but if you're really hankering for apple pie, I have you covered with my Apple Slab Pie with Nutty Oat Crumble Topping!).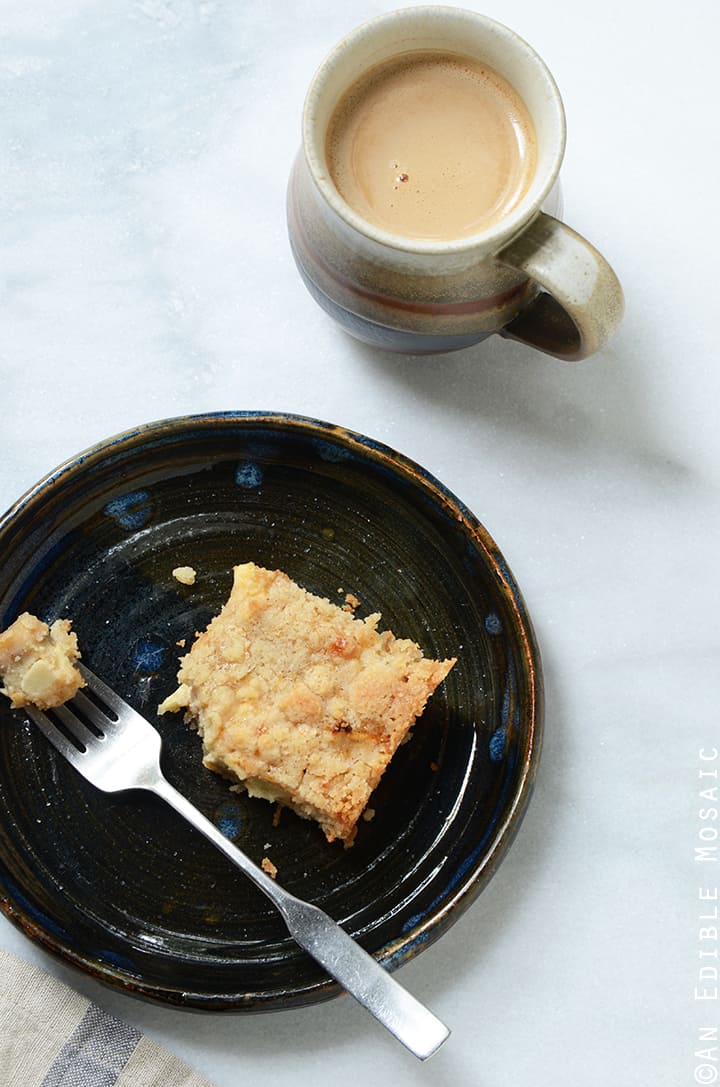 This cake boasts the same flavors as pie, but is a lot less labor-intensive. (For starters, there's only two apples to contend with peeling, coring, and chopping, and even better still, it doesn't require rolling out dough!)
(For the pie-makers out there, I realize that pie-making is a labor of love and at the end of your toils you get to enjoy sweetly aromatic fruit shrouded in flaky, buttery pastry. But for the rest of us, making a pie is an all-afternoon affair that may or may not result in the pie of our dreams…or even just a sufficiently good pie. So instead I offer this cake.)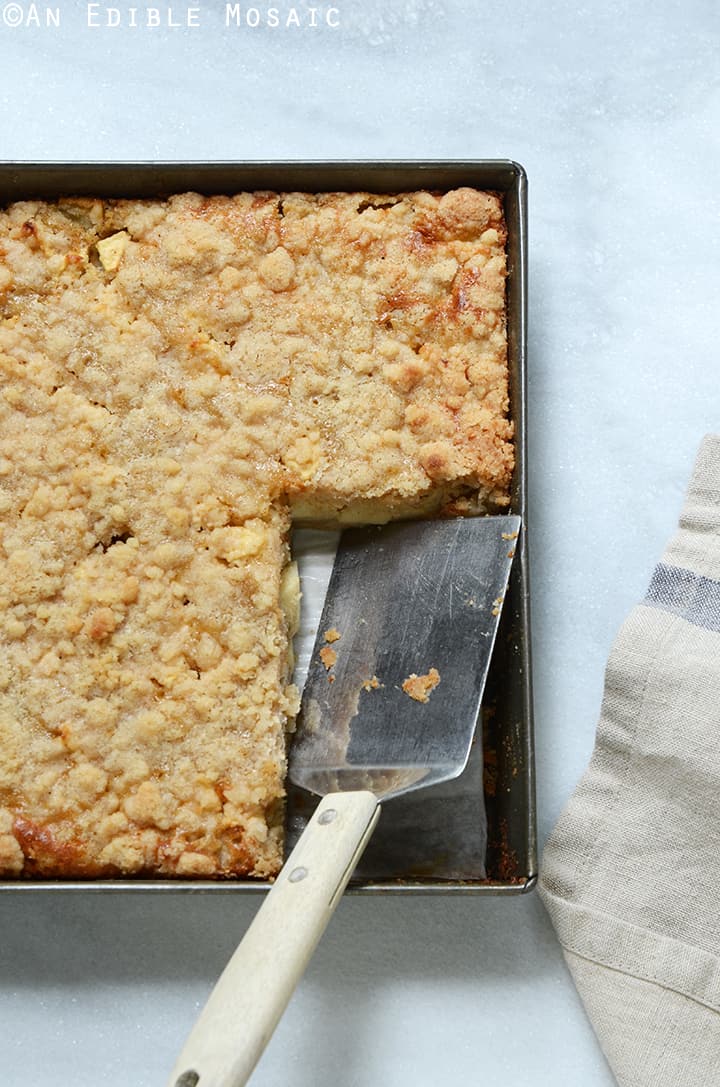 My favorite version of my mom's apple pie is streusel-topped. Here I took that concept one step further and used a streusel topping as both the bottom crust and top crumble for this cake. The apples are left to macerate while the crust prebakes so they end up sweet and syrupy, and then a super simple custard filling is mixed with those delicious apples.
The top crumble of this cake takes on a lovely golden color and the aromas of butter, warm spices, and vanilla permeate the house as it bakes. What a way to celebrate fall or better yet, Thanksgiving. Because if you don't have your holiday dessert table completely full yet, you know this one would be a lovely addition.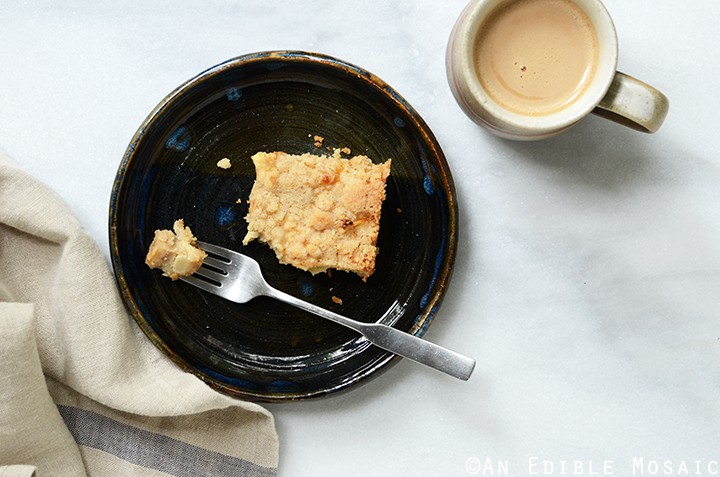 Streusel-Topped Apple Cinnamon Custard Cake
Prep time:
Cook time:
Total time:
Yield:
1 (8 by 8-inch) cake, about 12 servings
This Streusel-Topped Apple Cinnamon Custard Cake is buttery and aromatic with apples and warm spices.
Ingredients
Crust (top and bottom):
2 cups (255 g) all-purpose flour
¾ cup (150 g) lightly packed light brown sugar
¾ teaspoon ground cinnamon
½ teaspoon salt
1 cup (2 sticks/225 g) unsalted butter, chilled and cubed
Filling:
2 sweet/tart medium apples (I used Ginger Gold), peeled and chopped small (about 2 cups chopped)
2 tablespoons sugar
½ teaspoon ground cinnamon
¼ teaspoon ground nutmeg
¼ teaspoon salt
2 large eggs, lightly beaten
½ cup (120 ml) heavy cream
2 teaspoons all-purpose flour
¾ teaspoon vanilla bean paste (or 1 teaspoon pure vanilla extract)
Instructions
Preheat oven to 375F; lightly grease an 8 by 8-inch baking dish with butter and line the bottom with parchment paper.
For the crust, whisk together the flour, brown sugar, cinnamon, and salt. Use a fork or pastry cutter to cut the butter into the flour mixture until there are some pieces the size of peas, but the mixture comes together as dough when pressed together in your palm.
Transfer ⅔ of the crust mixture to the prepared dish; spread it out in the bottom and then lightly press it down. Bake 10 minutes.
Meanwhile, stir together the apple, sugar, cinnamon, nutmeg, and salt in a medium bowl and let it sit until it forms a syrup in the bottom of the bowl, about 20 minutes. Stir in the eggs, cream, flour, and vanilla.
Pour the apple mixture onto the prepared crust; crumble the remaining ⅓ of the flour mixture on top.
Bake until the cake is golden and a wooden pick inserted inside comes out clean, about 30 to 40 minutes.
Cool on a wire rack before cutting.