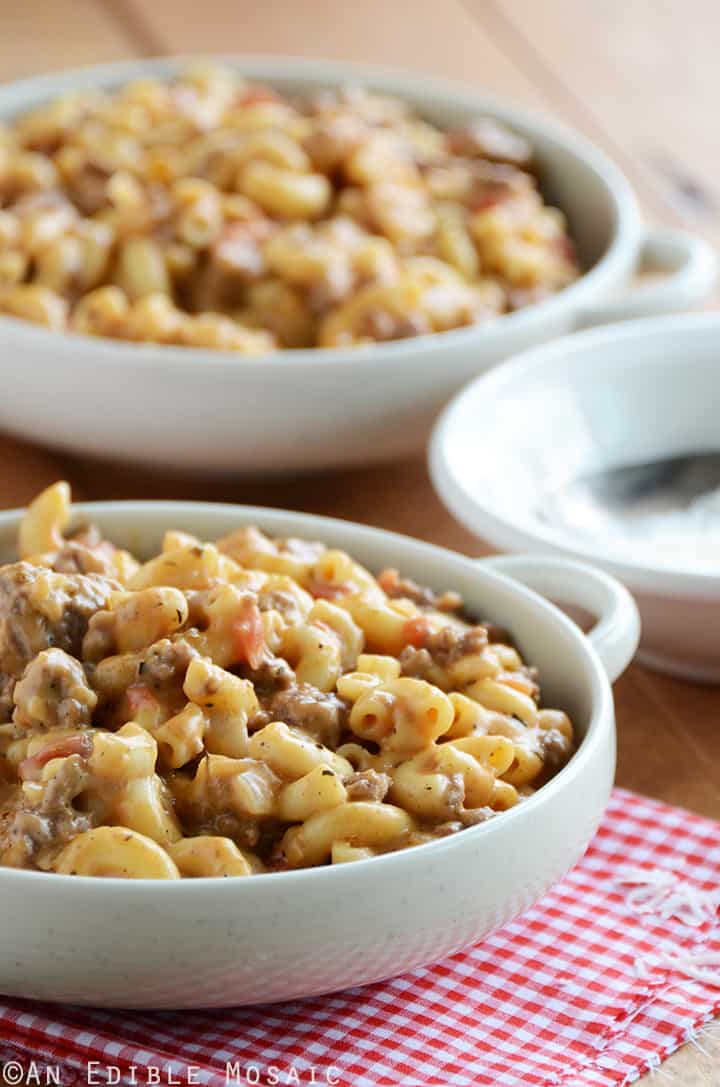 It had to be done. Had to.
Last week I was talking to a friend; Ramadan was about to end, and she and I were discussing food. (Because really, during Ramadan sometimes food is the only thing you can think of.) So, anyway, I told her Ramadan was ending in a couple days and she said I should enjoy my favorite foods for a week straight. (See how awesome she is? Truly a girl after my own heart.) She said if she were me, she'd be making mac and cheese.
I had to laugh; she completely read my mind. Not 10 minutes earlier I had texted Mike, asking him to stop at Wegmans to pick up a box of pasta on his way home. I asked him for elbow noodles by name and the stars must have all been aligned because he actually knew what they were (unthinkable, really).
See what I mean? I had to make mac and cheese.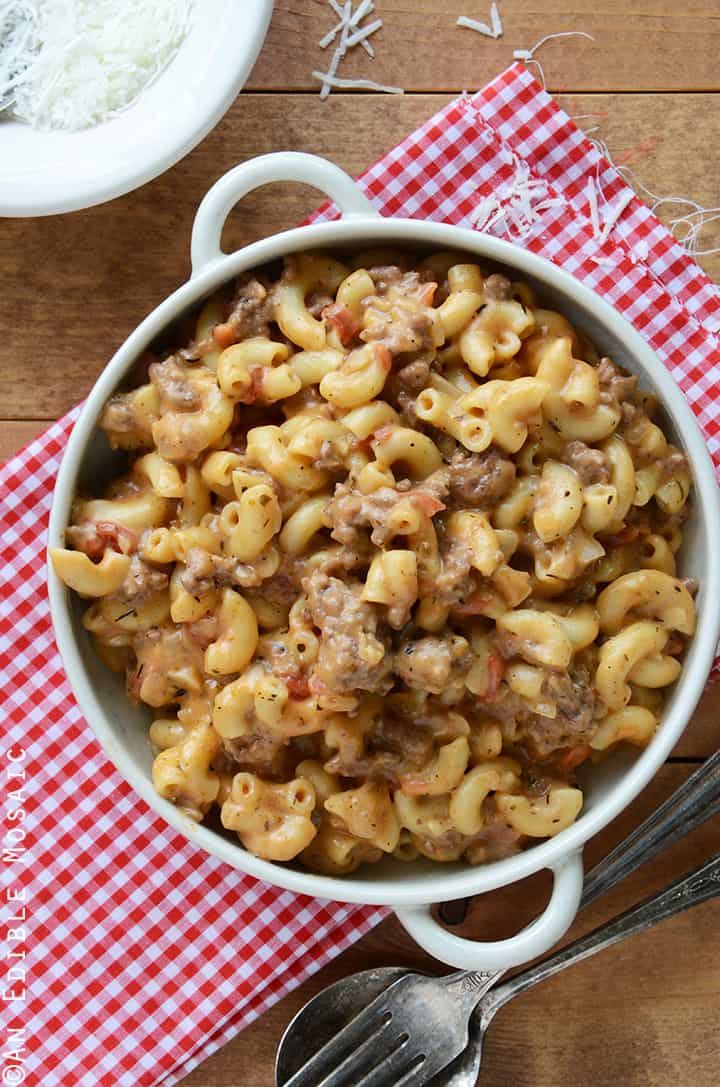 One of the nice things about this dish is that it only has ½ lb of pasta and it serves 4 people generously (promise!). As far as mac and cheese goes, you can make this as healthy as you want. Be sure to choose your pasta wisely; I used Dreamfields this time because that's what Mike brought home, but whole wheat is my usual choice. You could even use gluten-free if you like. To increase your veggie intake, serve this with a green salad…or add your greens right to the dish! I think a sturdy green (like kale) would be delicious in here; just cook it up separately and add it at the end when you add the pasta.
I used sharp white cheddar as the main cheese in this (along with a little bit of cream cheese for a creamier consistency) because I love the flavor of sharp white cheddar in mac and cheese. You can play around with any cheese you like. Mozzarella might be fun to make it even more pizza-like.
Play around with the toppings too; I like this dish with a little fresh grated parmesan cheese on top, but fresh herbs (like basil or parsley) would also be great. And if you want to bake this mac and cheese, once it's made, put it in an oven-safe casserole dish, sprinkle the top with a little shredded cheese or breadcrumbs and a drizzle of olive oil, and broil until the top is golden.
For a super cute presentation, make it look like a pizza. Pour the mac and cheese into an oven-safe dish, sprinkle shredded mozzarella on top, line it with pepperoni (try turkey pepperoni – it's so delicious you won't realize it's healthier), and then broil it.
Any other ideas for Pizza Mac & Cheese?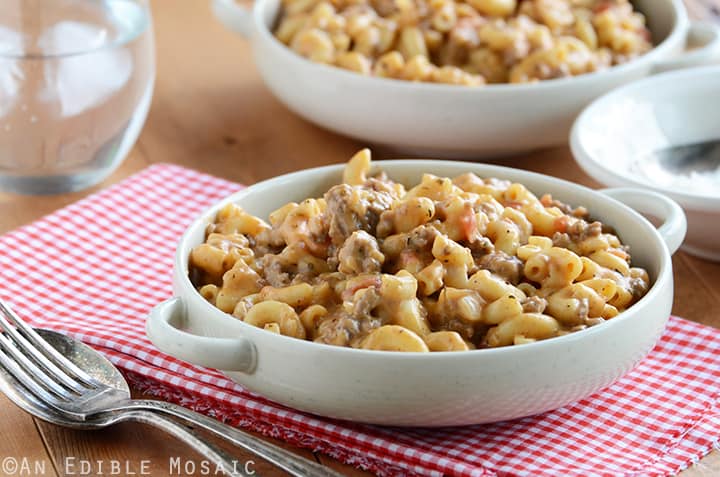 Pizza Mac and Cheese
Prep time:
Cook time:
Total time:
Yield: 4 servings
Ingredients
½ lb (8 oz) elbow pasta, or any small pasta shape you like
1 tablespoon olive oil
1 medium onion, diced
2 cloves garlic, minced
1 lb (16 oz) lean ground beef (see Note below)
1 bay leaf
1 teaspoon dried Italian herb seasoning
¾ teaspoon salt
¼ teaspoon black pepper
3 tablespoons all-purpose flour
1½ cups milk (I used 2%)
1-1¼ cups pizza sauce (I used my recipe for Chunky Pizza Sauce)
6 oz sharp white cheddar, shredded (about 2 cups freshly shredded cheese, not packed)
2 oz low-fat cream cheese
Instructions
Cook the pasta to al dente according to the package directions; drain and set aside.
Meanwhile, heat the oil in a large skillet over medium heat; add the onion and cook until softened but not browned, about 5 minutes, stirring occasionally.
Add the garlic and beef, turn the heat up to medium-high, and cook until the beef is browned, about 5 minutes, stirring occasionally to break up the meat. (At this point, drain off the fat if your ground beef wasn't lean.)
Turn heat down to medium, add the bay leaf, Italian herb seasoning, salt, pepper, and flour and cook 1 minute.
Stir in the milk and pizza sauce, and cook 2 minutes; add the cheeses and stir constantly until it comes to a simmer.
Add the pasta noodles and cook until warmed, about 1 minute.
Serve with any toppings you like, such as fresh grated Parmesan cheese.
Notes
Ground Beef: If you don't have lean ground beef, just drain out the fat once the meat is browned before moving to the next step.