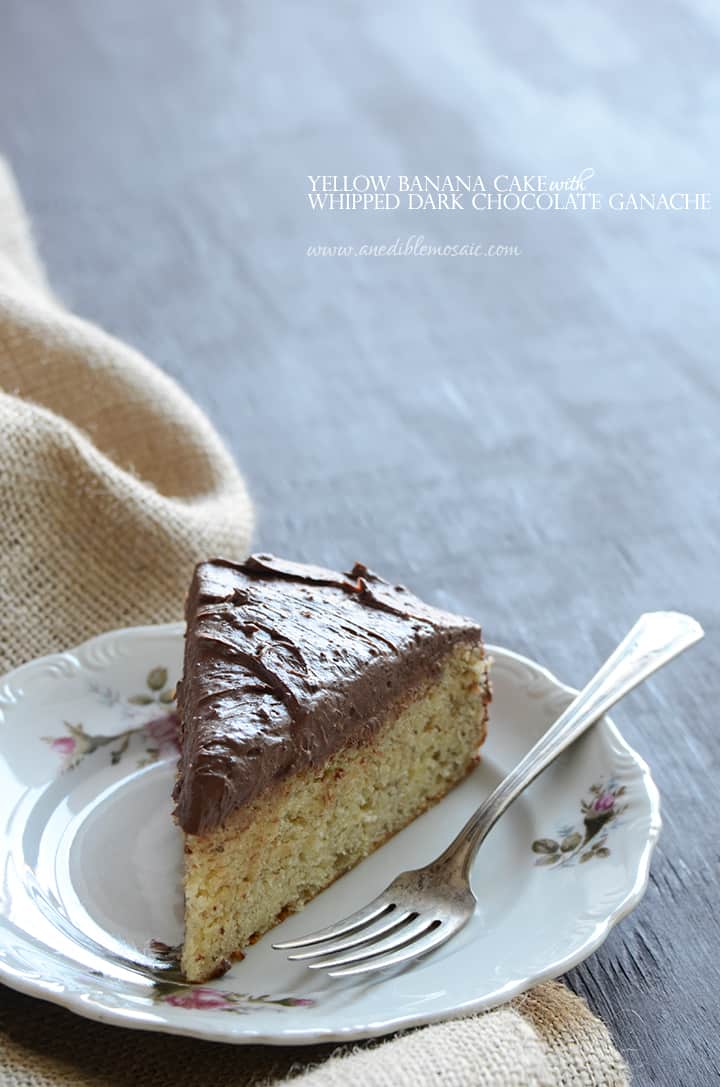 Let's talk birthday cake for a quick minute.
Do you have the same cake every year, or do you switch it up?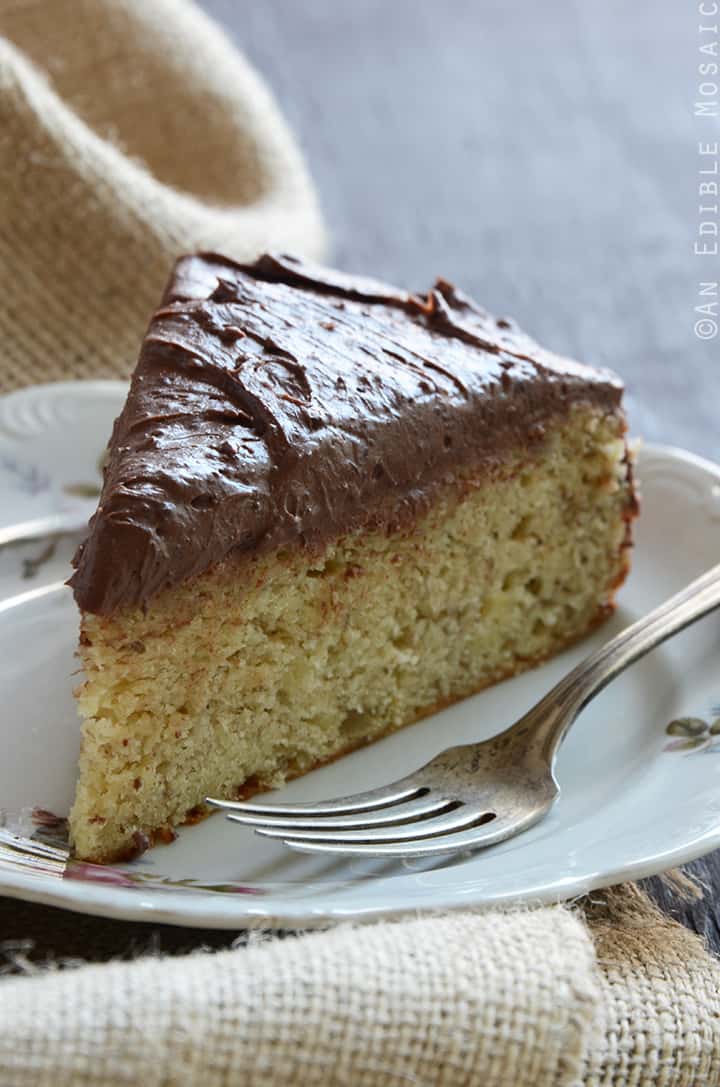 After my mom chose her German Chocolate Cake for me for nearly all of my childhood (it was her favorite, lol), when she started asking what kind of cake I wanted, I started switching it up every year. So I guess now I don't have a signature favorite, but one thing every birthday cake should have in common is that it be super special.
Now, you can probably see where I'm leading with this, but before you laugh out loud (thinking that I'm trying to sell this banana cake as special enough to be worthy of a birthday celebration), let me tell you that this cake was not made for a birthday or for any special occasion. Actually, the only occasion was that I had a bunch of bananas that needed to be used pronto, and Mike and I were having Sunday dinner at my parents' house (yeah, I made this cake a serious while ago before we moved to Kuwait). I needed something to bring and I also needed to use up the bananas; in an attempt to kill two birds with one stone, I made this cake and brought it for dessert.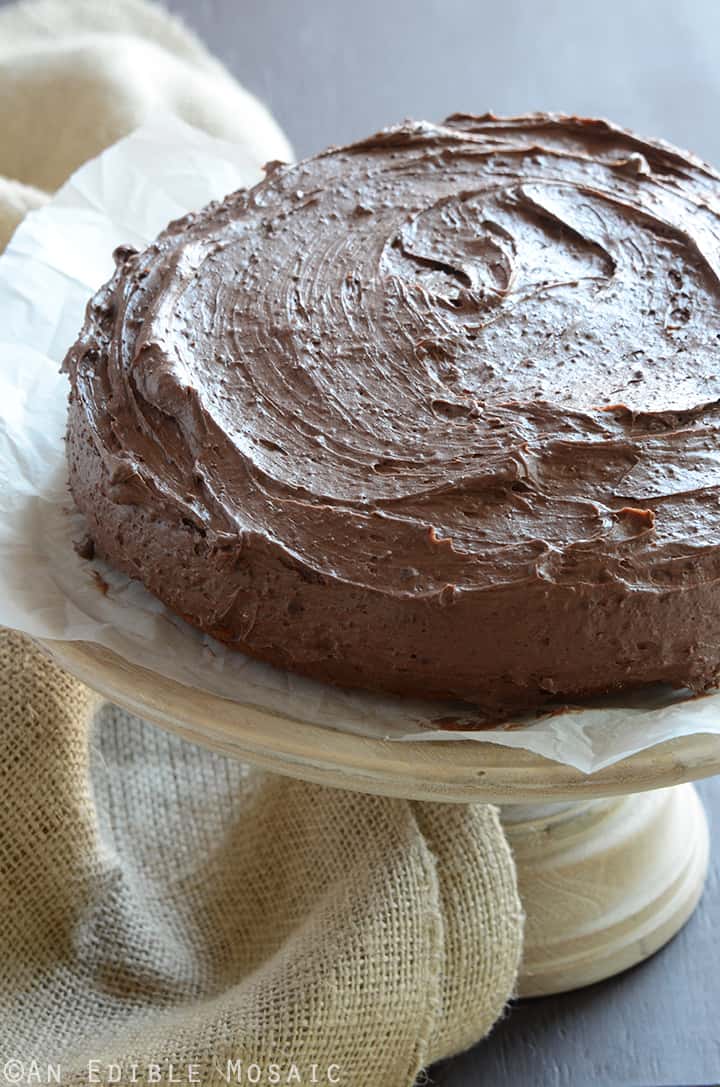 And then people went crazy.
(First of all, they went a little crazy when they saw the cake…but I don't blame them there. Who doesn't get a little – or a lot – excited about seeing cake?)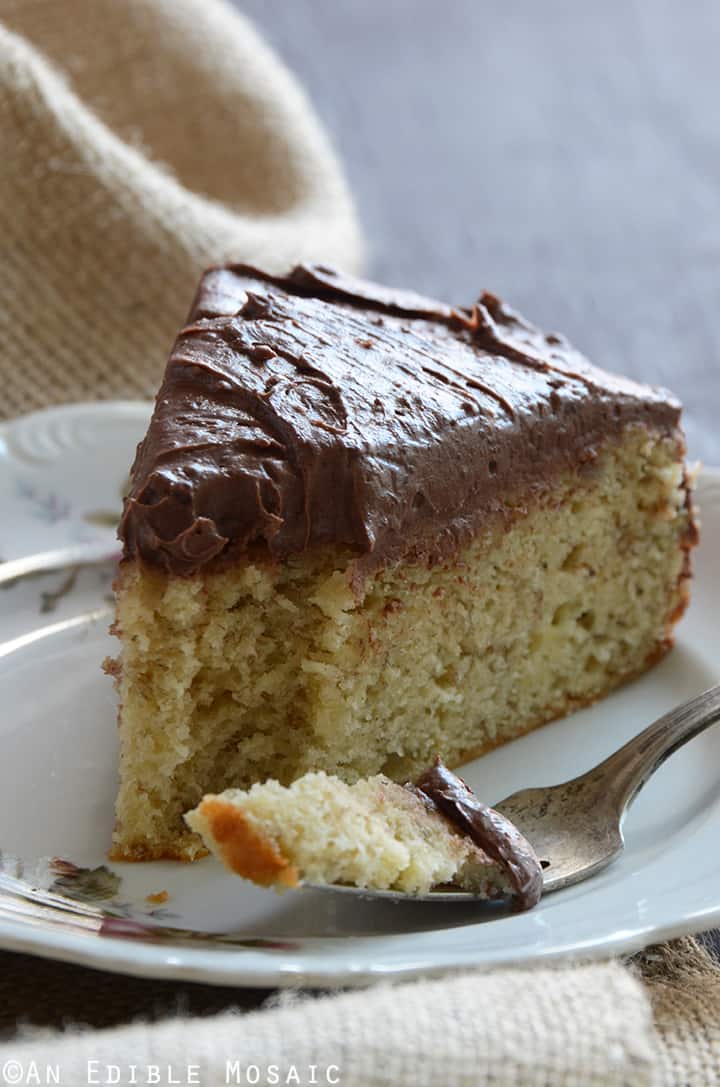 And then we sliced it up and everyone dove in and they went a little crazy again. They loved it and no one could quite place what flavor of cake it was. After making them guess for several minutes to no avail (a girl has to have her fun, doesn't she?), when I finally told them it as a yellow banana cake, I heard a simultaneous chuckle from everyone. No one (including me!) could believe that banana cake could be this good.
Someone even said she wanted it for her next birthday…with rainbow sprinkles on top. (What?!) Well, who would have thought? I stand corrected, banana cake, and I am deeply sorry.
And if you have more ripe bananas to be used up that what this recipe calls for, I suggest checking out this article on Cooking Light that has 20 healthy banana recipe ideas!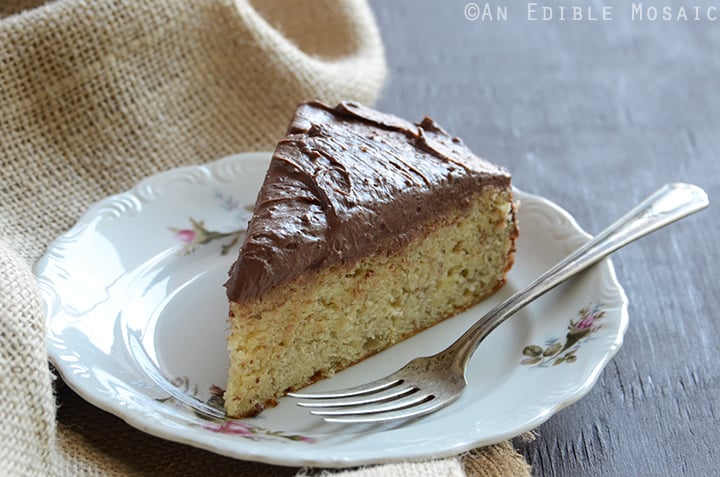 Yellow Banana Cake with Whipped Dark Chocolate Ganache
Yield:
1 (large) 9-inch cake, about 8 to 10 servings
Ingredients
Yellow Banana Cake:
2½ cups (320 g) all-purpose flour
2½ teaspoons baking powder
¾ teaspoon salt
1½ cups (300 g) white sugar
½ cup (120 ml) canola oil
3 large eggs
¾ cup (180 ml) cup milk (I used 1%)
1 tablespoon pure vanilla extract
½ teaspoon almond or butter extract (optional, but recommended)
4 medium ripe or over-ripe bananas, mashed (about 2 cups of mashed banana)
Whipped Dark Chocolate Ganache:
10 oz (285 g) good-quality 60-70% cacao chocolate, finely chopped
½ teaspoon pure vanilla extract
¼ teaspoon instant powdered expresso, dissolved in 1 teaspoon hot water
1/16 teaspoon sea salt
1¼ cups (195 ml) whipping cream
Other:
Butter, for the pan
Flour, for the pan
Instructions
For the cake, preheat oven to 350F; butter and flour a deep 9-inch cake pan (such as a springform pan).
Whisk together the flour, baking powder, and salt in a medium bowl and set aside.
Cream together the sugar, oil, and eggs in a large bowl until light and fluffy. Whisk in the milk, vanilla extract, and almond or butter extract, and then stir in the bananas.
Add the dry ingredients to the wet and stir just to combine, being careful not to over-mix.
Pour the batter into the prepared pan and bake until golden and a toothpick inserted inside comes out clean or with just a couple crumbs, about 1 hour.
Cool the cake completely before frosting.
For the ganache, add the chocolate, vanilla, dissolved espresso powder, and sea salt to a large bowl. Bring the cream to a gentle simmer in a small saucepan over medium heat. Pour the hot cream onto the chocolate and let it sit for 2 minutes, and then whisk until smooth. Cool to room temperature, and then refrigerate to chill (at least 2 hours). Use a handheld electric beater to whip the ganache until fluffy.
Frost the cooled cake with the ganache and serve.
Store any leftovers wrapped in the fridge.