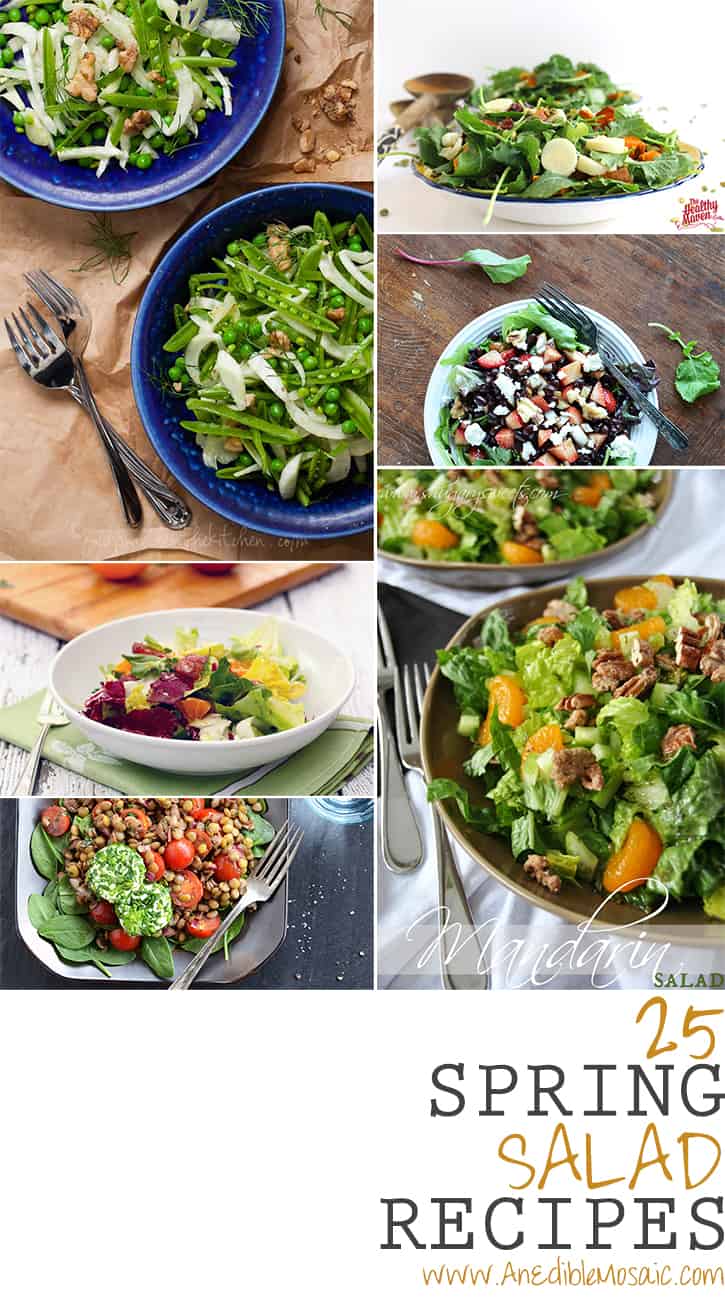 In the collage above, on the left, top to bottom: Sugar Snap Pea and Fennel Salad with Apple Cider Vinaigrette from Gourmande in the Kitchen, Blood Orange, Butter Lettuce, Radicchio, and Endive Salad with Fennel and Tangelos from Karen's Kitchen Stories, and Lentil Salad with Herbed Goat Cheese and Balsamic Vinaigrette from An Edible Mosaic; on the right, top to bottom: Detox Kale Salad from The Healthy Maven, Strawberry Black Bean Salad from An Edible Mosaic, and Mandarin Salad from Shugary Sweets.
Living in Kuwait with weather that's never really winter-like (at least not in the blizzard sense that I'm used to), it's easy to overlook spring's arrival. But I know it has been an insanely cold and snowy winter back home and for so many of you, the advent of spring is a much welcome change (or at least hope for change, if it still has not stopped snowing!).
When the weather starts to warm up a bit I always crave a good salad. Not the heavy salads with roasted vegetables or cooked greens that I like in winter; no, spring calls for lighter salads and brighter flavors. The kind of salad you'd order when having lunch out with friends and you want something a little fruity and a little sweet...but still salad. It's the kind of salad I could eat every single day and never get sick of.
Here are a few beautiful springy salads that will help you celebrate spring even if it hasn't reached your neck of the woods yet…
1. Arugala Salad with Beans and Orange Vinaigrette from A Healthy Life for Me
2. Berry Almond Salad with Chia Seed Vinaigrette from Dinners, Dishes, & Desserts
3. Blood Orange, Butter Lettuce, Radicchio, and Endive Salad with Fennel and Tangelos from Karen's Kitchen Stories
4. Chicken Mango Salsa Salad with Chipotle Lime Vinaigrette from Flavor Mosaic
5. Crispy Goat Cheese Salad with Strawberries and Avocados from Savory Simple
6. Detox Kale Salad from The Healthy Maven
7. Easy Chopped Vegetable Salad from Back for Seconds
8. Family-Friendly Chinese Chicken Radish Salad from Shockingly Delicious
9. Fennel, Orange, and Avocado Salad with Carrot Dressing from The Hungry Goddess
10. Grilled Vegetable Salad with Olive Oil and Feta from All Day I Dream About Food
11. Kale, Brussels Sprouts, and Broccoli Salad from A Healthy Life For Me
12. Kale Chickpea Greek Salad from Family Fresh Cooking
13. Kale Sprout, Asparagus, and Baby Beet Salad with Bacon from It's Yummi
14. Lemon Roasted Baby Artichoke and Avocado Salad with Sherry Vinaigrette from Cooking on the Weekends
15. Lentil Salad with Herbed Goat Cheese and Balsamic Vinaigrette from An Edible Mosaic
16. Mandarin Salad from Shugary Sweets
17. Pixie Dust Salad with Avocados, Pixie Tangerines, and Radishes from Shockingly Delicious
18. Sautéed Strawberry Salad with Sugarsnaps and Almonds from Cook the Story
19. Snow Pea, Radish, and Scallion Salad from Jeanette's Healthy Living
20. Spring Greens with Candied Meyer Lemons and Spicy Fried Goat Cheese from How Sweet It Is
21. Spring Pesto Panzanella from Eats Well With Others
22. Spring Trifle Salad with Citrus Vinaigrette from Seasonal & Savory
23. Strawberry Black Bean Salad from An Edible Mosaic
24. Strawberry Spinach Salad with Sweet Strawberry Vinaigrette from Imagina Inventa & Intenta
25. Sugar Snap Pea and Fennel Salad with Apple Cider Vinaigrette from Gourmande in the Kitchen