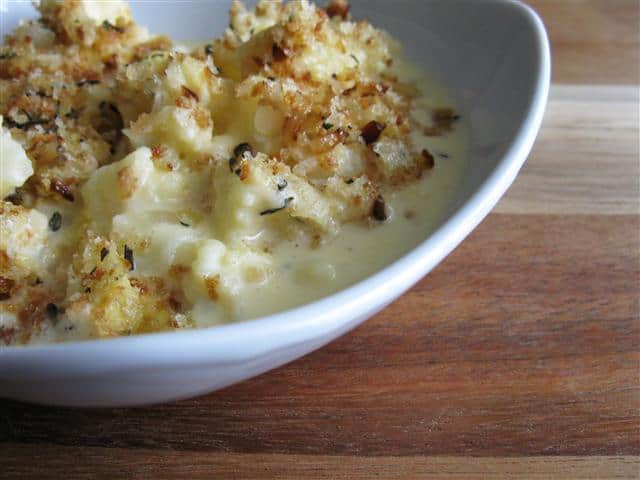 This recipe was born one day when I was craving both macaroni and cheese and chowder, and couldn't decide which to make. While its flavor is reminiscent of the surreal epiphany that is found in a humble mac and cheese or simple chowder, it is ever-so-slightly more sophisticated with the addition of a rosemary/Panko topping. What I love most about this side dish is that it can be dressed up or down. Serve it with burgers and a green salad for a casual weeknight meal, or fancy it up with filet mignon and sautéed mushrooms…either way it will be love at first bite.
Note that if you make this dish one day ahead the flavors will blend nicely but it will thicken up to a consistency similar to that of mac and cheese, instead of the chowder-like consistency shown in the pictures.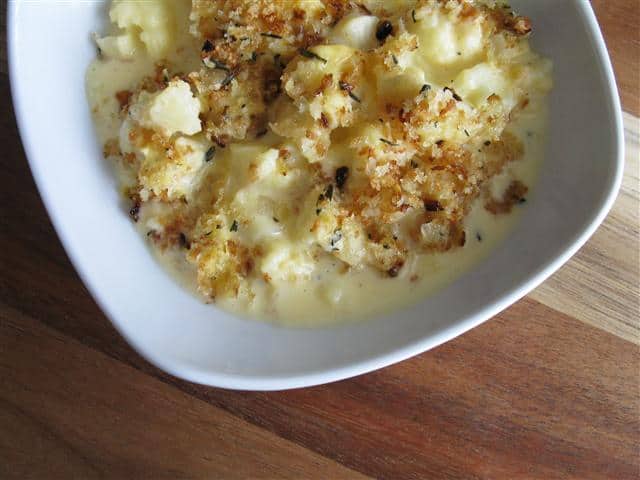 Cheesy Baked Cauliflower Chowder
(Yield: serves 4-6 as a side dish)
½ of a medium head of cauliflower, chopped into small pieces (4 c chopped)
1 TB olive oil
1 very small (about 2 ½ oz) onion, finely diced
1 large clove garlic, minced
4 TB Panko bread crumbs
1 spring fresh rosemary, stem discarded and leaves minced
1 TB unsalted butter
1 TB all-purpose flour
2 c whole milk
4 oz sharp cheddar, shredded
Salt and pepper
Preheat oven to 350F.
Blanch cauliflower in boiling, salted water until fork tender (3-4 minutes); drain immediately.
In a small skillet, heat olive oil over low heat; add onion and garlic and sauté until tender and just starting to brown (about 5-7 minutes), stirring occasionally. Add bread crumbs and sauté until light golden brown (about 1-2 minutes), stirring frequently. Stir in rosemary and a pinch of salt and pepper and turn off heat.
In a medium saucepan over medium heat, melt butter; whisk in flour and cook 1 minute. Whisk in milk, ¼ teaspoon salt, and ⅛ teaspoon pepper, and bring up to a boil (stirring occasionally), then turn heat down slightly and boil gently for 2 minutes (stirring constantly). Turn off heat and whisk in cheese. Taste and season with additional salt and pepper as desired.
Combine blanched cauliflower and cheese sauce and pour into a 2-quart casserole dish. Sprinkle bread crumb mixture on top and bake until bubbling (about 25 minutes).